A guide to one night camping and short trek at Ramanagara (55 Kms from Bangalore)
HOW TO REACH
Ramanagara is a quite a famous spot so almost all the modes of transport are available
Self Drive Cars/Bikes are a good option as the road is quite good to travel
Local and KSRTC buses run all day
A few local trains can also help you reach easily
WHERE TO CAMP
The most difficult thing in India is to find a good public camping ground as the forest department doesn't give you on spot permissions to camp anywhere.
We were able to find 2 spots near the famous Ramadevara Hill where the main temple is located and the famous shooting spots for Sholay are pinned on Google Maps.
Spot 1 –
Is a private property just below the hill. It is called X Adventor's Camp.
To reach there : On the way down from the hill, take a mud road that branches to the right. You can ask locals for Mr. Jagadish from Adventure Camp and they'll guide you to the spot.
They organise group activities and camping with bonfires at their property. Usually people pre-book this for groups and come here. We inquired with the forest department officers at the Parking of the hill about where we can camp and the reply we got was "Camping is not allowed anywhere on the forest grounds but there is a Mr. Jagadish (+91 9901474929) from the adventure camp who can arrange for your camping."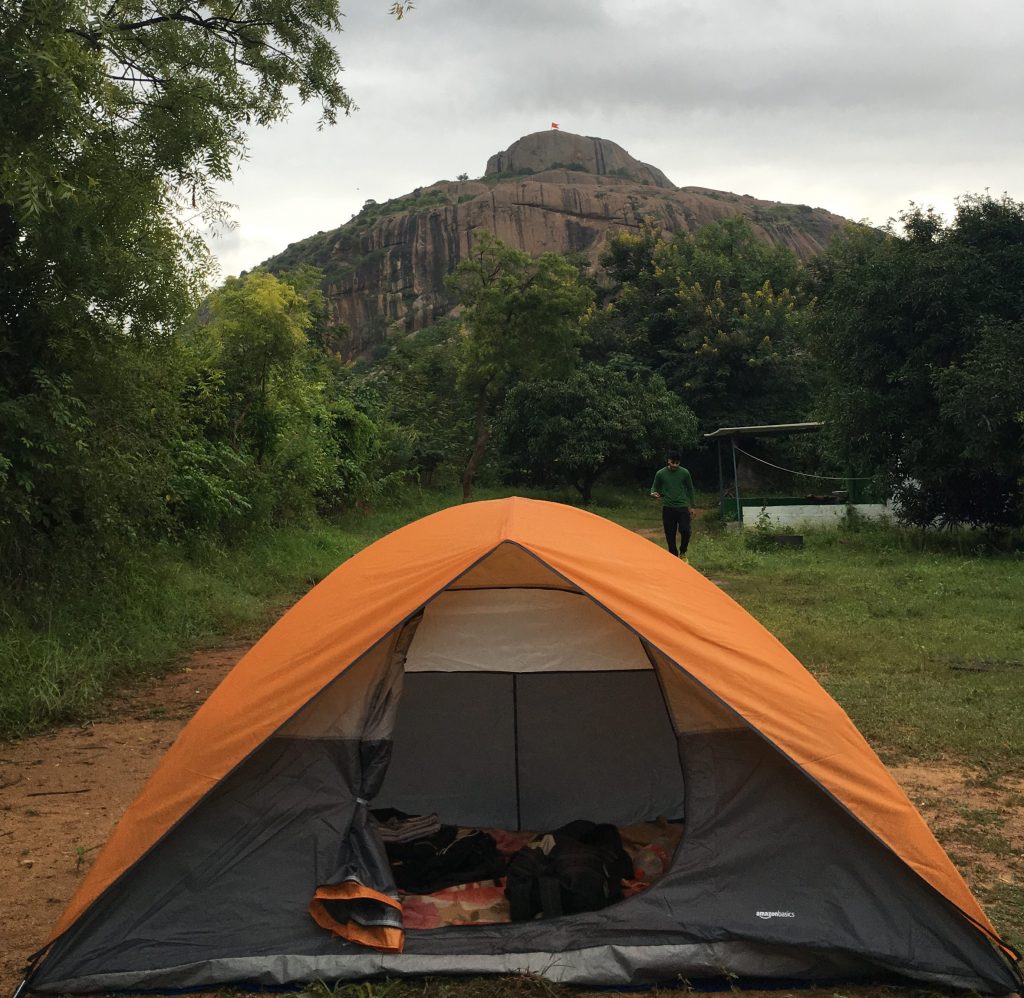 After reaching there, we striked a deal for Rs. 200 per person for letting us camp at their property. As we carried our own tent we didn't require his tents. (They provide their own camping gear at around Rs. 500 per person) He arranged for our food at night and charged Rs. 100 extra for that. It was a comfortable experience and we went for it as it was getting dark and we weren't able to find a good public spot to pitch our tent.
Spot 2 –
This is a spot inside the forest area below the hill. There is a broken fence from which people enter this area and have a good time sitting till the evening and enjoy the nature. We were able to see 2-3 houses inside this area, so we ventured in.
This spot is just on the other side of the road of X Adventure camp. It is accessible from the farm as well (That's how we found out about this spot). This area has wide open spaces covered with grass and a few boulders in the distance. The area is completely undisturbed and you may occasionally see one or two shepherds with their goats grazing the land.
The place is a perfect spot to set up a tent as it is undisturbed by any locals or frequent visitors or the forest department.
The location to enter this spot is pinned here. You will see a broken fence to enter the spot. (In case you are having a two or four wheeler, you'll need to find a safe parking space nearby or strike a deal with forest officers to let you park at the official parking for the hill overnight. As the vehicle won't be able to enter the camping spot)
A good spot to pitch a tent is pinned here. The nearby areas and the grass all around is also good to pitch, as you see fit.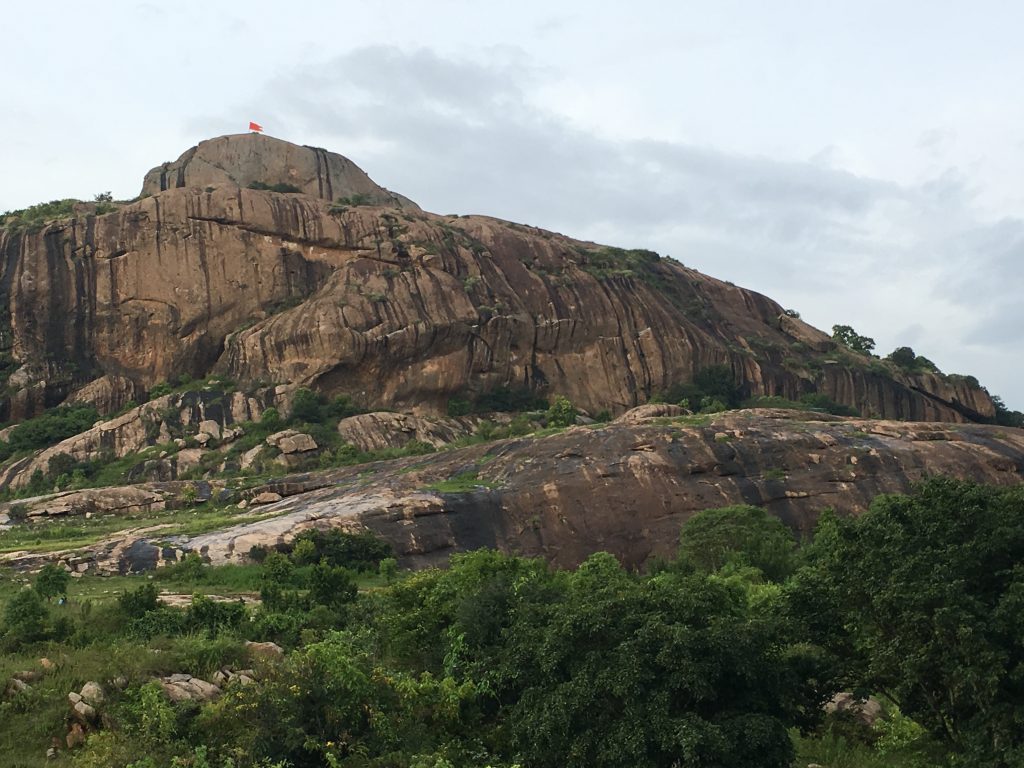 WHAT & WHEN TO DO
Ramanagara is quite commercialized so you get a lot of options to:
Trek at different hills (Ramangara has 7 major hills, more info here)
Boating/Kayaking at small lakes nearby (organised by X Adventors camp or similar travel organisers)
Rock Climbing, Rappelling and Bouldering (Organised by various travel organizers)
Visiting spots like Kanva Reservoir and multiple temples
All the options by Google Travel Guide here.
If you are visiting for a short time that is leaving from Bangalore in afternoon and returning the next morning or afternoon like us then here is what we did in the same time:
Day 1
Leave from Bangalore at 2PM.
Reach Ramangara by 4 PM with lunch on the way or as per your choice.
Reach Ramadevara Hill and go to the hill top
You park your vehicle and climb about 400 steps to the temple.
Go little further and enjoy the scenic views from the hill top.
Descend by 5PM and head to the camping spots of your choice.
Set up camp and have food. (Carry your food if you are camping at Spot 2)
Day 2
Wake up and explore the area near by the campsites
Head for breakfast to Ramnagara Town.
Visit Kanva Reservoir or head back to Bangalore.
WHERE TO EAT
The highway to Ramangara from Bangalore is full of restaurants of your choice.
We had food at these spots :
Udupi Gardenia They had good Paneer butter masala and butter rotis
Dinner at Ramanagara at X Adventor's Camp arranged by Mr. Jagadish. They served Rice with Dal, a sweet and some pickles along with a Chole Sabzi. It was tasty enough for the night.
Breakfast on our way back to Bangalore at Hotel Sri Renuka Tiffanies. They served only Thatte Idlies and Rice baths in mornings and the crowd was crazy for the breakfast there. It was worth the stop.
THINGS TO KEEP IN MIND
We visited in August and thus the lush greenery due to Monsoons.
Carry some rain protection for some unexpected rains during monsoons.
The hill entry is from 9 AM to 5PM only. So plan accordingly.
You can easily spend half a day at the hilltop if the weather is pleasant. Carry food and relevant materials if you want a picnic.
Make sure you don't light a big fire at Camping spot 2 at night as it may attract unnecessary attention of nearby locals and the forest department.
PICTURES FROM THIS TRIP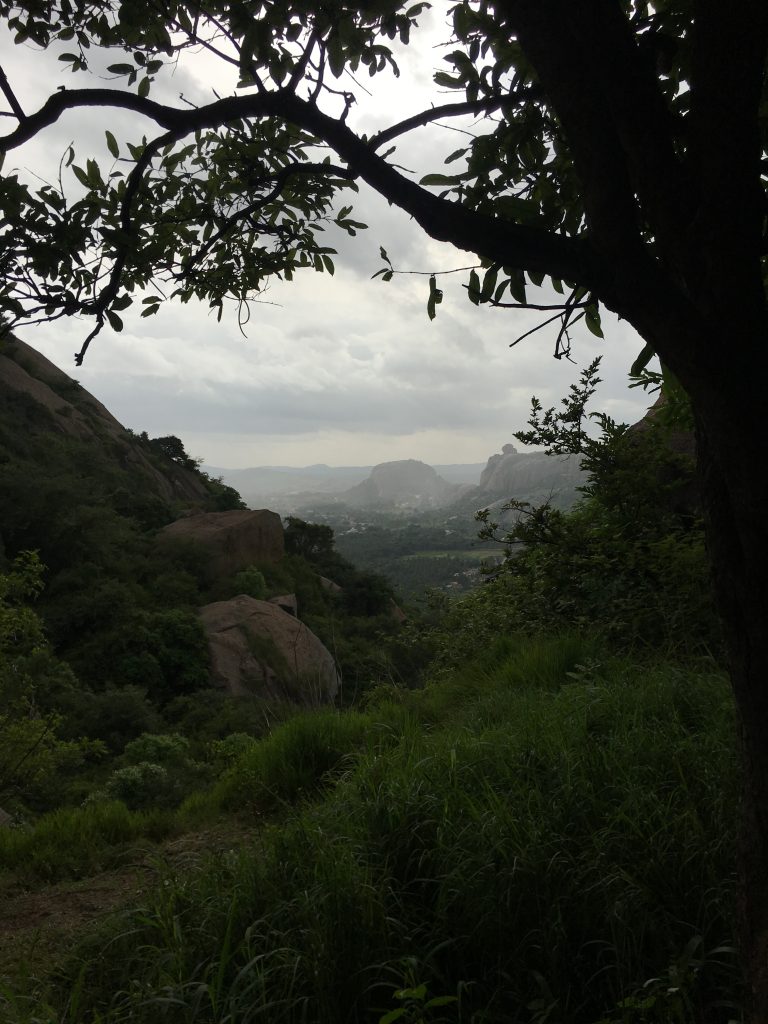 Ensure you travel responsibly and keep your carbon footprint to the minimum. Happy Exploring!
Want to share your experience and tell everyone about how you travel and plan your trips? Now you can, in just a few steps! Head out to Share your Trip page now!