An Adventurous trek around 60 Kms from Bangalore, near Kanakpura. This guide helps you to know an alternative trek route that takes you through the forest area all the way to the top of the hill.
HOW TO REACH
Bike/Car – Public transport is difficult to find
You can park the vehicle in the village below, the villagers are quite helpful.
TREK ROUTE
You will easily find the way on Google Maps, however, Google shows you the way from the gentle slope which takes you all the way up to the top of the hill. 
If you want to trek, go to the point where the blue line starts. "Sevalal Temple" on the map. Click here for Directions to Sevalal Temple
We parked our vehicle there and asked the villagers around for the trek.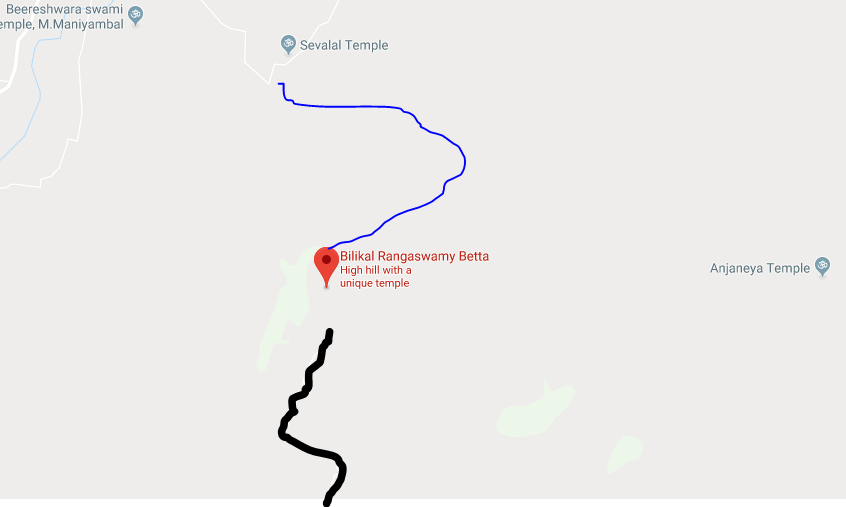 The villagers guided us till the start of the trail. We encountered a forest ranger who took a fee of Rs. 100 per person to let us enter the forest area and take us till the trail.
The trail is less used and it gets a little dense in the between. There were some steep patches to climb on the trek. Overall the trek difficulty is moderate. It takes around 1.5 to 2 hours to reach the top.
THINGS TO KEEP IN MIND
The trail will be slippery in monsoon. Avoid trekking during rains.
Keep some food and water with you, there are no vendors or any one selling any food items on the way or on the top.
Camping/ Night Stay is not possible here as the area comes under forest department. Better not to risk the trip.
WHAT TO EXPLORE
Temple at the top
View points on the hill
A beautiful bench under a Banyan tree
PICTURES FROM THIS TRIP
---
Ensure you travel responsibly and keep your carbon footprint to the minimum. Happy Exploring!
---
Want to share your experience and tell everyone about how you travel and plan your trips? Now you can, in just a few steps! Head out to Share your Trip page now!