In July of 2019, Three of us – Ismail, Saransh & Akshay who run this website, cycled from Manali to Leh. 473 Kms in Total through 5 mountain passes at an average altitude of 4,000m+. We decided to take this trip just 2 weeks before we started to cycle. To plan this trip was an extensive task and we had to search through a lot of articles so we are prepared in all the ways we can be in. We cycled unsupported, with all our luggage and no back up vehicle with us.
In order to do a similar trip, we have compiled a list of all the things we needed on this trip and things you won't be needing as well.
Related Post – Detailed Guide & Itinerary for cycling from Manali to Leh!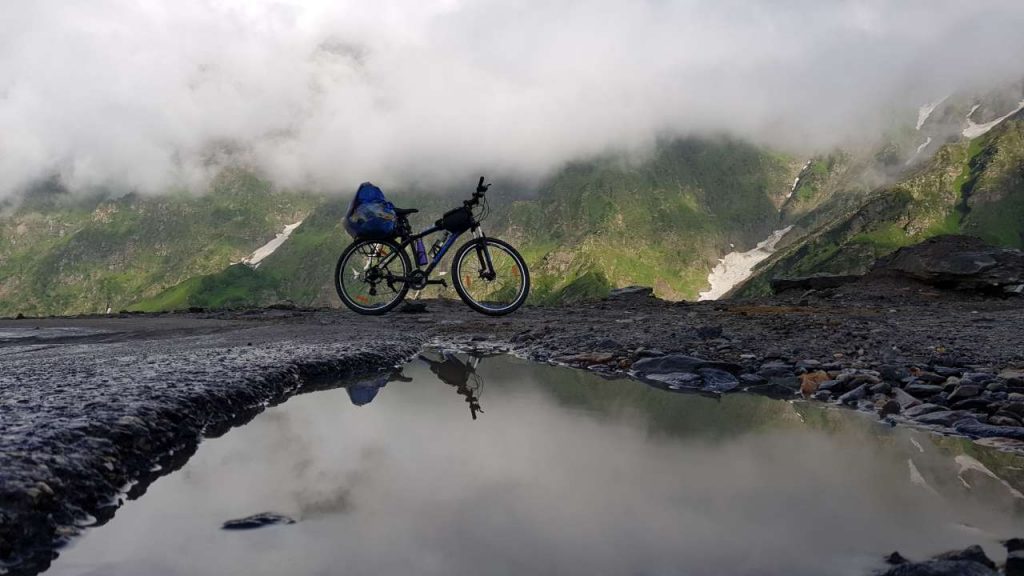 In such a cycling trip, you would usually be carrying your luggage on your bicycle itself. You have to carry your own weight, the weight of bicycle and your luggage throughout the trip on difficult terrain and high altitude so the key here is to Pack Light.
Speaking from our personal Xperience, we carried a lot of weight (12 – 15 kg each) tied up on our back racks. We realised that we did not use a lot of things that we were carrying only after the trip. Do remember that every gram counts when you are cycling at an average of 4000 meters approximately.
Try to limit your total luggage to 8 kg max excluding your tent. Given below, is the tentative list of things that you should carry for your Manali – Leh Cycling Trip.
Use a portable weighing scale to check the weight of your luggage while packing, and add all the weights on Lighter Pack, a website that helps you keep a check on all things you are carrying and lets you analyse where you can decrease the weight.
Recommended Read – 10 Reasons why you should ditch your Enfield and take a bicycle trip from Manali to Leh!
Personal
It takes 10-11 days to finish this trip if you are following the itinerary suggested by XTE (Read it here). Note that there are no facilities to take a shower at majority of the places where you would be stopping on the way (especially between Jispa and Rumtse). So keeping this in mind, here is the tentative list of personal things to carry:
1 Pair of Running Shoes with Cycling Shoe Covers or Cycling Shoes (Your shoes are tend to get wet due to rain and river crossings. Cycling with wet shoes in cold is not an option. So carry covers for your shoes or carry shoes that don't retain water.)
2 Casual T-Shirts / Shirts – For Acclimatization Days and Stay in Leh
1 Casual Lower
1 Pair of Comfortable / Night Wear
1 Pair of Floaters / Sandals (if shoes get drenched and don't dry) No Flip Flops/Sliders. It's tough to cycle in them.
Sunglasses & Face Mask/Scarf to cover your face during windy weather
5 Pairs of Underwear (You can wash and dry to repeat – if needed)
5 Pairs of Socks (You can wash and dry to repeat – if needed)
5 Handkerchiefs (avoid wasting tissues in case of running nose)
Raincoat (Upper + Lower) Or a Rain Poncho Quite Important as we had to use them almost for 7 days out of 11 even though for a short time of the day.
Cycling Gear
You can Carry Your Luggage in Pannier Bags Or you can tie your Rucksack to the back rack of your cycle as we did.
The first option is expensive but adds a lot of convenience, while the second one is cheaper but has a lot of hassles of waterproofing, tying and untying it everyday.
Other than the Panniers, you are going to need the following accessories on your bicycle.
1 Back Rack – Zefal Raider R-70 – weighs 1100 grams and can carry weights upto 25 kg
Frame Bag (preferably with 1 transparent mobile case and waterproofing) OR Saddle Bag
2 Bottle Cages fixed in the frame
1 braided cloth string to tie the rucksack more firmly
Headlight (preferably USB chargeable)
Back Reflector / Tail Lights
1 Waterproof cover for or plastic to cover your rucksack – you can take huge blue polythene bags, cut and tape over the rucksack too, carry a cutter, tape and extra bags in that case.
2 extra tubes
1 Toolkit
Extra nuts and bolts
Optional Accessories – We didn't find these too useful, but if you want to be fully prepared and not leave anything to chance.
Cold Protection
The key here is to wear multiple layers. You will be good to go with 3 layers on majority for days, as it is quite sunny too and you are cycling continuously. The fourth layer could be your raincoat upper.
2 Thermal Inner
1 Windcheater
1 Fleece / Sweater
1 Pair of Hand Gloves
1 Cap
Scarf / Muffler / Anything to cover the neck (optional)
Hygiene
As mentioned above, one would not get many chances to take a shower hence, do not carry a lot of toiletries or cosmetics. Carry only the following and you should be through:
1 Soap
2-3 Sachets of Shampoo (or buy the same from a pharmacy or general store in Manali, Sissu, Upshi and Leh)
2 Booklets of Paper Soap
1 Hand Sanitizer (its easy to get sick on higher altitudes)
1 Sunscreen
Inhaler / balm
1 Mosquito Repellent Cream
Tooth Brush and Paste
Band-Aid, basic first aid kit, pain killers, or any specific medication that you may need
Camphor or kapur – it helps in case of blocked nose and easy breathing
Miscellaneous
1 Shoulder Bag to carry items that are frequently needed (Max Capacity 10-20 Liters)
2 Refillable Bottles (1 could be a thermos)
Mobile Charger, Portable Charger
Trash Bags / Polythene Bags to carry waste or wet clothes, shoes etc.
Sunglasses
Torch light – not needed if you can work with mobile flashlight or bicycle headlight
Camping Gear
On the Manali to Leh highway, there are options to stay approximately every 40 km. Barring a few villages on the route, a lot of these locations are temporary settlements that people put up for the time the highway stays open. It is generally open from around beginning of June till mid September. Almost throughout the route it is around INR 200 per night.
We found staying at these options more convenient and it also saved us time. Hence, we did not use our tent even once and carried the additional weight of tent and sleeping bags pointlessly. However, if you wish to pitch your own tent, you may carry the following:
We used Raleigh Terrain 10 MTB for our trip. The locally made racks couldn't be fit on our model and hence we had to go for a more expensive option by Zefal. If you are trying to save some bucks do opt for a back rack and a rucksack instead of pannier rack and pannier bags.
We did not face any problems in terms of cycles, not even a flat tire. We did not carry extra break wire or gear cable, spare chain links and its tools, etc. and we did not even need it. Hence, get your bike checked and fine tuned in advance and take word of a trust worthy dealer or mechanic if you really need any additional backup spares.
And when you do cycle your way to in Leh, this complete guide to Leh-Ladakh will come in handy to make the most of your time!
WATCH A CINEMATIC GLIMPSE OF THIS EPIC TRIP!