Lush green rolling hills, hidden waterfalls deep in the forests, some of the highest peaks to get a panoramic view of the wild forests around you, hikes through rainforests, go on speed boat rides on waterbodies with islands in between, enjoy fresh tea from tea on your garden tours, go on a wildlife safari to spot tigers and much more! All these are experiences that one can have in just one small gem of Kerala called Wayanad! Here's A 2-day budget adventure trip in Wayanad. We travelled in Monsoon and it was quite picturesque and an off-season time to travel. We enjoyed waterfalls, boat rides and camping in just 2 days.
ITINERARY OVERVIEW
Arrive early morning at Kalpetta and head to Chembra Peak
Go to Soochipara Falls
See Kanthanpara falls if time permits
Go towards the base camp
Refreshments and night trek to camping site
Wake up and a small trek
Descend and head to Edekkal Caves
Travel to Banasura Sagar Dam for a speed boat ride
Retire for the day and depart for your destination
HOW TO REACH WAYANAD
Self drive a car to Wayanad
Buses
Rented vehicle from nearby cities
Nearest airport is Kozhikode
WHAT & WHEN TO DO IN WAYANAD
If you are leaving from Bangalore like we did you can follow this itinerary
DAY 0
Catch a bus from Shantinagar to Kalpetta. KSRTC busses available for 10 PM.
DAY 1
Arrive at Kalpetta Early morning
Have Breakfast at the restaurant of your choice. We had at Affas as it opened earlier.
Head to Chembra Peak from bus stand via local bus. Catch a bus to Meppadi.
In our case, Chembra peak entry was prohibited so we headed to Soochipara Falls via an auto. Costed us around Rs. 200 for the auto. Negotiations possible. Buses/Sharing autos can also be taken to reach.
A fellow traveler and friend had suggested us to go to Chulamalla, near chembra peak where we can enjoy a small waterfall and take a dip in the pond below if we ask the jeep drivers to take us there. However we were not able to go as we skipped Chembra.
Soochipara Falls had an entry cost of Rs 50-60 per person. However worth the experience as the falls were in their full glory due to the monsoons.
On our way out, we used a sharing auto back to reach back Meppadi.
From Meppadi we caught a bus to Kanthanpara falls. You can catch the local bus from Meppadi to Vaduvanchal and get down in between at Thinapuram or ask locals about which point to get down for the falls.
From the bus drop point, you will have to walk/take an auto for 3 kms to reach the falls.
The similar entry fee of Rs 50 had to be paid once again. Usually you can take a dip and enjoy swimming under the falls, however in monsoons the force is too strong and the entry to water was prohibited.
We once again came back to the bus drop point walking near Thinapuram and had to catch a bus to Ambalavayal.
For which we took the bus to Vaduvanchal and changed and sat in the bus to Amabalavayal.
We had a late lunch over there, before meeting our trek and camp guide from Space Travel (the group who organised camping and trekking for us)
At 5PM, we met them and they arranged for the jeep to head over to our base camp. The base camp had a nice villa with amazing views of the towns below. We freshened ourselves and they served us coffee.
At 8 PM they served us dinner and at 9 PM we started a 30 minute trek to our camping site on the hill.
All the equipment including flash lights were provided by them.
We were guided by Ajmal (The representative and guide from the space travel group) to the hill named Ponmudikotta. It was a public place which can be accessed by anyone, however since it was a night trek, we needed the help of a guide to travel safely and set up our tents.
We retired in our camps for the day, it was too damp to have a campfire.
DAY 2
The sunrise from the hill is a well known site so we woke up to some amazing views.
In the morning we did a short trek nearby to a cave and to get some good sites.
We trekked back to the base in the morning and had our refreshments and breakfast.
Post which the jeep dropped us back to Ambalavayal.
The edekkal caves can be visited from there as they are very near to the camp site.
We skipped them and headed straight to Banasura Sagar dam for the day.
Take a bus from "Kalpetta new bus stand" a bus to Padinjarathara.
After reaching, we walked to the dam from the bus drop point as the weather was pleasant.
The dam offers some spectacular views, however the main reason for our visit was the speed boat ride.
The tickets for the boating are open till 3PM only so reach before that.
The boating is stopped during rains, but continues when the rain stops.
We had to wait almost an hour for the rain to subside so we can enjoy the boat ride.
The speed boat ride costs Rs. 900 per ride. Max persons allowed in a ride is 5. It is worth the money
We got stuck in the rain after the boat ride so we waited for it to subside. We caught a bus back to Kalpetta for our evening bus back to Bangalore.
All the locations visited above are pinned on this map in the order of our visit : Locations on Google Maps
We had initially planned a three day trip and wanted to explore few more spots. However with the continuous rain and our camping experience, we were quite satisfied so we headed back that same night.
More to Explore in Wayanad
Pakshipathalam – Trek into a wildlife sanctuary, known for bird watching
Banasura Trek, near the dam
Tushargiri Trekking
Chethalayam falls – A scenic waterfall
Meenmutty falls – Scenic view of the long waterfall
Karlad lake – near banasura dam; offers activities like zip lining
Vythiri Resorts – Resorts offer Safaris and tree house stays
This is the state's official tourism website if you want to scan through it for more details. : https://www.wayanad.com/
WHERE TO STAY IN WAYANAD
A lot of options are available
If you are planning to camp, the details on how we camped are below.
Homestays, Hotels, Dorms and Resorts are available near every major area – Kalpetta, Sulthan Bathery, Ambalavayal, Vythiri & Padinjarathara
If you are going off season like in monsoons, then better to go there and negotiate rather than booking anything online.
Camping
I contacted a local organiser who offer camping and short treks. They have good equipment and the rates seemed reasonable. Here are the details for them.
SPACE TRAVEL (Arun) +91 9686369866 | 8608462180 .
For more details : https://goo.gl/91z8yU
There are several other providers and private properties who offer camping services.
Public camping spots seemed difficult as the areas were monitored by the forest departments well and they don't permit any unauthorized camping. However if you do find some spots, then do let us know below!
WHERE TO EAT IN WAYANAD
You will see restaurants and hotels at all of the above locations.
We tried the below, all of which were in Kalpetta
HOW TO TRAVEL AROUND IN WAYANAD
Wayanad is a district in Kerala and all the spots are at least 20-30 Kms from each other. Your options for travel are as below:
Self Driven Cars – If you have traveled in your vehicle, accessing all the spots will be easier
Rental Taxi – Per day taxis will be available costing aprox. 1500-1800 a day and covering 100 Kms in the cost.
Local Buses – Local buses are well connected and continuously operational through the day. So we had no problem reaching any of the spots
Autos – Sharing autos and private autos can be hired to travel nearby.
IMPORTANT INFORMATION
Ensure you carry rain coats and warm clothes as per the season. An umbrella helps if you plan to walk or use buses.
BUDGET
The itinerary we followed costed us around Rs. 5500 per person for two days, all included.
Local buses are cheap. Maximum ticket we saw was Rs. 40 per person.
Camping costed us Rs. 1800 per person. Including 2 meals, jeep and all equipment. A bigger group will help reduce that pricing as well to around 1600/person.
Bus tickets to and fro Wayanad came to about Rs. 1400 from Bangalore.
Your food should cost approx Rs. 1300 for 2 days.
Other expenses such as local bus tickets and entry fees with other miscellaneous comes to about Rs. 1000.
PICTURES FROM THIS TRIP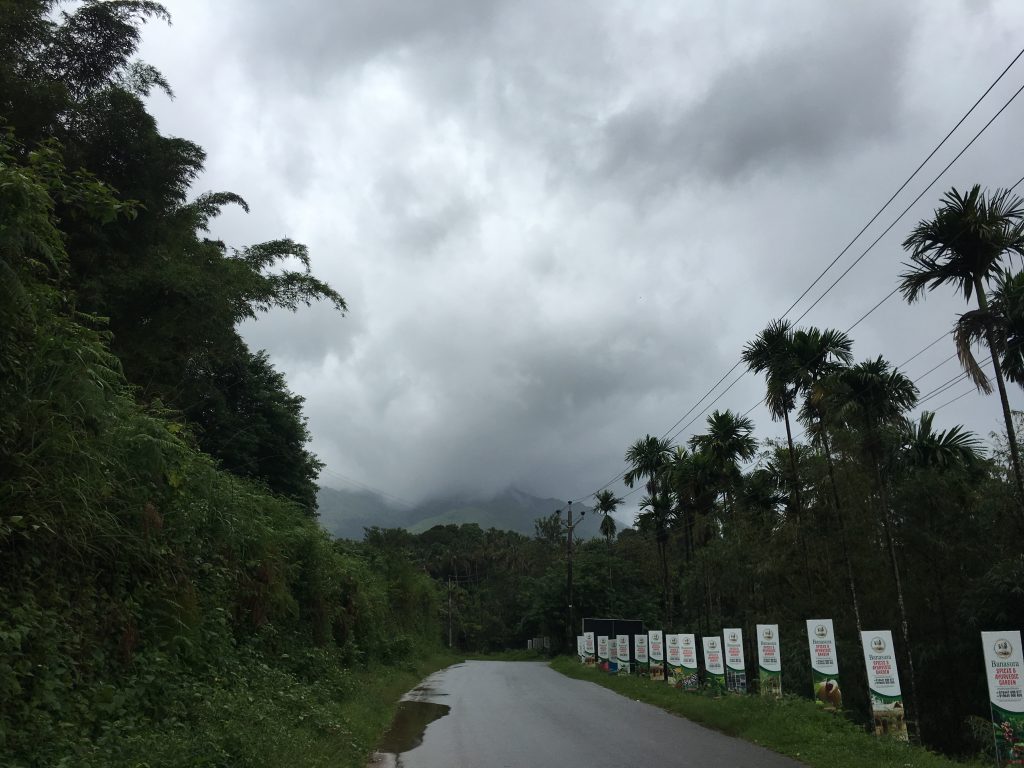 Ensure you travel responsibly and keep your carbon footprint to the minimum. Happy Exploring!
Want to share your experience and tell everyone about how you travel and plan your trips? Now you can, in just a few steps! Head out to Share your Trip page now!