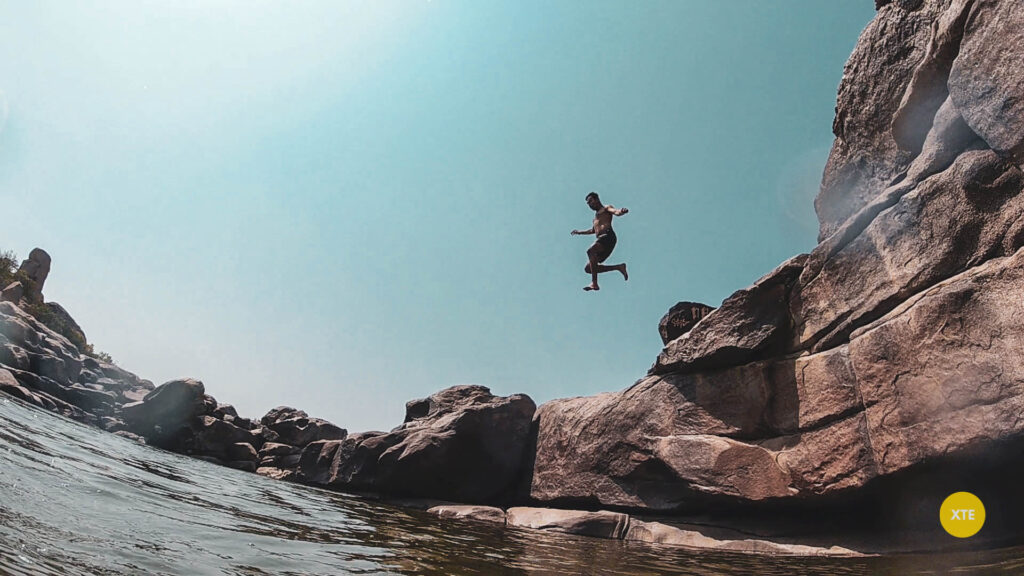 YES! Hampi has its own waterfall! The rocky, dry area full of boulders has a waterfall hidden amidst its ancient stories and secrets! A quick search on Google Maps will give you a direction but it doesn't lead you to the actual waterfall!
Everything You Need to Know About Hampi Before You Visit in 10 Minutes!
So, how to reach the actual Hampi Waterfalls? And what can you expect to find there? Read below on how we reached the Hampi Waterfalls and what we found there!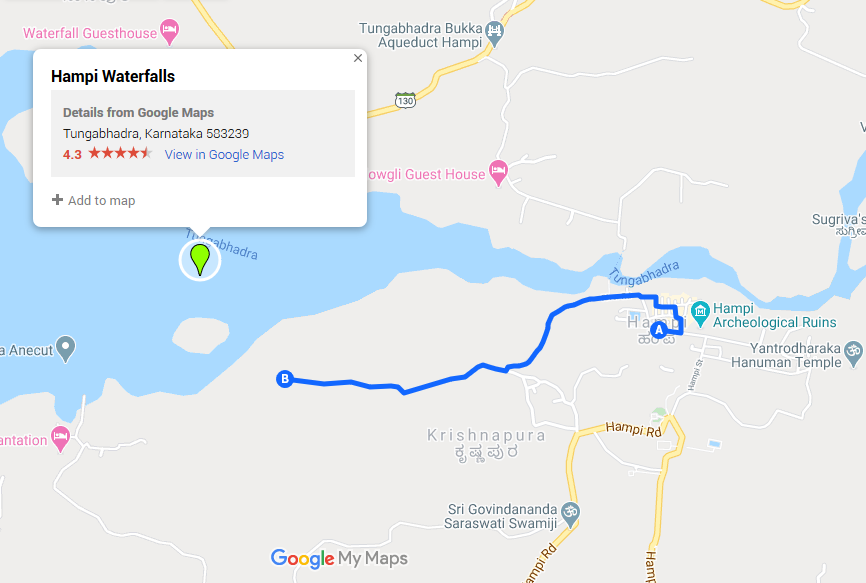 HOW TO GET TO HAMPI WATERFALLS
The waterfall is actually quite close by to the main Hampi Bazar! It is about 3 Km walk from the main Hampi Temple – The Virupaksha Temple. It's a mix of paved roads, crossing some banana farms and skipping on rocks and boulders towards the end.
PART I
The walk starts from behind the temple, near the steps to the ferry point. Instead of descending the stairs, you keep walking the path that goes ahead. It's a nice walk on paved roads with trees and small farms around you.
PART II
You reach the end of the road, and dirt road goes ahead into banana farms and plantations. You continue walking forward towards the farms. But from here is where it gets tricky.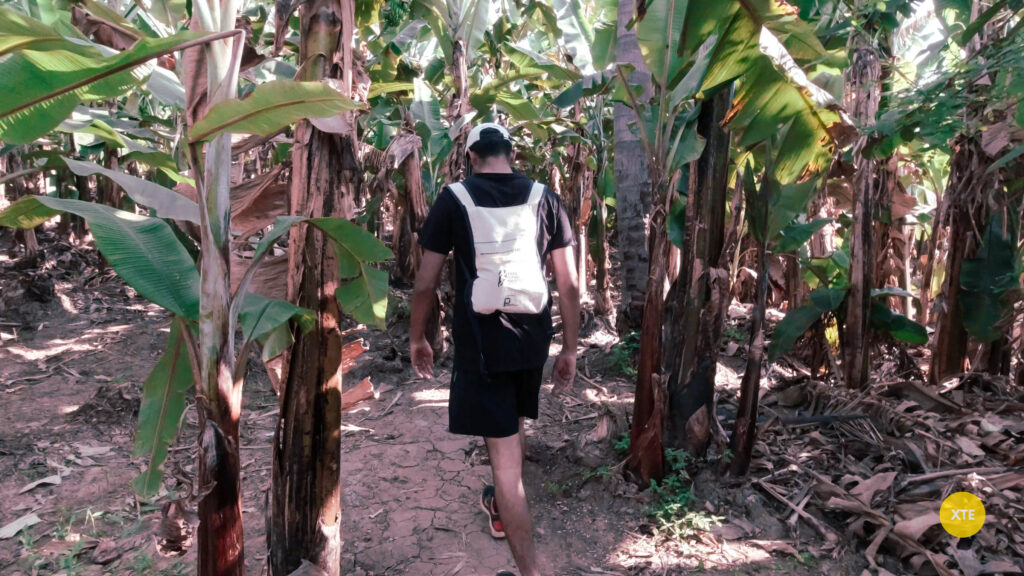 PART III
The dirt road soon ends and there are many small trails through the farms leading up to the river. Finding the right trail is a little difficult. So you should hire some local help. There will be some workers and farmers who will guide you till the waterfall and back for some money. Usually about (USD $2-3, INR 150-200 per person).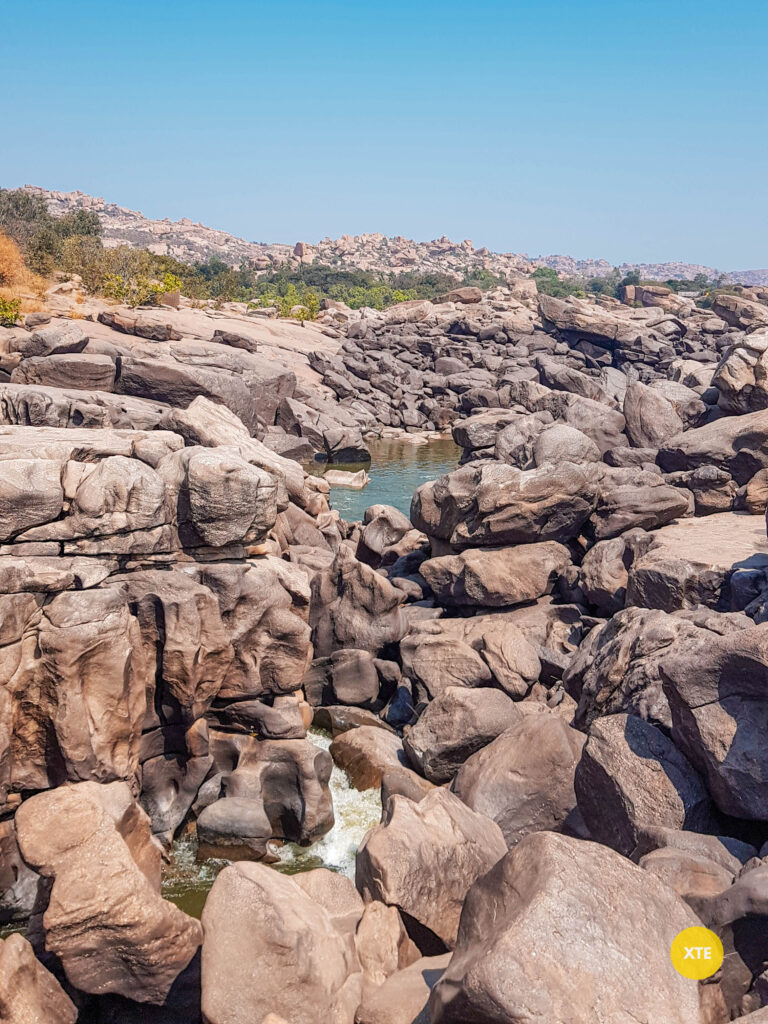 Hiring a guide is a must, as the rocks towards the end are little slippery and the Hampi waterfall is actually hidden at a spot not visible from eye level. So the guide will be the best solution.
The point B is where the road ends and you can get a guide or ask a local about the directions to reach the waterfalls. It's about 500 m walk to reach the waterfalls.
BEST TIME TO VISIT HAMPI WATERFALLS
The Hampi weather is most ideal in Winters (November to February). And the same goes for best time to visit Hampi Waterfalls.
The waterfall is actually a pool of water flowing over some boulders in the dried-up river bed of Tungabhadra. The river usually has a low water level as there is a reservoir upstream that stores the water.
During Monsoons, excess water is flooded into the river and due to that the river level rises up significantly. This makes it impossible to visit the waterfalls in the months of Monsoon (June to August).
From late August the water levels go down and depending on how much water is being flooded into river, it may be possible to visit.
The ideal time to visit Hampi is from November to March. These are the winter months, and the water is not completely dried up in the river, making it possible to swim and enjoy in the pools of Hampi Waterfalls. The winters are still pretty hot and humid in Hampi.
The Hampi weather during summers is extremely hot and dry. Avoid visiting Hampi in summers as the temperatures are unbearable and the river would be completely dried up.
WORTH ADDING IT TO YOUR HAMPI ITINERARY?
Refer our detailed 2 day itinerary for Hampi here.
Hampi is a small area but has a lot to offer! The unique monuments, the wonderful landscapes, the vibrant vibe of the hippie island and rustic atmosphere all around the place is something worth experiencing once in a lifetime!
WHAT TO EXPECT AT HAMPI WATERFALLS
The Hampi Waterfalls are a waterfall for only the namesake. It is a small stream of water gushing down some boulders in the dried-up riverbed of River Tungabhadra. You can sit under this flowing water for some natural spa treatment and 'water massages'. (Trust us, it's one of the best massages in Hampi!)
Next to these waterfalls, is a big pond of deep water surrounded by high boulders and cliffs where you can go for a swim and go cliff diving!
Hampi waterfalls is a place meant for the fun and adventure seekers. The place is tough to reach, involving a mild trek and skipping over boulders and stones. The place offers you to sit under the flow of water and jump into deep pools of water from the surrounding cliffs! YES! You can go Cliff Jumping near the pools of these waterfalls!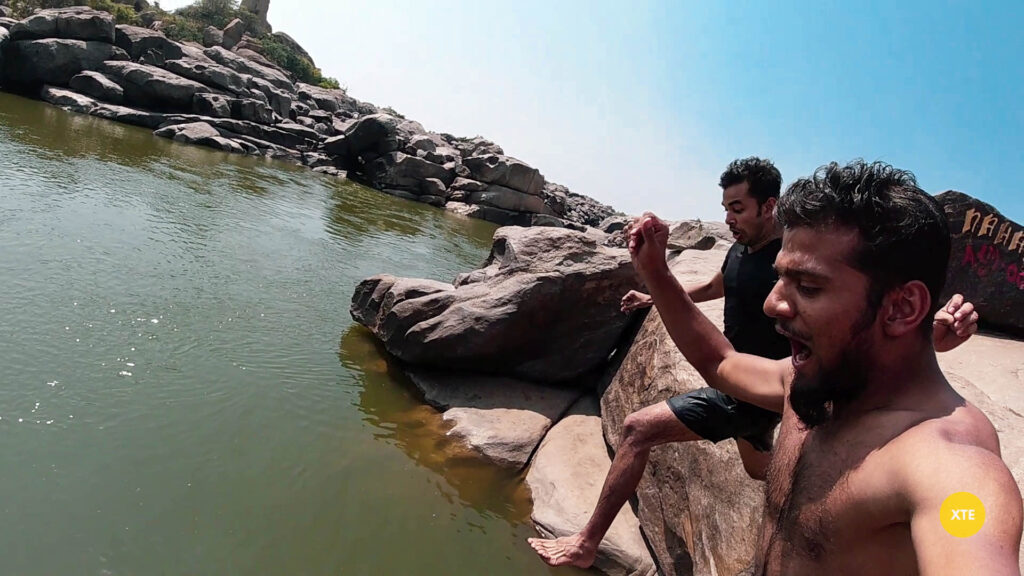 The place is rarely crowded and you'll find only one or two small groups of people at this place. There are no facilities or utilities nearby like washrooms, changing areas or any vendors of food and water. It's in the middle of nowhere, hidden from the buzz.
VERDICT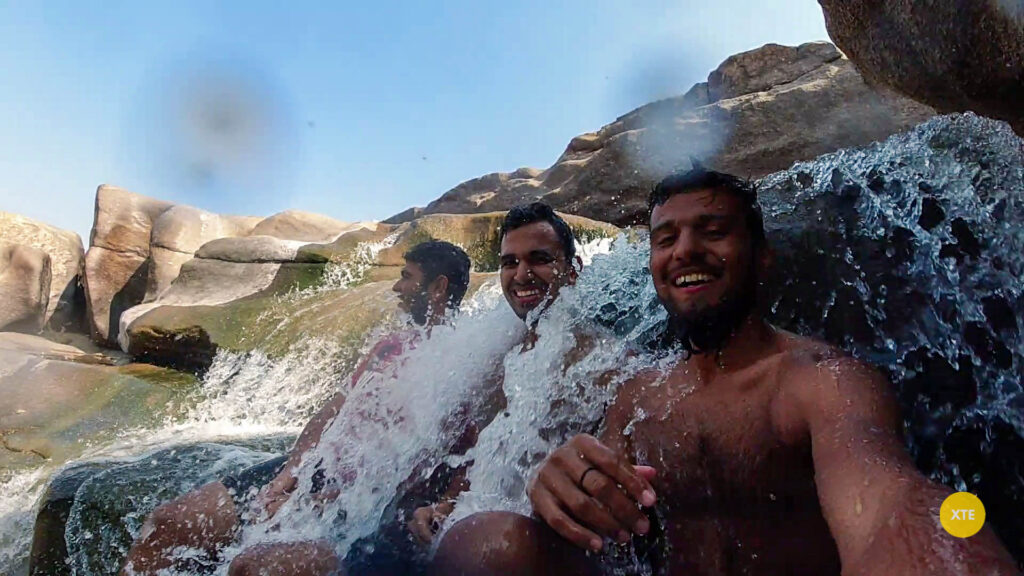 If you are in Hampi for more than 2 Days and are looking for more than just the culture and history, then YES, Hampi waterfall is a must-visit!
However, if you are in a time crunch, and only have 2 days or less, you can skip the waterfall as it will at least need half of your day due to the hike.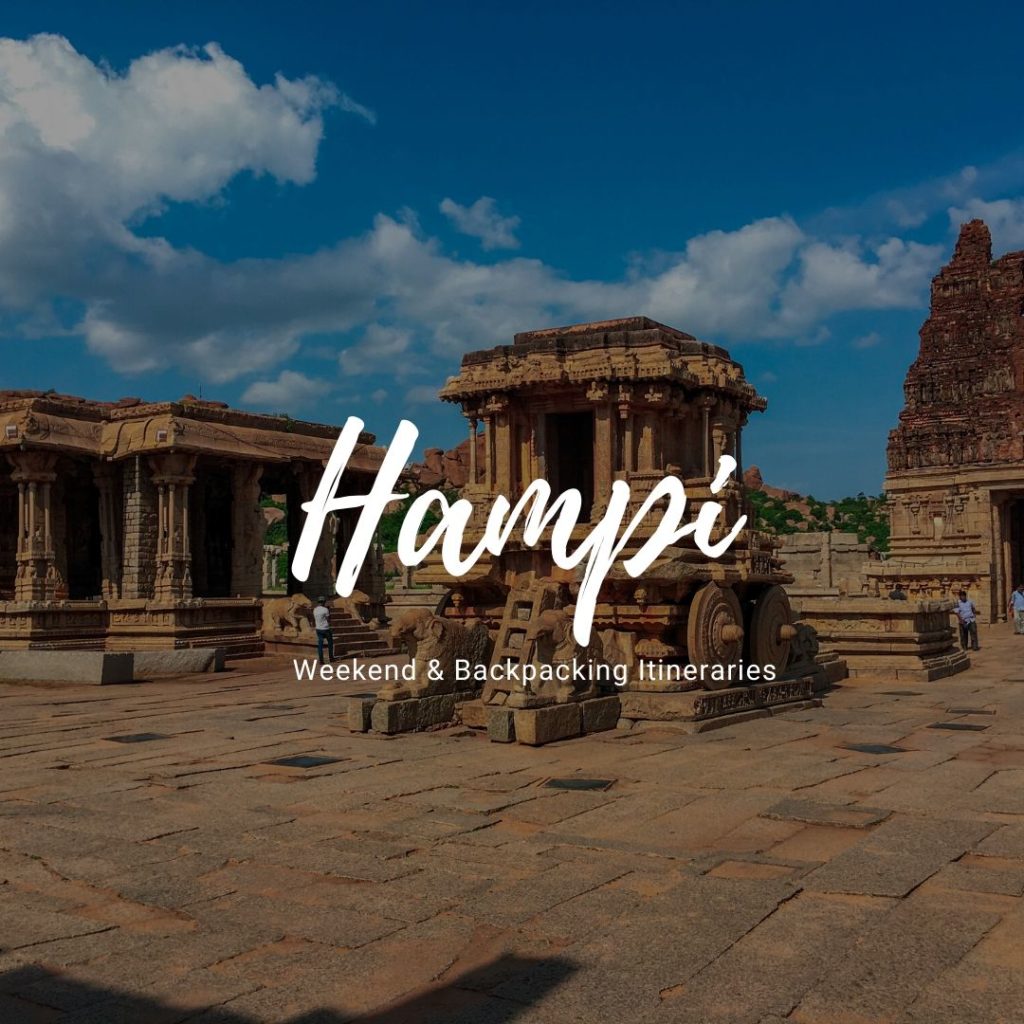 This is our ultimate Itinerary for truly exploring Hampi, for spending 2 days enjoying cycling, monuments, boating, and cliff jumping in Hampi! You should definitely check it out before visiting Hampi!
OUR FAVORITE STAYS IN HAMPI
These are some of our recommendations which are in a convenient location and closer to the main Virupaksha temple and are the most economic options available with trusted reviews.
Rashmitha Homestay
Ranjana guest house
If you want to enjoy a bit of luxury, we'll recommend this one, It has a pool and quite a lot of amenities to enjoy the hot temperatures.
Heritage Resort Hampi
The Hippie Island or the other side of river from Hampi, is closed down as of March 2020. It used to have a few good options to stay as well. Check their availability at | Chinna's Camping Area

PS
If you find our recommendations useful, please consider booking through the above links. When you do, we earn a small commission at no additional cost to you.
OUR EXPERIENCE AT HAMPI WATERFALLS
We visited Hampi Waterfalls in February 2020, as a part of X Trips that we had organised, and it became one of our favorite places to be in Hampi! A guest at our stay mentioned about this place and we saw the pin on Google maps and found it worth exploring.
After about 2 Km walk from the ferry point near Virupaksha temple towards west, we reached the end of the road. When we reached the end of the road near the banana plantations, the guide approached us and we were happy to take his help as we were kind of lost on how we should proceed further.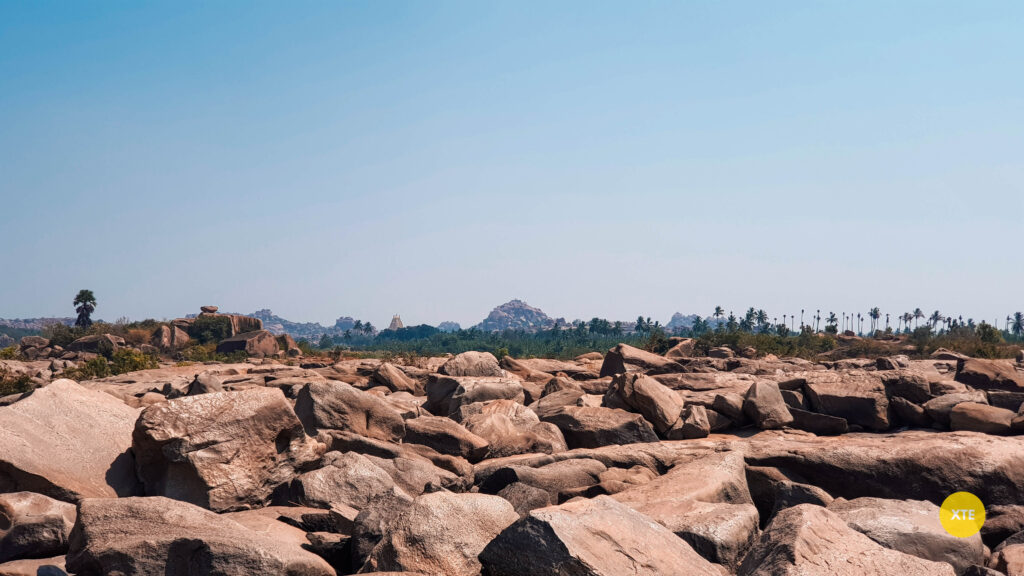 Crossing the banana plantations and entering the dried-up river bed is a unique experience. As you are in the middle of huge grey boulders and a vast clearing on all sides, with the temple tops of Virupaksha temple and Matunga Hill visible at the horizon.
Soon we were skipping stones and crossing some streams on our way. After a 15 minute hike, we reach the waterfalls. However, we were really interested in the cliff jumping experience. Our guide led us ahead to the pond of water near the cliffs which is a little ahead of the waterfalls.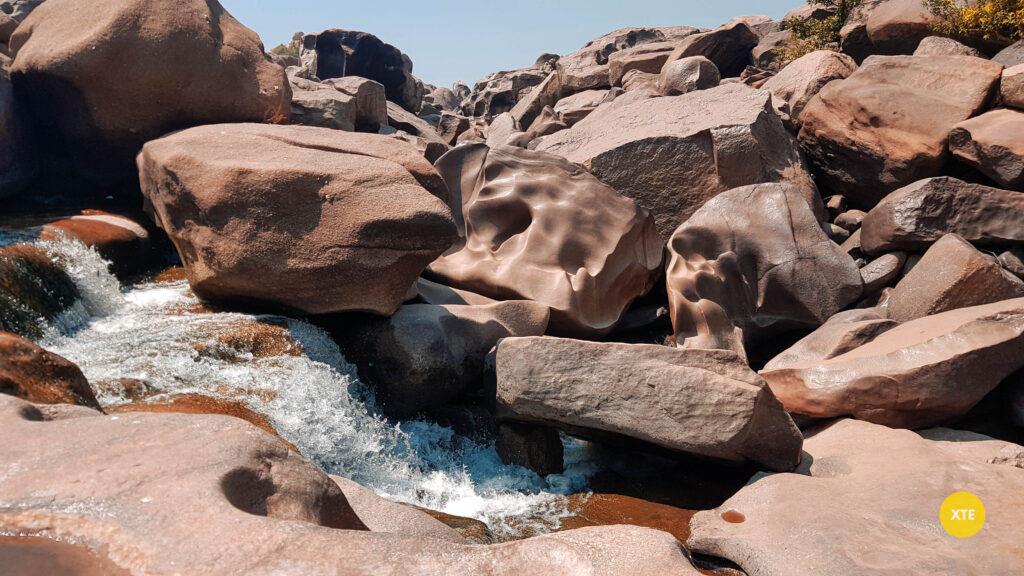 A few tourists were enjoying the spot who guided us and told us the water is deep enough and you must be careful while you enjoy it. So we were soon jumping in the waters and spent half a day cliff diving and relaxing by sitting under the gushing waters of the tiny Hampi waterfalls.
There is another, higher spot where you can go cliff jumping. This is at Sanapar Lake. Read about it in our Hampi Itinerary!
PIN THIS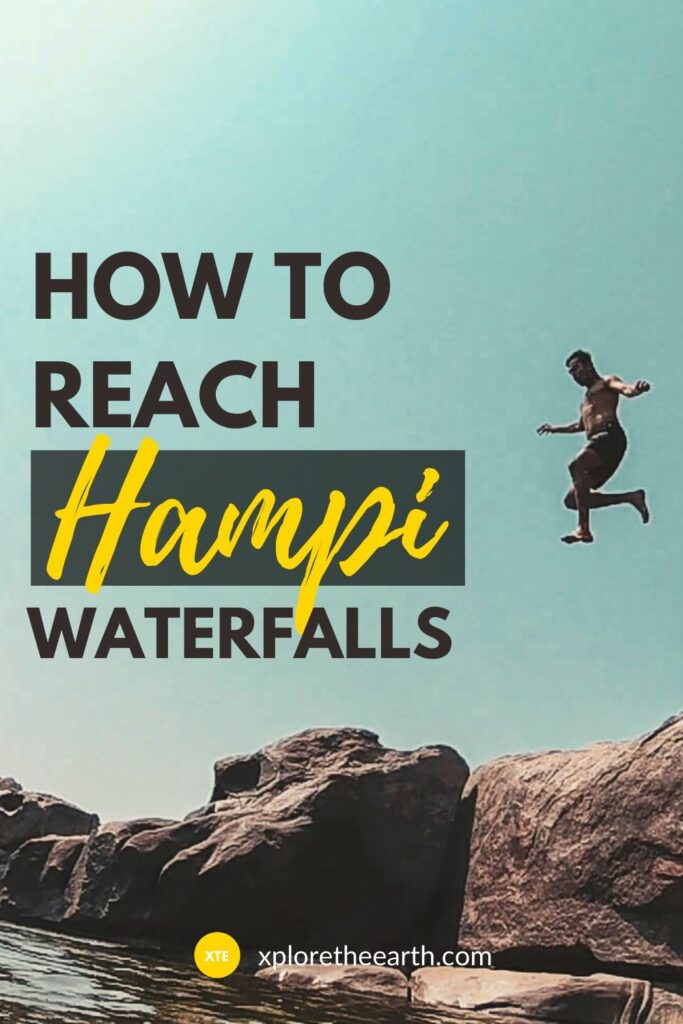 A MESSAGE ABOUT RESPONSIBLE TRAVEL
The Hampi Waterfall is not a Tourist Spot. It is not managed by any authorities and it does not have any infrastructure like dustbins or washrooms.
If you are visiting this spot, you need to make sure that you bring all your trash back. Keep a reuseable bottle with you and if you're carrying any food or snacks, make sure the wrappers are brought back with you and not littered.
Read these 6 steps which we strongly propagate about to make sure that you are doing your best to travel responsibly.
Keep the place true to its form and not make it a victim of over-tourism and irresponsible behavior.
ENJOYED READING ABOUT HAMPI WATERFALLS?
Read a few of our related articles like this that we think you will enjoy!
HIPPIE ISLAND DEMOISHED! SHOULD YOU VISIT?
CAMPING IN GOKARNA | A BACKPACKING ITINERARY
TOP 32 PLACES TO VISIT IN KODAIKANAL!
VIBING IN PONDICHERRY | WEEKENED ITINERARY
Have Questions? Leave them in the comments below!
Reach out on our Instagram!
SUBSCRIBE IF YOU LIKED OUR CONTENT
Back in February 2020, before the Covid-19 Crisis, we had organised a unique and offbeat experience in the ancient ruins of Hampi Karnataka for a small group of like minded travellers looking for a bit of adventure and lots of experiences!
We spent 2 wonderful days in Hampi, exploring the ancient ruins, cycling through 600 year old remnants, cliff diving into waterfalls and watching beautiful sunsets from unique boulders of Hampi!
We will be back with this trip in the coming winters!
If you'd like to get notified about the coming trips that we organise, you can get on our mailing list!