This 5 minute quick guide will help you explore the ruins of Hampi, Karnataka over 2 days and make the best out of your time. This guide contains a detailed map of all the ruins along with the details for camping, jumping off a cliff, biking around the 600 year old ruins!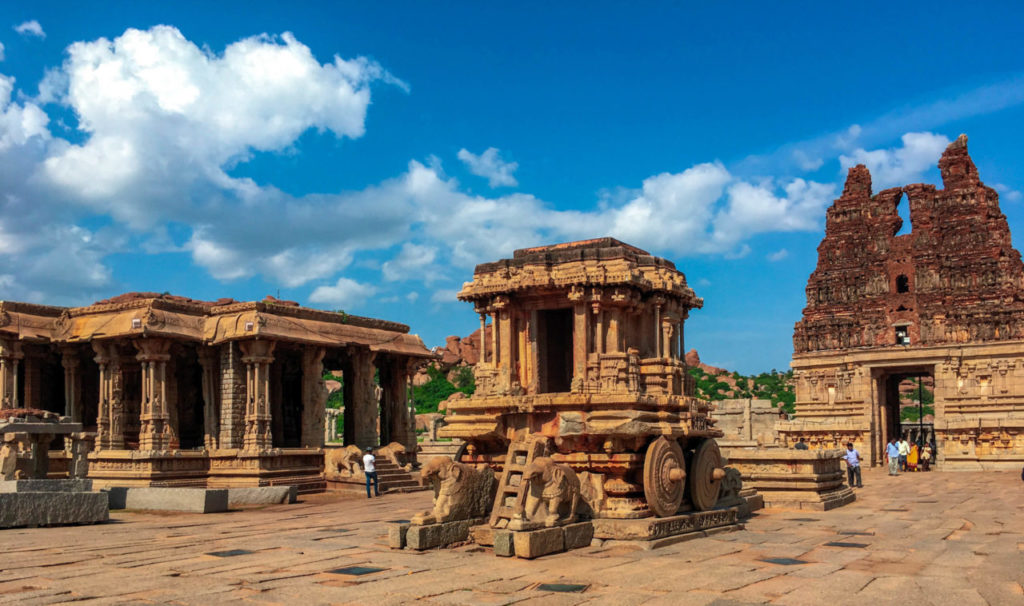 HAMPI ITINERARY OVERVIEW
| | |
| --- | --- |
| No. of Days | 2 |
| Category | Exploratory, Adventure |
| Suitable For | Solo, Friends |
| Approximate Budget | Rs. 3,000 per person |
EDIT- As of March 2020, most of the stays and shops of Hippie Island side of Hampi have closed off as per the high court ruling. Only a few licensed stays are operating. Make sure you check the availability of the stay or activity you book by calling them up and confirming.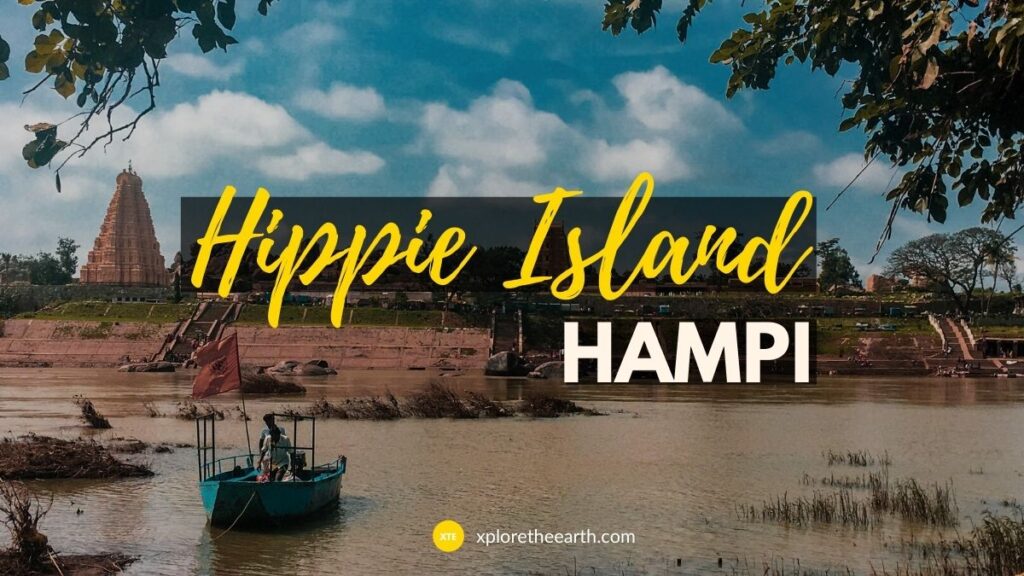 ULTIMATE VIDEO WITH ALL HAMPI DETAILS!
---
Arrive at Hampi Early Morning
---
Reach the campsite
---
Have breakfast and explore the Hippie Island side of Hampi
---
Head to Anegundi or Gangavati to Hospet bridge, enjoy the views of the river.
---
Check Onake Kindi cave paintings on the way
---
Go to Sanapara Lake and enjoy boating and swimming
---
Try bouldering
---
Watch the sunset
---
Rent a bicycle and explore the ruins through the 2nd day
As most of you would know, Hampi is a preserved architectural heritage site of the Vijayanagar Kingdom from 15th Century. The area has many of the temples, palaces and monuments well preserved from this area. It offers some wonderful experiences as the landscape of this area is quite unique with lots of boulders around and hills made only of boulders with the river Tungabhadra passing by this ancient city.
The other side of Hampi, popularly known as the "Hippie Island" is referred to the newly developed area on the other side of the river. There are no monuments on Hippie Island. Nonetheless, it has its own charm. A few popular spots are the Sanapar lake for boating, cafes, restaurants, shops and camp sites are the reason it makes this area popular.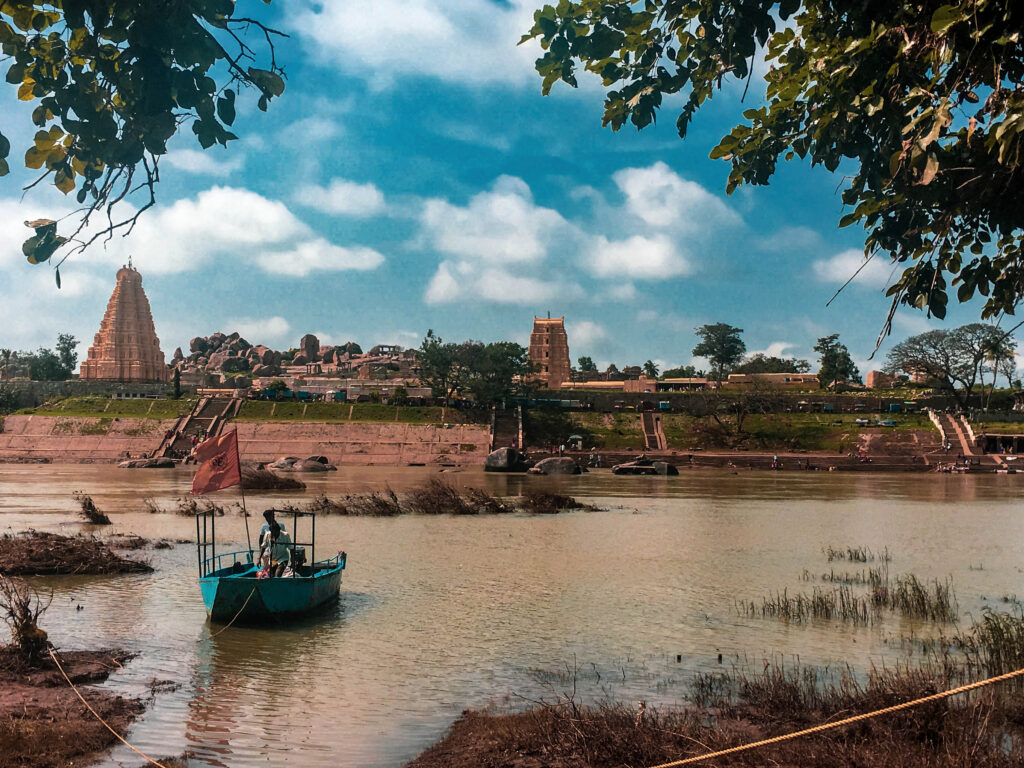 HOW TO REACH HAMPI
You have most means of transport easily available from major cities like Bangalore, Mumbai & Hyderabad to reach Hampi.
The nearest junction from Hampi is Hospet. All the routes end here and the government buses run to and fro from Hospet bus stop to Hampi throughout the day till 8 PM.
Karnataka State buses are available from Bangalore directly to Hampi, it's an overnight journey. You can book them online through the government's website.
Trains from Bangalore to Hampi are available.
Driving from Bangalore is difficult as it is almost a 7-8 hour drive.
Return buses from Hospet to all major cities are available.
Return buses to Bangalore directly from Hampi run daily.
WHERE TO STAY IN HAMPI
Hampi is quite commercialized due to which there is an abundant choice of places to stay, from home stays to camp sites to good hotels and dorms.
I found the Hippie side of Hampi a better suit for me as it is quite spaced out, full of open fields and campsites on the river banks.
One of the best options for both the adventure kind and the leisure traveler is a place called Bobby's Guest house (Also known as Chinna's guesthouse) near the Goan Corner on map. The place is tucked between two farms. You can rent a room at Rs. 500 per night and can camp in their tents starting at Rs 300 per person.
They also have a nice cozy restaurant on the premise with free wifi.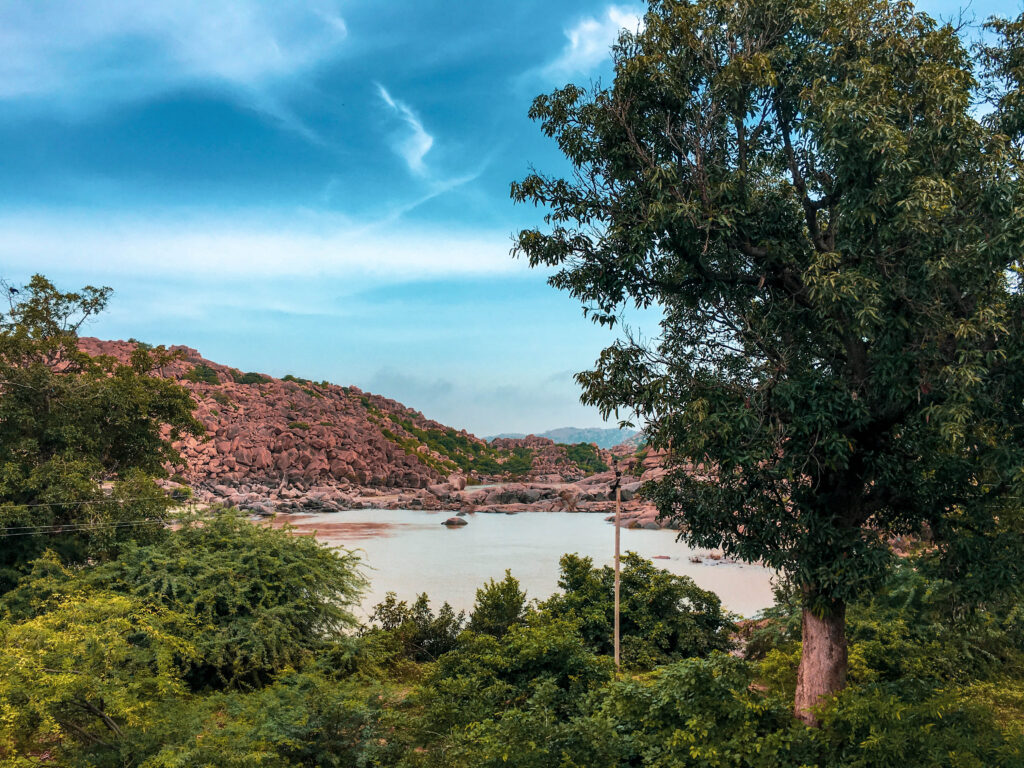 These are some of our recommendations that are in a convenient location and closer to the main Virupaksha temple and are the most economic options available with trusted reviews.
Rashmitha Homestay
Ranjana guest house
If you want to enjoy a bit of luxury, we'll recommend this one, It has a pool and quite a lot of amenities to enjoy the hot temperatures.
Heritage Resort Hampi
PS
If you find our recommendations useful, please consider booking through the above links. 
When you do, we earn a small commission at no additional cost to you.
WHAT TO DO IN HAMPI
DAY 1
Arrive at Hampi
Buy a small guide book about Hampi with a map.
Take the ferry from the ferry point which is behind the Virupaksha temple, the main temple of Hampi (google maps shows the ferry point) to other side of river (Rs. 50 per person)
Rent a scooter from other side of the river (Rs. 150 onwards per day) Rent for one day only
Head to Camp site, settle in your accommodation and freshen up with breakfast at Bobby's guesthouse.
Go to Anegundi or Gangavati bridge on map and enjoy the views
Check out Onake Kindi Cave Paintings on the Way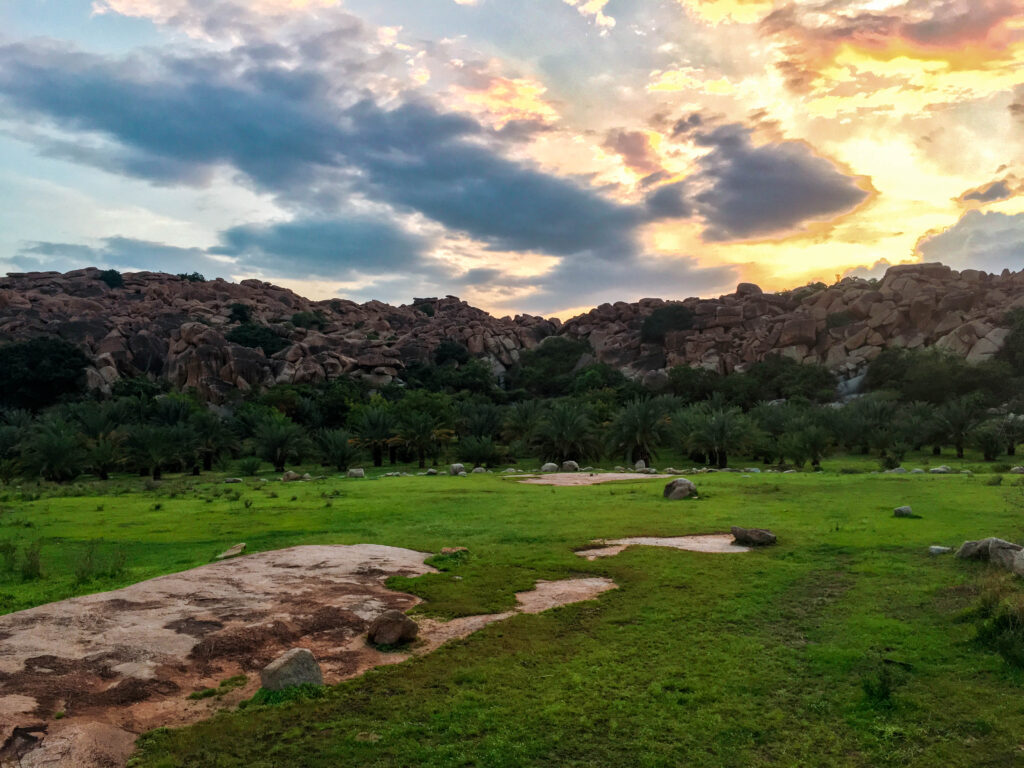 Next, head to Sanapar lake and have lunch in restaurants coming in between. Have food at Rock n Chill which is just before the Sanapar lake.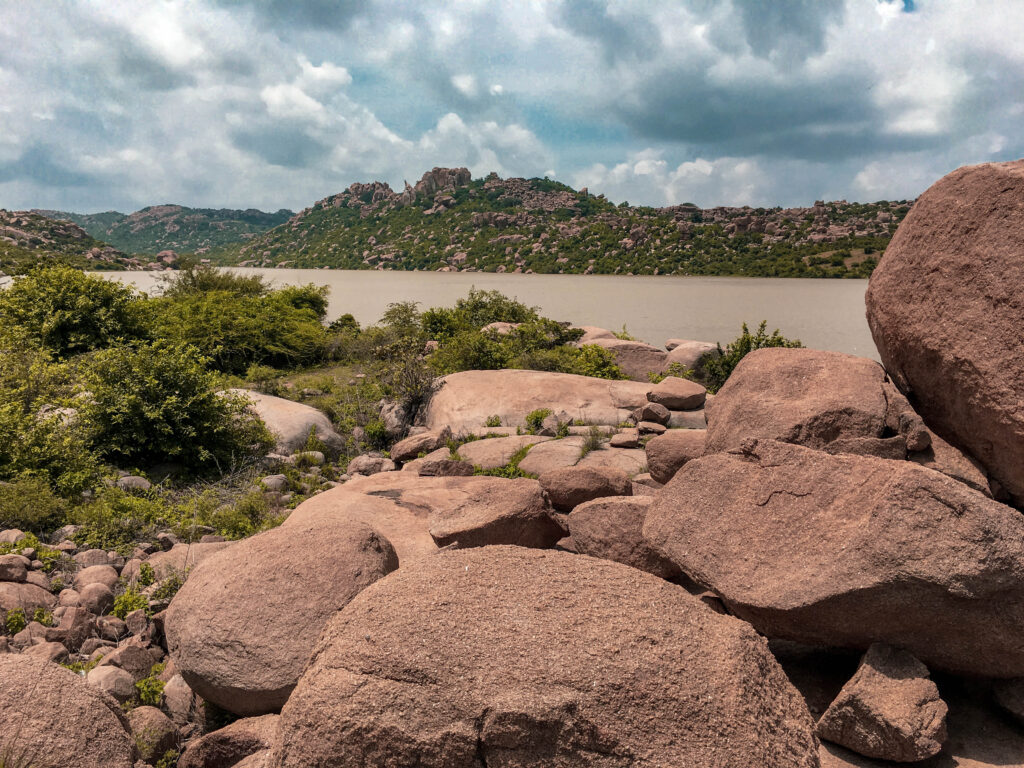 Enjoy coracle boating and swimming & cliff diving at Sanapar Lake. Ask locals for the swimming spot and they'll guide you. Ensure to be safe. There are no crocodiles in the lake.
Return by 5PM to the market near the ferry point on the hippie island for shopping some souvenirs and browsing through. It is like a flea market. (As of March 2020, these shops had shut down due to the high court order.)
Head to the sunset point on google maps near Bobby guesthouse for an amazing view of the entire Hampi on the opposite side.
Retire for the day with dinner at flea market/bobby guest house.

Read the guide book at Dinner to know about the spots for the next day.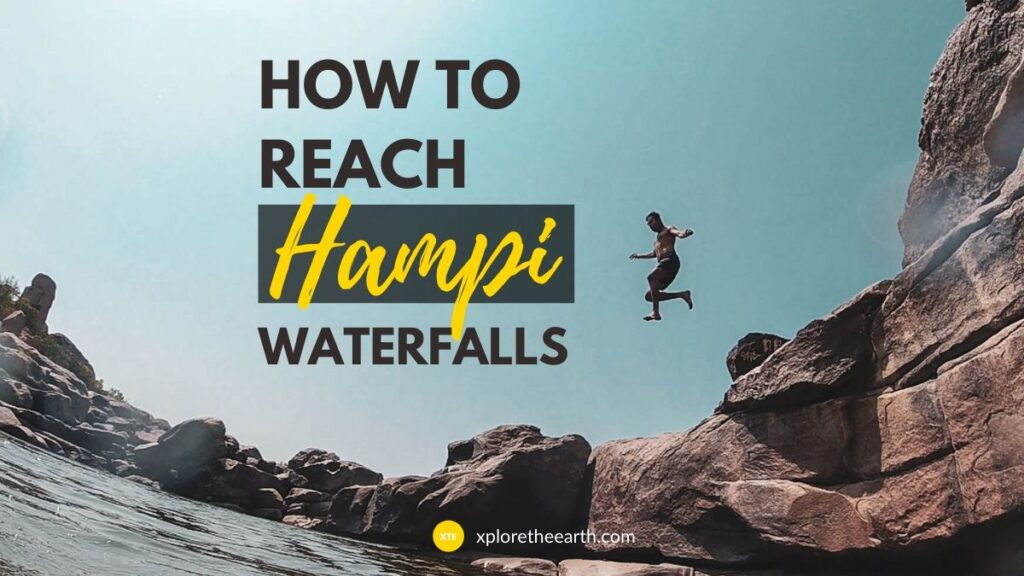 Read about the Secret Waterfall of Hampi and Find out how to reach there! (Trust us, it's worth your time!)
DAY 2
Start the day early to avoid the hot sun
Head over to the Hampi Bazar, rent a bicycle (Rs. 100 onward depending on the day of visit and the crowd)
You can take a tour guide along and bicycle tours are also provided where they show you around on a bicycle for ₹350. I was recommended by a fellow traveler to take a guide along so I did, However it was not a good experience for me. As I had read the guide book, I knew most of the things beforehand which he was talking about. Also there are description boards of ASI at every exhibit which give you details about that monument.
So a guide is unnecessary unless you enjoy that.
Most of the monuments and temples come on the same road. Start your journey as per the map. The road starts with Kadlekalu Ganesh and ends at Vittal Temple. Picture attached.
After the Lotus Temple and Queen's bath, take a small detour and head to the Museum where a few pictures about excavations and scale model of Hampi is displayed.
Then continue towards Vittal Temple.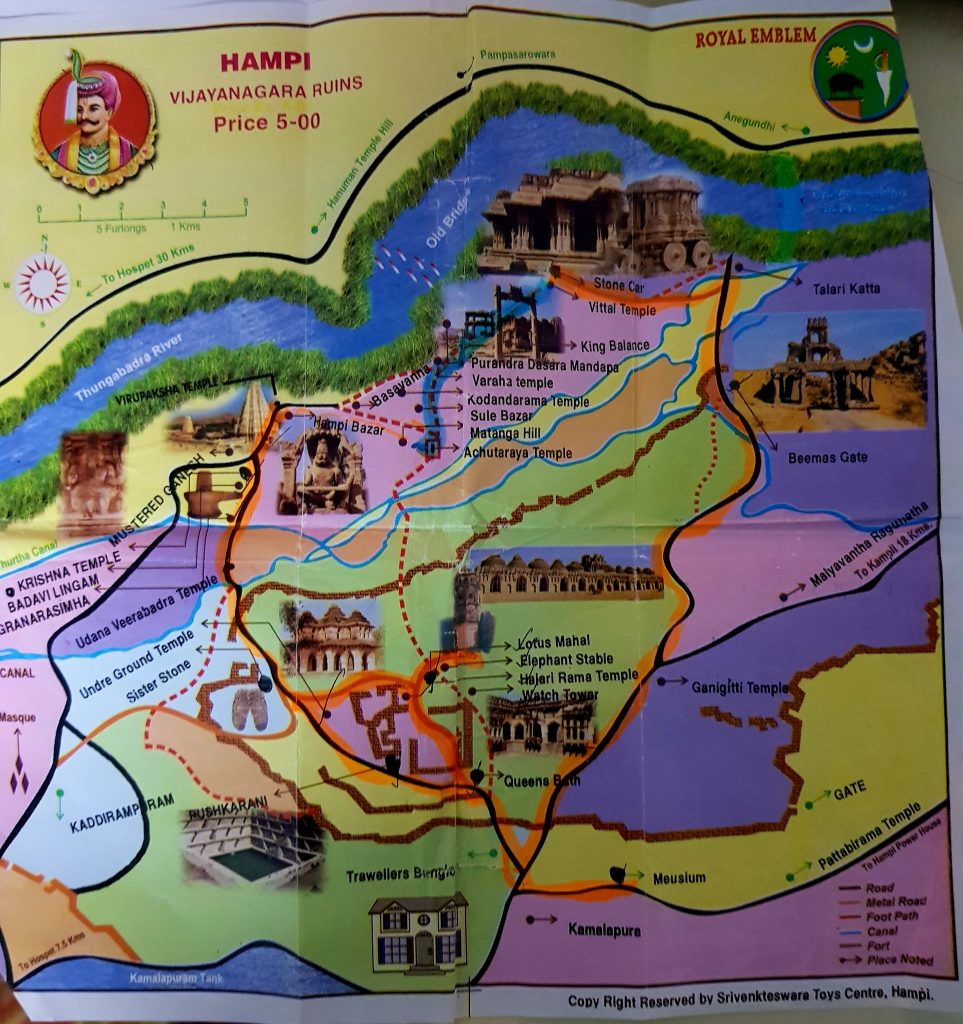 Vitthal Temple is a famous spot with the famed musical pillars and the stone chariot of Hampi.
From Vitthal Temple you can take your bicycle all the way up till King's Balance via the dirt road.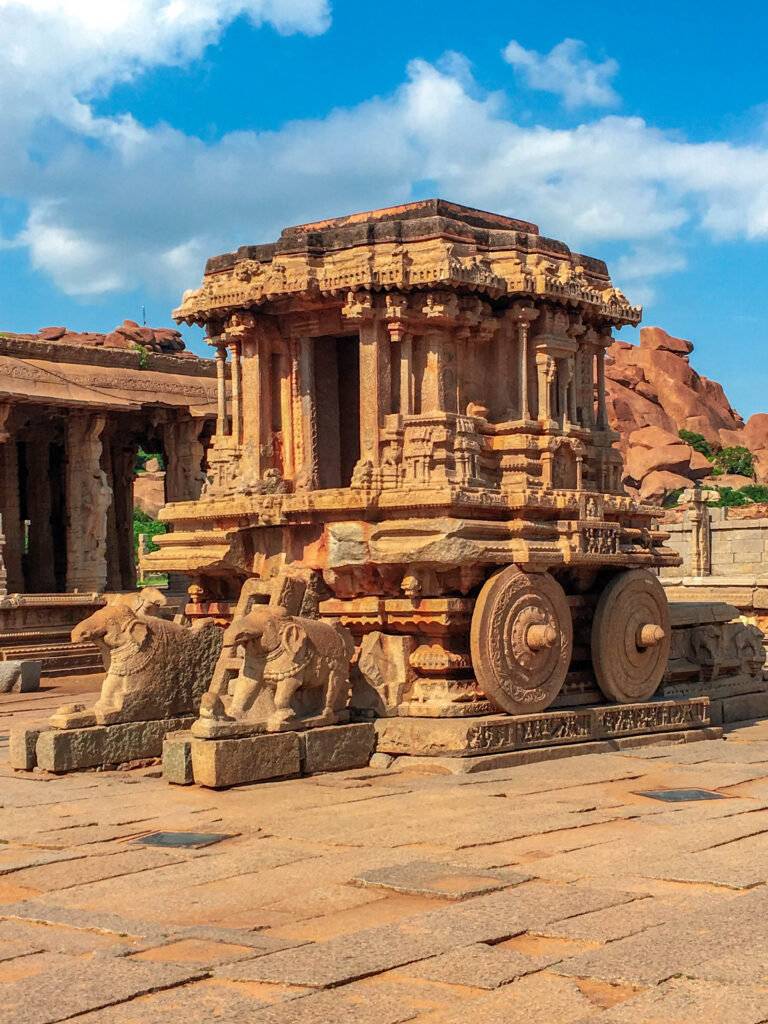 Park your bicycle at the entrance of Achyutama temple at the end before returning to cycle and back to Virupaksha Temple at Hampi Bazar. No matter what, don't miss the Achyutama temple and Vittal temple.
However, I had no mood of cycling back so I carried my cycle from Achyutama temple on my shoulder and went to Hampi Bazar with the bike, as it is very near on foot but no road goes there.
Take a short trek on the Matunga hill near the main temple.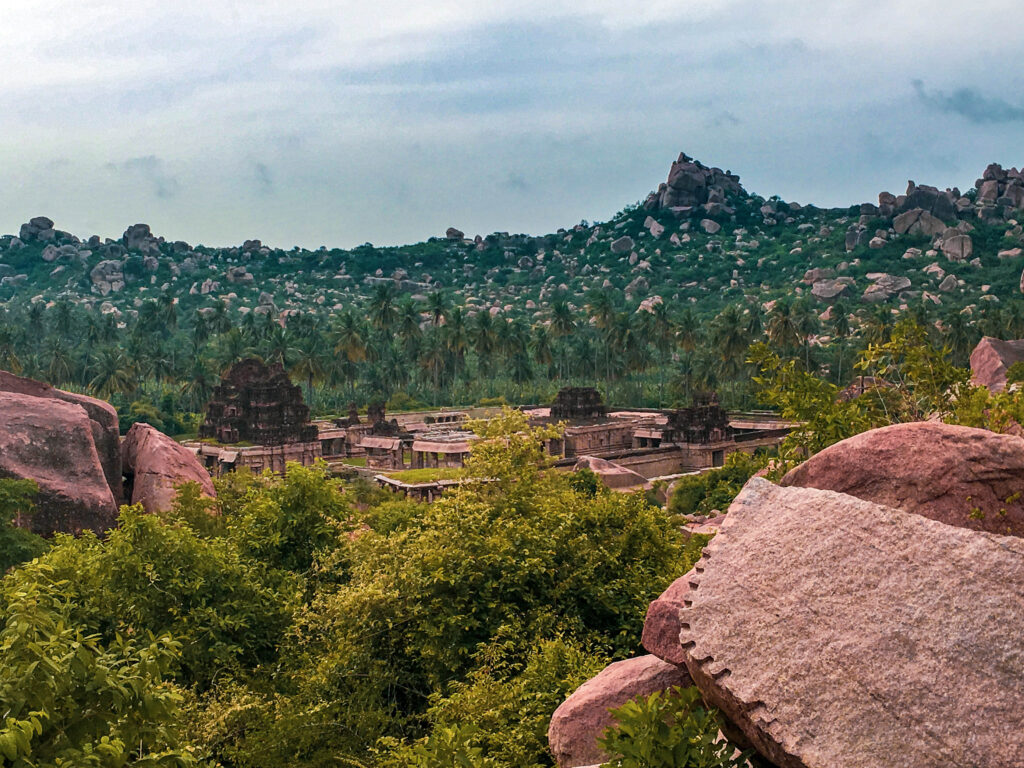 You should Rest and enjoy your time till evening at Bazaar shopping or relaxing and watching the sunset.
OTHER THINGS TO DO
Bouldering offered by Goan corner, Bobby's guest house and a few other shops on Hippie island.
Rappelling and Rock climbing is also be offered by them
Shopping from flea markets on both the sides of river.
A few hills with temples on both sides of Hampi can be trekked or climbed via the steps to enjoy the views.
Swim and take a dip in Hampi Waterfalls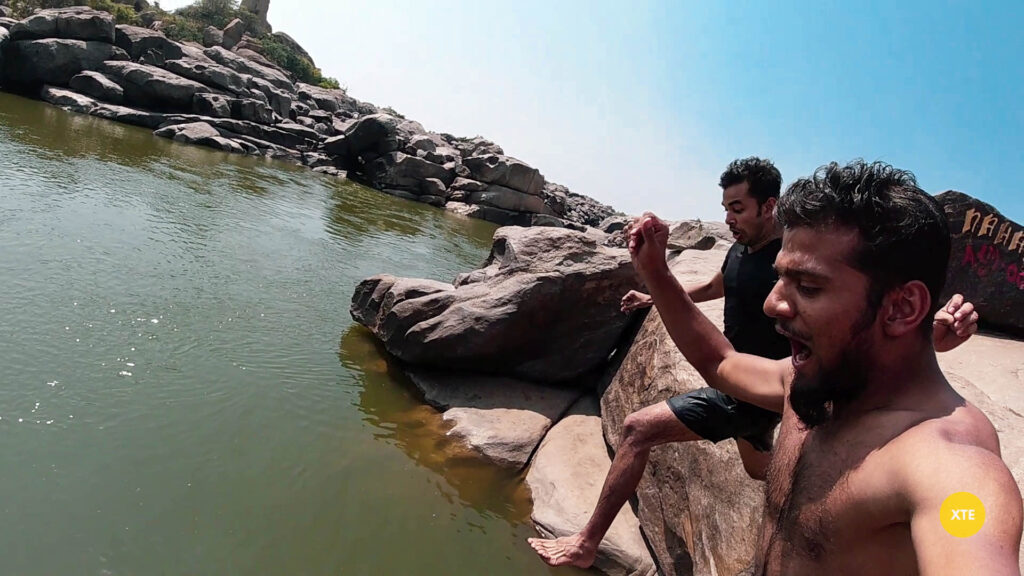 WHERE TO EAT IN HAMPI
There are multiple similar-looking shacks, restaurants and cafes all around the place. To name a few that I tried are:
Bobby's guesthouse
Uma restaurant
Mango Tree
HOW TO TRAVEL IN HAMPI
Hampi spans over a large area. No local buses or public transports are available.
Autos are available but they charge too much and try to scam you at every opportunity available.
So the best options for travelling around in Hampi are:
Mopeds and scooter rentals (₹150 per day on ward)
Scooters on the hippie side are not registered as rental bikes and if you use them on Hampi side the police will take a fine.
You can either use them only on hippie island or rent a scooter from Hampi side with a registered yellow license plate and use all around. However i didn't find a lot of vendors offering scooter rentals on Hampi side.
Bicycle rents (₹100 per day onward)
Autos if necessary
THINGS TO KEEP IN MIND
Carry water at all times, Hampi's weather is hot throughout.
Keep a raincoat handy during monsoons.
Avoid autos and packages offered by locals as they will be overpriced and they'll try to get your money in the easiest ways.
There'll be a lot of walking and cycling, stay prepared physically or plan your day as per your comfort.
Covering entire Hampi in a day is possible but very hectic.
A 3 day trip is ideal for Hampi.
A fee of Rs 40 is there for entry at Museum, Vittal temple and Lotus Mahal. The ticket is common for all three places so keep it safe.
PICTURES FROM THIS TRIP
ENJOYED READING THIS HAMPI ITINERARY?
Read a few of our related articles like this that we think you will enjoy!
FIND THE SECRET WATERFALLS OF HAMPI!
CAMPING IN GOKARNA | A BACKPACKING ITINERARY
VIBING IN PONDICHERRY | WEEKENED ITINERARY
Have Questions? Leave them in the comments below!
Reach out to us on our Instagram Account | @xploretheearth!
PS, We have started organising such exciting and offbeat trips and we call them XTrips! We take a small group with us and together we Xplore the destions. Here's a glimpse from our last Hampi Trip in Feb2020.
Follow to stay updated about more of our adventures!
SUBSCRIBE IF YOU LIKED OUR CONTENT
We create new exciting travel content, curate an excellent social feed and also organise experiences like these. If you enjoyed our content, stay on our mailing list to hear from us about new exciting things we create and curate!
Processing…
Success! You're on the list.
Whoops! There was an error and we couldn't process your subscription. Please reload the page and try again.
---
ENJOYED READING ABOUT HAMPI ?
Read a few of our related articles like this that we think you will enjoy!
HIPPIE ISLAND DEMOISHED! SHOULD YOU VISIT?
CAMPING IN GOKARNA | A BACKPACKING ITINERARY
TOP 32 PLACES TO VISIT IN KODAIKANAL!
VIBING IN PONDICHERRY | WEEKENED ITINERARY
Have Questions? Leave them in the comments below!
Reach out to us on our Instagram Account | @xploretheearth!
Ensure you travel responsibly and keep your carbon footprint to the minimum. Happy Exploring!
---
Want to share your experience and tell everyone about how you travel and plan your trips? Now you can, in just a few steps! Head out to Share your Trip page now!