The Hippie Island of Hampi is a spot often talked about by backpackers, campers, adventure enthusiasts, climbers and the laid-back travellers. This spot is visited by those who have come to Hampi for more than just the Monuments of Hampi, Temples and history!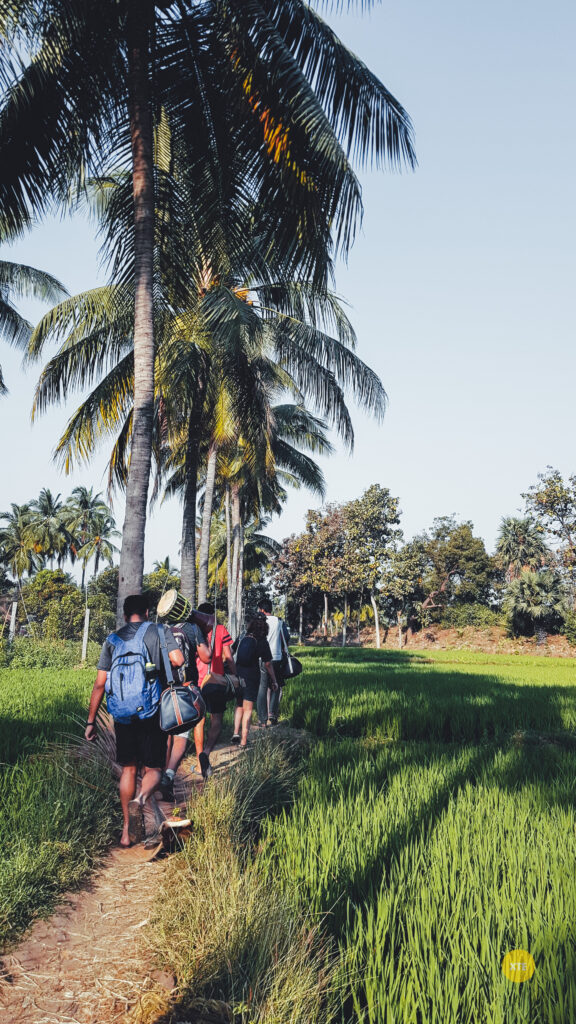 Everything You Need to Know About Hampi Before You Visit in 10 Minutes!
2023 RECENT UPDATES FOR HIPPIE ISLAND OF HAMPI
So in 2023, the ferry is again running regularly starting from 8 am to around 5:30 pm.
The Goan Corner is running but they are now serving a different bouldering area (Hippie Island 2.0) farther away.
There are still two places in Hampi that serve the boulders on what used to be Hippie Island. They actually work together, if one doesn't have the time they will send you to the other person.
* Hampi Adventures: +91 82777 92588
* The Monkey Zone: +91 94833 80655
The closest "chill" places in the spirit of Hippie Island are Wanderlust and Baba Cafe in Hanumanahalli. There are also some nice home stays in the village. You can directly walk there from Hampi by crossing the "mountains" on the former Hippie Island; it takes around 30min from the ferry. The path is not marked at all though.
The above is contributed by Florian in the comments on this article as on 13th April 2023.
PREVIOUS UPDATES FROM 2022.
SCOOTER RENT ON HIPPIE ISLAND – Available from Hippie Island after you descend from Ferry. Subject to the number of tourists and the Ferry's operation
FOOD & SHOPS – Most of the shops, businesses and restaurants remain closed on Hippie Island. They have moved towards Anegundi, Sanapur and other villages (2-4 Km Away)
If you have more recent updates, please comment below for others to refer to!
The hippie island in Hampi or the settlement of Virupapura Gaddi, is a river island tucked between boulders, hills and river streams flowing around it. It falls on the opposite riverbank of Hampi on the other side of the river Tungabhadra, near the village of Anegundi.
The region came to be known as 'Hippie Island' because of the atmosphere and vibe over here! There were multiple shacks offering views of the river, rice paddies, rooms at economic rates for backpackers, camping grounds by the riverbank, undisturbed hills with beautiful sunsets and huge boulders hiding the place from any outside disturbances!
However, Hippie Island of Hampi is no more!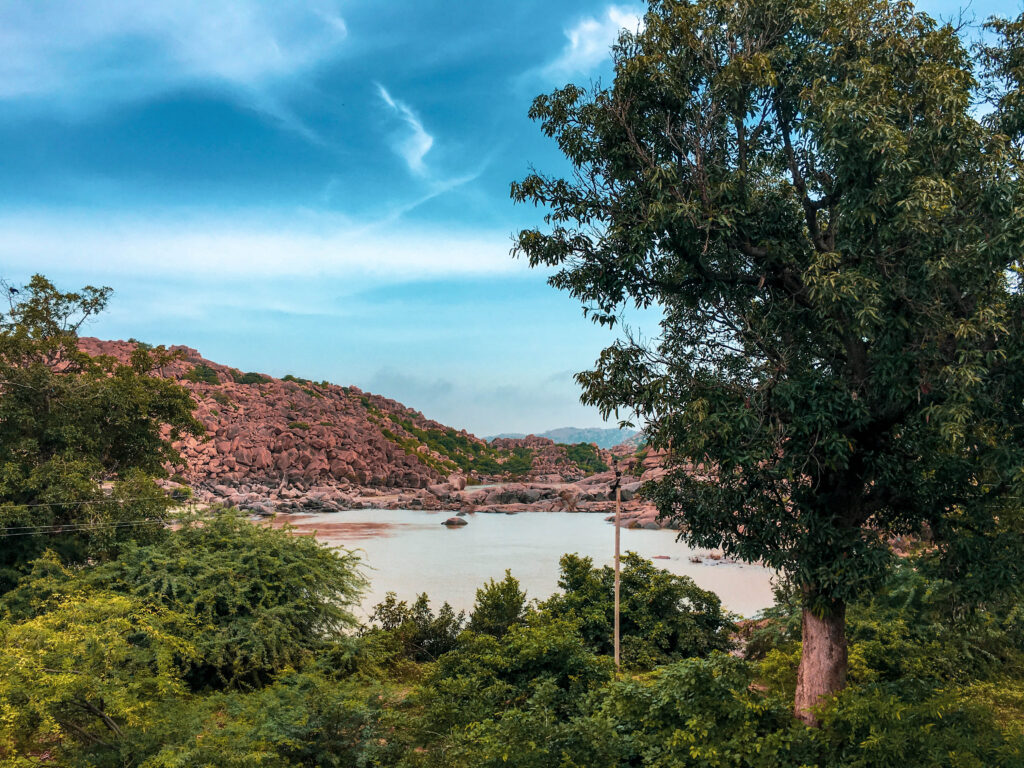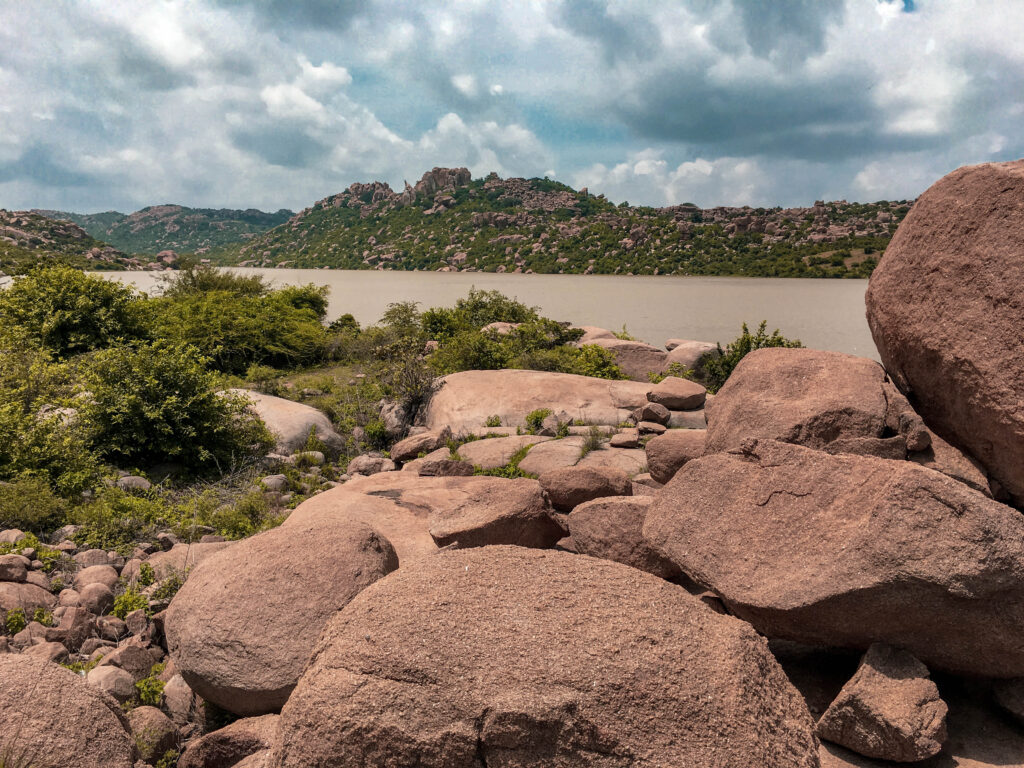 ---
Help us write more such blogs & create more YouTube Videos!
A small amount contributed by you could help us sustain and keep doing what we love – sharing helpful travel information for you all!
---
WHY WAS HIPPIE ISLAND IN HAMPI DEMOLISHED?
The supreme court on Feb 11, 2020, released the official order for the demolition of all establishments on Hampi's Hippie Island (Virupapura Gaddi), without an active license issued by State Government. A short notice period was given to the owners for relocating before the Bulldozers rollover.
Despite protests and court cases from the locals of this region for many years (almost 10), the supreme court finally gave the official order to demolish, citing a few key reasons –
The area falls under either a buffer zone or protected area marked during previous Acts for the conservation and protection of Hampi and thus setting up commercial establishments without proper licenses is illegal under these areas as per these acts.
The area hosts ancient relics and monuments of significant importance, as per ASI (Archeological Survey of India) and thus any commercial development in the area must be approved by all authorities with the right permissions.
Most locals from this area had been operating on their Panchayat licenses, which were considered invalid by the Supreme court and hence their legitimacy to do business considered null.
These were a few key points, formally stated based on which the verdict was passed to demolish the unlicensed establishments of the Hippie Island at Hampi.
(The above is my understanding of the situation after doing my research on the issue which I have summarized above.
Sources – Deccan Herald, YouTube explainers, social media posts of a property owner in the area, and Medium Article.)
The unofficial story
The above may be the official clauses cited, but there were many factors at play behind the curtains which I was able to see after interacting with a few locals of the region and reading some posts from local owners on social media.
There seemed to a rift between local hotel owners residing in Hampi & Hospet who had to adhere to strict government rules and regulations and the businesses at Hippie island, which had a much better location, could offer better rates and the right vibe than the hotels.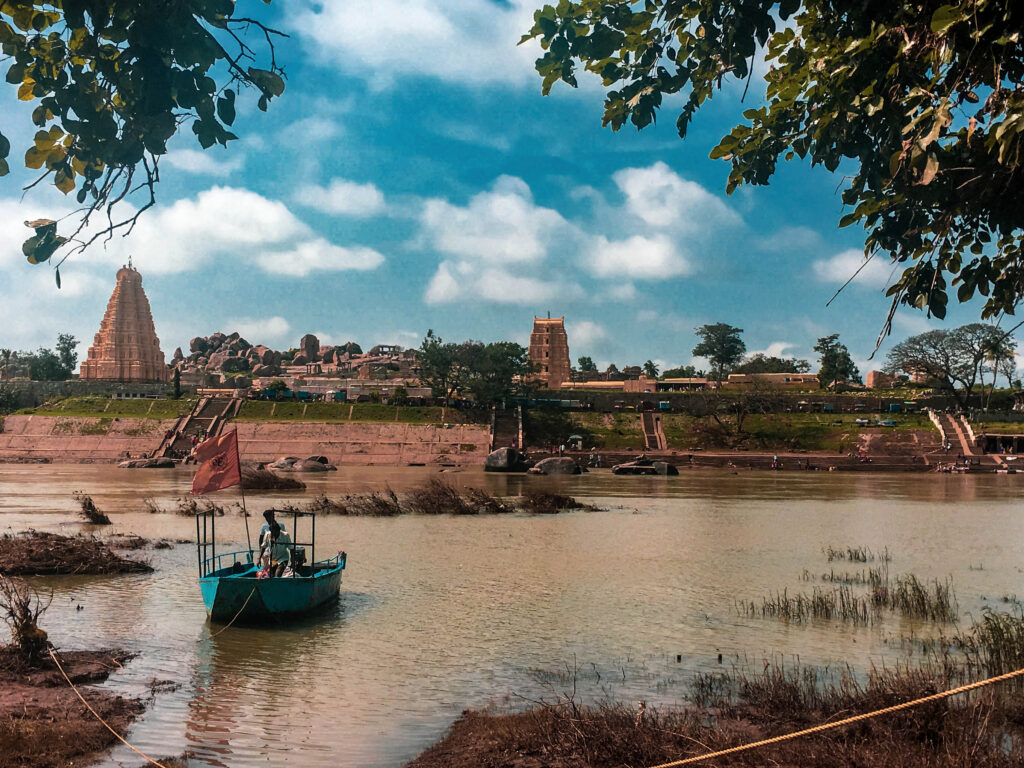 With the influx of more tourists – local and foreign, The Hip culture's base became the Hippie Island. The hotels of Hampi & Hospet started seeing the threat and the press got involved. The press started calling attention stating that tourists are using alcohol and drugs and apparently hosting Rave Parties on this land. Which seemed clearly exaggerated.
All these scenarios and much more had been going on in this small peaceful farming village. All of which sadly led to the ultimate demolition of the businesses at Hampi Island (Virupapura Gaddi).
IS ANYTHING AVAILABLE?
Here's an update about the availability of primary services needed to visit or stay at Hippie Island of Hampi!
ACCOMMODATION AT HIPPIE ISLAND HAMPI?
All the guesthouses and shacks have been demolished as of 3rd March. There was only rubble left behind.
However accommodations are available, a few Kilometers (2-3Km) away from the immediate settlement of Hippie Island towards the villages of Sanapur, Anegundi and Gangavati.
FOOD AT HIPPIE ISLAND HAMPI?
Since there are no businesses at Hampi Island, there is almost no food available at the island area. There are small shacks and guest houses near the Sanapur lake and the Anegundi village about 3 Km away from Hampi island, where you will get food and rooms!
SCOOTER RENT IN HIPPIE ISLAND HAMPI?
You were able to rent mopeds, scooters and bikes starting at about Rs 150 per day in Hampi Island, immediately after getting down from the ferry.
Unfortunately, these are no more available. The option to rent bikes have also shifted towards the other settlements of Anegundi, Gangavati and Sanapur.
However, even if food and shelter are not available at Hippie Island as it used to be, the services have shifted a little away from the place. There are businesses offering rooms, food and camping grounds near Sanapur Lake, Anegundi village and a little ahead towards Gangavati!
Here are things that are still worth your time and visit in and around Hippie Island of Hampi, even after the demolition!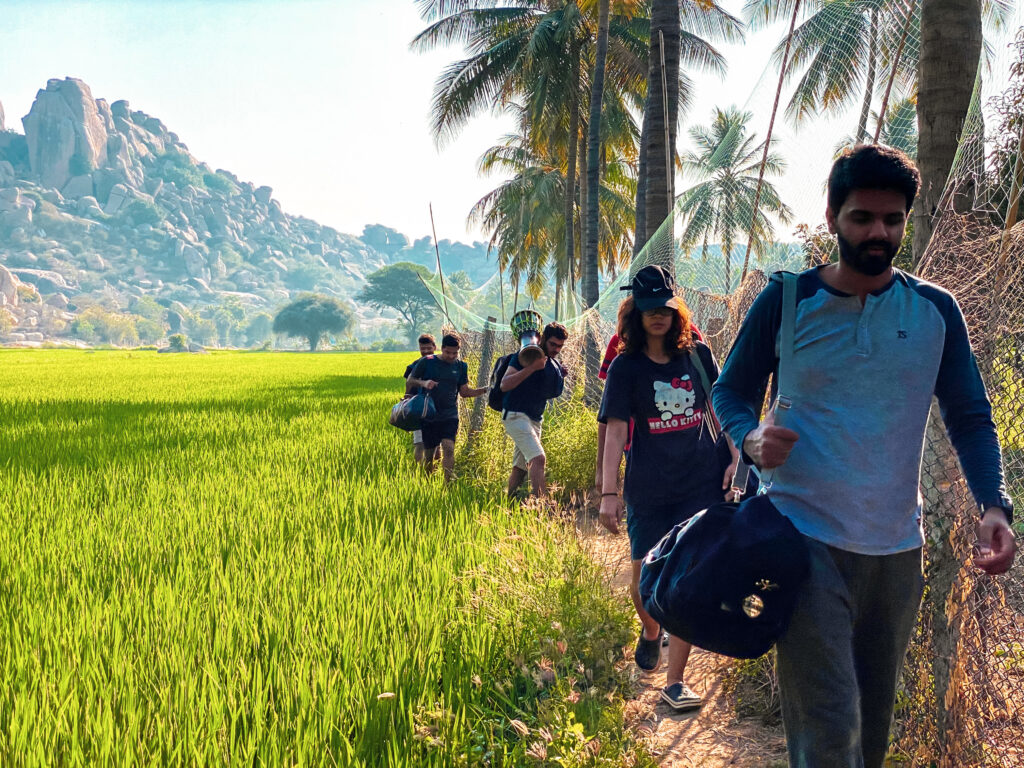 REASONS TO STILL VISIT THE HIPPIE ISLAND OF HAMPI
Hippie Island or the small patch of land that came to be known as such only had shacks that got demolished, however, the nearby spots from this area are also what people go to enjoy on the other side of Hampi! And these spots are intact, so make sure you experience them on your Hampi Visit!
1. SUNSET POINT HIPPIE ISLAND
The sunset point sits atop a hill of this area and is still very much possible to visit. The point offers panoramic views of the rice paddies, Virupaksha temple and the setting sun behind the far off hills!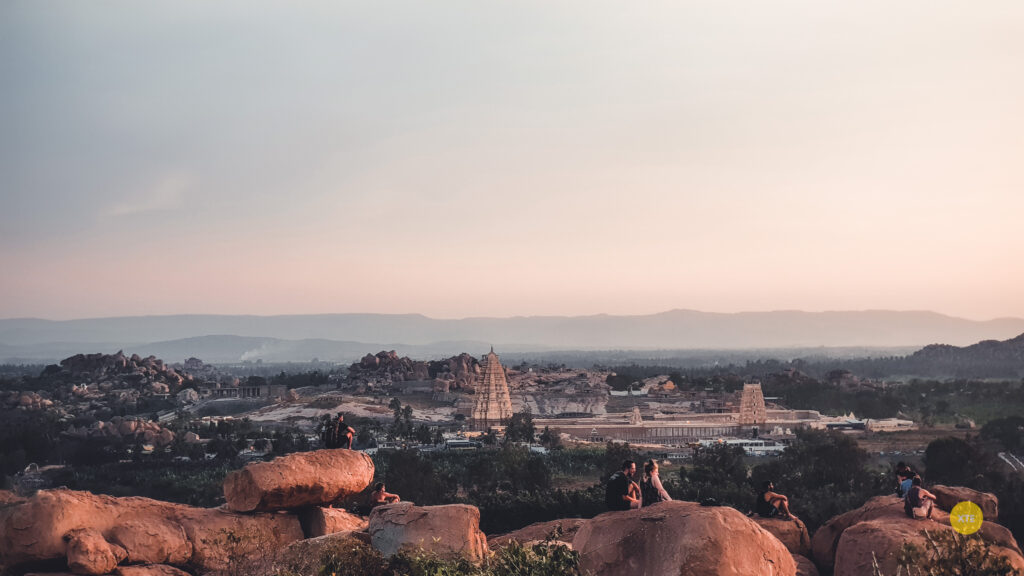 This spot was known for having evening music jams and people relaxing with a cup of tea sold by vendors, however with the businesses no more, the visitors to this place should drop from this season onwards!
Yet if you have time to spare and visit the place, it'll be a beautiful experience!
2. BOULDERS AND CLIMBING
There was no notification stating if activities like bouldering and climbing which were famous at Hampi Island need to be stopped. The boulders and spots are intact and can be visited.
However, the businesses offering them had to close down, due to which there is a bit of uncertainty on finding the right instructors to help you out if you are trying to experience it for the first time.
Goan Corner offered great instructors and equipment rentals before the demolition, and they are in the process of setting up their base once again! So confirm with them before your visit about the availability for bouldering, stay, food and more option.
Goan Corner is also one of our most recommended stays when in Hampi!
3. SANAPUR LAKE
The Sanapur lake is a man made reservoir on the River Tungabhadra. The lake is full of water through all the seasons and has become a popular spot to visit which is near Hampi.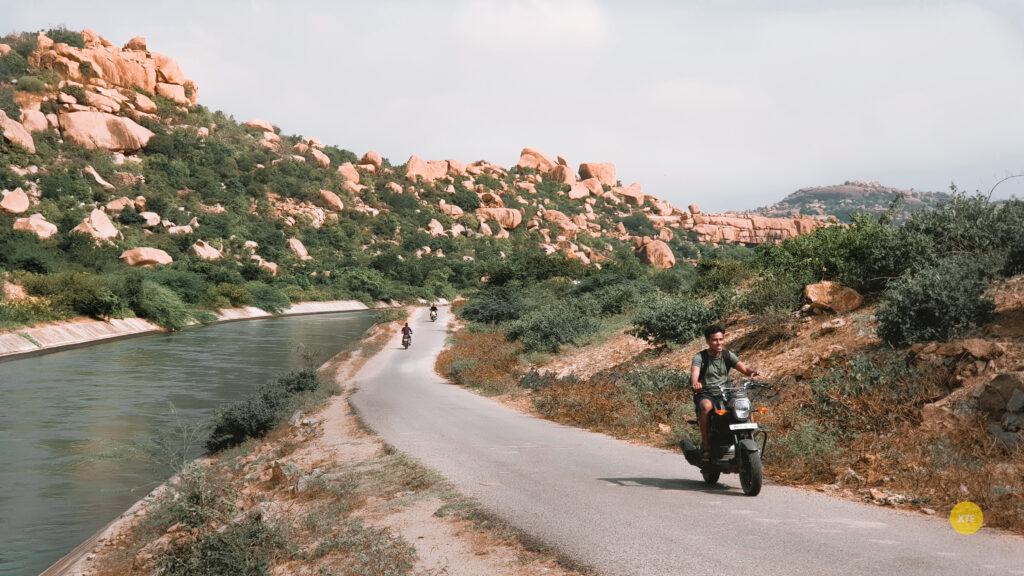 The Lake is really unique as its surround by massive boulders on all the sides for a huge expanse. The lake has become popular for 2 reasons –
Coracle Boating
The locals offer a ride into the lake in hand-made coracles oared by them. They take you for a 15-20 minute ride and make the coracles spin sometimes for the enjoyment of the tourists.
It's a fun experience being in this unique landscape to cool off in the waters.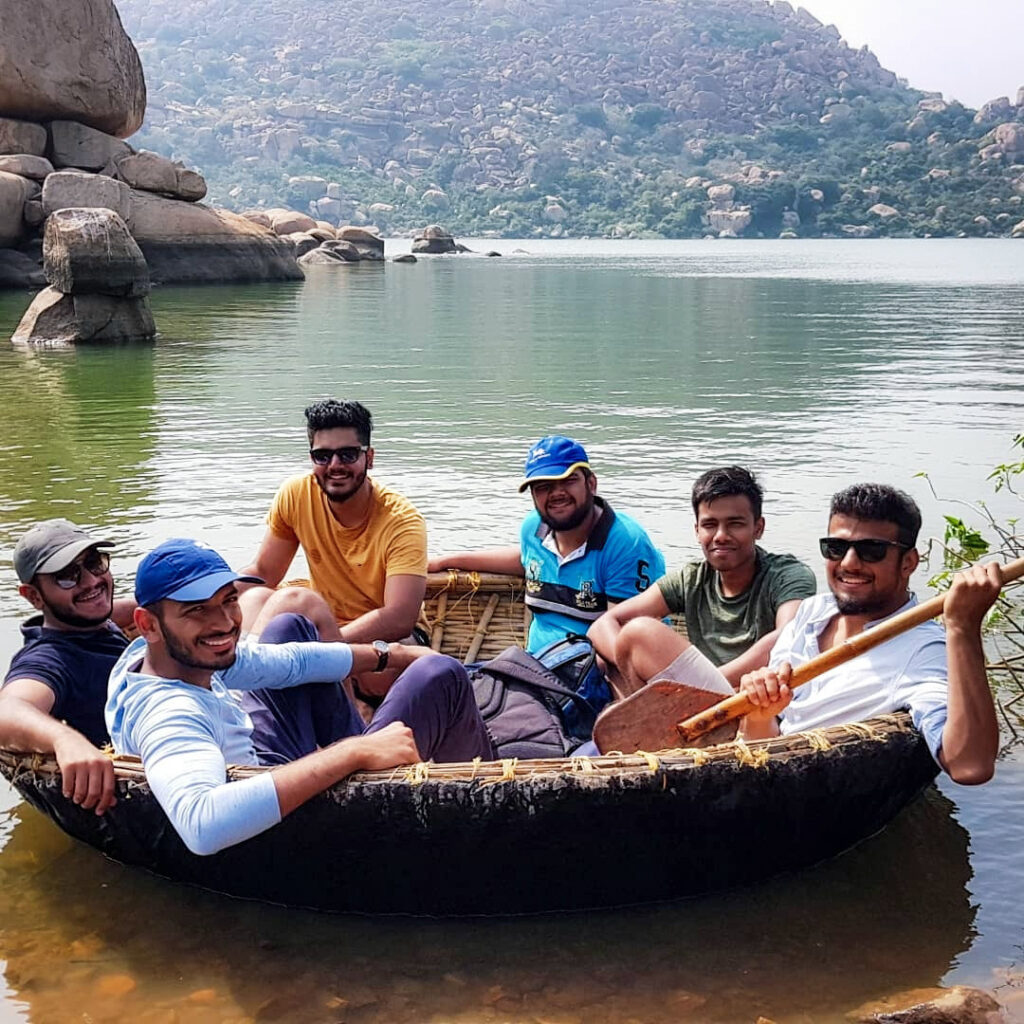 Cliff Diving
The unique structures and boulders have made a good spot to try jumping off a cliff at Sanapur lake.
Although it is risky and not an official spot for recreation, tourists often go off the road and climb this boulder to have some thrill and adventure.
The rock is easy to spot and you should find locals or tourists jumping off the rocks from the road if you come during the winters.
It is about a 25-30 ft drop. The water is deep and there are sharp rock right under the boulder, so you need to be jumping far off and must know swimming to try this out! Refrain from taking excessive risks, otherwise.
The lake is full to the brim during monsoons and is usually not accessible to boat or go in the water during monsoons.
4. MONKEY TEMPLE
Popularly called the Monkey Temple after Lord Hanuman, the temple sits atop Anjaneyadri hill. This temple is believed to be the birthplace of Lord Hanuman as per Hindu Mythology.
It is a small temple on a grand hill. There are stairs carved till the top of the hill and takes about 45 minutes to climb the hill. The views from the top are some of the best in Hampi! Surround by hills, boulders, rice paddies and the flowing river in view, it is a spectacle to witness once when in Hampi!
5. ONAKE KINDI CAVE PAINTINGS
This not so famous spot has markings that date back to almost 1500+ years, to the iron age of mankind! Just a few kilometres from Hampi near the village of Anegundi tucked behind a few rice paddies in a hill lock lies the site of Onake Kindi.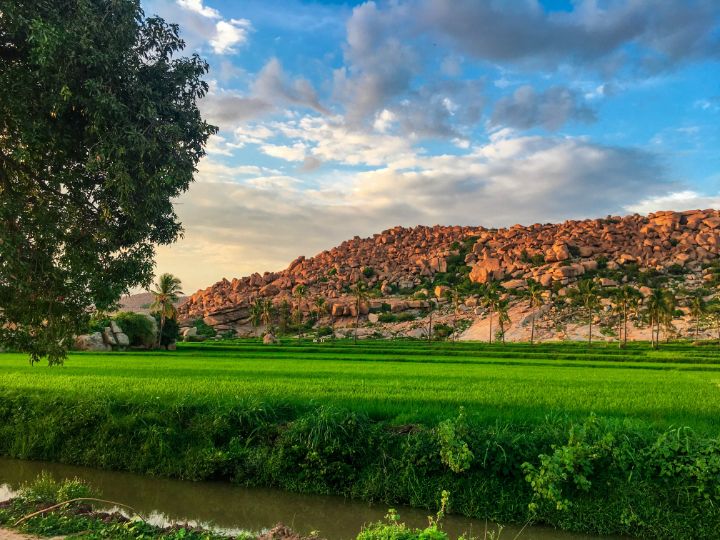 Not visited by many tourists and neither in any popular lists or attractions of Hampi, this quiet site has a lot of significance. The sheer history of these primitive markings and to be in a place so calm and preserved by nature gives you a feeling of how enduring life can be!
If you are a history buff like me, then I'm sure you'd love to visit this spot!
DOES THE FERRY FROM HAMPI TO HIPPIE ISLAND STILL WORK?
UPDATE – As of January 2023, the ferry is in operation almost every day from 8am to around 5:30pm
---
Help us write more such blogs & create more YouTube Videos!
A small amount contributed from you could help us sustain and keep doing what we love – sharing helpful travel information for you all!
---
The ferry from Hampi to Hippie Island mainly connected the area of Virupapura Gaddi to Hampi's main bazaar and operated frequently during the peak season to ferry locals and tourists between the two points.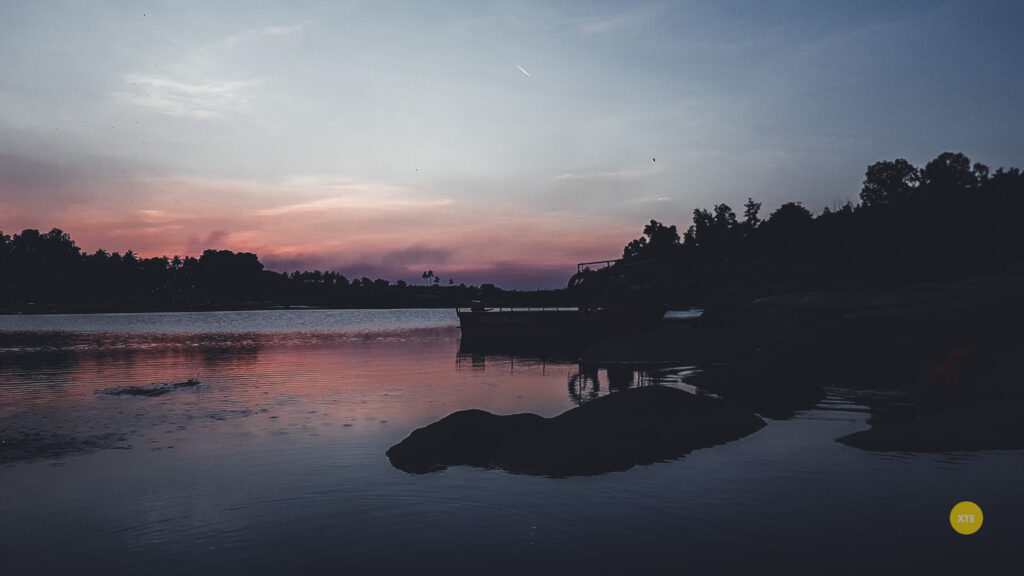 HOW TO REACH HIPPIE ISLAND WITHOUT FERRY?
As there are no bridges constructed as a plan to avoid excessive development in the region near Hampi, the ferry was the only mode connecting both sides with ease.
Without the ferry, the distance via road to come from one side to the other goes up to 25 – 40 Km!
Please comment below with the updates for the ferry's operation and any other details if you find out for other readers! Thank you!
WHERE CAN YOU FIND THE HIPPIE ISLAND VIBE NOW?
Although the Hippie Market and the chain of shacks are closed down, there are still a few good spots where you should be heading to experience the same chill and atmosphere that Hippie Island used to have.
These few cafes/shacks seem to be offering a similar vibe to the shacks of Hippie Island! Check them out if you are planning to stay on the other side of Hampi!
Although there is a number of shacks, cafes and guesthouses on the other side of Hampi, we've either heard of the two below or have been recommended by someone and thus we are mentioning them below!
PS
If you find our recommendations useful, please consider booking through the above links. When you do, we earn a small commission at no additional cost to you.
SHOULD YOU VISIT HIPPIE ISLAND FROM HAMPI?
Yes, if the ferry is working.
The ferry makes the commute from one end to another easy. However, all the spots from the ferry point of Hippie island are further apart. Previously you could get autos or scooter rentals from this point to head over to all the other spots with ease. However, now that the rentals won't be available at this spot, it might become difficult to commute on the other side in just 1 day. Autos may be available based on the number of tourists crossing the river now.
Having your mode of transport easily available will be of a lot of help to save time on a short trip. However, as the season approaches, the locals should make arrangements to serve the tourists in alternative manners. As and when I find about them, I will update them on this blog.
No, if you only have 2 days only.
If you have 2 days, avoid hippie island, you need them to experience in Hampi and its offerings.
The monuments need atleast 1 day of your trip.
There are plenty of spots that can offer the same experience that one can find on Hippie Island.
For Sunsets – Go to Matunga hill
Cliff jumping and swimming – Go to Hampi Waterfalls Or Sanapur Lake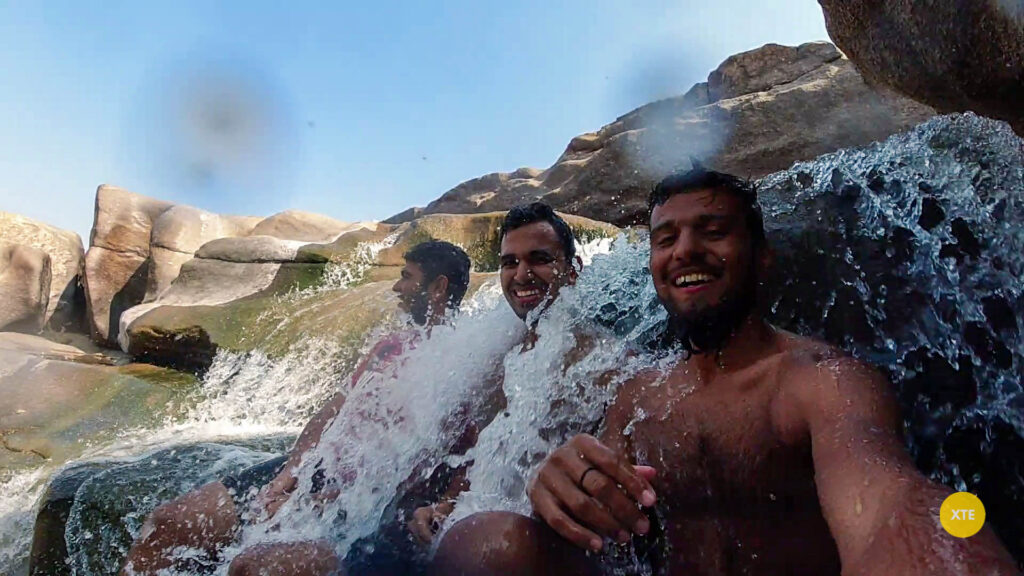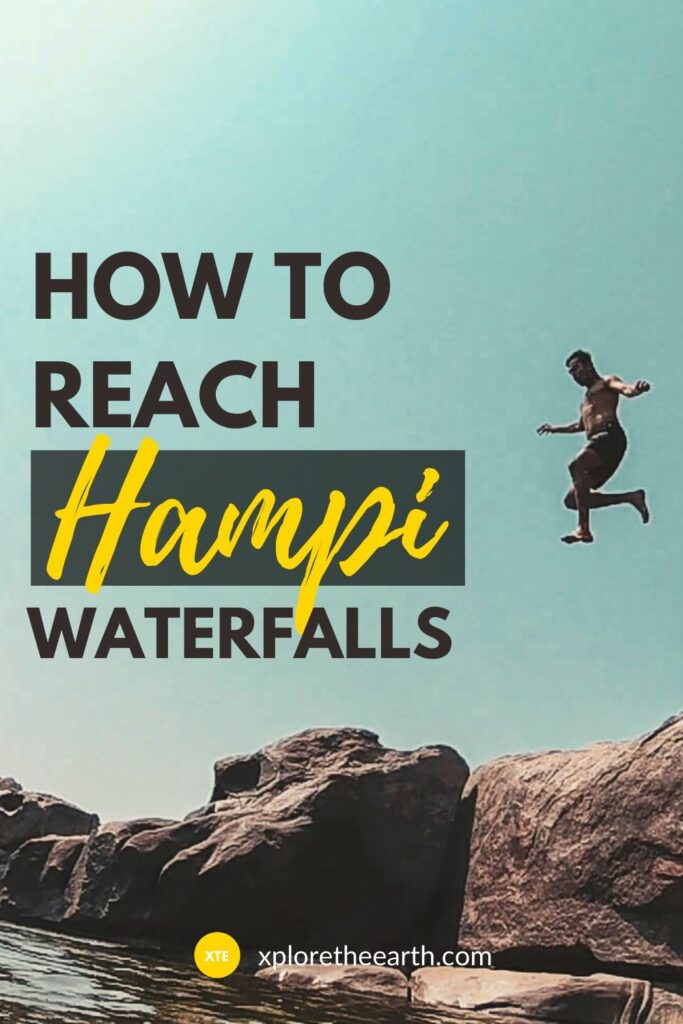 Hippie market, hand made items and musical instruments – Go to Hampi Bazar
Restaurant – Go to Mango tree
Yes, if you have 3 Days or more.
3 days make it possible for you to have ample time to explore both sides.
Stay on the other side of Hampi for peace and quiet and unique stays and more close to nature.
Stay on Hampi side for buzz, quick and easy availability of services, shopping, temples, monuments and history
Travel between the two places based on your interests, and allocate time to each side based on preferences. You might have to ride long distances to go from one end to the other, so plan your itinerary in a way that involves the least commute.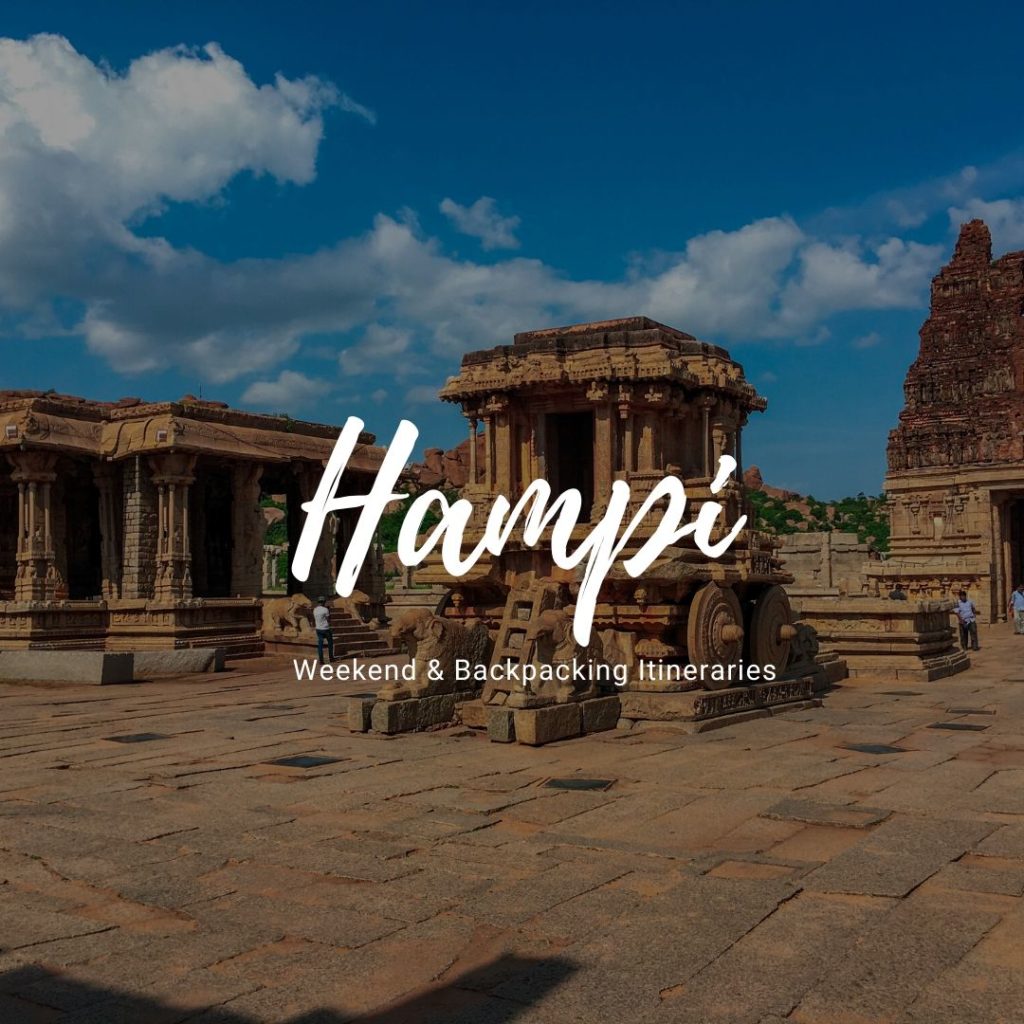 I have documented my 2-day itinerary for Hampi in a separate article in which I cover both sides of Hampi with all the best experiences included. You should definitely check out to make planning easier if you want to cover the most in a short trip without missing anything!
UNIQUE STAYS WE FOUND ON OTHER SIDE OF HAMPI
ENJOYED READING ABOUT HIPPIE ISLAND?
Read a few of our related articles like this that we think you will enjoy!
HAMPI WATERFALL – HOW TO REACH THE CLIFF DIVING SPOT
TOP 32 PLACES TO VISIT IN KODAIKANAL!
CAMPING IN GOKARNA | A BACKPACKING ITINERARY
Have Questions? Leave them in the comments below!
Reach out to us on our Instagram Account | @xploretheearth!
---
Help us write more such blogs & create more YouTube Videos!
A small amount contributed from you could help us sustain and keep doing what we love – sharing helpful travel information for you all!
---
X TRIPS HAMPI
Back in February 2020, before the Covid-19 Crisis, we had organised a unique and offbeat experience in the ancient ruins of Hampi Karnataka for a small group of like minded travellers looking for a bit of adventure and lots of experiences!
We spent 2 wonderful days in Hampi, exploring the ancient ruins, cycling through 600 year old remnants, cliff diving into waterfalls and watching beautiful sunsets from unique boulders of Hampi!
We will be back with this trip in the coming winters!
If you'd like to get notified about the coming trips that we organise, you can get on our mailing list!
---
Ensure you travel responsibly and keep your carbon footprint to the minimum. Happy Xploring!