A trip to Leh-Ladakh, has over the years become a popular bucket list item for anyone and everyone who likes to travel. And this comes as no surprise at all. Be it the more popular places like the Pangong Lake, Khardung La or the less popular but enriched with culture the Hemis or the Thiksey monastries of Leh, there is no end to the amazing places to visit in Leh Ladakh. And here is your detailed guide with complete information to make this dream vacation a memorable one.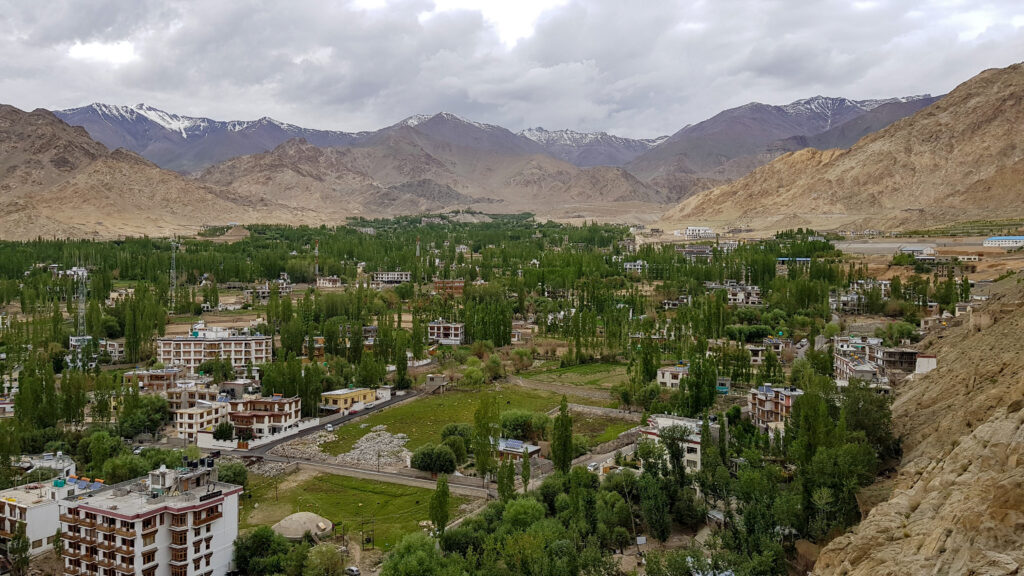 If you like watching a video to get all the information, then this video is for you!!
HOW TO REACH LEH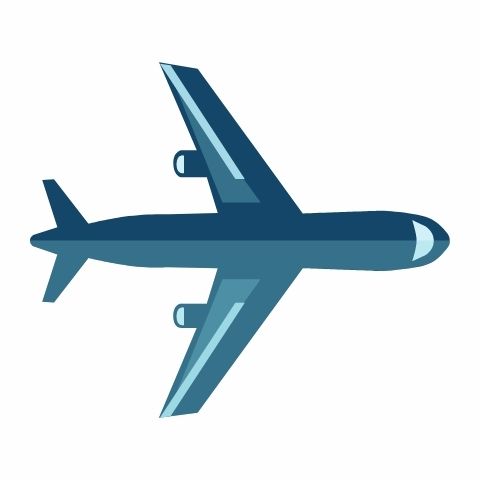 Flight to Leh:
Kushok Bakula Rimpochee Airport is situated in Leh which has direct connectivity to the major cities in India.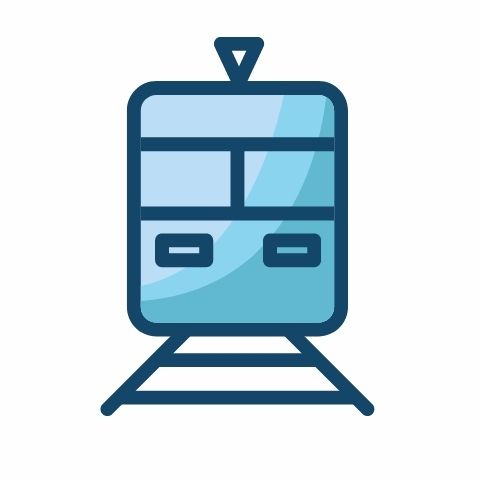 Train to Leh:
Trains are available till Srinagar's Nowgam Railway Station. However, there is no railway station in Manali or Leh.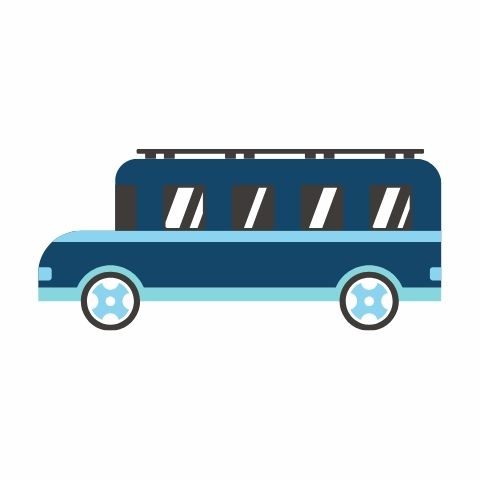 Bus to Leh:
There are two routes to reach Leh by road:
Manali to Leh highway: Most popular with lots of buses (both government and private) plying on this route. There is also the option of hiring a taxi as well from Manali (taxi will be expensive).
Srinagar to Leh highway: There are both government and private buses on this route, though not as frequent as on the Manali highway.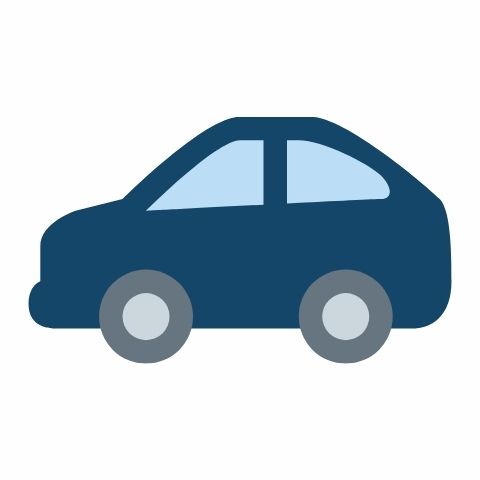 Drive to Leh:
People from North India, especially from in and around the NCR region tend to self-drive to Leh as well to enjoy the adventure and the beauty of a long road trip. Please do however note that you should self-drive only if you are confident driving in the hills.
Otherwise you can always hire a taxi or a driver. You can contact taxi driver, Joginder (Number: +91 9810431947) for booking a taxi from Delhi to Leh.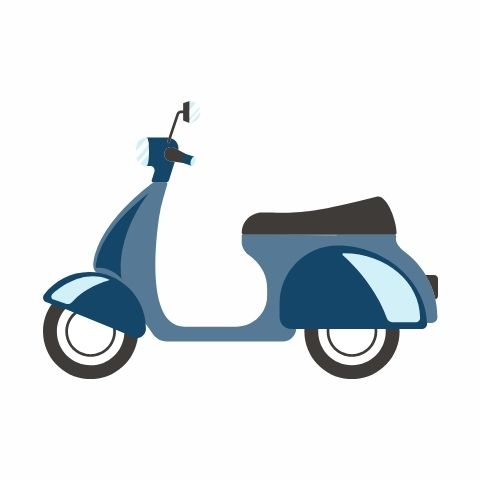 Bike to Leh:
A lot of people also hire a motorbike and traverse both these highways to enjoy the beauty at their own pace. Motorbike rentals are available in Manali in the main market.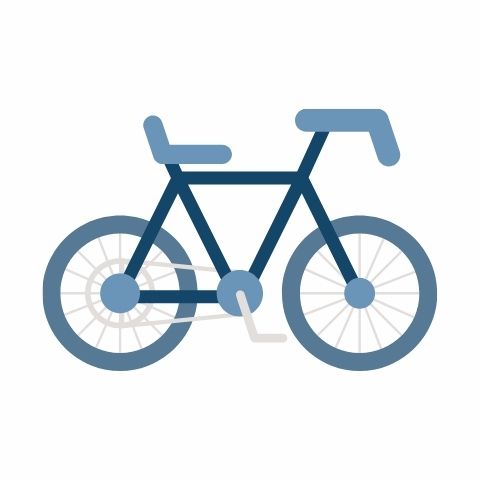 Bicycle to Leh:
We took a bus till Manali and cycled our way to Leh. Yes, cycling on Manali to Leh highway has gained quite a bit of popularity recently.
Suggested Read: Follow this step by step itinerary to make the most of your Manali Leh cycling expedition.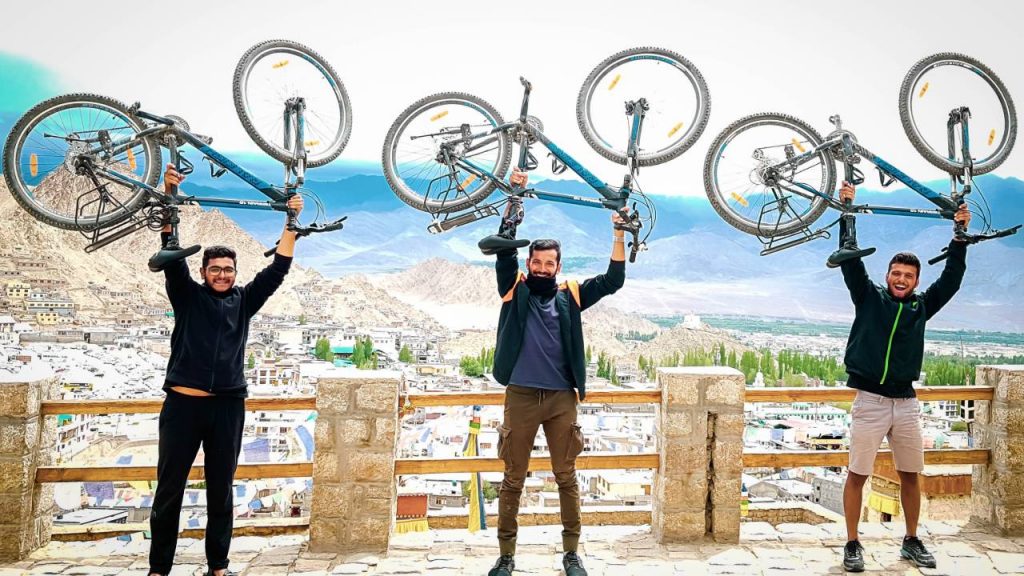 WHERE TO STAY IN LEH
Leh has some wonderful stays. It has both hotels and hostels to serve all kinds of travellers visiting Leh, both the luxury travellers as well budget travellers. Depending on your inclination, feel free to book from the following options:
Luxury Hotels
Leh boasts of some of the hotels with world class amenities and picture-perfect views. When you are looking for the perfect stay with no hassles, you can be rest assured that the following hotels will live up to your expectations:
Budget Hostels
Leh is a host to all demographics of tourists. None more so than the students and working professionals who visit this place to escape the fast paced lives that they are leading and want to soak in the best of what nature has to offer. If you are travelling on a shoe-string budget or want to meet the like minded free spirited travellers make sure that you try these hostels below.
If, during your trip you do plan on sleeping in Nubra Valley, Himalayan Bunker in Hunder village is a good option.
Otherwise homestays in Turtuk village is another good option.
At Pangong lake, there are a lot of dhabas and motels to choose from.
Be it Nubra Valley, Pangong or other places in these areas they are definitely worth it when it comes to the night view of the sky.
While visiting Tso Moriri, you will find a few motels relatively nearby.
BEST PLACES TO EAT IN LEH
Leh boasts about some very good places to eat. When in Leh you could very well try the multicuisine restaurants Il Forno (Leh Main Market) and Bonfire (Old Fort Road). Both these restaurants offer some quality food and ambience. You should definitely try the Italian cuisine at Il Forno and fried momos at the Bonfire.
For quality vegan food, Bodhi Greens is a really good option. The host is quite welcoming as well.
When you are on the road, Hunder as well as Diskit have quite a few joints to eat. However, do not expect out of the world places to eat here.
When you are in Turtuk, you will find a few cafes to choose from. However, I would recommend trying out the Balti Kitchen. Raheem (who is the chef) is a one man show here serving some amazing food.
Pangong lake has multiple dhabas for you to choose from.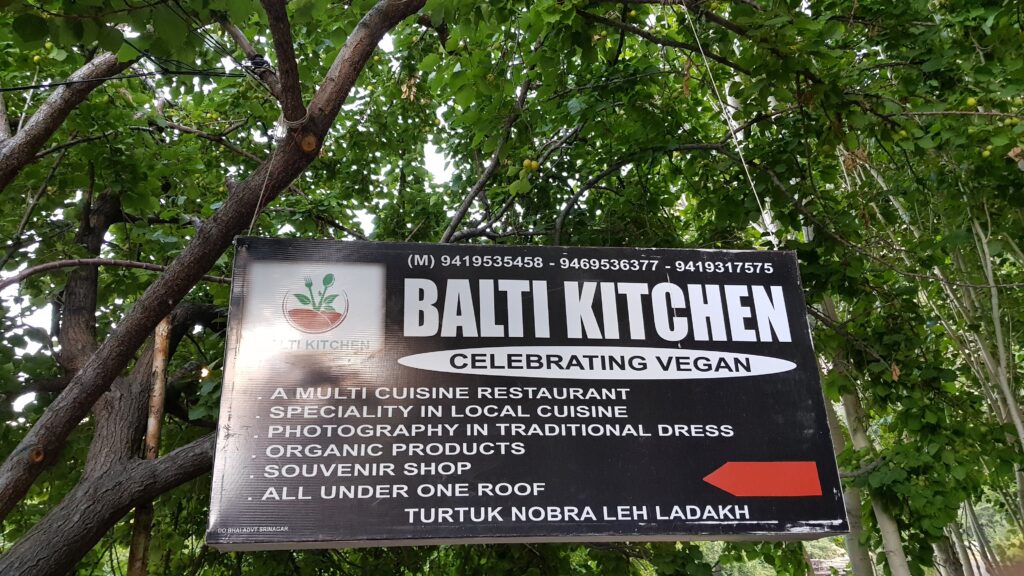 HOW TO TRAVEL AROUND LEH
Given how beautiful Leh Ladakh is, you will be mesmerised with its charms irrespective of what option you choose to travel.
Option 1 – Bus
You can take a bus to the various places to visit in Leh. However, these buses do not visit all the spots on a daily basis. Some spots may not have any bus service at all. Others maybe as low as once or twice a week as well. Therefore, it is recommended that you check before hand for when are the buses available for the places you choose to visit. You can get this information from the JKSRTC Bus Stand.
Option 2 – Taxi
Hiring a taxi for the duration of your visit is a much better option. it will prove to be expensive yes, but this will be the most convenient as well. You can either ask the place where you are staying to help you hire a taxi or hire one from the Leh taxi stand. Beyond that feel free to contact one of the most friendly taxi driver, Stup-gyes (Number: +91 9469660648).

To understand the rates, refer to taxi union rate list for 2020-2021 season.
To give you an idea, we paid 20k for 2.5 days for Mahindra Xylo. We covered Nubra Valley, Turtuk and Pangong Lake!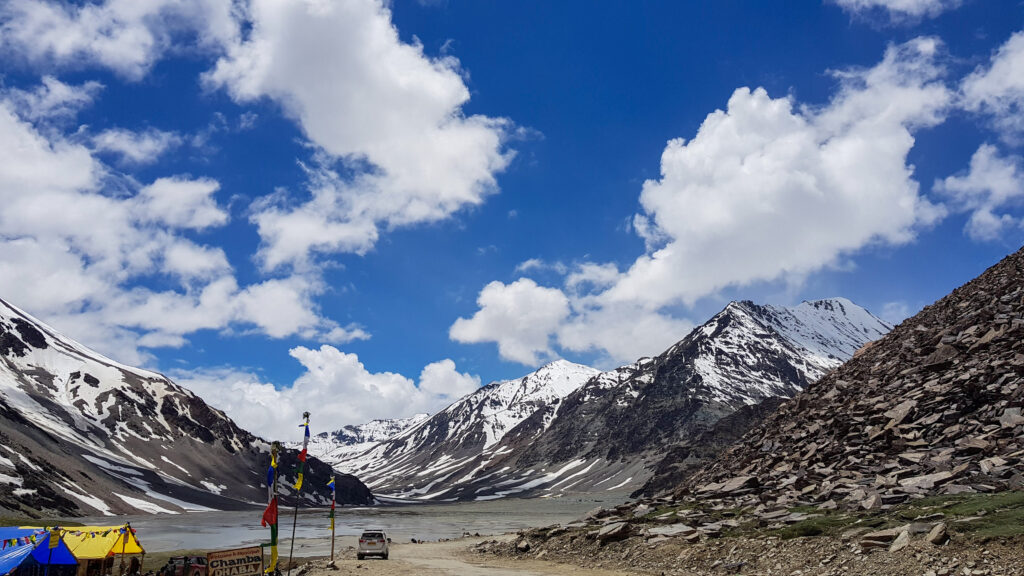 Option 3 – Bike
One of the most popular option, especially when it comes to a group of friends or among a relatively younger group of travellers in general, is the motorbike. This place is literally heaven for the bikers! Traversing Leh and all those places around on a bike, is the perfect mix of adventure and breathtaking views at your own speed. You can hire a bike from the many shops on the Fort Road. You can get the rate list for the 2020-2021 season here.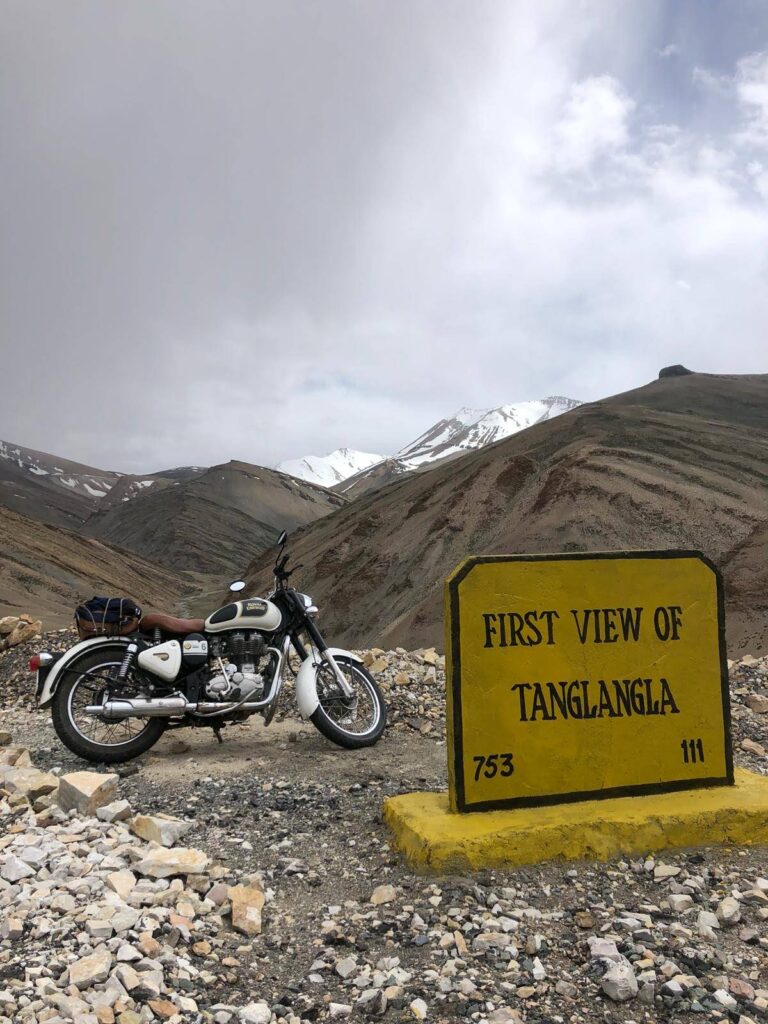 Option 4 – Bicycle
This is no doubt the toughest option out there but also with the most sense of accomplishment. Bicycle has gained quite a bit of popularity to reach Leh from Manali and then to also conquer Khardung La on it. However, bicycle in not popular when it comes to other places a little far way from Leh, like the Pangong lake or Nubra Valley.

Still, for the local Leh sightseeing a bicycle is a fun option. You can rent a cycle from the many shops on Fort Road. Another adventure activity is to drive with your cycle to Khardung La top, and cycle back down. Getting all the thrills of a downhill ride without having to bear the physical pain to get your cycle to the top. A lot of these cycle shops offer this activity!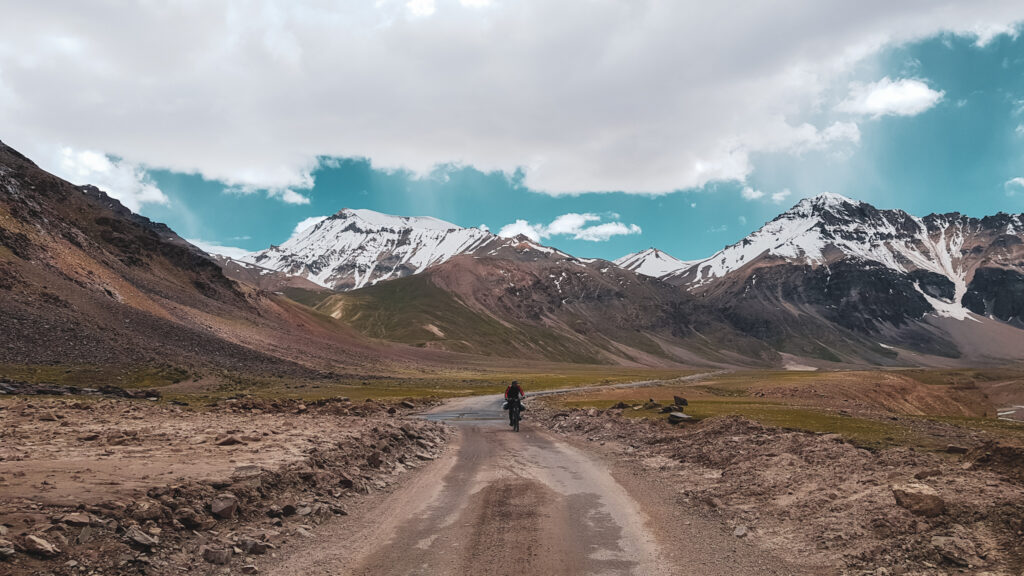 PLACES TO VISIT IN LEH – LADAKH
There is no disputing the fact that Leh-Ladakh region is most popular for its monastries, lakes and the landscape in general. And to make the most of your time here, read the following places that you can visit depending on your inclination and the time that you may have on your hands.
In case you want to experience all the places to visit through a video, and at the same time get all the information on places that are worth visiting in Ladakh, then do watch this video!!
Section 1 – Local Sightseeing in Leh
Out of the innumerable places to visit in Leh Ladakh, lets start with the places that are perfect for local sightseeing in Leh and other nearby places. I would recommend that you take 2 days to cover the good part of what I am about to mention in this section:
1. Leh Palace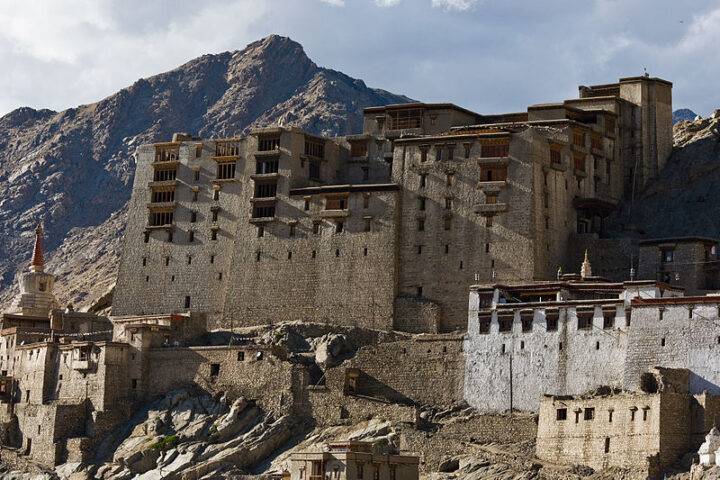 Built in 16th century by Sengge Namgyal, Leh Palace is a testament to the pride of Namgyal dynasty. Leh Palace has become quite the popular tourist place in Leh for the splendid views it offers and how majestically it overlooks the charismatic Ladakhi village of Leh. The palace now houses a small exhibition detailing about the history of the palace and Leh in general. It is a short hike up from the Leh Main Market if you are on foot.
2. Namgyal Tsemo Gompa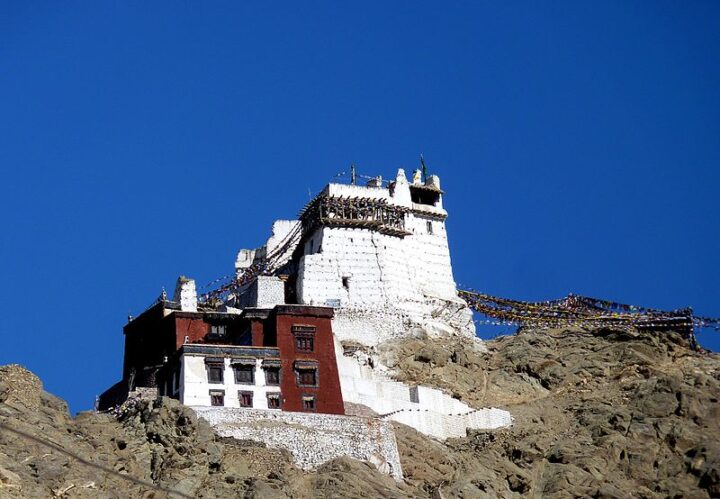 Built in 15th century by the king Tashi Namgyal is a place famous for its Buddhist principals and teachings. Idols in Namgyal monastery are still worshipped and monks lights the lamps on a daily basis. It is at a walking distance from Leh Place and offer some splendid views for photography.
3. Shanti Stupa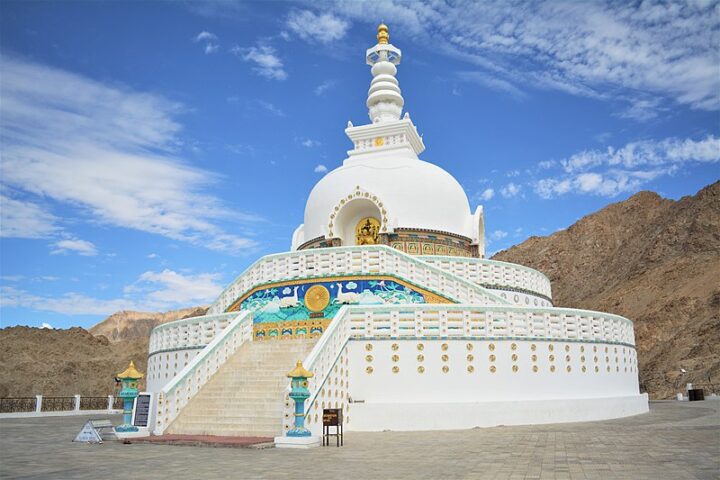 Shanti Stupa is one of the more popular monastries in Leh-Ladakh. Every monastery offer peaceful and positive vibes and in that regard Shanti stupa is no different. Built in 1991 by Japanese Buddhist Bhikshu, Gyomyo Nakamura, it is a white-domed stupa on a hilltop in Chanspa. Make sure you head here for some peace of mind and the perfect sun-sets!
4. Hall of Fame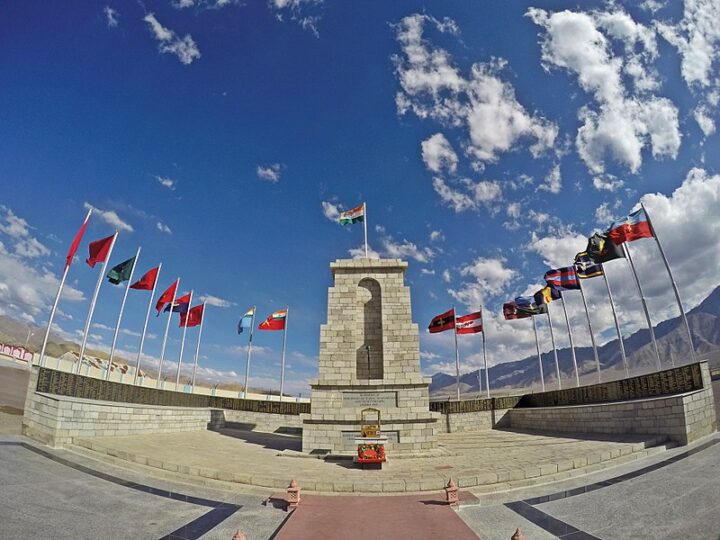 Hall of fame was built to memorialize the bravery and names of all those soldiers who fought and were martyred in the Indo-Pakistan war. It is to honor the Indian soldiers and serves as the reminder of the fact that their service to the nation will never be forgotten. Run by the Indian Army, the Hall of Fame houses, weapons, history exhibits & a souvenir shop as well.
5. Leh Main Market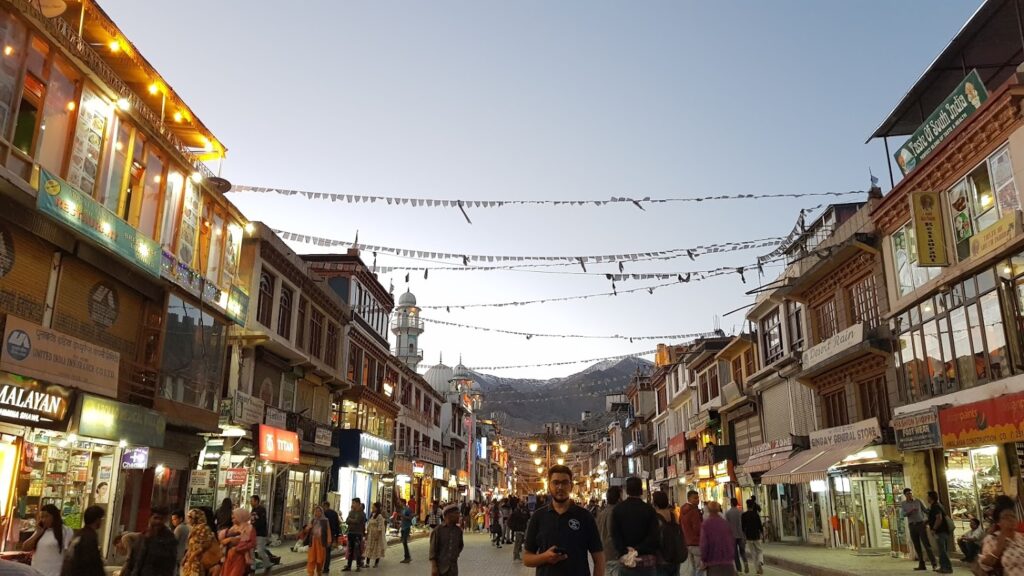 Leh Main Market or Leh Main Bazaar is one of the liveliest places to visit in Leh. It is always brimming with people and is popular for shopping, eating meals in the cafes, the delicious street food, buying souvenirs, pashmina shawls, Buddhist relics or jamming with strangers to perfect tunes, this market has it all. One of the best places to spend an evening in Leh.
6. Thiksey Monastery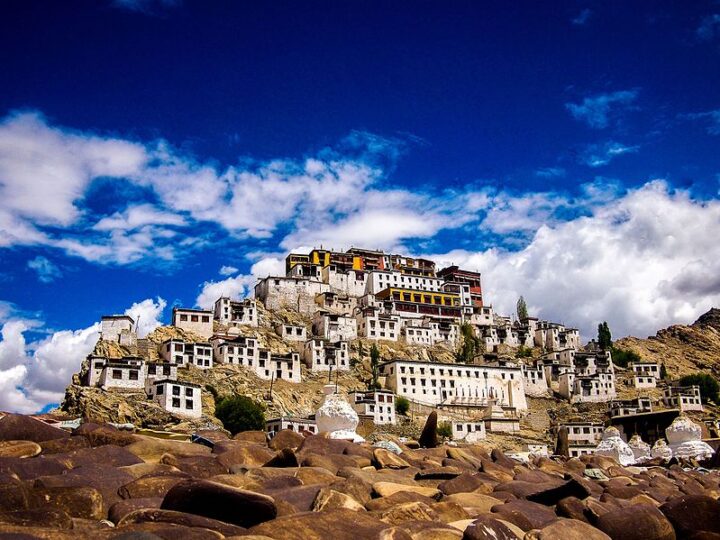 Thiksey Monastery is a thing of beauty. This 12 storeyed gompa is a home to more than 500 monks. This monastery is one of the largest in central Ladakh and you should definitely visit, if you want to know more about the Buddhism culture in general and more specifically see all the beautiful artwork and stupas up close.
7. Hemis Monastery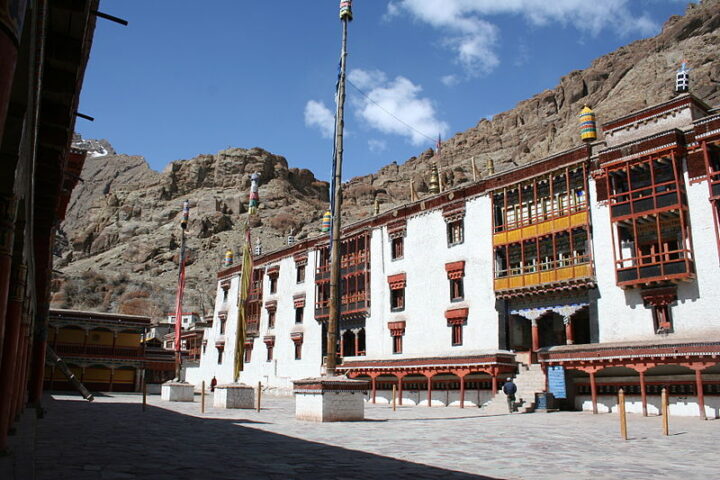 Just like Leh Palace, Hemis Monastery is another important place in the Ladakhi history, that can be attributed to the king Sengge Namgyal. For any traveller, Hemis almost always makes the list of places to visit in Leh-ladakh. With all its murals, paintings and stupas it is a paradise for someone who can appreciate art or wants to learn more about the Buddhism culture. Hemis sees a huge influx of people during the annual two day festival which just makes the monastery absolutely vibrant.
8. Spituk Monastery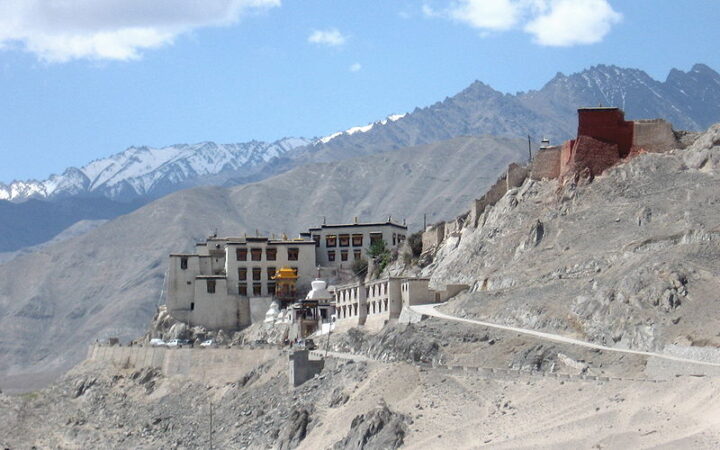 Spituk Gompa has as old a history as any other monastery out there. Having stood tall through the test of time, this beautifully carved monastery is home to more than 100 monks. Spituk Gompa (also known as Pethup Gompa) is about 8km from Leh. This serene monastery observes Gustor Festival from 27-29th of the 11th month of Tibetan calendar every year and it is a sight worth witnessing first hand.
Without a doubt, these are some of the must visit places in Leh. If you still end up with more time on your hand you can visit the following places – Zorawar Fort, Datun Sahib, Sindhu Ghat, Sankar Gompa and Phyang Monastery.
Section 2 – A Day in Sham Valley near Leh
It is important to note that all the places that I mention in this section are in between Sham Valley and Leh. A day trip on this Leh Srinagar highway till Sham valley and back can easily be done in a day. Read along to learn all that you can do in one day:
1. Gurdwara Pather Sahib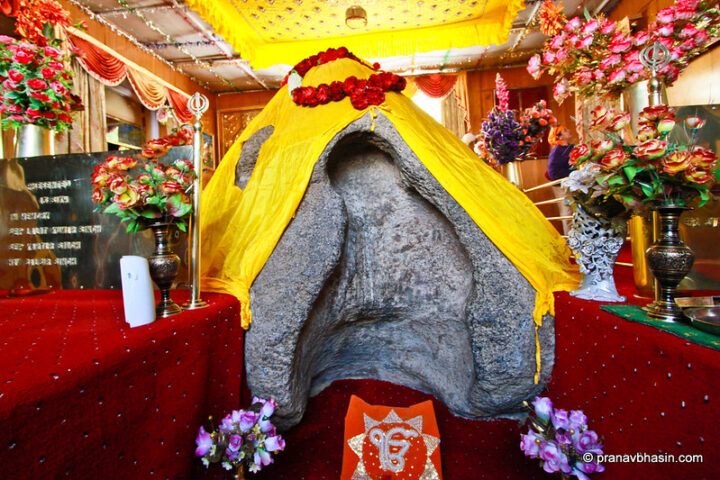 Amongst the many beautiful monastries and in the land of monks stand a Gurdwara to pay homage to Gura Nanak Dev Ji. According to the legend, Guru Nanak conquered a demon at this very same place and forgave him for his sins. The Gurdwara is about 23km from Leh, on the Leh-Kargil highway and is maintained by the Indian Army. Did you know – this place is equally respected by Sikhs as well as Ladakhis. Make sure you visit the place to soak in its peaceful vibes!
2. Magnetic Hill

Magnetic Hill is one of those places that you wouldn't believe exists until you actually visit it it on your own. At about 27 km from Leh, there appears a yellow signboard after which the magic happens. You park your vehicle inside the marked box, switch the gear to neutral and voila, you appear to defy all laws of gravity. Two possible explanations are prominent: First, that it is just an optical illusion given the whole landscape and that you aren't actually going uphill but rather downhill. Second theory, which is still unproven is that due to magnetic pull of the earth cars tend to move uphill on their own. Well, in any case you can only find out once you visit this intriguing place!
3. Sangam – Zanskar and Indus River Confluence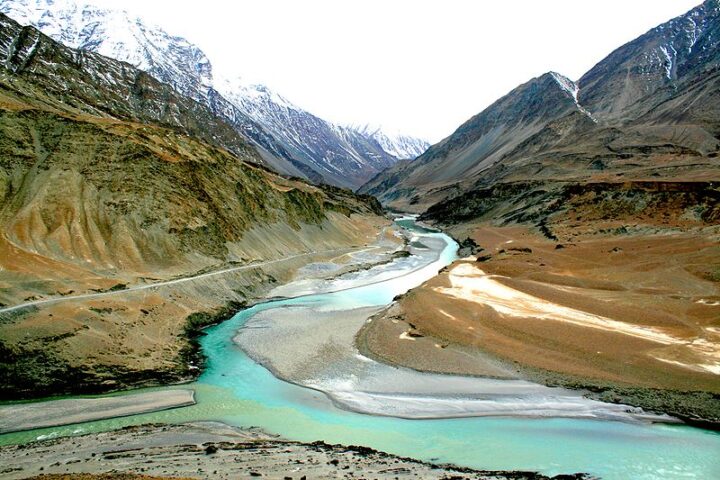 At Nimmu, a simple yet a soothing view awaits you. This is where Indus river and Zanskar River meet. This place of confluence of these two rivers has also popularly came to be known as Sangam. Given the various factors, the rivers change their color as well as force of their flow throughout the year. When the Zanskar river freezes in winters, the ever so popular Chadar trek takes place wherein the experience of walking on frozen lake and seeing waterfalls that have frozen mid-air is quite a sight.
4. Basgo Palace and Monastery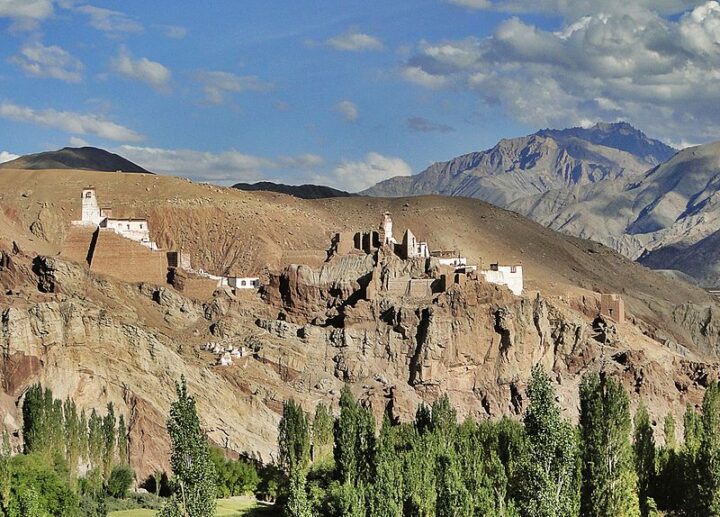 Basgo is quite popular for its ruins. At about 40km from Leh, Basgo Palace is stands tall atop a cliff. It houses three splendid temples that date back between 15th and 17th century. These temples are namely – Chamba Lhakhang, Serzang and Chamchung. Palace and monastery, given their position above the Basgo town, they offer some breathtaking views. This place has also been named in the world's 100 most endangered heritage sites by the World Monuments Fund.
5. Likir Monastery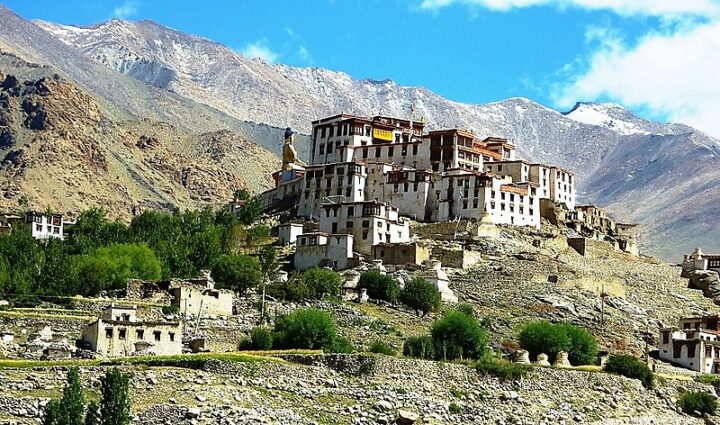 Likir monastery or Likir Gompa is quite deeply routed in the history of Buddhism. Built in 11th century, the monastery is believed to be protected by the serpent spirits. Some of the models are made of butter and yet they do not melt, how cool is that? The monastery is about 56km from Leh and one that you should not skip. Especially so, if you want to learn more about the Buddhist culture as there is a public library on the premises.
6. Alchi Monastery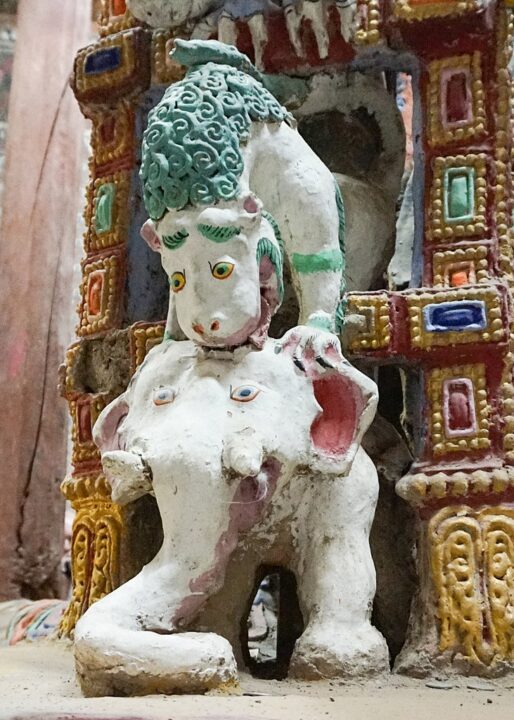 Located at about 66km from Leh, Alchi monastery or Alchi gompa is no more an active monastery and is maintained by the monks of Likir monastery. This monastery is one of the oldest ones in Leh. With such historic murals, sculptures and paintings, this monastery is a testament to an era gone by. There are camps as well in the Alchi village should you wish to spend the night here in absolute peace and away from hustle bustle of Leh.
Visiting all these places is sure to uplift your spirits, bring you quite a bit of joy and relieve the tensions of your daily lives. You can either choose to stay at Alchi or come back to Leh. Generally people travel back to Leh the same day. Should you end up with a lot more time on your hand feel free to visit Rizong Monastery and if you go further on the highway still you can visit the Hemis Shukpachan village for some photograph worthy views.
Section 3 – Rest of Amazing Ladakh
Now that we are done with places to visit in Leh and nearby areas, let's move a little further. Even though the places in this section maybe a little distant from Leh they still are the ones that are most popular and on every ttraveller's bucket list. If you plan on visiting all of them on this list it might take you about 3 days or so.
1. Khardung La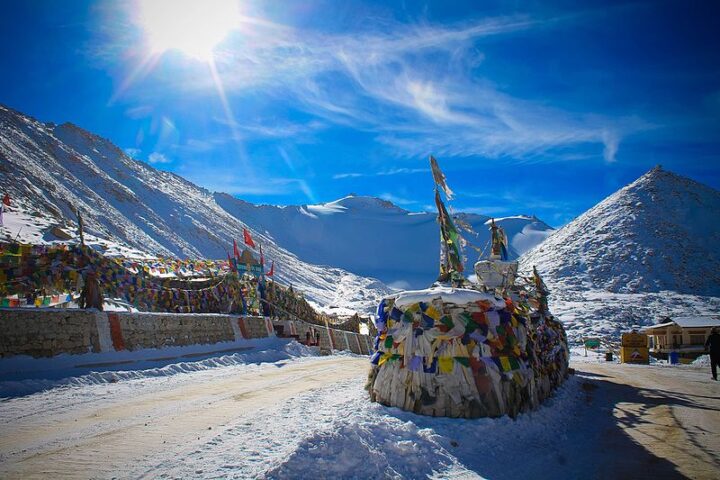 Khardung La is one of the highest motorable roads around. At 17,852ft, this mountain pass offers the perfect challenge to ride to the top. This ride is the holy grail for bikers. Also, A few of the operators and cycle shop owners (on Leh fort road) are offering to drive you to the top and then you can come back down on a cycle for an exhilarating adventure. At such a height Khardung La offers some splendid views that are second to none. When you set out on the tour for rest of Ladakh this mountain pass will serve as the gateway to Shyok and Nubra valley.
2. Nubra Valley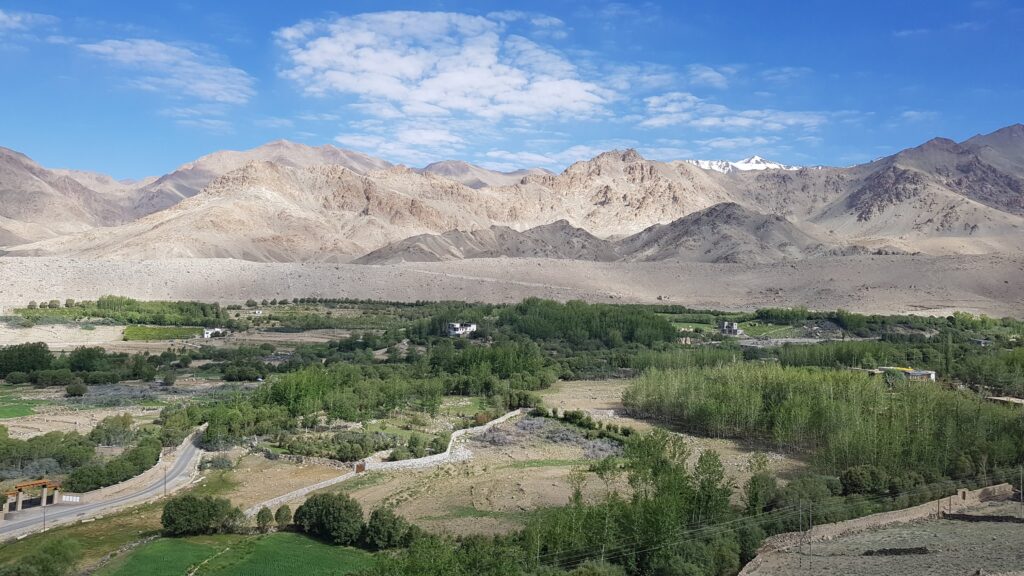 Nubra Valley is one of the most beautiful places in all of Ladakh. About 160km from Leh, Nubra has it all, be it monasteries, lakes, cold desert, sand dunes or absolutely peaceful villages. Any soul that has stepped foot here has left with nothing less than pure bliss and a peace of mind. That figures, given the profound natural beauty of the valley. However, given the sensitivity of the region and its proximity to Siachen, essential permits need to be taken to visit Nubra valley. Read along for the various places that you can visit in Nubra Valley:
a. Diskit Monastery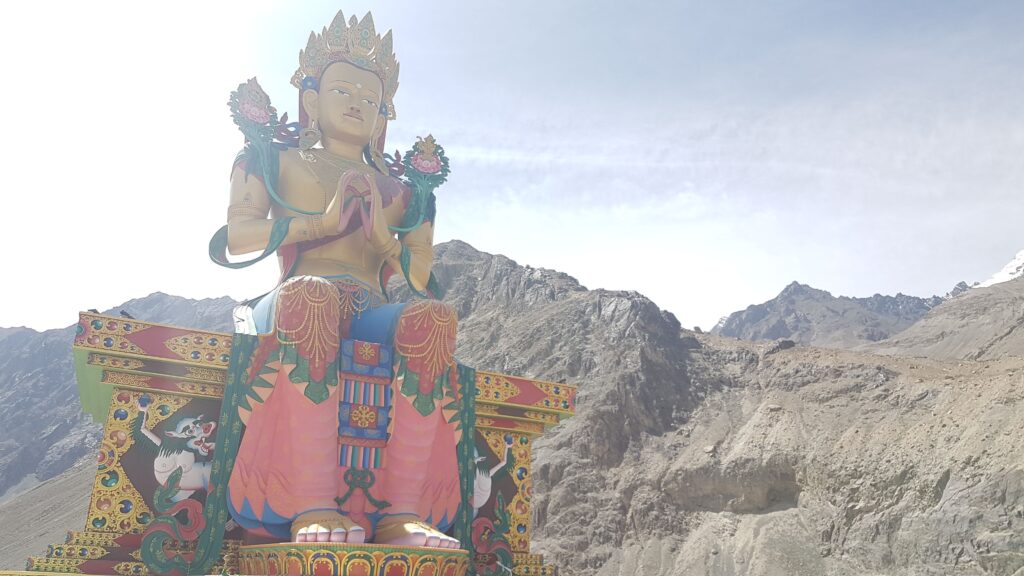 One of the oldest surviving monasteries in the Nubra Valley, the Diskit Monastery (Gompa) has become quite popular amongst tourists. It also features the statue of Maitreya Buddha, standing tall with an impressive height of 106ft. The monastery oversees the beautiful village of Diskit. The ministry also runs a school in association with the NGO, "Tibet Support Group".
b. Hunder Sand Dunes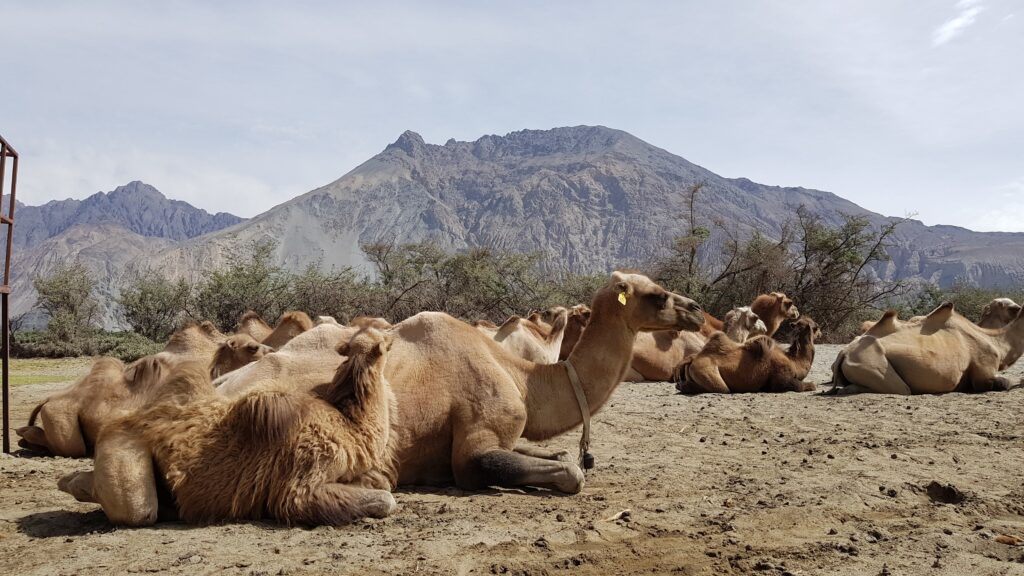 Ladakh is a cold desert and its terrain and beautiful landscapes are a testament to that. To add to that you can actually find sand dunes in Hunder village of Nubra Valley. And if that wasn't enough to convince you, how about the fact that you can find the Bactrian two humped camels here. Also, you can take a ride. Now, how cool is that!
c. Panamik Village

Panamik is a small village by the Nubra river and offers some splendid panoramic vistas to soak in. It is popular for its hot sulfur springs which is believed to have medicinal properties. Also, should you visit Panamik make sure you shop from here for their Pashmina shawls and other Kashmiri and Tibetan artefacts.
d. Turtuk Village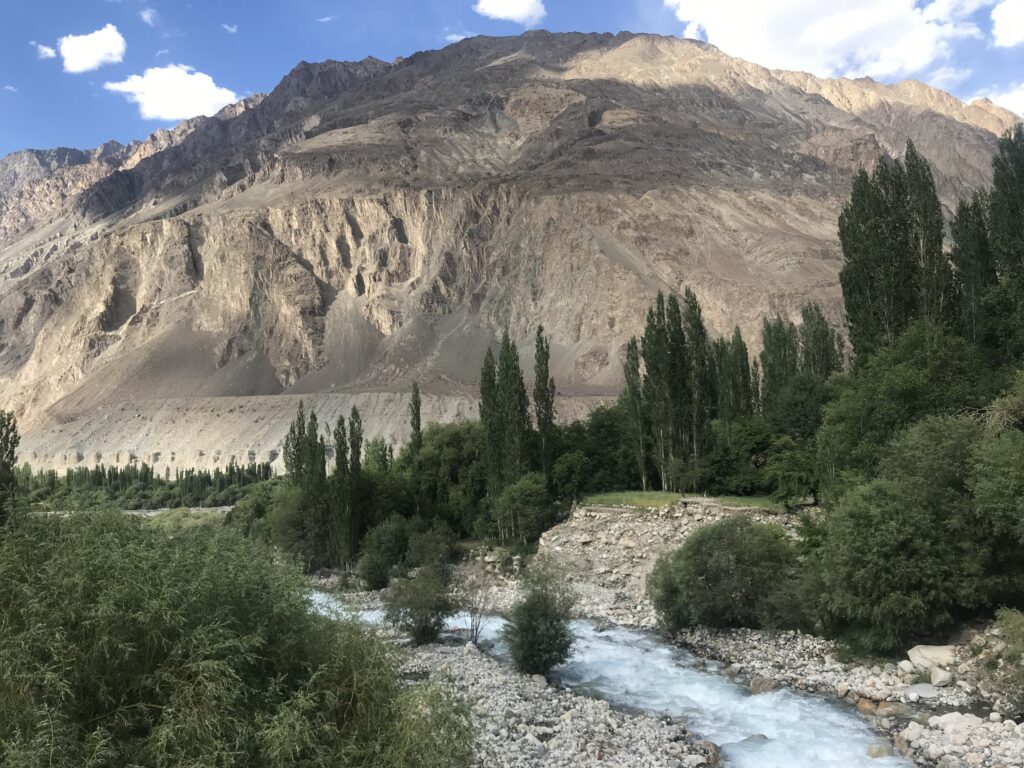 Turtuk is one of the northernmost villages in Ladakh. If you ever thought of having a place of your own amongst the mountains in a small beautiful village, well Turtuk is it. This village is surrounded by some of the most beautiful views you are ever likely to see. This untouched gem has now been open to tourists for some while. Locals are more than happy to share their stories and the cafes here serve good food. Do try Balti Kicthen, if you do choose to visit this place.
Other than these places Nubra Valley is also home to the Yarab tso Lake and Samstanling Gompa. Should you have more time on your hand and want to explore you can definitely try out these places.
3. Pangong Tso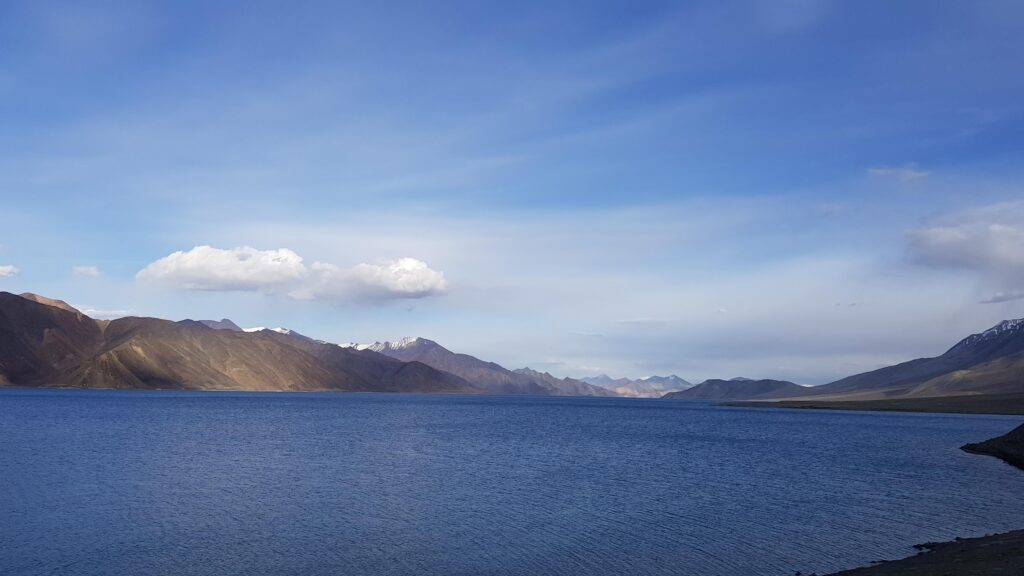 Pangong Lake or Pangong Tso situated at a height of 14,270ft, it is the definition of calm. You could spend an entire day and still not get enough of it. 60% of the lake is in China while the rest remains within the borders of India and much lesser part of it is still accessible to public. And yet when you will look at it, you will only be able to see the lake till the horizon. Interestingly, given the time of day and year, you can see the water in the lake have different colors. The lake shot to fame after the movie "3 idiots" and has been on everyone's bucket list when it comes to places to visit in Leh-Ladakh.
4. Tso Moriri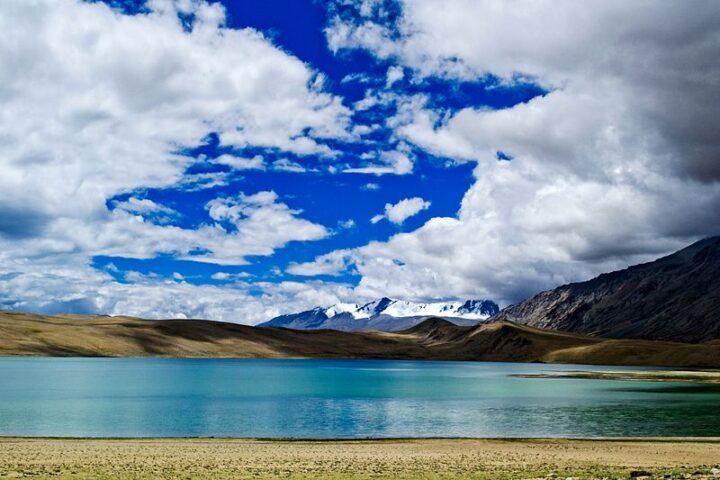 Surrounded by towering peaks, Tso Moriri (or Moriri lake) remains quite secluded from the outside world. It is a lesser known/visited alternative to Pangong Lake. Like Pangong lake, Tso Moriri is frozen during the winters too. And owing to the landscape around it, this is quite the place for photography. Given that the lake is situated in the Changtang Wildlife Sanctuary, you may also be able to spot the likes of bare-headed goose, the Brahmin duck, the great-crested grebe and the brown-headed gull. Himalayan hares are popular as well around the lake.
With this comes the end to this section that talks about some of the most popular places to visit in Leh-Ladakh. If after visiting all this you still seem to have time on your hand for your dream trip to Leh-Ladakh, I would recommend that you rent a bike from Leh and traverse the Manali-Leh highway. You will see sceneries that you didn't know exist and you will have an experience to cherish forever. I along with two of my best friends cycled from Manali to Leh on the same highway and those are the days that are etched in my memory as some of my best on this beautiful planet!
Suggested Read: Should you feel like reading about the highway or our experiences from the trip feel free to give these articles a read.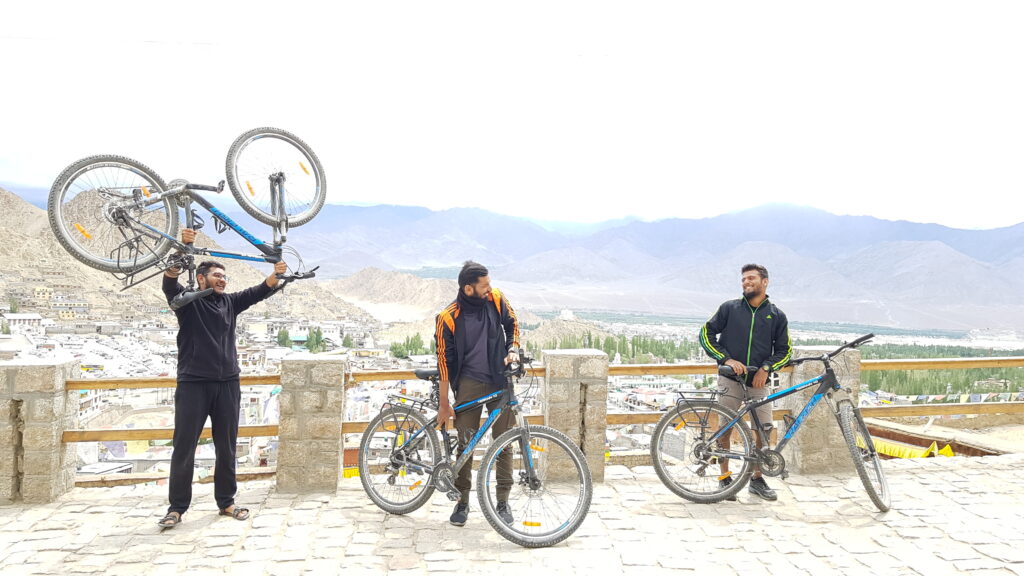 HOW TO GET PERMITS TO VISIT PLACES IN LEH-LADAKH?
Ladakh being close to the border, some of these areas that lie under the Inner Line, require that in order to visit, Indian tourists get Ladakh Inner Line Permit ("ILP") and foreigners get Protected Area Permit ("PAP"). Places to visit in Leh-Ladakh that fall under Inner Line and require permits are Khardung La, Nubra Valley, Turtuk, Dah-Hanu villages, Man, Merak, Nyoma, Loma Bend, Tyakshi, Chan La, Pangong Tso, Tso Moriri, Chusul, Hanle, Digger La, Tangyar (for trekking only).

Both ILP and PAP permits can be obtained online through the www.lahdclehpermit.in website. Please note however that permits for Hanle and Pangaon lake to Tso Moriri direct route can only be obtained by going in person to the Leh DC office. Alternatively, you can get the permit online but will still have to go to the Leh DC office to get the permits stamped.

Please note that places like Leh, Tso Kar, or Zanskar Valley do not require any permits.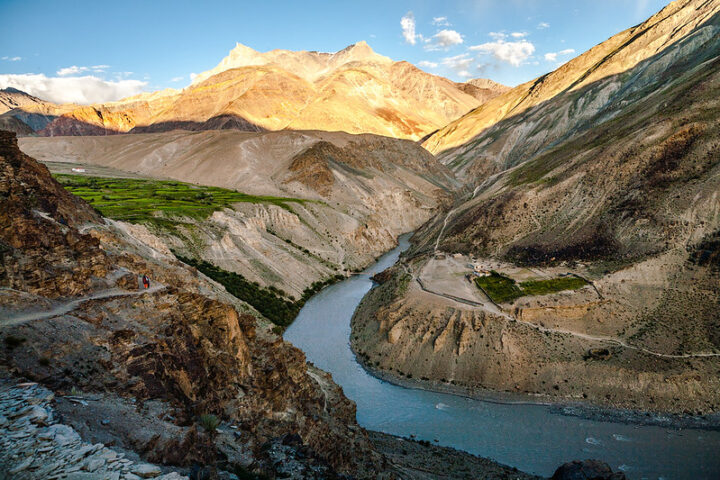 SOME HELPFUL TIPS FOR THE TRIP
It takes 6-7 days or so to enjoy most of the places to visit in Leh-Ladakh. If you have lesser time, then you will have to pick which places interest you the most.
While renting a bike, make sure that it is in a proper condition for a hassle free ride.
Some parts of this tour can cause you high altitude sickness or mountain sickness. Best is to spend a couple days in and aroud Leh so as to acclimatize to the altitude.
If at any point you feel breathless, you could return to the car and stay put for a while and/or use camphor (kapur). You should also keep doctor prescribed medicine.
Travelling in hills can always cause motion sickness. Please only keep doctor prescribed medicine.
Tourists while visiting Nubra valley, generally sleep at either Hunder or Diskit village. Though, my personal recommendation is to spend one night in Turtuk, at one of their homestays and get to know more about the people and wake up to a peaceful morning with stunning views.
Should you decide to stay the night at Pangong, there are camps available. Though, be ready for strong winds at night.
Only BSNL and Airtel post-paid sim or a locally bought pre-paid sim card are the only ones that work in Leh.
Generally speaking the temperatures are always low in the region and especially so at night, make sure that you pack enough warm clothes for the trip.
Make sure that you do not litter at all. It is your responsibility to keep such a pristine place clean.
---
Have you made a list of places to visit in Leh-Ladakh yet? Let us know some of your favourite ones in comments below!
PIN THIS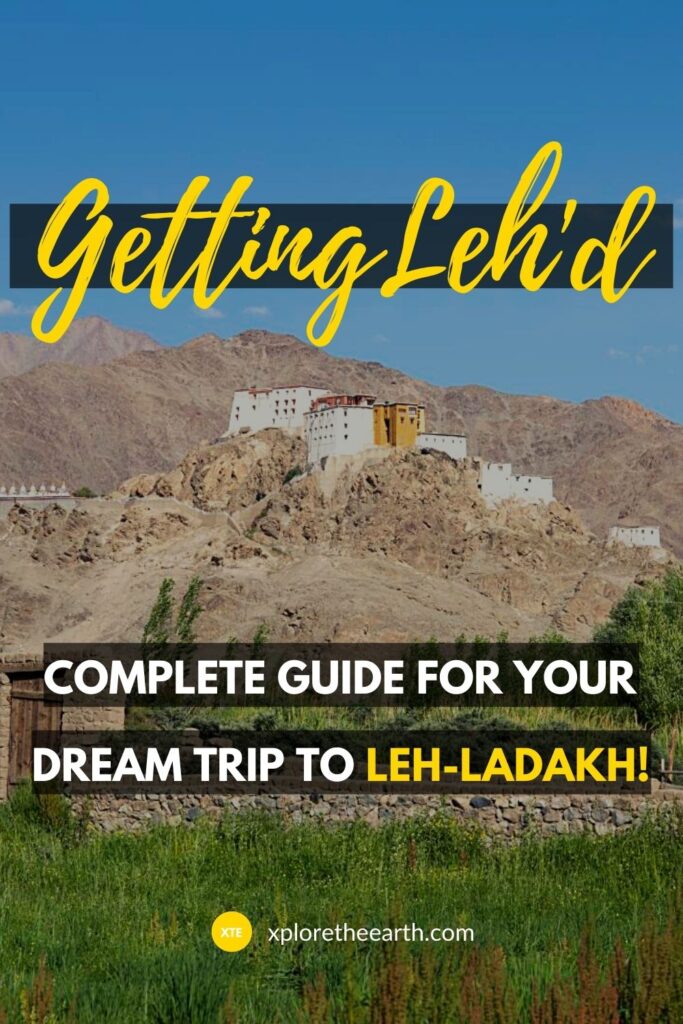 ENJOYED READING ABOUT PLACES TO VISIT IN LEH-LADAKH?
Read more articles related Manali and Leh:
Manali to Leh cycling – Complete guide
Photo Blog – Ditch your Enfield and take a CYCLE from Manali to Leh!
7 day solo trip to Manali
Trek to Beas Kund, Solang in Manali
[smartslider3 slider="6″]
SUBSCRIBE IF YOU LIKED OUR CONTENT
We create new exciting travel content, curate an excellent social feed and also organise experiences like these. If you enjoyed our content, stay on our mailing list to hear from us about new exciting things we create and curate!
Processing…
Success! You're on the list.
Whoops! There was an error and we couldn't process your subscription. Please reload the page and try again.
---
Ensure you travel responsibly and keep your carbon footprint to the minimum. Happy Xploring!
---