The three of us – Saransh, Ismail and I (Akshay), took a cycling trip from Manali to Leh in July 2019. We had no prior cycling Xperience nor had we ever been to Leh. (Read more about our trip in detail and how can you prepare for it) None of us knew anything about cycles, types of cycles, good brands or specs that would match our requirements. We were also confused whether we should buy the bicycles, borrow it from someone or get it on rent for cycling through the tough terrains of Ladakh!
We eventually bought the cycles from Rajkot (hometown), took the delivery from Suncross Bikes Flagship Store, Ludhiana and carried them from Ludhiana to Manali in a Volvo.
This article is an attempt to cover everything that one needs to know before Manali to Leh Cycling Trip about arranging for a cycle – renting or buying it. We have also tried to cover the other cycling logistics like getting cycles to Manali or back from Leh.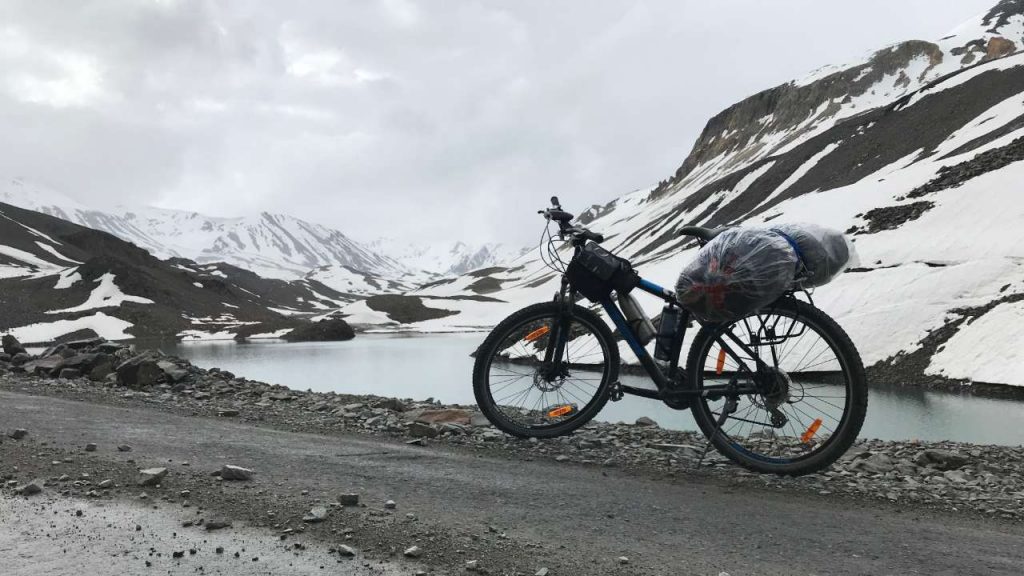 TO BUY OR TO RENT?
So first things first, how to get the cycles for the cycling trip? This section is for people who do not have a cycle and are looking to buy it or rent it before the trip. There are a few pros and cons of both that you should keep in mind before making a decision. Hence, the following should be able to help you decide whether to rent or buy a cycle for Manali to Leh Cycling Trip.
Buying
To go cycling on this route, one would need a Mountain Bike (MTB). Mountain Bikes generally have a light – yet a sturdy frame, have threaded tires that are thicker than normal road bikes, multiple gears, suspensions and are designed to run smoothly on difficult terrains.
If you want to buy a good MTB, you will have to spend around INR 20,000 for the bicycle alone (i.e., excluding accessories). You may get a few options below this price too, but if you wish to use the bicycle even after the trip or don't want any hassles/breakdowns during the trip, do invest in a good brand and model.
If you decide to buy a bicycle, there are two main benefits – you get time to get acquainted to your bike and you can use it even after the trip! In my opinion cycles are a good investment anyway. However, one major con that you will have to go through is that you will have to manage transporting it to Manali and getting it back from Leh.
Renting
There are a few vendors who give cycles on rent in Delhi and Manali. The prices range from INR 500-1000 per day, depending upon the type of cycle, condition, vendor, season, etc. So if you are going to take the cycle for 10 days, it will cost you atleast INR 5000. The rates given to us were around INR 500 per day for a cycle without any racks or accessories. Other accessories would have cost us close to Rs. 5,000 including Back Racks.
In addition to this, you may even have to return the bicycle back to Manali after the trip, hence, adding up transportation costs. So for us, it was coming down to spending around INR 12,000 – 12 days for cycling, helmet, lights, other accessories and returning costs – to rent a bicycle from Manali.
You may check out the Himalayan Bike Bar & Fireballs Adventures if you want to rent a bicycle. The owners are really helpful and will guide you in every way possible. There are several other vendors in Manali who give cycles on rent. You can look them up online or find them directly in the town. They might also be able to help you out in sending the cycles back post the trip.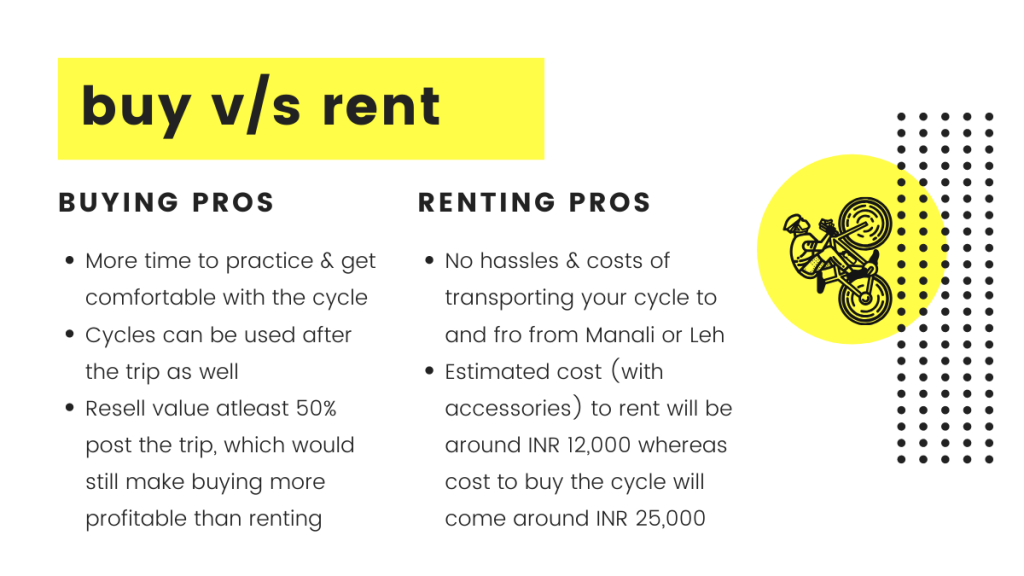 OUR DECISION
We bought Raleigh Terrain 10 MTB. It cost us INR 25,000 including all the accessories and we did not experience any troubles on the trip, not even a single flat tire!
We did not feel it was worth spending so much on just on the RENT and not even own the bicycle after the trip. Hence, we decided to buy a bicycle that we can keep and use regularly in future. It has been a great investment for us. If you are passionate enough about this, do consider investing in a bicycle as you would sure be attached to yours after the trip is over!
If you are planning to buy a bicycle, research well, check reviews and consult trustworthy dealers before investing into any bike.
HOW TO BRING CYCLES TO MANALI
We took the delivery of cycles from Suncross Bikes Flagship Store, Ludhiana, got them assembled and rode them with luggage to the bus pick up point. We loaded them into the Volvo Storage compartment, as it fits easily and tied them together. It cost us INR 300 per cycle. The same can be done from Delhi as well. If you take the government buses, the charges would be lesser than private buses. Either way, negotiate as much as you can.
If you wish to take a regular bus instead of a Volvo, you will have to load/unload the bicycle on the top carrier on the bus yourself and tie it there.
Also, you can get the cycle packed as it would be easy to load/unload a box in a Volvo. It would also protect the bicycle from scratches or any probable damages. You can get the bicycle assembled at Manali at the Himalayan Bike Bar or any other vendor. But, if you are planning to carry it in a box, make sure you book a stay near the bus station, otherwise it will be difficult to carry the box around everywhere.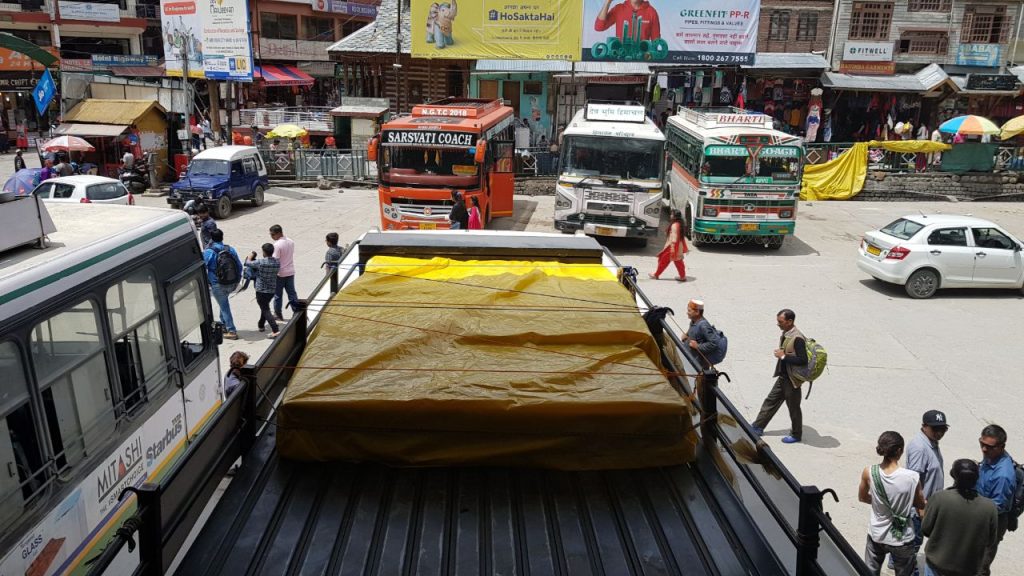 Recommend Read – 10 Reasons why you should ditch your Enfield and take a bicycle trip from Manali to Leh!
HOW TO CARRY CYCLES BACK FROM LEH
There are several options of sending your cycles back once your trip is completed. We took the more difficult option because it was cheaper. First thing that you may need to do is get the cycles packed in a box. To do so, visit the cycle garage/rent store near the main market (Location – it is close to this pin, next to Metta Cafe). They will take around INR 1,000 per cycle.
You have 3 Options you can choose from as per your Budget & convenience
The First Option
is that the cycle store will directly courier it via DHL or some other vendor, give you the quote and you will get a doorstep delivery. The cost for Leh to Delhi came upto INR 2,500 per cycle.
The second option
could be that you just get it packed in Leh, and load the box over the bus. We met another cyclist who was also carrying his cycle back by loading it over the bus but he did not get it packed, and nothing happened to his bicycle either. If you do want to get it packed, you will also have to buy tarpaulin from the market to protect the carton from rain/snow.
The Third option
could be to ride back on the bicycle to Manali or Srinagar and take other modes of transportation from there as convenient for you.
We got the cycles packed in carton, carried it to the Leh bus station, bought the tarpaulin, and loaded and unloaded it thrice when we changed the buses. The government buses would charge you atleast half the ticket price for your boxes.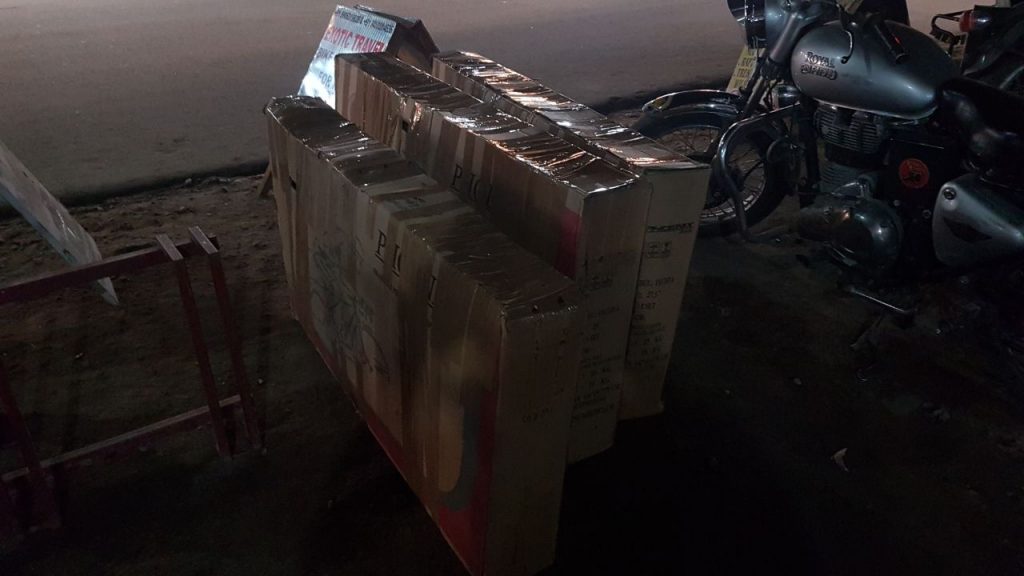 TIP – The online registered bus costs you Rs 3,000 till Manali. This includes stay for one night. However the local buses run from Leh till Manali/Keylong and from there to Delhi which can only be booked offline. This costed us around Rs. 1300 per ticket till Manali including our bicycles. It's not luxury but its cheap. It is a local government bus that starts from Leh at 3:30 am.
Once we reached Delhi, we booked the cartons with one of the transport agencies in Khanna Market, Tees Hazari. The fare from Delhi to Rajkot cost us INR 400 only. Alternatively, you can also get it booked with railways too.
I hope this article would have given you more clarity regarding the cycle logistics that you will have to face before and after this trip. If you have any queries regarding this, feel free to reach out to us in comments or write to us on [email protected]. You may also DM us on Instagram or Facebook.
And when you do end up in Leh after that dream bicycle expedition, this complete guide to Leh-Ladakh is all you need to make the most of your time!
WATCH A GLIMPSE OF THIS EPIC TRIP!
Start Planning Your Trip!
Do make sure you travel in the most eco-friendly way you can manage. Be kind to locals and the environment.
Please leave a kind comment if you found this article helpful below! Or Drop Any questions you may have the in the comments below!