Walking through the blue pine forest, adorned with moss, while the clouds are negotiating if to hold on to their pride or finally forgo it to reveal the majestic view of Tiger's Nest of Bhutan, a heroic monastery, sitting at the height of around 10,000 ft, only accessible by foot or horseback. Just when hiking up to that high altitude seemed almost formidable, the enchanting sight of the monastery built into a rock-cut face convinced us otherwise. With the views of stacked stones and steam-operated prayer wheels following us along the trail, while the sound of waterfall hitting the rocks, long prayer flags fluttering against the wind melted the silence of surrounding mystic air as well as our hearts.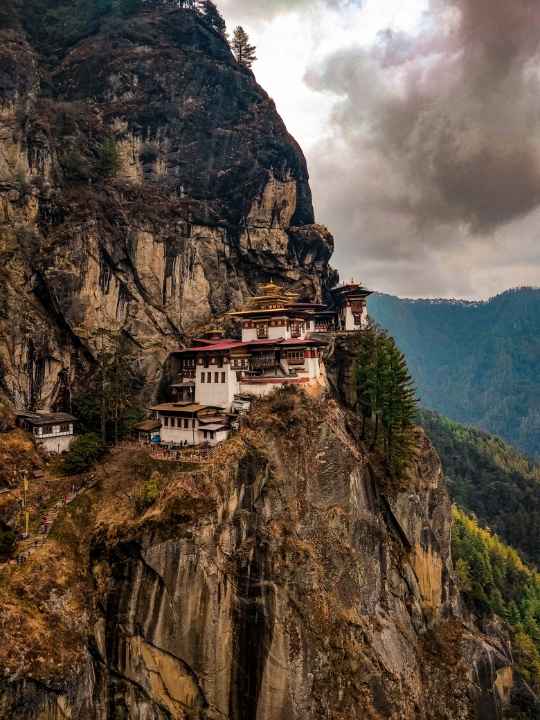 If you're wondering what this place is, here is a little about the Tiger's Nest, Bhutan's legendary monastery, locally known as Paro Taktsang. And this is what this place has got to make you feel as if it has come straight out from Heaven, bringing both mythology and mountains together. In fact, like many other places in Bhutan, one has to see it to believe it.
Where is Tiger's Nest and, why it should be on your bucket list?
Tiger's Nest is the most iconic monastery of Bhutan, located in Paro, a town at an altitude of 7,300 feet. Tak means tiger, where Tsang means nest in Tibetan language (Bhutan was then part of Tibet). Hence the name Tiger's Nest. A monastery by the edge of the mountain, sitting as if it is a bird's nest holding dearly onto a tall tree. It's believed that Padmasambhava (Guru Rinpoche), the Second Buddha of Bhutan and the great tantric master who brought Buddhism to Bhutan, flew to this place on a tigress, meditated on this hill to cast the demons away, making it the heroic monastery in history.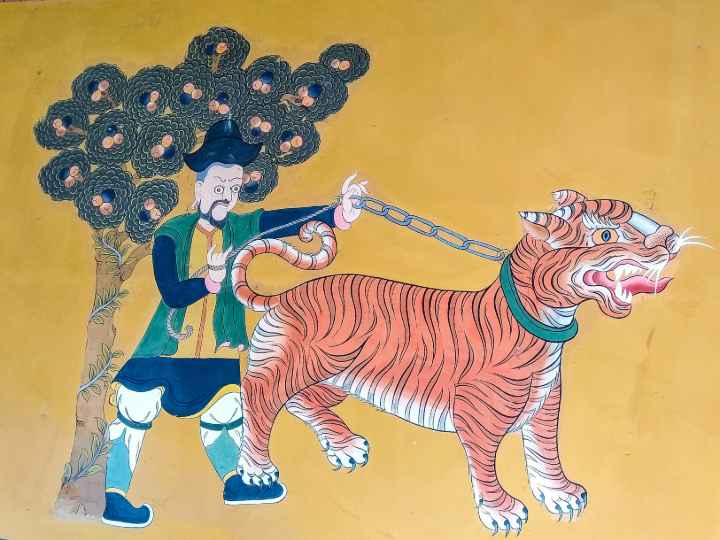 Bhutan, an isolated country, still has many kept secrets to unravel. And one of them is the Tiger's Nest of Bhutan, the cultural landmark for its uniqueness of being built at such heights in the 17th century. Suppose you're a similar kind of person like me who thinks that landmarks of countries or wonders of the world are too overrated to pay a visit. In that case, I ask you to reconsider that statement about this place. Here are the reasons you wouldn't want to miss Paro Taktsang if you plan to visit Bhutan.
1. Breathtaking views from the start till the end
As we started ascending from the base point and entered the forest, the view of Tiger's Nest kept its company with us all along the way. Well! not entirely because, considering the trail's altitude, it's very likely to have clouds at any time of the day. But it felt heavenly when clouds were dispersing once in a while to give a sneak peek of the view. It's like it's always there with us, but we could only see it when it showed mercy on us. While strolling in the woods, passing by the century-old moss-covered blue pine trees, listening to the choruses of rare birds, we couldn't help but feel reunited and blended with nature.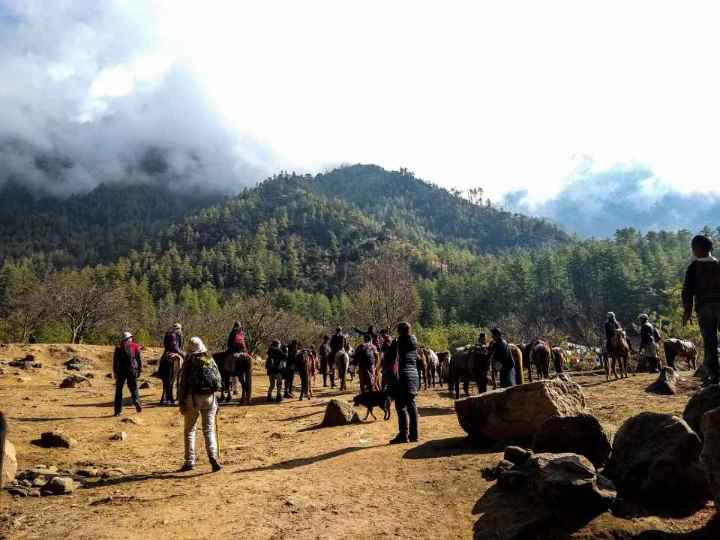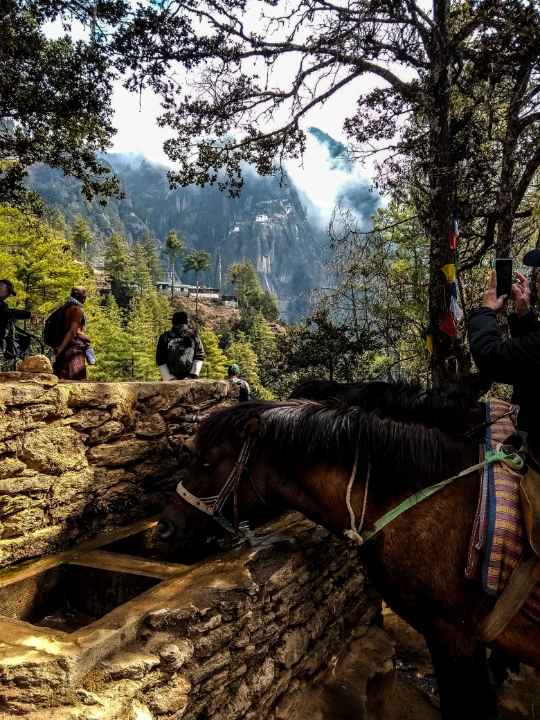 2. Mystical air around Tiger's Nest of Bhutan
"Each hue signifies a specific element and meaning, you know," the guide said, pointing at the flags. "In the wind, these fluttering prayer flags pass on the positive energy, peace, compassion, strength, and wisdom far and wide. Each of the five colours represents the sky, earth, water, fire, and air, the basic elements of existence."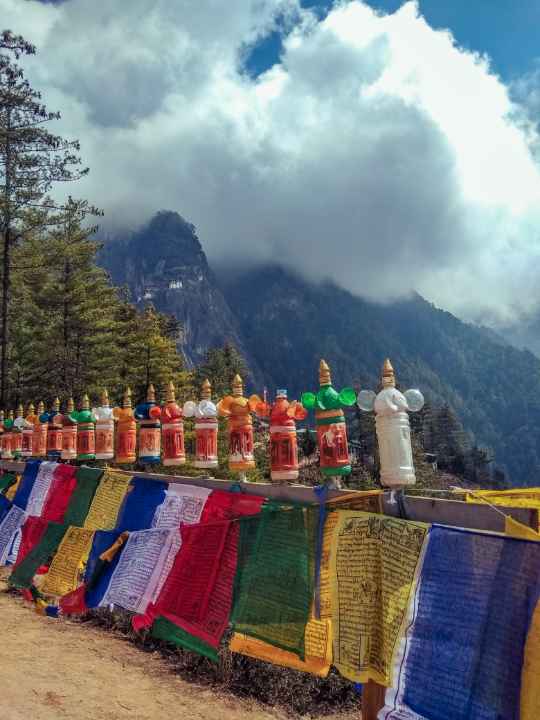 It intrigues me how people hold on to their beliefs, having their reasons in simple acts expressing hope. Such of those acts are stacking stones and prayer flags. One of the many analogies I have heard is that stacking stones is a form of offering to local deities for the safe passage in mountains and passes. While some say, it signs fellow travellers that they're on the right path and not lost.
Maybe these acts do or don't convey the profound meaning, as they think. But I believe in humanity's ability to converge all their positivity and show it through simple acts of belief, no matter if it makes sense or not. So, I brought some prayer flags home.
3. Stairway to Heaven
And then we kept our march on, through the pine forest, crossing rough patches, passing by steam-operated prayer wheels, spotting birds and trees that are not known to us, stopping by Taktsang cafe, which is the midpoint of the trail. As we reached the vantage point and finally looked eye-eye at the iconic monastery sitting against a craggy rockface, it left us spellbound. We realised how huge the monastery was with stark white walls with red and golden roofs when we got closer. And then the only thing between us was a wooden bridge with a waterfall above it, and a long stairway carved up and down into the rocks leading us to the monastery. That became a moment to behold. We debated to name it Stairway to Heaven as we walked towards it.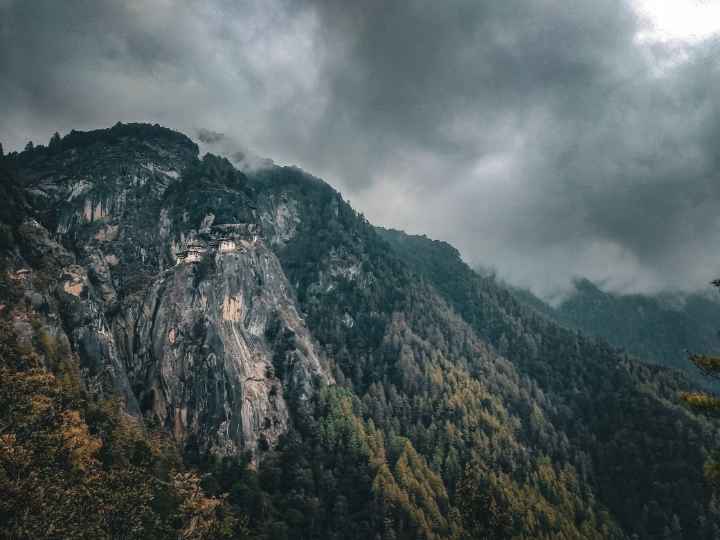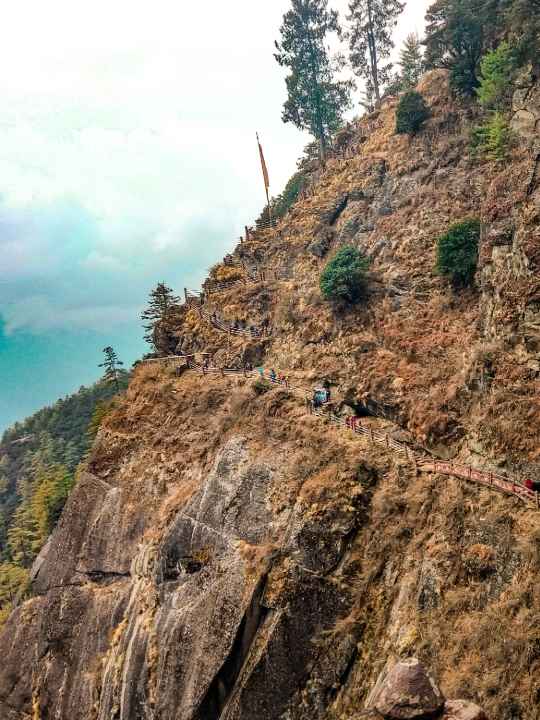 4. Spiritual Spaces in Tiger's Nest monastery
As we walked into the main shrine, it suddenly felt biting cold. Probably that's because of the altitude and our bodies just cooling down after the strenuous hike. But at that moment, it almost felt like the place giving us chills. The monastery was a collection of shrines and caves connected with steps and bridges. "Monks turn this wheel every morning to mark the beginning of the day," our guide said, pointing at the giant prayer wheel in the courtyard.
Sitting in the hall of thousand buddhas, surrounded by the long murals of eight manifestations of Guru Rinpoche while golden idols were glowing under flickering butter lamps, we could feel the deafening silence and the concentrated power around. There's a long statue of a tiger carved into the rock, respected as a symbol of Paro Taktsang. Monastery has eight caves, out of which only a few are accessible to the public. Monks of these monasteries live and meditate in these caves for years, calling it their happy home.
5. Bird's view of Tiger's Nest and Paro Valley
While most of the visitors ended their hike after exploring the monastery and headed back, we had an itch to find how it would look from the top of the hill. Taking it up a notch, we extended our hike to ascend 300ft more, where we found another small monastery named Zangdok Pelri Lakhang. We were there, all alone on the top of the hill, sinking in the indescribable vista of the entire Paro town and how the river Paro Chu passed through the valley, and lastly, witnessing the birds-eye view of Taktsang. At that moment, it all felt worth the pain to extend the hike and have such a wonderful place just for ourselves. The trail wasn't tricky but expect to find difficult stretches on metal ladders. Also, it will be likely that no one would be up there except for one or two monks.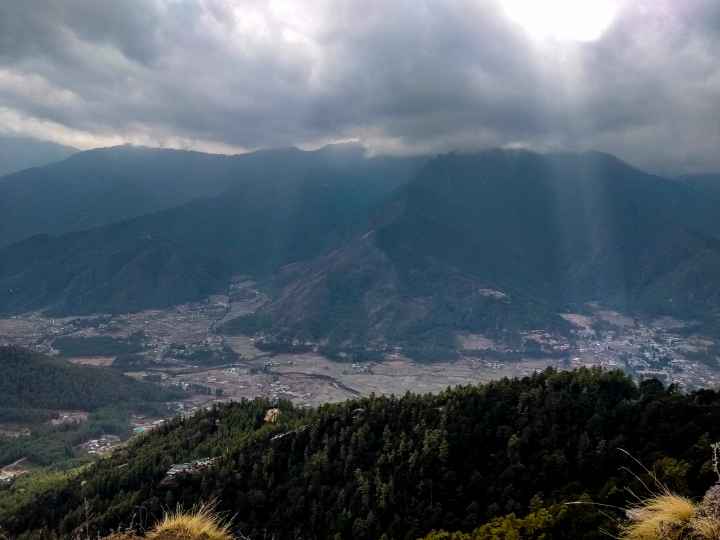 "We are often made to believe that Happiness is a place, it indeed is, but it's more about the state of mind. It's just how one sees things. Some say it's lonely out here, but we call the same as solitude," a monk whom we met near Zangdok monastery said when we asked him about his life. That day, right at that moment, I understood what solitude and living on edge mean.
To sum up, you can be a religious person or an atheist; either you feel the magical air around you or don't. But this place got a little something for all. It's got a hold on me ever since I heard the story from a fellow traveller about his visit to this beautiful place. And when I experienced it by myself and even now, as I recollect these three-year-old memories, I feel as if I were teleported to some part of Heaven.
6. Fact file to reach Tiger's Nest
Here is a little you want to know to reach Paro and plan a hike to Tiger's Nest of Bhutan.
How to reach Tiger's Nest of Bhutan:
Paro Airport (PBH) is the nearest airport, 6km away from Paro valley. From there, you can easily get cabs that can take you to Taktsang base and bring you back. Alternatively, Buses ply from Kolkata to Phuentsholing, the border town of Bhutan. But there aren't many, so book way ahead. Lastly, you can choose a direct or connecting train until New Alipurduar, 60km away from the border town.
And many cabs frequently travel from the border town to the Paro ( Indians don't need a visa, but you need a permit). From here, you're good to go as it's only 12 km to reach Taktsang's base, where you can easily reach by cab from anywhere in the town.
But wait, hold your horses! Considering the altitude gain, getting acclimatised in Paro before heading for the hike is necessary (absolutely, no excuses).
Entry Ticket to Tiger's Nest
For all Non-Bhutanese visitors, it's 500 Ngultrum (500 Rupees), unless you are travelling on the daily package; in that case, the package charges include the ticket.
Timings to the monastery
The monastery will be open from 8 am-1 pm, 2 pm-6 pm in Summer, and timings will be an hour early during winters. The best month to visit Paro Taktsang is between March and mid-May, from September to mid-November.
The difficulty of the hike to Tiger's Nest
The whole circuit is around 8km long and can comfortably be completed in 4-5 hours. It's an easy to moderate hike. It might feel a bit difficult if you're a beginner, not entirely because of the trail but due to the altitude gain. So if you are fit and got enough acclimatisation, it can be your first trek too. (It's my first one, though).
Is this a DIY trek?
Yes, Trek to Tiger's Nest is a DIY trek. The trail is pretty straightforward, and there are always visitors around. So, you can do it yourself, do it solo; however, it suits you, and you won't get lost. A guide will be provided to you in the monastery to explain the heritage place in detail. The charges for that are included in the entry ticket.
Things to carry
Walking stick (you can get one for 50rs at the base).
Carry at least 2 litres of water. You can get water only again at Taktsang cafe, one hour hike from base.
Dress warm, it's not getting any warmer as you hike up. And carry rain gear, because you never know.
Good shoes, snacks (dry fruits), sun protection.
Helpful resources to know before you plan to Tiger's Nest:
Here's an email contact of Nima, with whom I've travelled, you can contact to get hotel stay and travel package details – [email protected]
Goggle Maps Locations:
Location of Trek starting point – ttps://goo.gl/maps/byfDxPRqh5DcXyUp8
Location of Zangdok Pelri monastery – https://maps.app.goo.gl/qxkBt2VNHop9kLPd8
Here's a Virtual Tour of Tiger' Nest by Bhutanese actor, Karma Samdrup
Also, while travelling here to Tiger's Nest or anywhere, let us be mindful and conscious of treating nature. The minimum we can do is bring back our plastic and follow the trail without distributing the environment. Let not nature pay the price for revealing its beauty.
Bhutan is home to many other mysteries which are lesser-known to the world. Stay tuned to know more about it. And do let us know what more you want to know about Bhutan in the comment section. We'll try to reply to you either in the comments or with another blog.