Cancelled travel plans due to the Corona Pandemic? We feel you! And it is our humble request to stay indoors, and practice all measures to prevent the spread of the virus any further!
But worry not, there's plenty of ways to satiate that thirst to travel! For starters get inspired by watching amazing content on travel! To help you out, we've put together a list of top shows, films and documentaries on travel streaming on Netflix, India and some other regions that you have to watch to feed that wanderlust in you!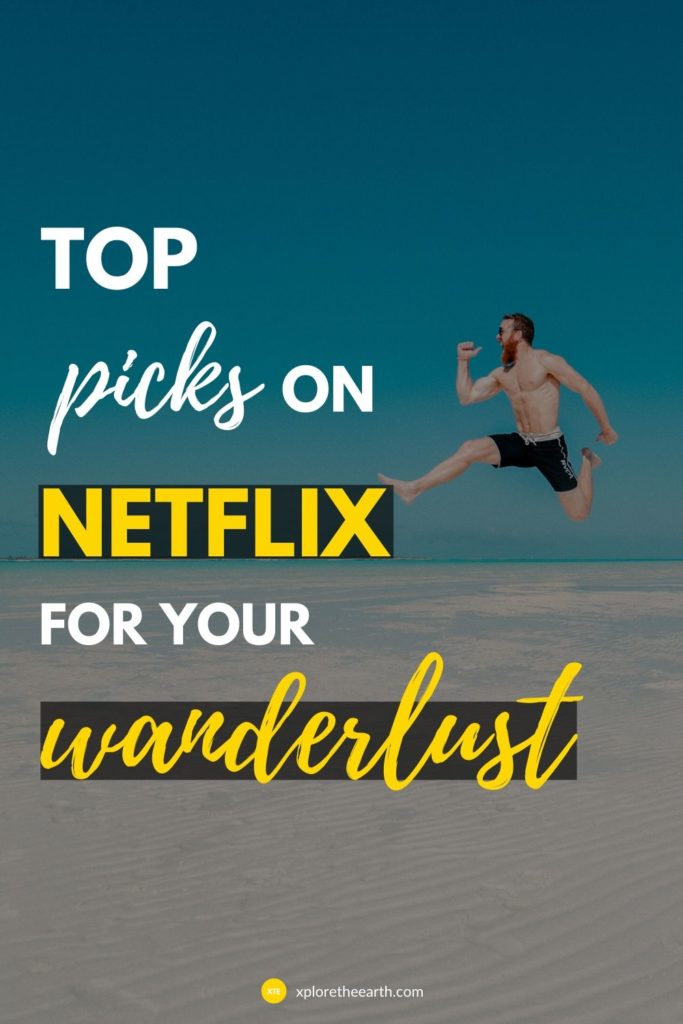 Travel Films on Netflix
TOP TRAVEL FILMS, SHOWS AND DOCUMENTARIES ON NETFLIX
Here's our list of our favorite picks currently streaming on Netflix that are sure to give you your dose of travel! The recommendations are in no particular order!
Expedition Happiness
A filmmaker and his musician girlfriend attempt an epic road trip with their dog, travelling across North America in a refurbished school bus.
Travels with My Father – Jack Whitehall
Comic Jack Whitehall and his father, Michael, are like an odd couple — the son is jovial and the patriarch is stuffy. So traveling together makes for an interesting dynamic, as viewers experience in this travelogue series.
Into The Wild
Christopher McCandless, a young graduate, decides to renounce all his possessions and hitchhike across America. During his journey, he encounters several situations which change him as a person.
Eat Pray Love
Elizabeth Gilbert's perfect world comes shattering down when she gets divorced. She then embarks on a journey across the world in an attempt to rediscover her true self.
Travel Films on Netflix
Our Planet
Experiencing the planet's natural beauty through an examination of how climate change impacts all living creatures in this ambitious documentary of spectacular scope.
The Bucket List
Two terminally ill men left with only six months to live, decide to explore life and make a bucket list comprising all the things they have never tried before.
Zindagi Na Milegi Dobara
Friends Kabir, Imran and Arjun take a vacation in Spain before Kabir's marriage. The trip turns into an opportunity to mend fences, heal wounds, fall in love with life and combat their worst fears.
Before Sunrise
While travelling on a train in Europe, Jesse, an American man, meets Celine, a French woman. On his last day in Europe before returning to the US, he decides to spend his remaining hours with her.
Queen
Rani is devastated after her fiance leaves her just before the wedding. Undeterred, she decides to go on their honeymoon alone where she gets pulled out of her comfort zone and rediscovers herself.
Conan Without Borders
Late-night talk show host Conan O'Brien hits the road in this special that brings him and his sense of humor to far flung destinations.
Travel Films on Netflix
Dil Chahta Hai
Three close friends are separated after college due to their different approaches towards relationships. Akash goes to Australia, Sameer gets busy wooing a girl and Siddharth devotes himself to art.
---
The above was our list Travel Films on Netflix along with other recommendations of shows and documentaries!
Feeling Inspired already? Want to start making travel plans post the Corona Pandemic subsides? Want to know your options about where you should travel in which month and on what holidays? Check out our detailed article curated just for this!
LIST OF LONG WEEKENDS AND WHERE TO TRAVEL!
---
Not satisfied with just Netflix? Want some more suggestions?
MORE TRAVEL CONTENT YOU SHOULD DEFINITELY CHECK OUT
Travel Films on Netflix
These below recommendations aren't available for streaming on Netflix, India region, but they are definitely worth watching!
Hit The Road : India
Hit The Road: India is an adventure documentary about two friends participating in the rickshaw Challenge, a 12-day-long rickshaw rally across India, from Mumbai to Chennai, recognised by Lonely Planet as one of the top-10 greatest adventures in the world. The film is available now on hittheroadmovie.com
Secret Life of Walter Mitty
Ben Stiller directs and stars in THE SECRET LIFE OF WALTER MITTY, James Thurber's classic story of a daydreamer who escapes his anonymous life by disappearing into a world of fantasies filled with heroism, romance and action.
Motorcycle Diaries
Ernesto 'Fuser' Guevara, a medical student, finds his calling in life when he sets out on a motorcycle road trip across South America with his friend, Alberto Granado, a biochemist.
Parts Unknown
Chef Anthony Bourdain travels across the globe to uncover little-known areas of the world to celebrate diverse cultures by exploring food and dining rituals.
TAKE A MOMENT OUT AND CONSIDERING FOLLOWING US ON INSTAGRAM IF YOU AREN'T ALREADY!
Wild
Cheryl Strayed, a recently divorced woman, decides to start a new life by hiking along the 1,100 mile-long Pacific Crest Trail. She begins to discover herself as she goes along her trek.
Departures
Regular guys Scott Wilson and Justin Lukach are bored. So what do they do? Take a road trip, of course. This series follows them and their cameraman, Andre Dupuis, as they journey to places such as Jordan, India and Cambodia. Along the way, they do the usual slacker dude commentary on food and pointless topics.
The Darjeeling Limited
After the death of their father, three brothers set out on a train journey across India, in an attempt to rediscover their lost bond. The experiences that they have force them to introspect.
The Way
An American father travels to France to retrieve the body of his estranged son, who died while attempting the pilgrimage to Spain's Santiago de Compostela. He resolves to take the journey himself, in an effort to understand both himself and his son.
180 Degrees South
Description
Adventurer Jeff Johnson retraces a 1968 trip to Patagonia undertaken by his heroes, Yvon Chouinard and Doug Tompkins.
Y Tu Mama Tambien
The lives of Julio and Tenoch, like those of 17-year old boys everywhere, are ruled by raging hormones, intense friendships, and a headlong rush into adulthood. Over the course of a summer, the two best friends, while living out a carefree cross-country escapade with a gorgeous older woman, also find connection with each other, themselves and the world around them.
Encounters At The End Of The World
Acclaimed filmmaker Werner Herzog travels to Antarctica, where he finds a desolate, beautiful landscape, largely untouched by human hands, and a group of truly unique people who risk their lives to study it. Centered at McMurdo Station, the United States' largest Antarctic research center, Herzog explores the minds of the scientists willing to abandon civilization and endure volatile conditions to learn more about the continent's wildlife and awe-inspiring natural wonders.
Little Miss Sunshine
A family decide to travel across the country when their daughter wants to participate in a beauty pageant, unaware of what the journey has in store for them.
A Map for Saturday
Filmmaker Brook Silva-Braga documents his solo travels around the world.
---
Travel Films on Netflix
Comment below if we have missed your favorite travel films and you want to recommend it to our readers!
Let us know how many of these have you watched already!
---
Enjoyed this article? Leave your email below to get more updates like these straight to your mail box! No Spam – We Promise!
Processing…
Success! You're on the list.
Whoops! There was an error and we couldn't process your subscription. Please reload the page and try again.