This is an account of a 4 days trek in Brahmatal organised by Trek The Himalayas (TTH).
IN BRIEF
Train from Delhi to Kathgodam
Kathgodam to Lohajung by road
Lohanjung (base camp) to Bekaltaal
Bekaltaal to Brahmatal
Brahmatal summit
Descent to Base camp
Lohajung to Kathgodam and Kathgodam to Delhi
INDICATIVE BUDGET
9-10k for the trek exclusive of flights/trains to Kathgodam
HOW TO REACH
Nearest Airport – Pant Nagar (34 km from Kathgodam), connectivity from Delhi
Nearest Railway Station – Kathgodam
Road – Local government buses or cars provided by TTH
WHAT & WHEN TO DO
DAY 0
Reach Delhi
Take a train to Kathgodam
Pick up by TTH vehicle for Lohanjung
DAY 1
Commencing the trek from Lohanjung at 7:00 AM towards Bekaltaal
Trek for 6-7 hours (2-3 hourly stops)
Arrive at Bekaltaal at 3:30 – 4:00 PM and set camp
Visit Bekaltaal lake at around 4:30-5:00 PM
Snacks and Dinner
DAY 2
Leave for Brahmatal at 6:30-7:00 AM after a good breakfast
7-8 hours trek (moderate difficulty, 2-3 hourly stops)
Reach Brahmatal at 5:00-6:00 PM
Set camp
Snacks and Dinner
DAY 3
Early morning departure from camp to reach Summit (4 hours trek – difficult)
Reach summit (spend an hour or so)
Descend and reach the campsite by 4:00-5:00 PM
DAY 4
Begin the descent for reaching the Base camp (Lohajung)
Includes steep and gradual slippery slopes
Reach base camp after 7-8 hours moderate difficulty trekking
Relax
DAY 5
Return according to your bookings
ACCOMMODATION AND FOOD
Stay and Food both are provided by TTH at camps set up by them.
HELPFUL TIPS
If you have motion sickness, start with Acetazolamide tablet a month or at least 2 weeks prior to the trek
Stay hydrated – Carry at least 2 1 liter bottles
Carry sunscreen and moisturizers
Wear layers rather than 1 thick jacket
Purchase or rent decent waterproof hiking shoes (worth ₹2-3k)
Carry extra pairs of socks
If you need to know more, contact
+91 99177 24737 (Ms Pooja from TTH)
MY STORY
It is a tiring experience for someone with the physical abilities resembling mine but the sights are breathtaking and the experience worth every muscle pains you have for the next few days. Also, TTH boasts some of the most hospitable employees who ensure your food requirements being met by feeding you 5 times daily. The best experience was having mouth watering freshly baked pizzas at 10000 feet. Sleeping in tents with cold wind outside is an experience second to none. If you do not have any other reason to do this trek, do it for the amazing views and walk through the snow and if you are lucky, the snowfalls.
PICTURES FROM THIS TRIP
This Itinerary was contributed by a Community Member!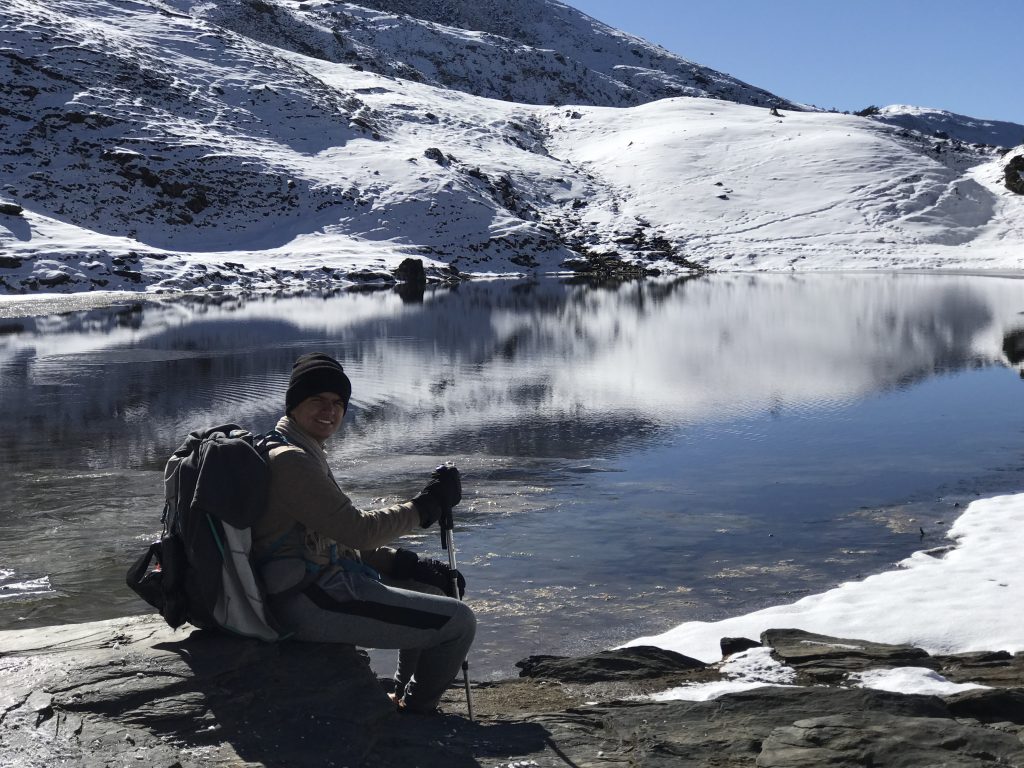 You can reach Aditya for any queries about this trip or TTH on his Facebook or Instagram!
---
Ensure you travel responsibly and keep your carbon footprint to the minimum. Happy Exploring!
---
Want to share your experience and tell everyone about how you travel and plan your trips? Now you can, in just a few steps! Head out to Share your Trip page now!