Perhaps it is the high, steep and snowcapped mountain landscape crisscrossed by lively rivers surrounding a monastery. Or perhaps it's about the legendary stories the monks share on the existence of the Yeti while enjoying their evening football game. Perhaps it's the untouched hikes and trails, or it's about the perfect symmetry of the architecture and the mysterious tales painted on the walls that seem almost frozen in time. Perhaps it's the combination of all these that makes Bhutan the best travel destination.
If this mountain kingdom is not Shangri-la, then it's as close as it gets.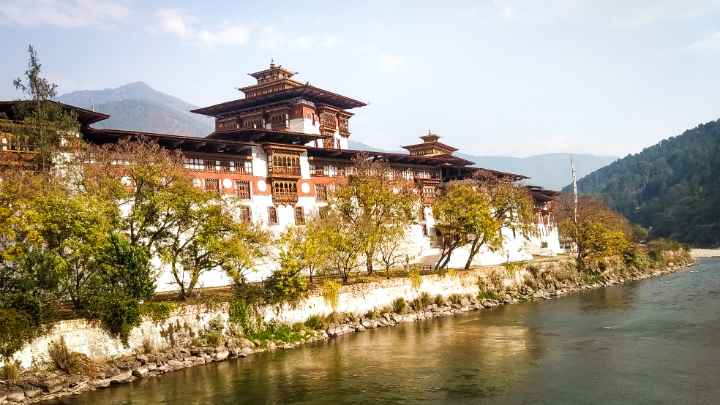 Bhutan is no ordinary place. It is a Himalayan kingdom with a reputation for mystery and magic, where a traditional Buddhist culture carefully embraces global developments.

Lonely Planet
For better or worse, half a century ago, Bhutan has opened its doors to the rest of the world. Lonely Planet ranked Bhutan as the number one country in 2020 under the 'Best Travel Destination' category. While the list could go on, here are the ten unique experiences to find almost nowhere but in Bhutan.
1. Tshechu – Vibrant festivals of Bhutan
The colourful Tshechu festivals of Bhutan are annual religious festivals celebrated in honour of Guru Rinpoche, the second Buddha. As for locals, it's an opportunity for social gathering and receiving blessings, while for us tourists, it's a great chance to experience the intriguing customs. For instance, Monks perform mask dances, typically known as Cham dances depicting the old stories of good and evil. Also, there are Atsaras, red-faced clowns in festivals who mimic the dancers and perform comic routines, sometimes even playfully harassing the audience with their wooden Phallus. And the Thongdrol, the huge Buddhist painting that cleanses the sins on mere sight, is unfurled by His Majesty on the last day of Paro Tshechu every year.
Suppose religious festivals and mask dances aren't your things to convince you to attend the festival, even though we recommend experiencing Paro or Thimpu Tshechu. In that case, you can always try one of the festivals like the Royal Highlander Festival in Laya, a remote village at 13,000ft which can be reached only by trek that celebrates the highlander traditions. Many festivals like the Alpine Summer festival at Haa, where alpine flowers and traditional sports are displayed. The Mushroom Festival in Ura that celebrates varieties of mushroom collections might interest you. So, you can time your visit to Bhutan according to your interest in one of these annual festivals.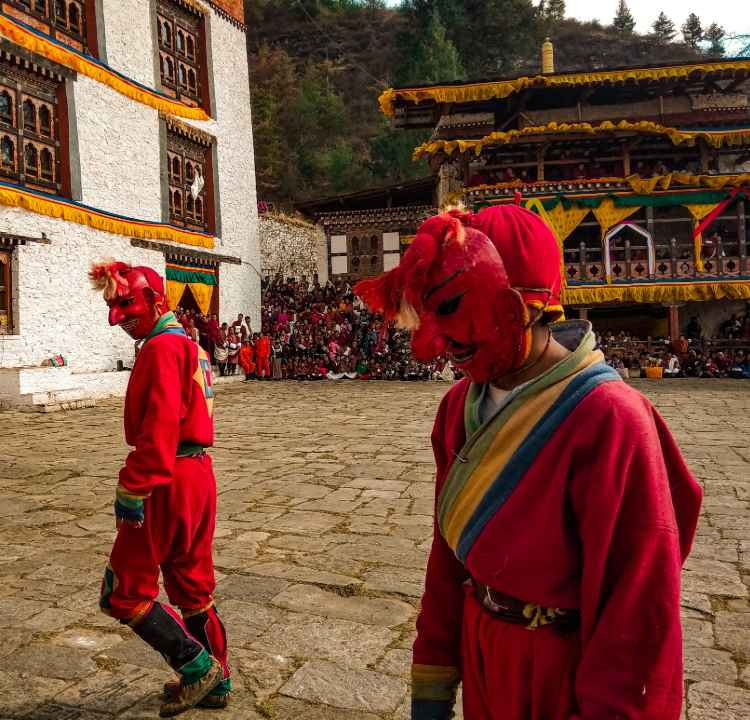 2. Food and Spice of Bhutan
Bhutan is a country where rice is red; chilly and cheese is the main ingredient but not just a seasoning; in fact, the combination of chilli peppers with cheese sauce is the national dish, Ema Datshi. It's a stew made with chillies (Ema), Cheese (Datshi) and vegetables, served with red rice. If you have got to taste one food item in Bhutan, Ema Datshi should be the one. But the spiciness is not for the faint-hearted. Try Suja; the butter tea served with crisped flattened rice and local rice wine, Ara, and other cuisines.
3. Landscape and Biodiversity of Bhutan
Being home to endangered species of flora and fauna, some are available nowhere else but in Bhutan. This place is a paradise for botanists and bird lovers. And with 72% of forest cover contributing to a wide range of ecosystems and bird-filled forests, Endangered and vulnerable species like snow leopards and red pandas are protected here.
There's a festival dedicated to the Endangered Black-necked cranes that migrate from the Tibetan plateau to Phobijika valley during autumn. Some Varieties of Rhododendrons exclusive to Bhutan bloom on the mountain passes during spring. Imagine pulling out of your car somewhere between the capital city, Thimpu and taking a stroll uphill to find some animals and birds you haven't seen and heard of. In which country or rather say in country capitals, you can experience that. Again proves why Bhutan is the unique and best travel destination one can ask for.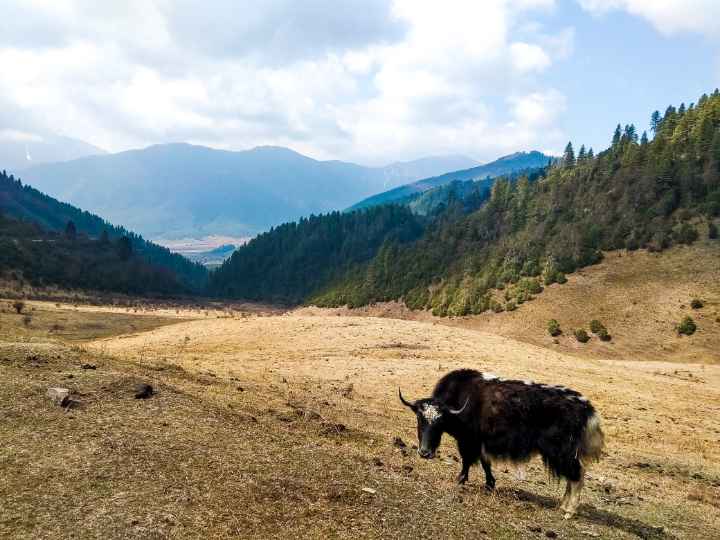 4. Harmony, Humour and Happiness of Bhutan
Respect for the environment and nature is part of Bhutanese living. They believe that every activity they undertake should be in harmony with nature. Harmony, Humour and Happiness, whatever you call it, can be seen from the laughter you hear on the random roads of Paro town to the friendly conversation you have with a kid who's a monk. And through the Atsaras, red-faced clowns in festivals, while they funnily harass the audience with their wooden Phallus, all burst out in laughter, and you too will unknowingly tag along in their laughs.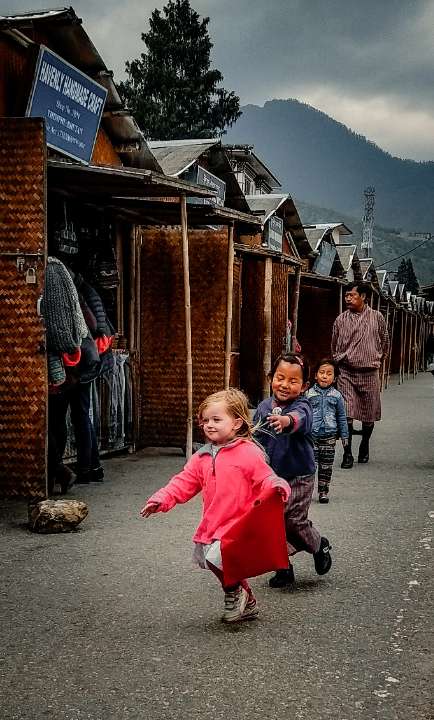 The mountain kingdom has coined the phrase Gross National Happiness while opening its borders to other countries, bringing a perfect balance between material and spiritual growth that affects people's quality of life. Also, they have an infectious sense of humour that you can't easily forget or define in words. There's a sense of solace and calmness in the air that can only be felt but my words fail to explain again explaining why I feel Bhutan be the best travel destination
5. Archery – National Sport of Bhutan
"Archery to us is how Cricket to India," the archer said as the arrow flew and hit the bull's eye. He laughed out loud when I said, "I can barely see the target board, let alone hit the gold spot," which is 145 metres away, double the Olympic range. So naturally, the Love for the sport of Archery has been passed on to Bhutanese from ancestors. And then it has become a National Sport.
In addition to that, Wordplay and wit are typical in archery games, where the opposing team sings and makes lewd jokes to distract the archers. Also, there's an excellent chance to find the royal family or country leaders on archery grounds after work hours. In other words, it's that easy to catch an archery scene in any local tournament range in Bhutan. So, remember not to miss to witness this experience.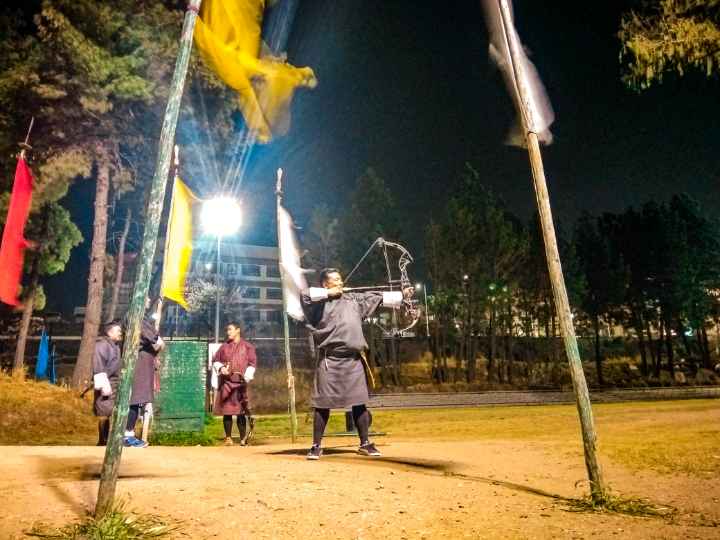 6. Arts and Crafts
The unique art of Bhutan stands out in the use of bold colours in murals, the symmetry of objects, and the attention to detail in almost everything you see there. For example, multicoloured wood fronts, small arched windows and white stone buildings of traditional houses, and wall paintings on monasteries.
And from the sculpting of idols and weaving to paintings of Thangka in Tshechu festivals, thirteen traditional arts and crafts are ingrained in the way of life and provide a livelihood to Bhutanese, so they are taught to the young generation to keep the traditions alive.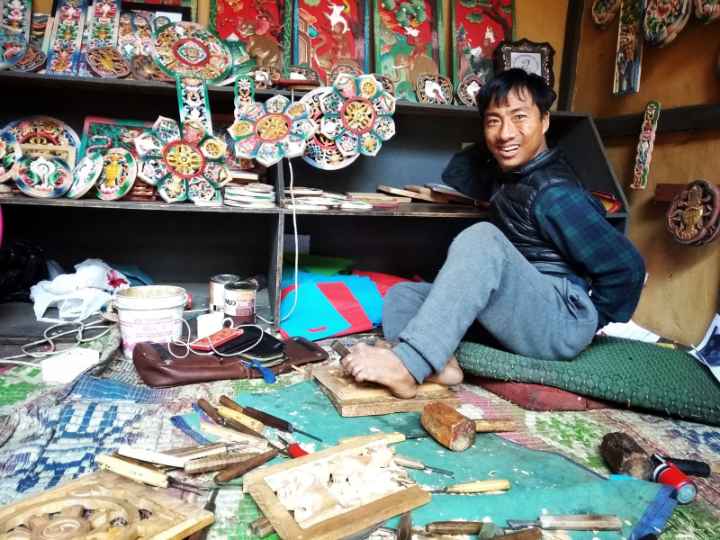 7. Beyond the Beaten path
Most Travellers limit themselves to getting a glimpse of Bhutan in the shortest time by exploring Paro and Thimpu of Western Bhutan. But the authentic and pure Bhutan, which is still untouched by tourism, lies in the lap of Central Bhutan or, rather say, Eastern Bhutan, with remote villages, alpine valleys and yeti hunters on this off the beaten path.
Bhutan is also home to popular treks like Snowman, Laya Gasa, Jhumolhari, and Druk Path. So, the mountain kingdom believes that Buddhist deities reside in high altitudes and ban mountaineering above 6000 metres. As a result, Gangkhar Puensum of Bhutan holds the highest unclimbed peak in the world. Going beyond the beaten path either by trekking, biking or cycling at the high altitudes of Bhutan and having the whole place to yourself gives the unique travel destination feels.
8. Intact Indigenous culture
The traditional dresses of Gho and Kira display the way Bhutanese still holds on to its ancient traditions in protecting cultural heritage. Similarly, its traditional arts, from prayer flags to conventional houses or even its beliefs, make Bhutan unique and give visitors a fantastic experience by revealing one or two of its best-kept secrets.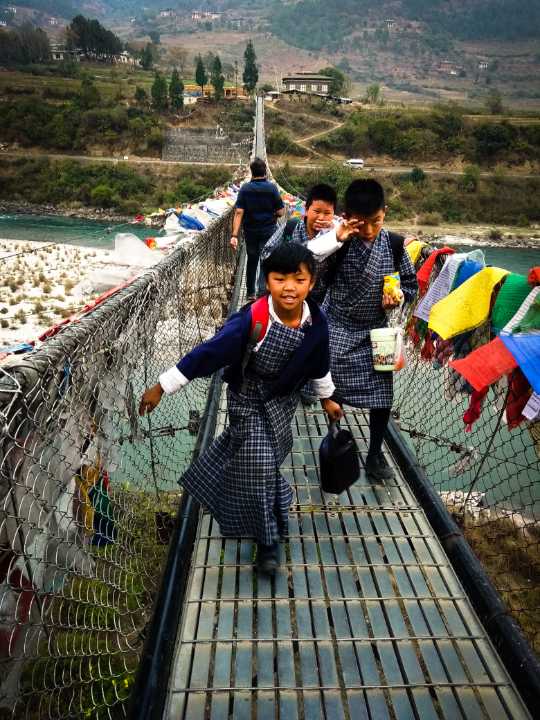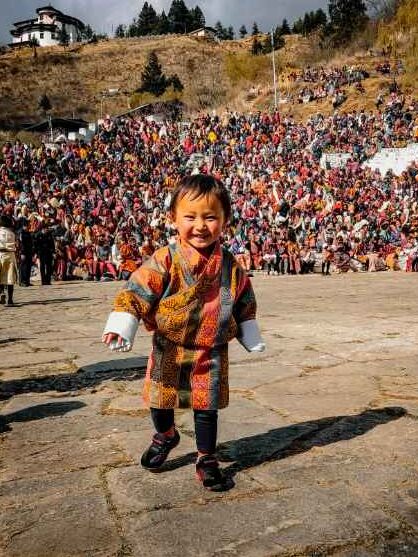 Bhutan decided long ago that we will never be a military power, we will never be an economic force, so to survive we must have a distinct identity. This is the identity you see; our clothes, language, the architecture. You look around and you feel that you are in a different world. This is not an accident.

Dasho Kinley Dorji, Secretary, Ministry of Information and Communication of Bhutan
9. The fertility temple – Phallic paintings
Along with huge eye-catching paintings of Gurus and Buddha, there are Phallus erect penis' paintings on the walls. While a few hang from rooftops, a few are used as direction signage. While some have eyes, a few smiles and some as wooden phallus Atsaras, hold to give you blessings. Yes, it's everywhere. The Phallus is a cryptic symbol associated with fertility, good luck and keeping evil away.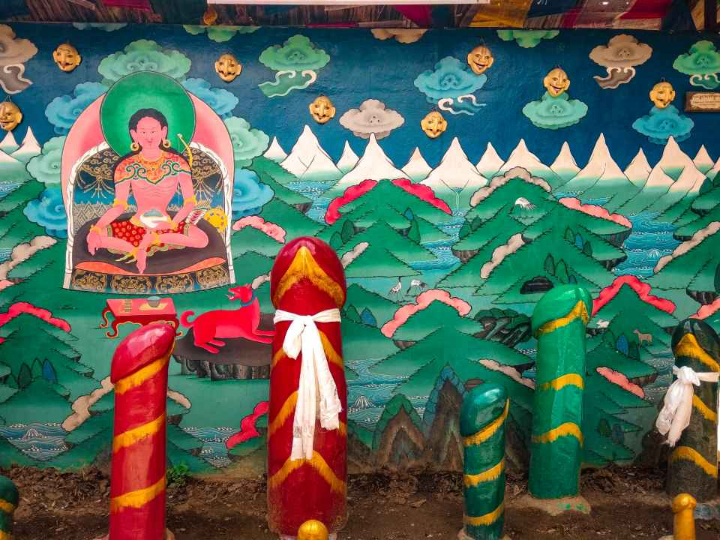 This whole tradition of phallic worship was introduced by 15th-century teacher Drukpa Kunley popularly known as the Divine Madman, because of his strange way of teaching, but that is mostly his way of demonstrating that celibacy is not necessary for being enlightened. Also, to know the whole story, you got to visit Chimi Lakhang, a monastery known as the fertility temple built in honour of Kunley in 1499.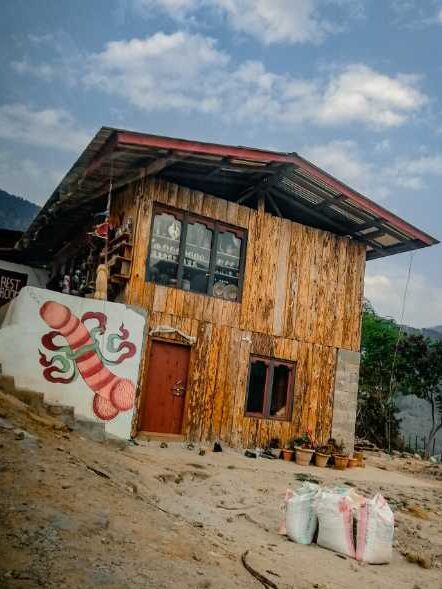 10. Spirituality – Buddhism in Bhutan
It's almost impossible to write about Bhutan without mentioning Buddhism because Spirituality is the way of life for Bhutanese, which you feel almost everywhere or even while looking at 50 meters giant Buddha statue watching over the Thimpu valley. Likewise, through fluttering prayer flags, or in the stories of how Guru Rinpoche flew on a tigress to cast demons away, resulting in Tiger's Nest monastery built by the cliff's edge.
For instance, everything from preserving traditional arts to festival dances, government policies to phallus paintings carry the same purpose: to promote Buddhist teachings, reminding you that Buddhist beliefs shape everyday aspects of life. Sometimes it can be daunting, even alien, but knowledge of Buddhism helps understand Bhutan in deep.
In short, Bhutan is not just a country full of happy monks who don't want to develop. It's how every action connects with their beliefs and a step towards enlightenment, interdependency and savouring the beautiful world but not at the cost of hurting it. Above all, this tiny country is giving goals to the world, holding onto its beliefs and protecting them in times of biological and political warfare. Hope the world learns something from Bhutan, while some countries still believe that climatic change is a myth.
Also, for a country striving to maintain its carbon footprint the lowest while having tourism as its most significant source of income, as responsible travellers, the least we can do is to take care of our waste and plastic and continue Bhutan to be the best travel destination for years to come and for others to experience the Shangri-la as it is.
Here's an article about Tiger's Nest, the most iconic monastery of Bhutan, sitting on a cliff's edge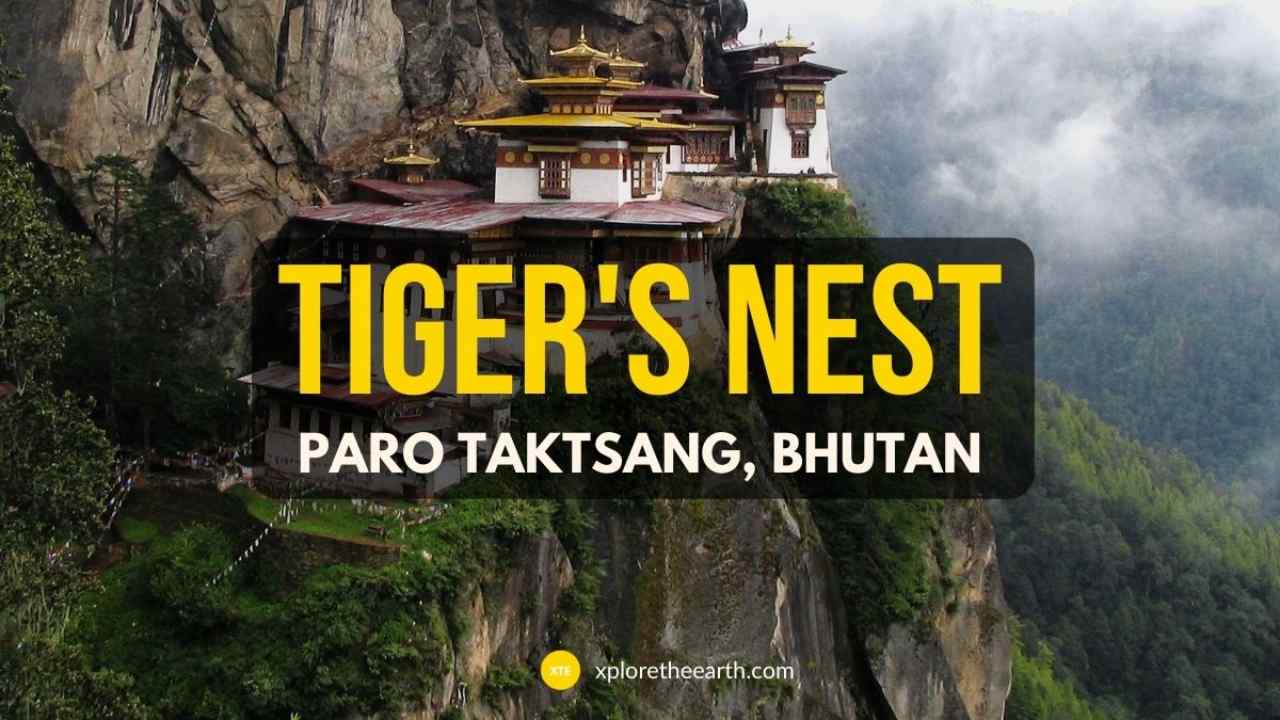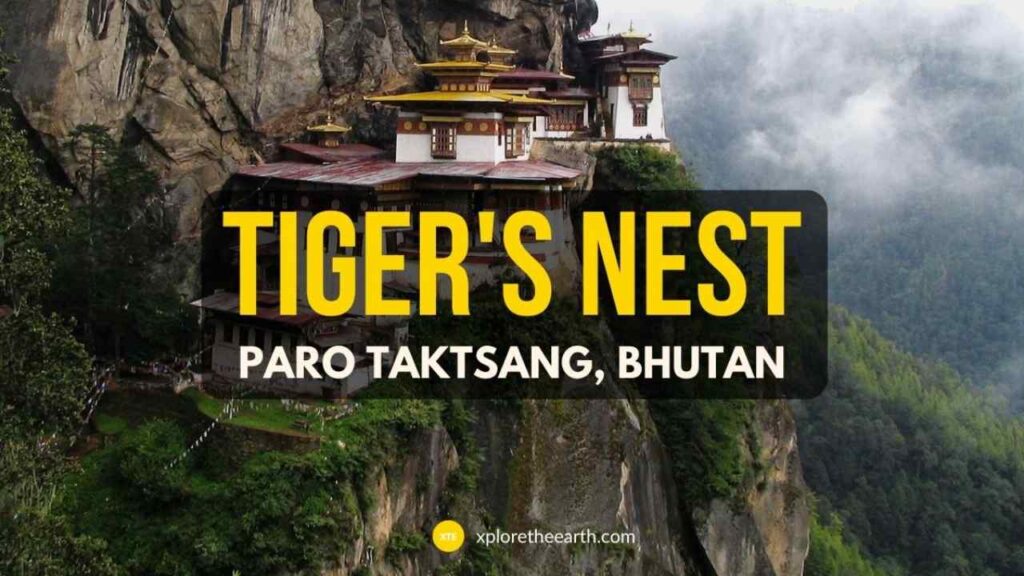 ---
Also, on a side note, do let us know in the comments if you're convinced and excited to plan a trip to Bhutan, or if you have already been there, what other reasons made you feel Bhutan is the best travel destination.
Kadrenchey la, 'Thank you' in Bhutanese.