Annapurna Base Camp Trek or ABC Trek is situated at an altitude of 4130m, best done in October over 7 days and 90+ km! I completed this trek in October 2022 and it had everything from lush green valleys, ragged mountains, snow-capped peaks, river crossings, hanging bridges, and hot springs! You name it, this trek has it. And I was in absolute awe of it!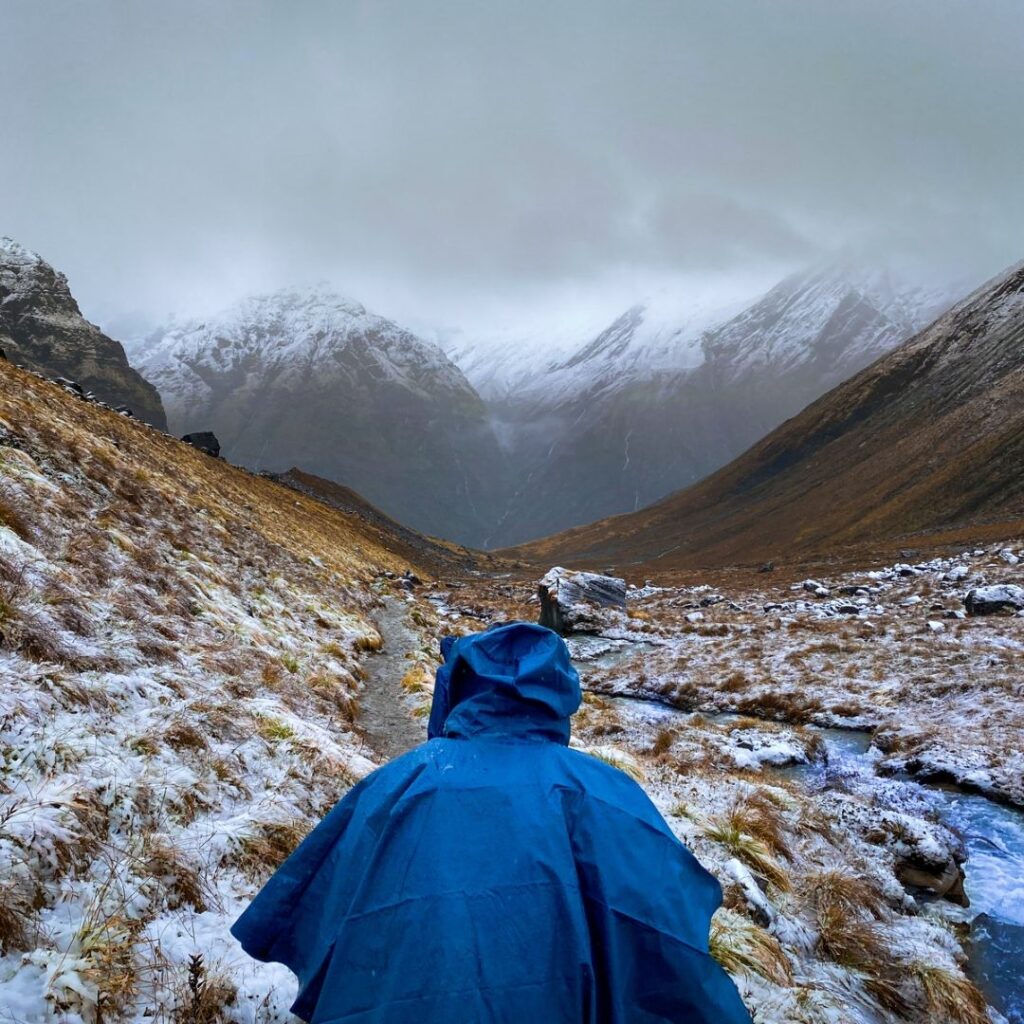 Find the trail on AllTrails!
IMPORTANT FAQ'S
BEST TIME TO TREK ANNAPURNA BASE CAMP?
Spring and Autumn see the maximum number of trekkers. While snow makes it difficult to trek in winter, the rain makes it difficult in monsoons. The best time for Annapurna Base Camp Trek is October followed by April and November.
ANNAPURNA BASE CAMP TREK DISTANCE?
You will be covering about 90km, trekking for 5-6 hours a day for 7-8 days. Most trekking organizations make it a 7-day expedition. For us, it was the same, we did it in 6 nights and 7 days from Pokhara to Pokhara.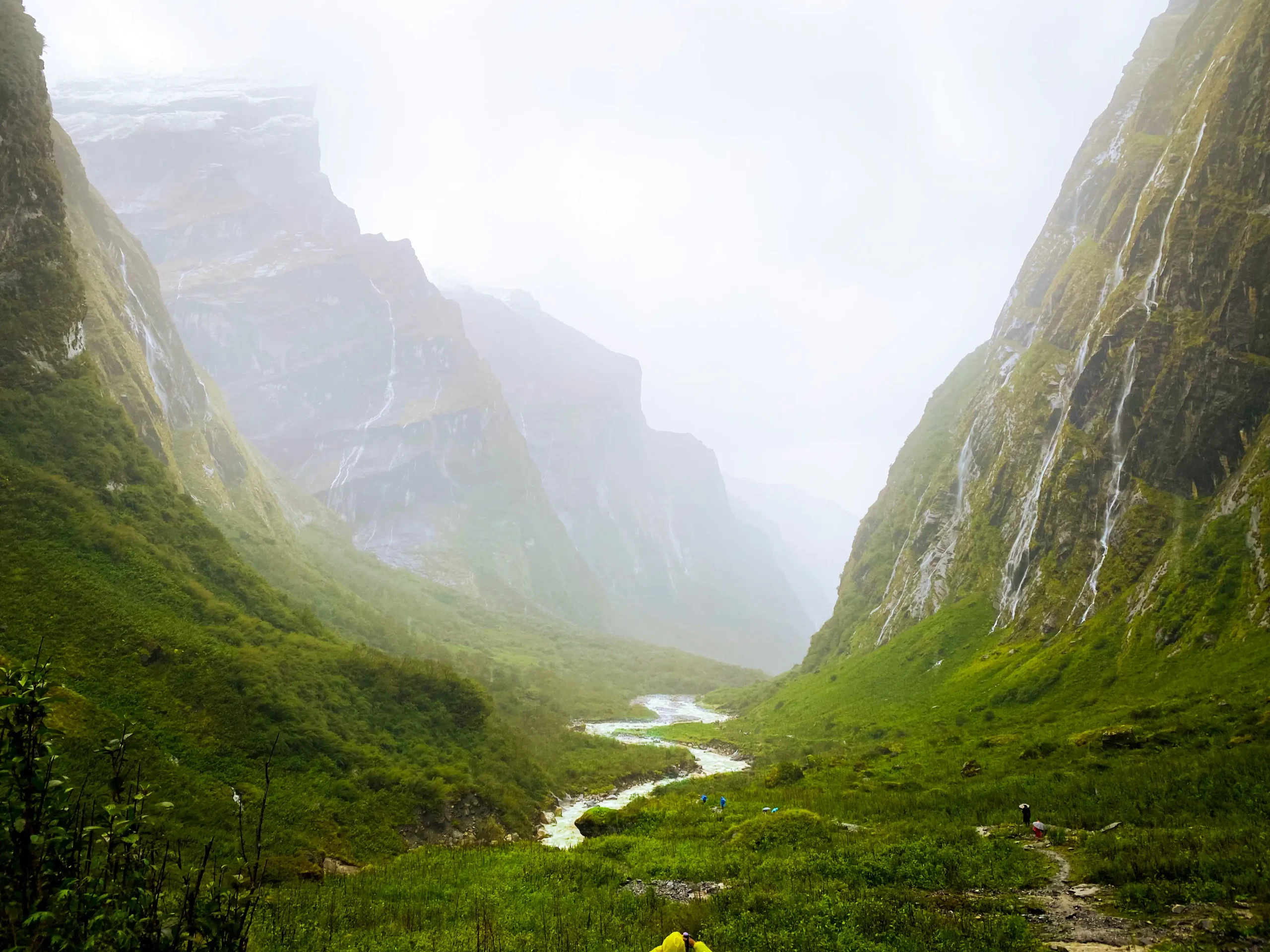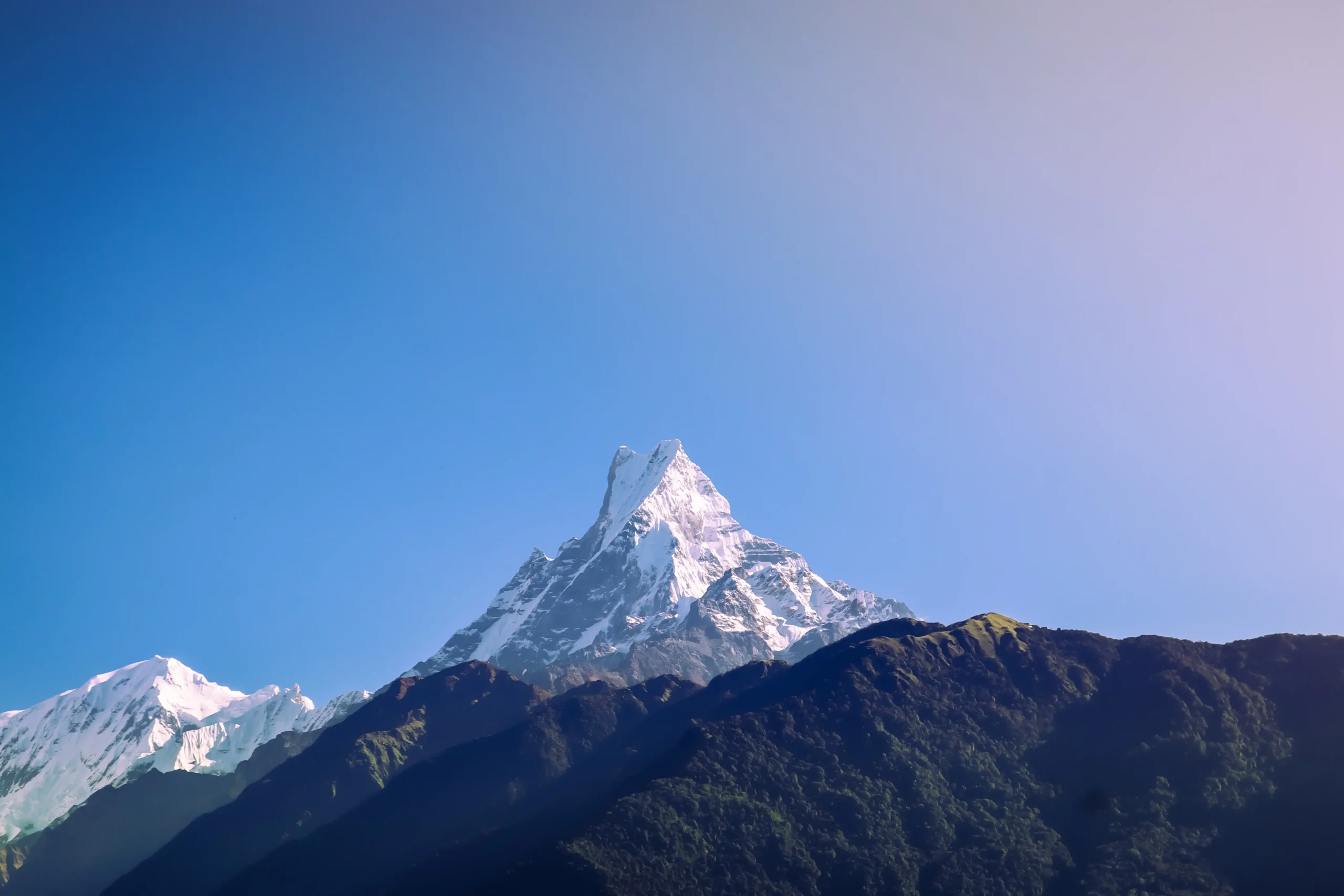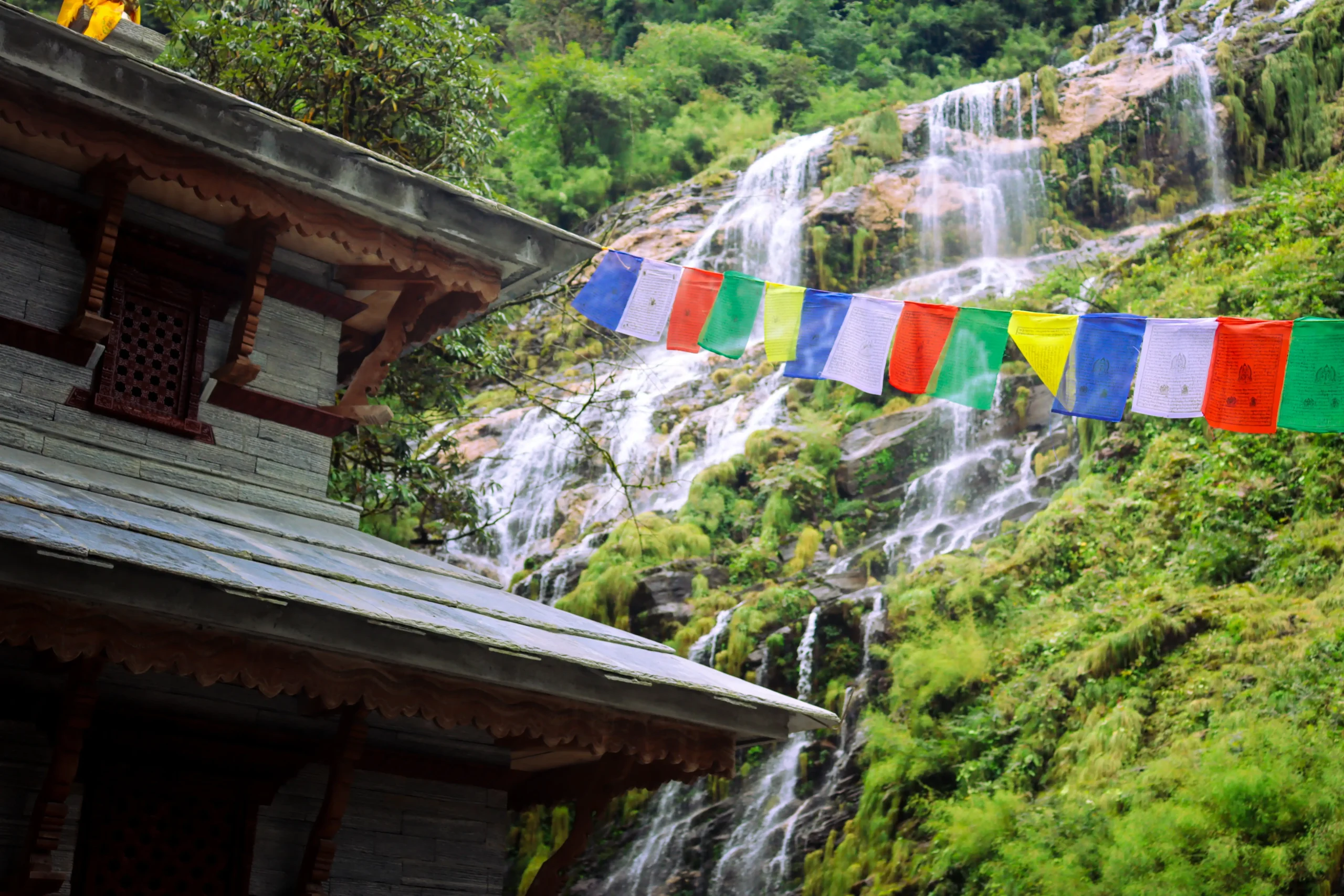 DIFFICULTY LEVEL OF THE ANNAPURNA BASE CAMP TREK?
Trekking companies rate this trek as a moderate to difficult trek. And I sort of agree with them. So, initially going through the villages, the terrain is quite good. However, as you go further up, the terrain starts to become a little challenging. In general, the fact that this is relatively longer than the usual treks, it ends up being moderately difficult.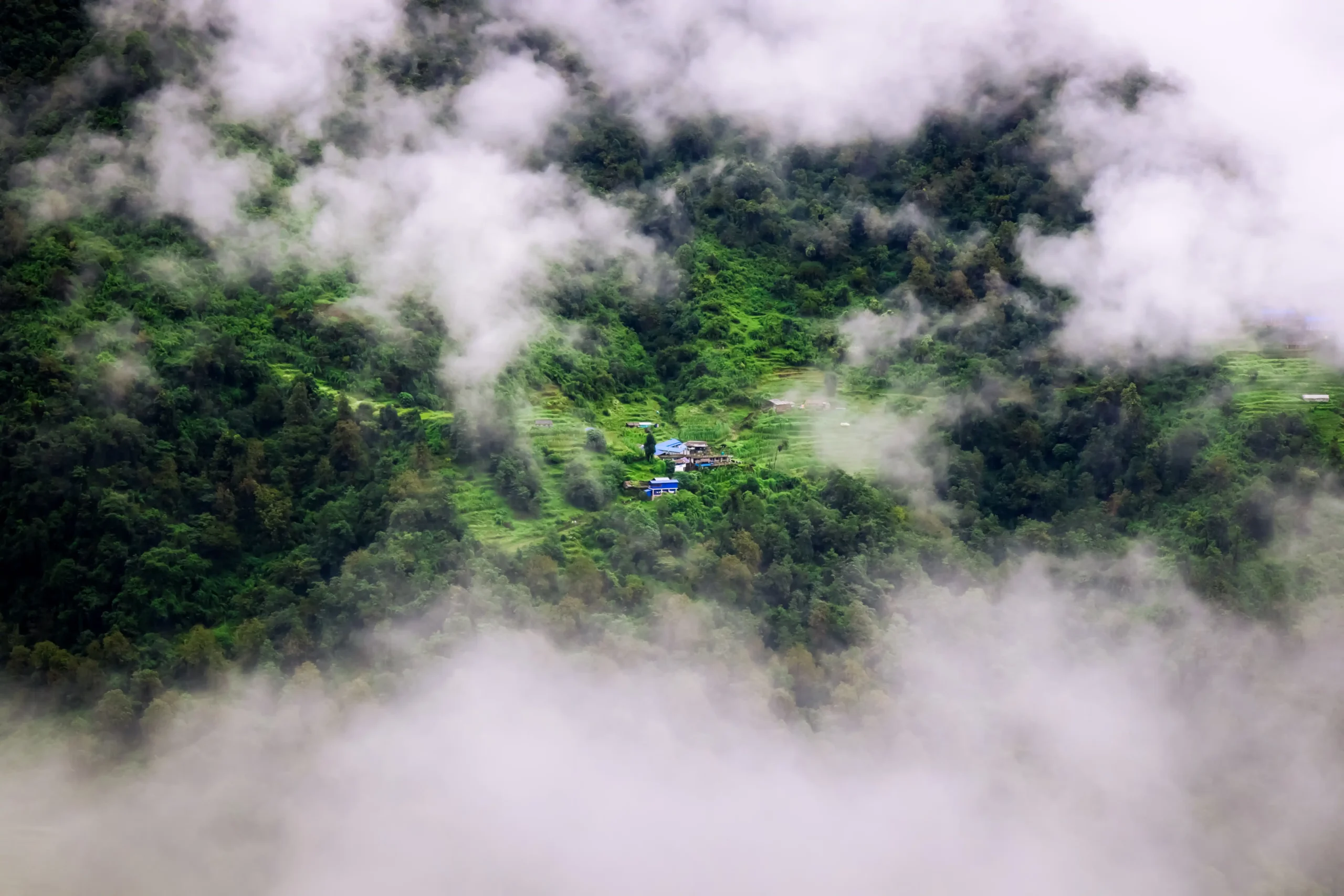 FITNESS REQUIRED FOR THE ANNAPURNA BASE CAMP TREK
Come physically and mentally prepared, as you will be trekking for a few hours every day for almost a week. I would say if you can do 10km in 60 minutes, then you will really be able to enjoy this trek. Anything less than that, you should still be able to complete it, but it is possible that it will be quite tiring for you.
ANNAPURNA BASE CAMP TREK ROUTE MAP?
The following infographic, shows the route that we took, the distance we observed between campsites on our gear, and the altitude for each campsite.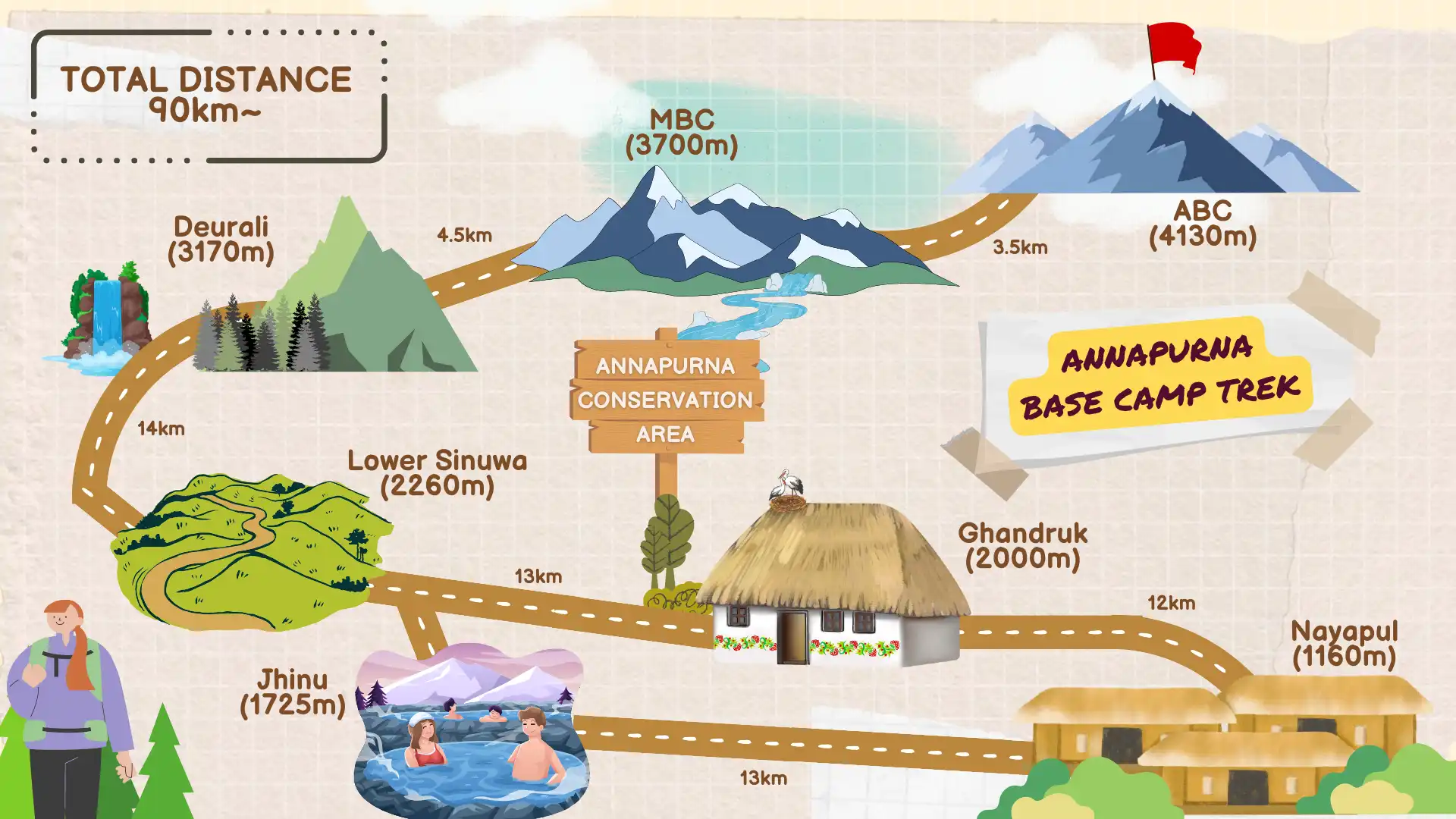 In case you want to know more about the route and the look and feel of it, do watch our YouTube video showcasing our experience from the trek in detail.
ACCOMMODATION ON THE ANNAPURNA BASE CAMP TREK?
Moving on, you do not have to worry about accommodation on this trek. Teahouses are available throughout. It is about 300-500 NPR for a room per night. And a double sharing room around 100-300 NPR. You shouldn't expect anything fancy in any of the tea houses. A clean bed, hot water, charging point, hygienic washrooms, and decent wi-fi is really the extent of facilities that you will find across the trek. And as you go higher up the trail, you will be charged for these services.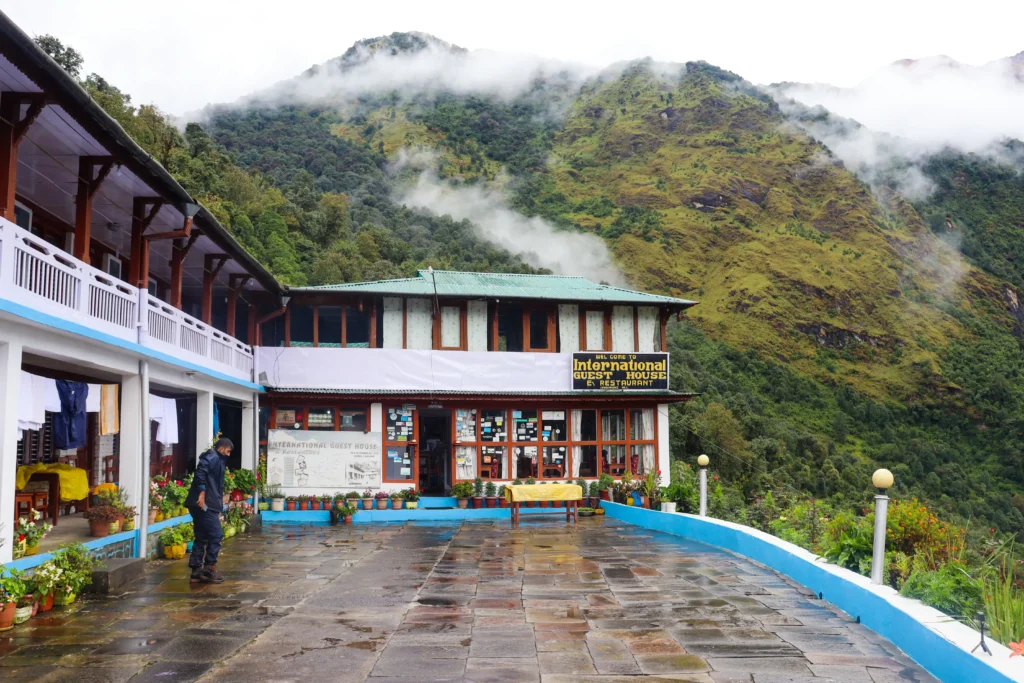 FOOD ON THE ANNAPURNA BASE CAMP TREK?
Pizzas, noodles, rice, momos, dal sabzi, eggs, you name it, they have it. ABC trek is quite commercial that way. However, do note that the prices you will pay for the food is a decent bit. And they keep on increasing as you go higher up. These prices are fixed by Nepal Tourism Board, so you do not have to worry about being overcharged.
VISA FOR THE ANNAPURNA BASE CAMP TREK?
For Indian Nationals, no Visa is required. For other nationalities, refer to the Embassy of Nepal's website for visa details and costs.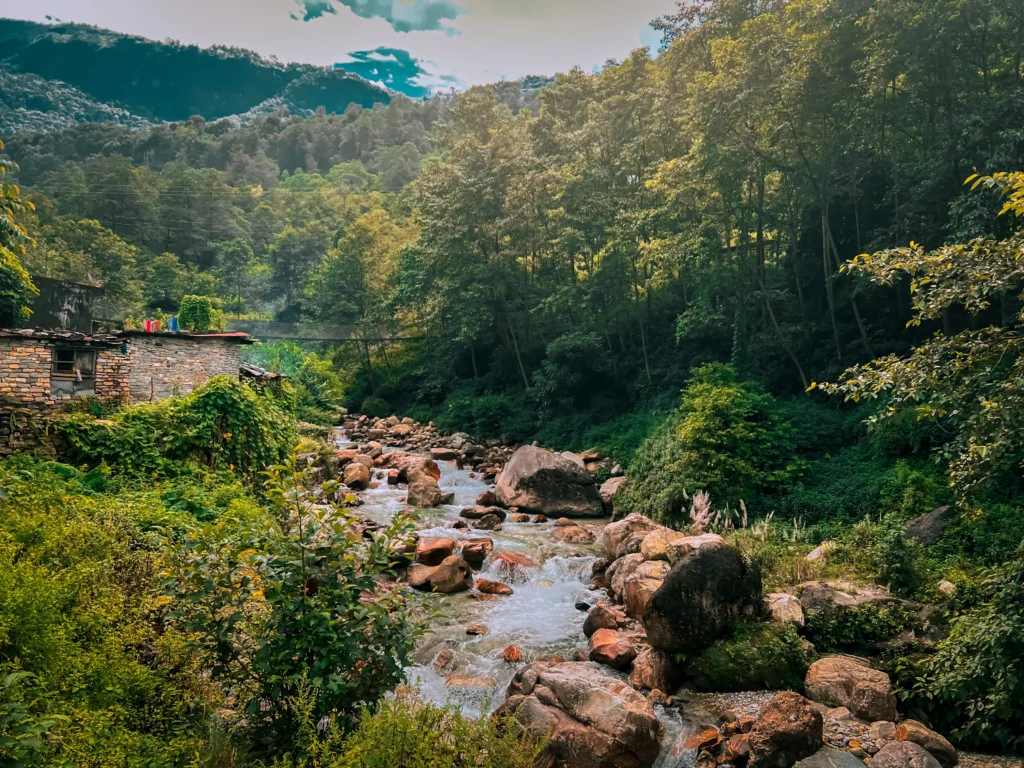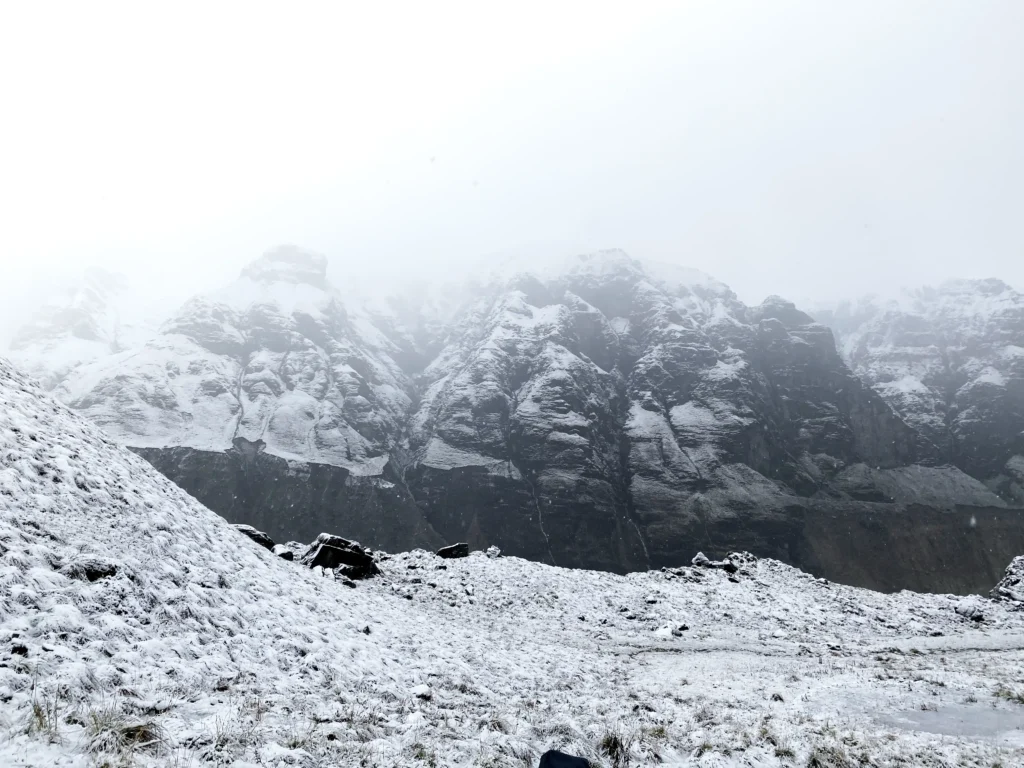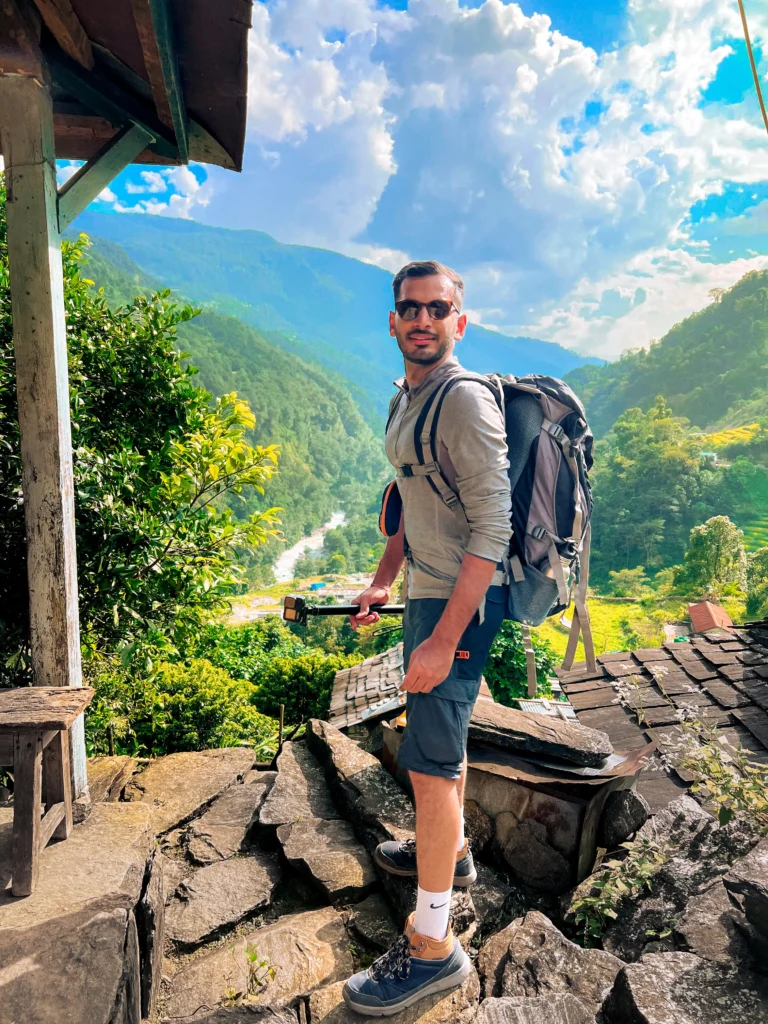 TREKKING PERMITS FOR THE ANNAPURNA BASE CAMP TREK?
You need to register and pay an entry fee in order to enter and trek in the Annapurna Sanctuary Area. The fee is 1000NPR for Indians and 4000NPR for other international trekkers. The guide whose services you have hired for the trek can complete the necessary paperwork on your behalf. You need to provide 3 passport-size photos and a Passport. If you are an Indian National then Voter ID also works.
Hiring a guide would roughly cost you 1000NPR per day.
WHAT TO PACK FOR THE ANNAPURNA BASE CAMP TREK?
You can refer to the following infographic to gauge what you should be packing on your ABC trek.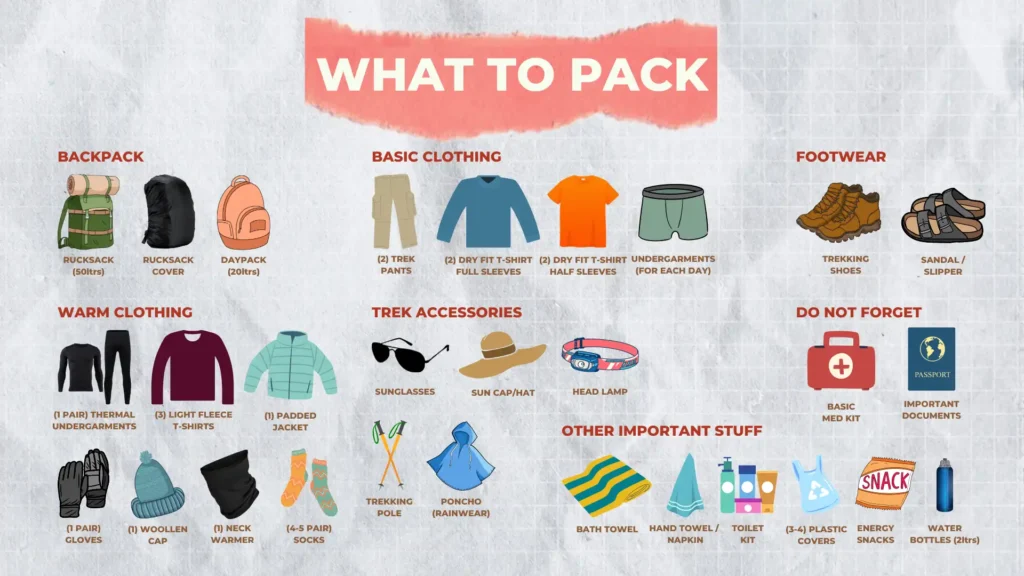 WHICH NETWORK / SIM TO USE ON THE ABC TREK?
I bought an NCell sim card. It worked fine in the city area. However, the network was on and off since the beginning of the trek. Instead, the NTC network was working fine, and that's what the locals seem to be using too including our guide for the trek. It would cost you around 600 NPR for basic data and talking minutes.
BUDGET FOR THE ANNAPURNA BASE CAMP TREK?
Following will be the rough budget or cost for doing the ABC Trek. The total cost would amount to NPR 33,400 or INR 21,000. You can avoid the cost of a Porter here. Do note that these costs are from Pokhara to Pokhara.
IS ABC TREK A DIY TREK?
It is not anymore. Nepal Tourism Board issued a notification, in which NTB bans foreign trekkers to trek in Nepal's National Parks and Conservation Areas without a guide for the entire journey. So, in ABC's case, you trek in Annapurna Sanctuary Area and after the guideline, it would mean that you won't be able to trek here without a locally registered guide.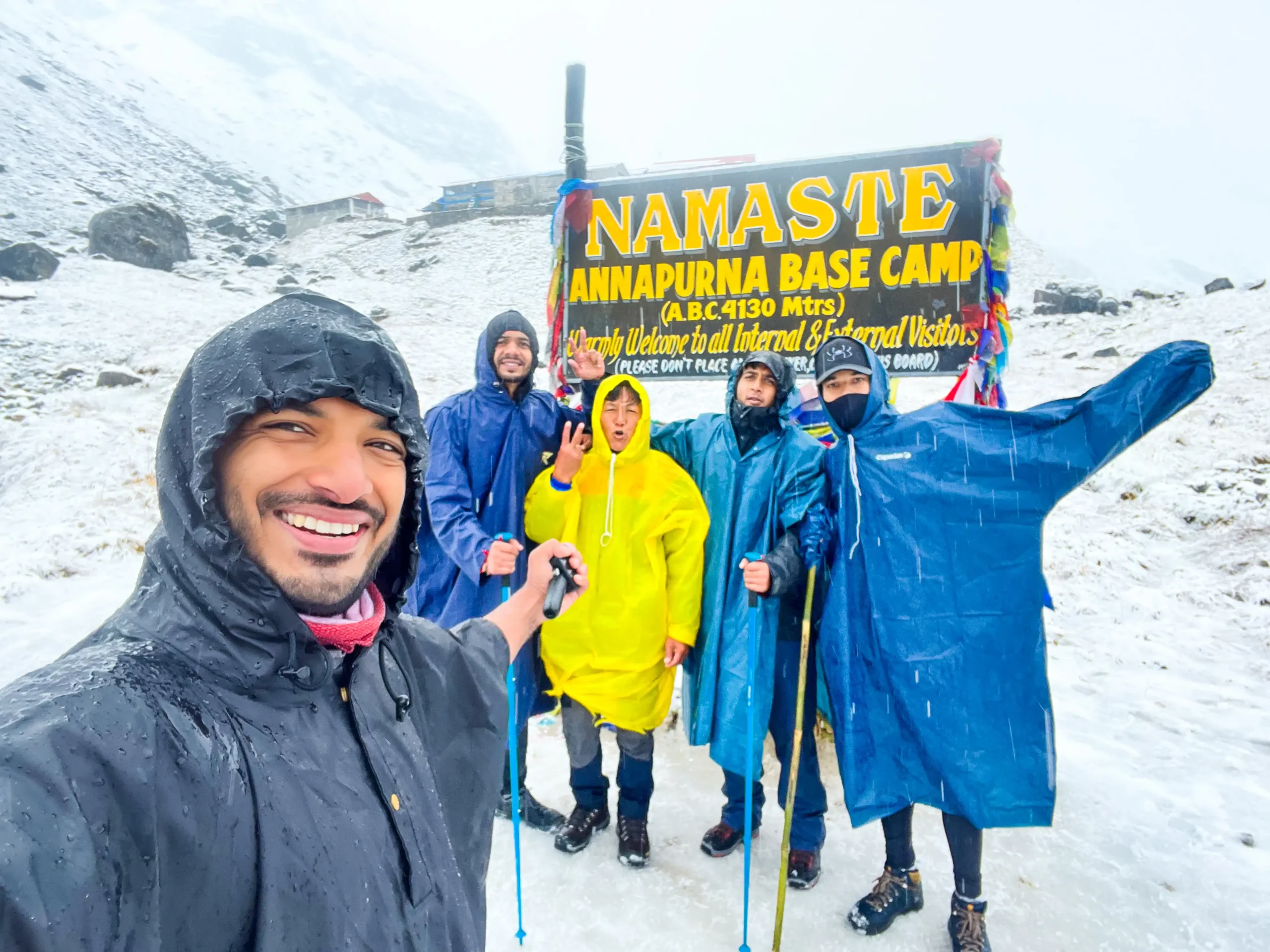 If you would like to know more about any of these topics in further detail or the information in a quick 15-minute video, then our YouTube video is perfect for you!
If you have come thus far, then please do add any updates or other helpful information that might help trekkers going for ABC trek!! We are building a community of like-minded travellers and adventurers and would love to connect!
If you are still exploring, then check out the Best Trek Recommendations that lays out the best treks according to our community!! Enjoy trekking!!
---
Here are some of the other treks we have done and our experience from these!
DAYARA BUGYAL
HAMPTA PASS