Chakrata is the perfect hill station to visit in Uttarakhand and is only 90 kilometres from Dehradun! If you want to escape the crowds, sit in the mountains with a hot cup of coffee, explore old Deodar forests and go hunting for beautiful waterfalls then Chakrata is the place!
This peaceful little town has some beautiful, cosy properties and hotels and also some excellent short hikes, waterfalls and hundreds of year-old forests that you can go exploring in just a day! It is an all-season destination, so definitely head over to this town just 90 Km from Dehradun!
A Complete Travel Guide Under 10 Minutes For Chakrata, Uttarakhand
---
AROUND THE YEAR WEATHER OF CHAKRATA HILL STATION
You can visit Chakrata all through the year, however, you should visit the hill station of Chakrata, in January or February for witnessing snow.
Summers in Chakrata (March – June) are pleasant with temperatures between 15-30 degrees Celcius.
Monsoons (July – September) in the hill station of Chakrata will see rainfall and the weather is foggy with temperatures between 14- 24 degrees Celcius. Winters (October – Feb) are chilly with snow and temperatures between -5 -16 degrees Celcius.
July-September and Jan-Feb are off-seasons and you'll see fewer tourists in Chakrata due to heavy rains and snowfall.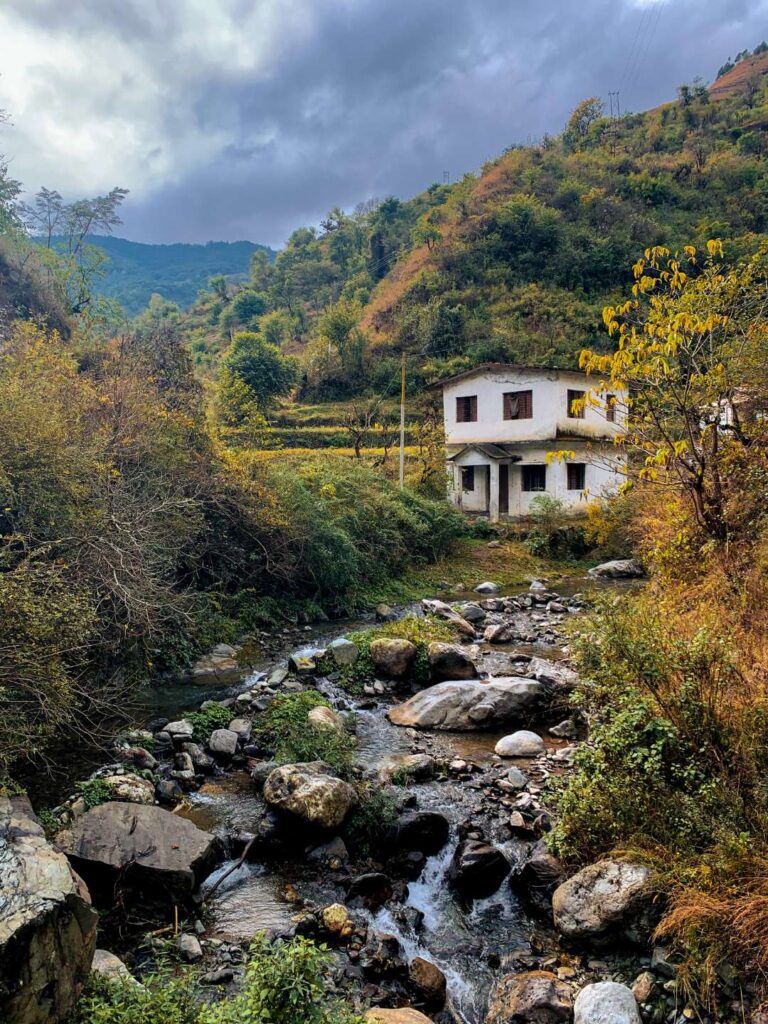 PLACES TO VISIT IN CHAKRATA HILL STATION
I've made a detailed list about 11 places that you can visit in and around the hill station of Chakrata, Uttarakhand. These spots are about 5-15 Km from each other with the exception of 2 spots which are 30-40 Km away.
It's better to have your own vehicle to commute between these spots. The weather will also determine if you can visit all these spots or not. Ideally, you need at least 3-to 4 days to visit all the places in Chakrata, so choose the spots that you like the best and add them to your Chakrata itineraries.
You can check out our Chakrata videos to get more detailed views of each of these spots.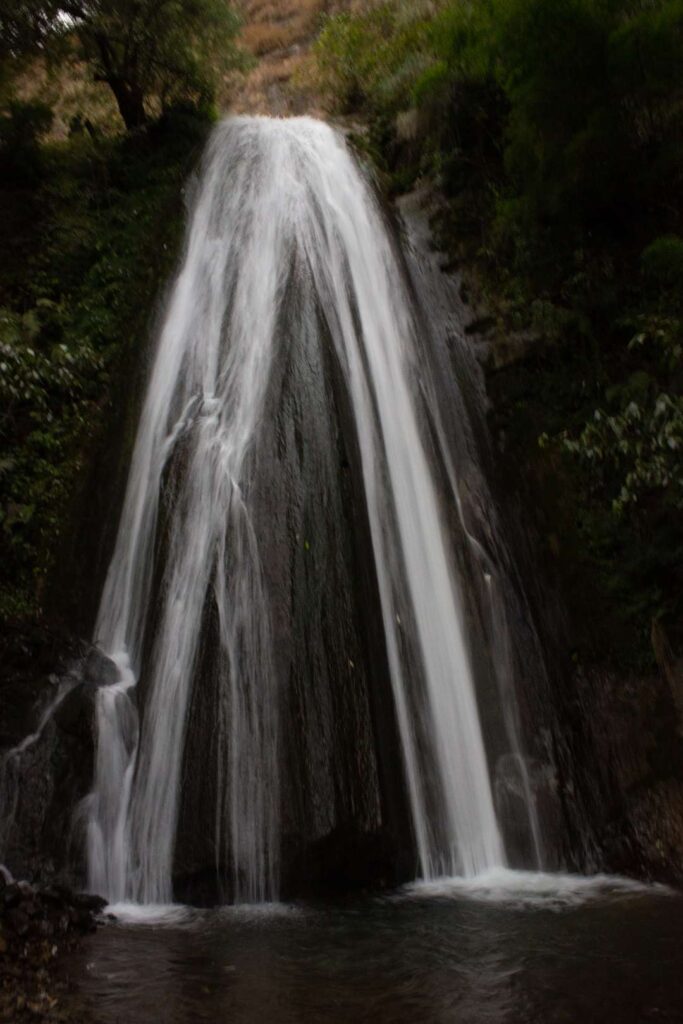 1. Tiger Falls, Chakrata Hill Station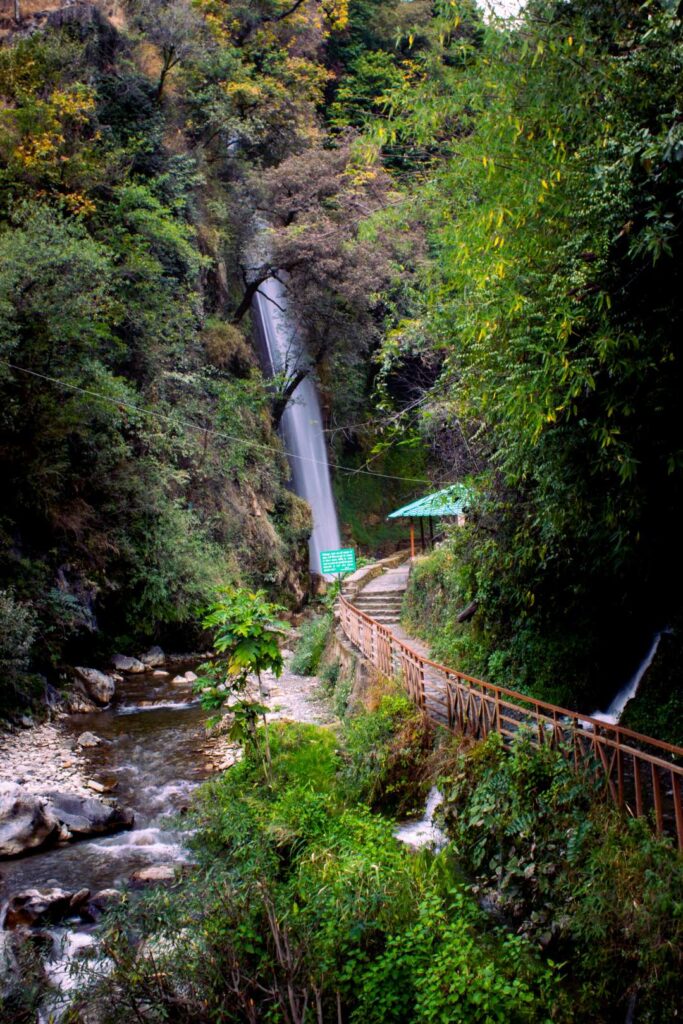 Tiger falls, is one of the main attractions of Chakrata hill station. Falling at a stunning height of 320 ft, it is one of the highest direct waterfalls in all of India! There is a shallow pool just below the fall which is surrounded by dense forests and tall rocks. You need to trek about 2 km to reach these falls!
2. Chilmiri Neck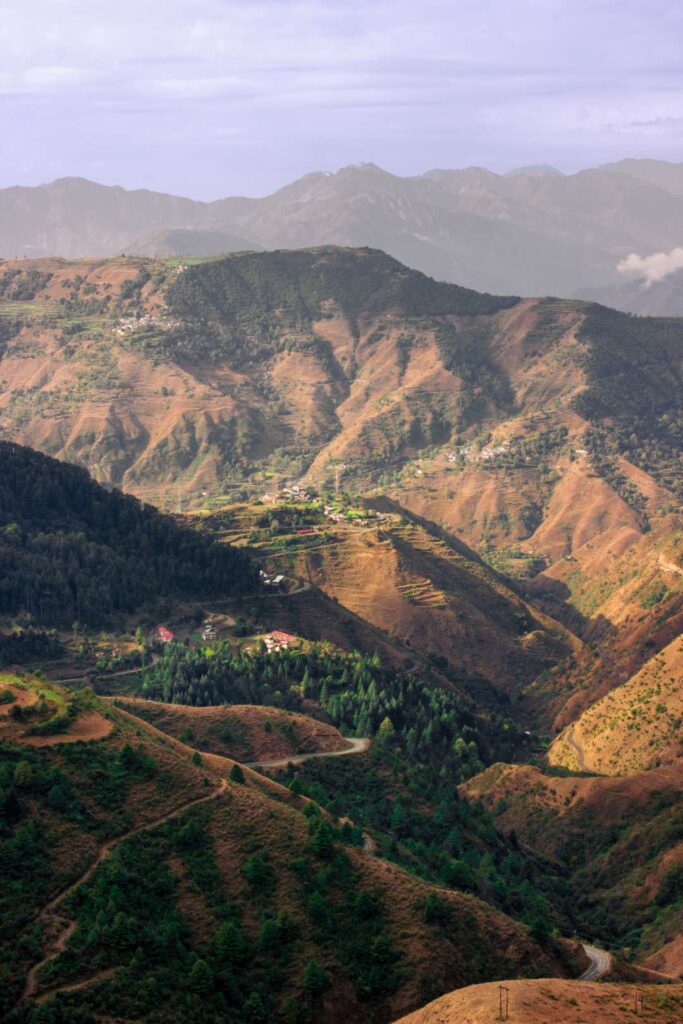 Also called Chilmiri Neck, this is one of the highest vantage points around Chakrata town. You can experience beautiful sunsets with a panoramic view of the valley. It is about 3 kilometres away from the town's main market.
3. Moila Top, Chakrata Hill Station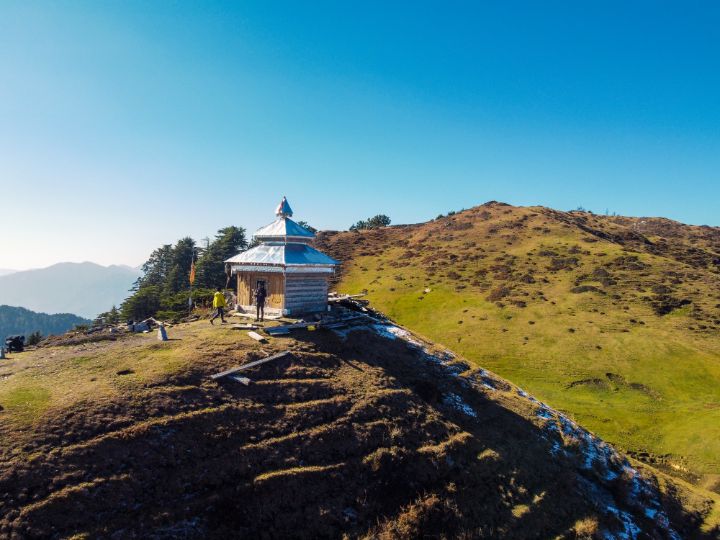 Moila Top or Moila Bugyal is a meadow tucked amidst the Deodar forests of Chakrata Hill Station. Only accessible via a 3 Km trek you can witness some beautiful views of the Himalayan peaks in the distance. In the winter months of Jan & Feb, you can find this meadow completely covered in snow and it is a great spot to enjoy the snow. There is an old Shiv temple at the peak and a small pond considered to have medicinal value.
4. Budher Caves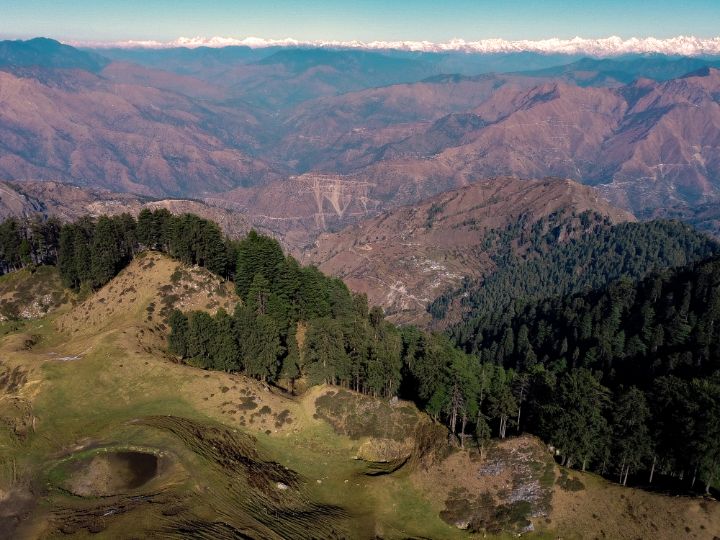 You can visit these caves along with the Moila Bugyal as they are just behind the temple on the peak if you walk for about 300 metres. It is believed that the Pandavas from Mahabharat times, created these caves and you can venture inside about 3-4 metres. Budher caves are named after a German individual who discovered them in the last century.
Chakrata Day 1 Vlog
Enjoy watching us explore Tiger Falls, Chilmiri Neck, Kimona Falls & a beautiful timelapse of the Milkyway!
5. Ramtal Horticultural Garden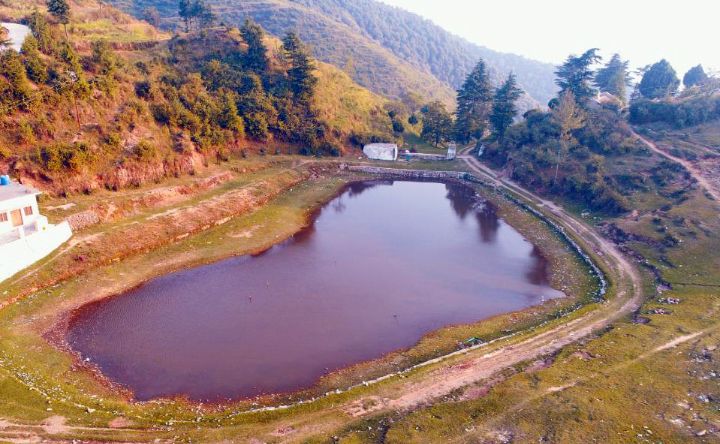 Picture source – euttaranchal.com
Ram Tal is a small pond around which you can find a horticultural garden. There is a nice property by the same name at this point. You can enjoy a nice picnic at this spot by the pond and admire the mountains around you.
6. Kimona Falls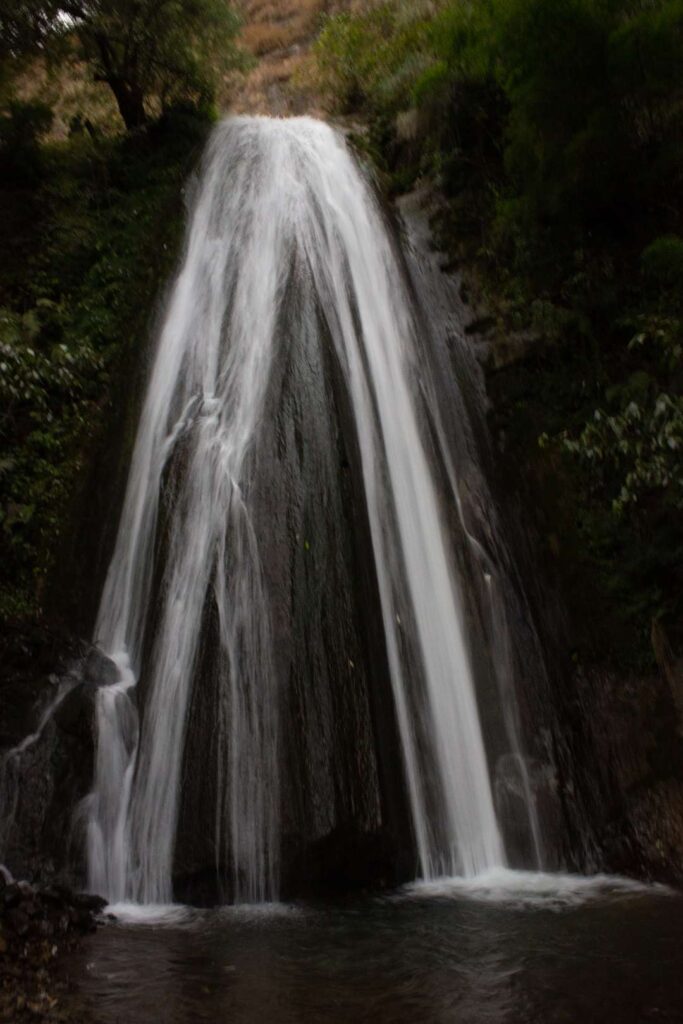 This is a very lesser-known fall. We really had a hard time finding this one and had to ask a local to guide us all the way to the bottom! Before covid, in the summer months, vendors used to offer you waterfall rappelling at these falls! Since covid, there aren't any visitors and you may need help from an expert to reach all the way down as the dirt trail to Kimona falls has become very risky to approach.
7. Koti Kanasar Bugyal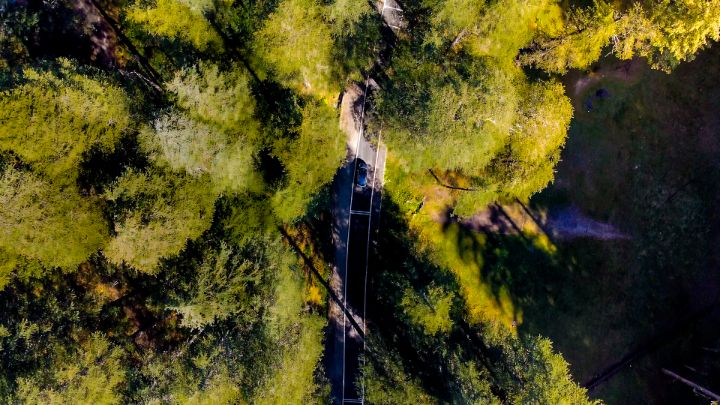 This is another Bugyal where you can find one of the widest Deodar trees across Asia. There is a small temple and the meadow is surrounded by deep Deodar forests on all sides. This is almost 20 Km from Chakrata town.
8. Deoban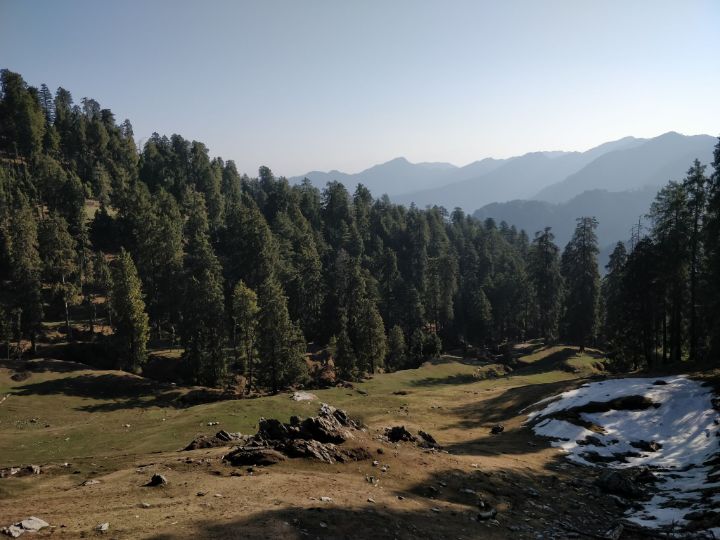 Picture by Sudhir Kumar from AllTrails.com
Deoban is a protected Deodar forest reserve in the mountains near Chakrata. You can drive about 12 Km inside using the dirt road that goes all the way up to the government forest rest house. In the snow season, this road remains closed. You can visit Vyas Shikhar from the forest rest house which is a 10-minute walk. It is believed to be the place where Ved Vyas wrote the Mahabharata. You'll need 4xa vehicle to go inside as the road is in terrible condition. You can spot a lot of birds and varieties of fauna and flora in this forest if you are a wildlife enthusiast.
9. Sadar Bazar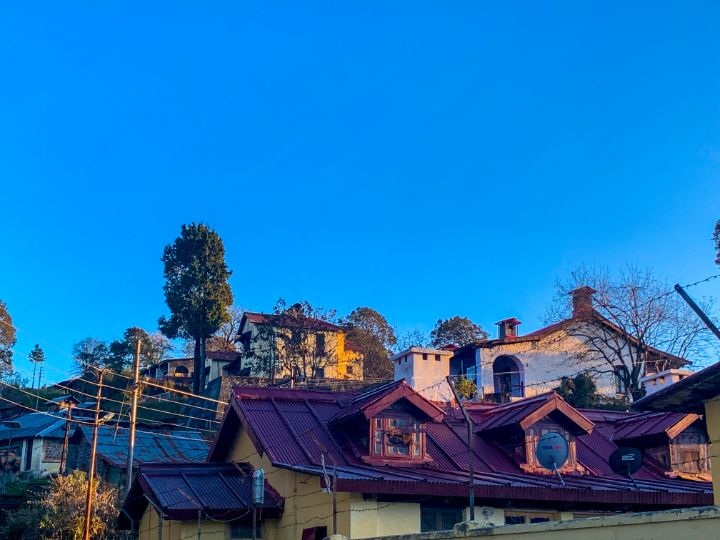 This is the main town market of Chakrata. You'll find some joints for food and some daily essentials shops. There are a few hotels that you can book in the vicinity of this market. Do visit Chandna momo shop in this market and you can get some moments from their souvenir shop and gallery.
10. Ashoka Rock Edict, Kalsi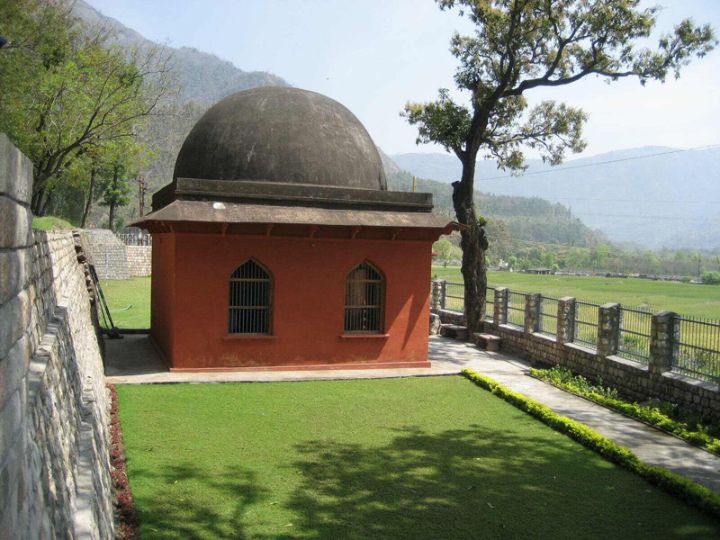 Picture source – euttaranchal.com
You'll find this spot about 30 Km before Chakrata when coming from Dehradun in the town of Kalsi. There is an Ashoka Rock Edict which you can visit while on your way.
11. Lakhamandal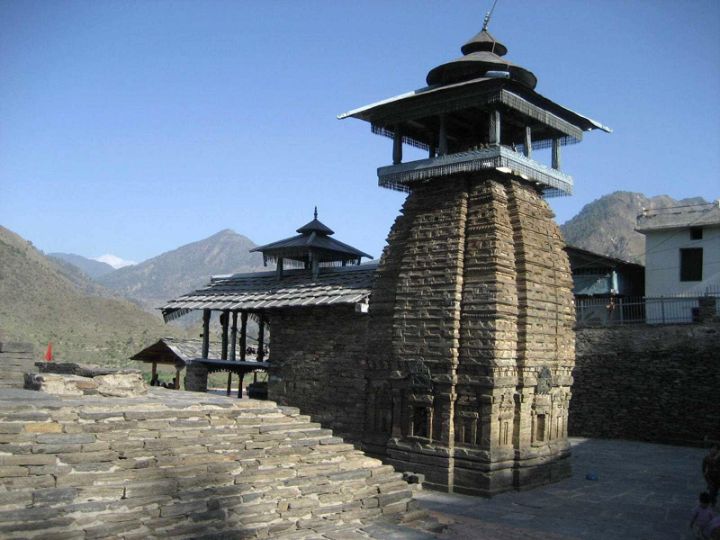 Picture source – euttaranchal.com
Lakha Mandal is one of the farthest spots from Chakrata and it has an ancient Shiv Temple. You will take an alternative route to visit this spot if you want to visit it on your way to Mussorie or Dehradun.
---
These are the most popular spots that everyone visits when in Chakrata. You'll need at least 3 days to cover them, but we recommend visiting only those which you like the most otherwise you'll waste too much time in the transfers but not enjoy the place to the fullest.
HOW TO REACH CHAKRATA HILL STATION
Nearest Airport from Chakrata – Dehradun, 90 Km
Nearest Railway Station to Chakrata – Dehradun – 90 Km
Public Transport Buses To Chakrata– Infrequent
Private Buses – Infrequent
Private Full Cabs from Dehradun or Rishikesh or Self-driving your own vehicle to Chakrata is the best option. The roads are in good condition as well.
Note – The last petrol pump is at Kalsi, about 40 Km before Chakrata.
WHERE TO STAY IN CHAKRATA
Chakrata has mainly 2 types of stays – Traditional hotels & resorts or small independent properties and homestays.
Hotels & Resorts in Chakrata
We lived in a property called Stunning Hills which is about15 Km ahead of the Chakrata town near Moila Top. It's a small property with 5 wooden cottages and a warm wonderful host.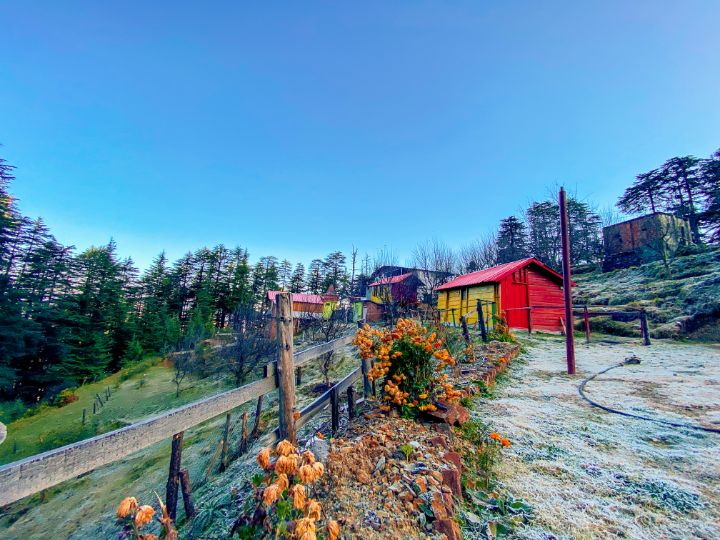 Around the property are beautiful Deodar forests and you can request the owner to organise treks and camping if you're interested. The food here was excellent we would really recommend you this place if you're planning to visit Chakrata.
Contact Stunning Hills Property Owner at – +91 9911386577, Mr Jagat Singh (Don't forget to refer us)
2. Other than this, Ram Tal resort is a great property near Chakrata where you can expect a comfortable stay. Contact them at +91 7088555333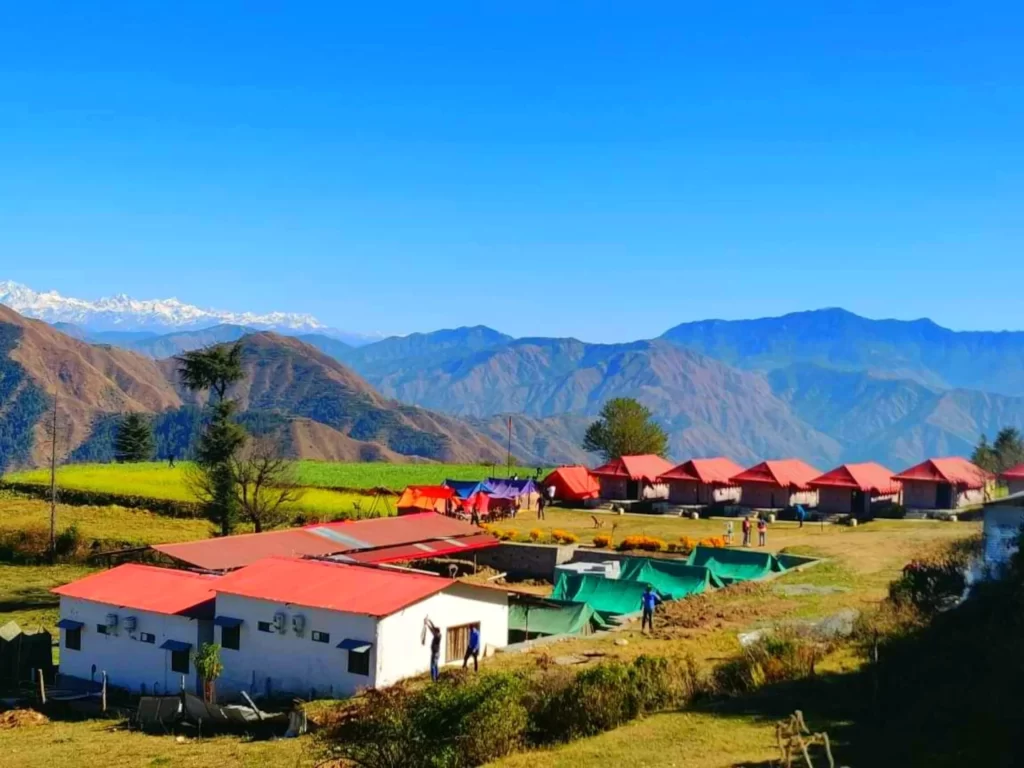 Picture source – makemytrip.com
3. For luxury and cosy experience, check out Munaal's Nest as well.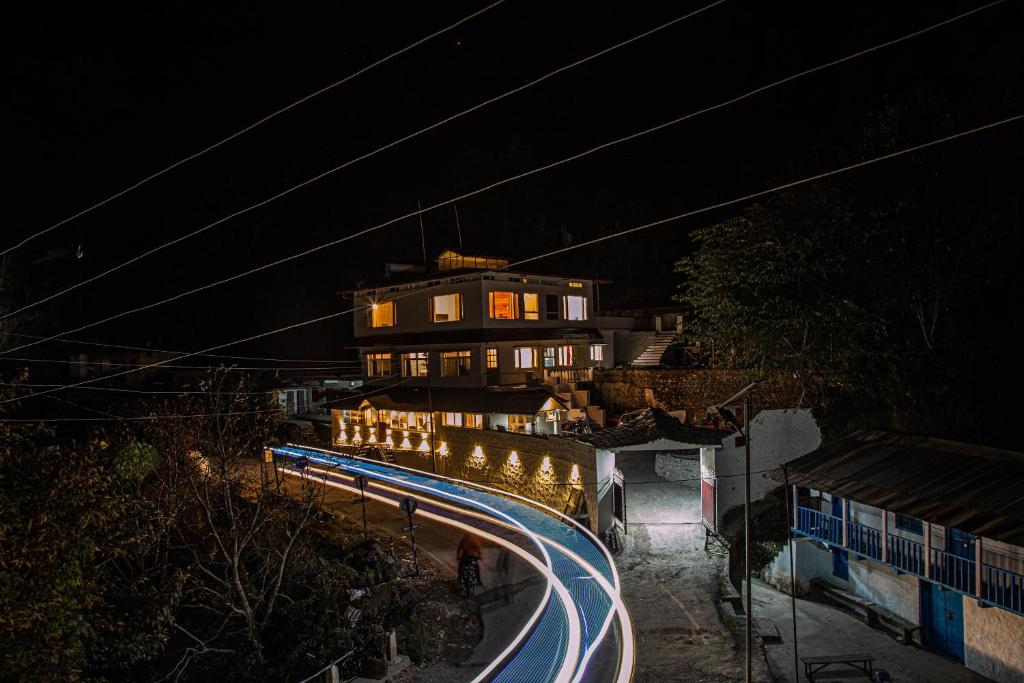 Picture source – booking.com
On average, online booking for good rooms for 2 people will start at Rs 2000-3000 in Chakrata across all properties.
Budget Hotels In Chakrata Hill Station
These are options which are under Rs. 2000, you can approach the below properties. They don't have a lot of an online presence, so calling them and enquiring will be the best option.
Forest Rest Houses In Chakrata, Uttarakhand's Best Hill Station
There are many government-run forest rest houses around Chakrata at some beautiful locations. These are open for public bookings if available. The amenities and services won't be extravagant but the locations are picture-perfect to enjoy nature.
You can call on this number to book and enquire about the Forest Rest House of Chakrata, Uttarakhand – +91 98624 86640
RESTAURANTS IN CHAKRATA HILL STATION
Chakrata doesn't have cafes or restaurants like popular hill stations. So you'll usually be eating at your property itself. Sadar Bazar, the main market of Chakrata has a joint called Chandana's Momo Shop, and a few other local food shops where you can enjoy some good food.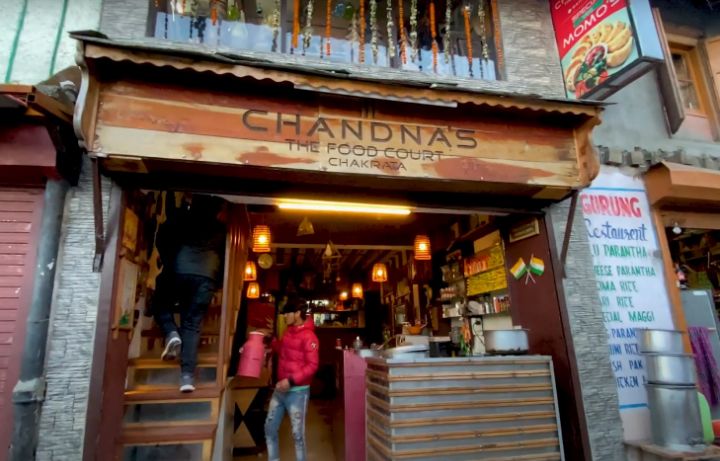 Other than this, all tourist spots will have small stores and canteens that sell Maggi, omelettes and tea/coffee.
So these are all the options you'll have to enjoy food in Chakrata.
TAXIS AND BIKE RENTAL IN CHAKRATA
There are no on-call taxis, autorickshaws, bike rentals, car rentals or scooter rentals available in Chakrata. It has a taxi stand where you can hire full-day cabs, however no on-call taxis.
Having your own vehicle will come in handy as there isn't much public transport available for local transfers to all the places mentioned above.
Chakrata Day 2 Vlog
A quick property tour of our amazing budget stays, doing the Moila Top trek, exploring Budher Caves & Food at Chandana's Momo Shop!
SUPPORT US
help fund more such blogs by contributing a nominal amount at https://www.buymeacoffee.com/xploretheearth
---
Travel responsibly and keep your carbon footprint to the minimum!