Love being in Natural Pools of water and waterfalls? Then this one is for you. We've gathered a list of waterfalls in India you can swim at. This list is a mix of popular ones, offbeat ones, ones recommended by our users and ones that we've personally visited!
Escape to a waterfall near you with your friends, enjoy splashing in some cool natural pools of water and enjoy nature in its truest form!
Here's our list of Top Waterfalls in India where you can Swim in the falls or the pool of water! Choose the one near you, take your friends and start planning for a nice trip this season!
0
WATERFALLS YOU CAN SWIM AT IN NORTH INDIA
Neergarh Falls, Rishikesh
About 260 Km from Delhi, The Neergarh falls near Rishikesh are a beautiful spot to spend time in the blue pools of water which are safe for swimming!
Bhatta Falls, Mussoorie
About 1 hour from Dehradun in Uttrakhand and 300 Km from Delhi!
Tiger Falls, Dehradun
In Dehradun, about 350 Km from Delhi are the Tiger Falls! Enjoy a peaceful swim in the blue waters in the beautiful natural pool under these waterfalls!
WATERFALLS YOU CAN SWIM AT IN SOUTH INDIA
Dudhsagar Falls Goa
About 550 Km from Mumbai & Bangalore in Goa, the famed Doodhsagar falls are a perfect spot to take a swim in!
Check our Goa Itineraries if you need help with planning a trip to Doodhsagar.
Surla Falls, Goa
Take a dip on top of this majestic waterfall, hidden deep within forest. Surla falls in northern Goa are a must visit place to enjoy splashing in waters with a perfect view!
Apsarakonda Falls, Karnataka
A small waterfall in a small town of Karnataka! Perfect for a weekend getaway. The waterfall is right next to a pristine beach! Perfect to enjoy the beach and the waterfall together!
Check our Apsarakonda itinerary to know more about Apsarakonda Falls and things around here.
Vibhooti Falls, Karnataka
These beautiful tiered waterfalls near Gokarna in North Karnataka are a perfect place to canon ball into the fresh waters!
Head to our Gokarna Itineraries to plan a trip to Vibhooti falls from Gokarna
Hidlumane Falls, Karnataka
About 420 Km from Bangalore, are the Hidlumane falls on the hike to Kodachadri peak. You cross paddy fields and beautiful forest trails to reach these falls. Perfect to enjoy a good splash!
Know about the Kodachadri Trek & Hidlumane falls Itinerary here.
Agaya Gangai, Tamil Nadu
About 300 Km from Bangalore and 360 Km from Chennai are the Agaya Gangai Falls in the Western Ghats of Tamil Nadu! Enjoy a dip at the pools below by taking a short trip to these falls.
Hogenakkal Falls, Tamil Nadu
Just 130 Km from Bangalore are these majestic falls in Tamil Nadu. Certain sections of them are open for swimming in!
Kanthanpara Falls, Wayanad
About 280 Km from Bangalore in the district of Wayanad, Kerala are the Kantanpara Waterfalls to enjoy a swim at. Wayanad offers a lot of other activities as well!
Check our Wayanad Itinerary suggesting other falls to visit and things you can do to make most out of your trip.
WATERFALLS YOU CAN SWIM AT IN REST OF INDIA
Devkund Waterfalls, Maharashtra
About 130 Km from Mumbai & 100 from Pune, Devkund waterfall is a perfect spot to go for a short trip to dive into natural pool of water!
Dutchess Falls, Panchmarhi
About 200 Km from Bhopal and 350 from Indore in the hill station of Panchmarhi, Madhya Pradesh are the Dutchess Falls. The safe and small pond at the bottom offers a good spot to go splash some water!
Zarwani Falls, Gujarat
About 200 Km from Ahmedabad and 150 Km from Surat is the Zarwani Waterfalls right near the Statue of Unity. It has a safe swimming pond to enjoy and beat off the heat!
Hathni Mata, Gujarat
170 Km from Ahmedabad and 120 Km from Vadodara, is the Hathni Mata temple waterfall in the Jambughoda Sanctuary. The falls are more prominent in the months of monsoon, but the pool of water with a steady stream to enjoy some time off are always available.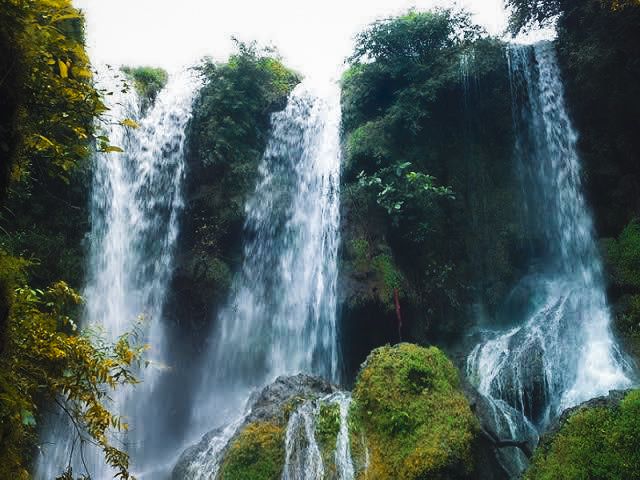 Picture & Recommendation by Arjun Patel; @arjun.patel_30
Lingmala Waterfall, Mahabaleshwar
120 Km from Pune near Mahabaleshwar, Maharashtra are the majestic Lingmala falls. The pond at the bottom of the falls is where you can take a dip in these majestic falls.
Check out a short Mahabaleshwar itinerary to make most out of your time here
Chitrakoot Falls, Chattisgarh
280 Km from Raipur, and 330 Km from Vishakhapatnam are the grand Chitrakoot Falls, also known as Chitrakote. These magnificent falls offer small ponds near the base to take a refreshing swim in!
Krang Suri Falls, Meghalaya
About 90 Km from Shillong in Meghalaya are these beautiful falls with blue water to jump right into!
Check out our North East India Itineraries to explore more of this region!
Kakosang Falls, Assam
About 100 Km from Tezpur in Assam is this beautiful waterfall to enjoy a swim at!
Recommendation by Anusuya Baruah; @that_brown.girl._
Do you know any more waterfalls you can add to this list? Comment with their details below to help out other readers!
---
Have you been to any of these amazing places and want to be a 'Guiding Angel' to other travelers looking for info by sharing your itinerary?
Head over to our "Contribute an Itinerary" Section, and fill up your itinerary for others to refer, in just a few easy simple steps!
---
Enjoyed this article? Leave your email below to get more updates like these straight to your mail box! No Spam – We Promise!
Processing…
Success! You're on the list.
Whoops! There was an error and we couldn't process your subscription. Please reload the page and try again.