Here's all you should be thinking about while Preparing for Manali to Leh Cycling Trip – Physically as well as mentally for the adventure of a lifetime to cycle through the wild landscape of Ladakh!
The three of us at XTE completed a bicycle expedition from Manali to Leh covering 473 km in the July of 2019. It was definitely one of the most enriching and adventurous experiences we have had. Bicycling for such a distance & at an average altitude of 4000 meters is no mean joke. However, it can be done and year on year the number of people doing it only seems to increase. Undertaking such an expedition needs preparation and we have got you covered.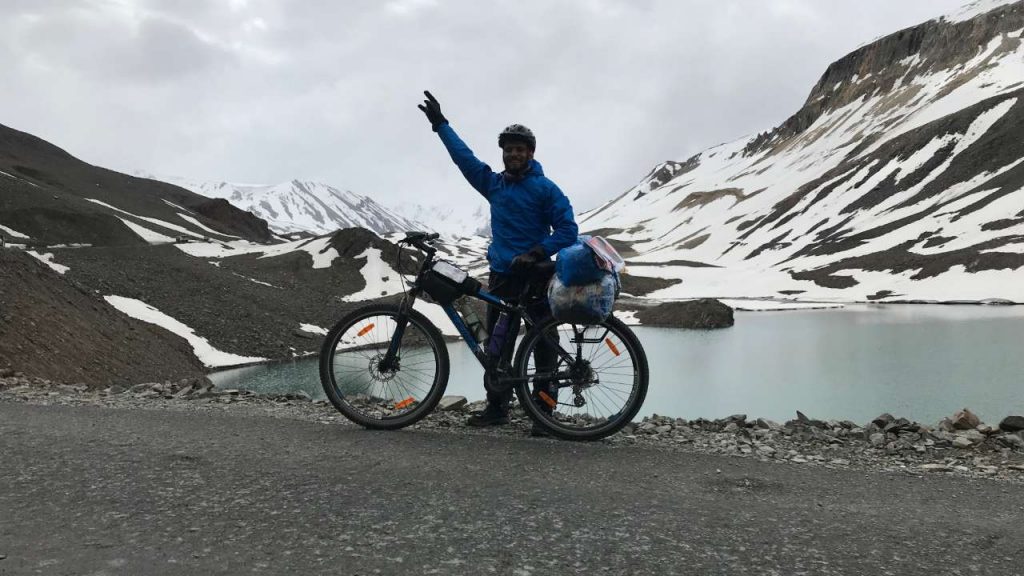 Let's be honest, we all have had multiple instances wherein we would have thought that undertaking something requires either physical or mental prowess. The importance of these cannot be overstated. Let's take the following statement for example – "Doing well in a three hour exam requires mental prowess and running a full marathon requires physical prowess".
Well, we do not think that the above is completely accurate. Importance of being fit in order to sit through a three hour exam without feeling restless is just as important. Similarly, while running a full marathon, as important as it is to be physically fit, one needs the mental toughness to push the body to its limits.
A bicycling expedition from Manali to Leh over 10 days, covering 470 km in difficult terrains, bracing snow, rain and hail is the perfect example of someone requiring both physical as well as mental prowess. Physical prowess, because of the distance that needs to be covered, given the weather conditions and cycling at that altitude. Mental Prowess, for the times when your legs will hurt, or be sore, when the snow blows directly in your face or when you just think giving up is easier than completing a treacherous stretch of uphill.
Now, that we agree upon why you need both physical and mental prowess to undertake this expedition, here's how you should go about preparing for the Manali to Leh Cycling Expedition!
Physical Prowess
Stamina: Do exercises that help you build your stamina. Go for exercises like jogging, running, high-intensity interval training, etc.
Keep track of your record: Do time for how long are you able to sustain your jogging stretch or how fast are you able to sprint a certain distance.
Cycling: Cycle around your place, do your daily errands on your bicycle.
Nutrition: Having a proper diet is as important as exercising daily if not more.
Medical: Get your full body check up to avoid any unforeseen problems.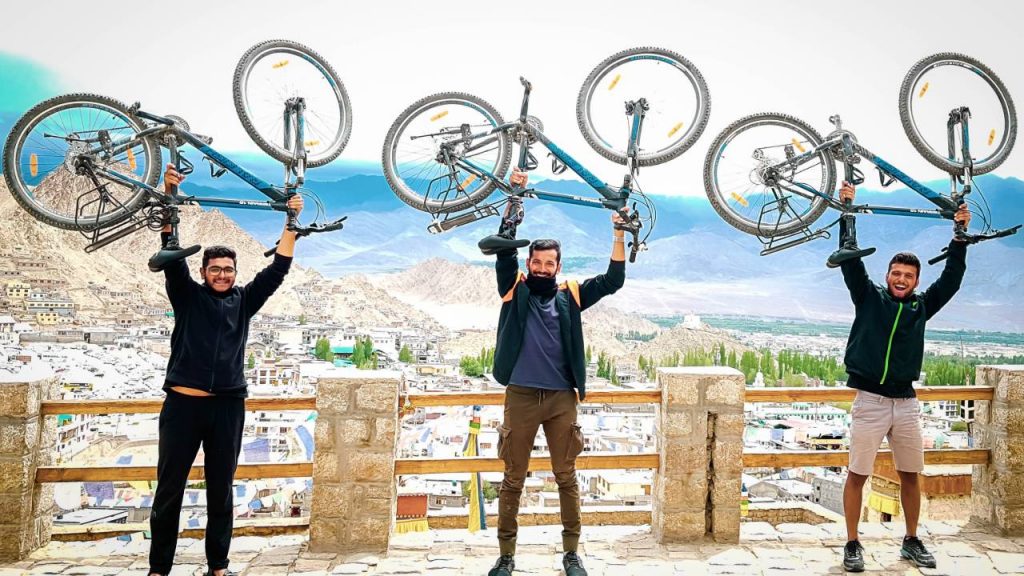 Now there is no benchmark that can declare you fit enough to undertake this expedition. However, let us explain the fitness levels of the three of us when we undertook this trip to set the context for your preparation:

Ismail (Right): Good fitness level – Exercises regularly and involved in activities like parkour
Saransh (Center): Average fitness – Plays football once in two weeks
Akshay (Left): Marginally less than average fitness – No regular physical activity

It is worth making a note that all three of us were able to complete the expedition. However, given our respective fitness levels and the fact that we couldn't remember the time we last touched our cycles, we did face problems in the initial two days while making our way to Rohtang Pass. (Check out the itinerary we followed for the Manali Leh cycling expedition)
Mental Prowess
Focus: Work on building your focus. They say driving in hills needs focus, it couldn't have been truer for riding a bicycle.
Learning: Learn the basics of how to fix a flat tyre, nut getting loose, your carrier getting undone amongst other basic things.
Planning: Plan ahead and plan well. Plan for contingencies too.
Stress: You need to be able to handle the stress of something not going according to the plan and keeping your calm.
Confidence: You need to be able to back yourself to get through any terrain and weather.
Patience: You need to be patient, for there will be times when your destination will seem far off and you will start to get agitated.
One can never be 100% prepared given how dynamic the challenge is. However, you should strive to incorporate the above as much as you can in order to best enjoy this expedition! Besides, the mental and physical preparation, here is a list of all the things to keep for the expedition. Preparation just cannot be complete without contemplating where to get your cycles from, whether to rent or buy and how to get it shipped? You can find all these details in this short article.
Our Story
On a more personal note when the three of us at XTE, took this trip, we made it more of an adventure than it had to be. We bought our cycles just couple days before we started cycling for Leh and to top that we didn't train physically at all. The last time I had cycled before the expedition was 5 years ago or so. This is not to say that the Manali to Leh expedition is easy, all we are saying is, that it can be completed without much of a training as long as you have decent level of fitness in general.
However, mentally one has to be strong to brace the unknowns that this highway has to offer. We came across a quote written by BRO (Border Roads Organisation) that perfectly sums up the requirement to take this expedition: "Great Courage and Will of Steel is the Norm".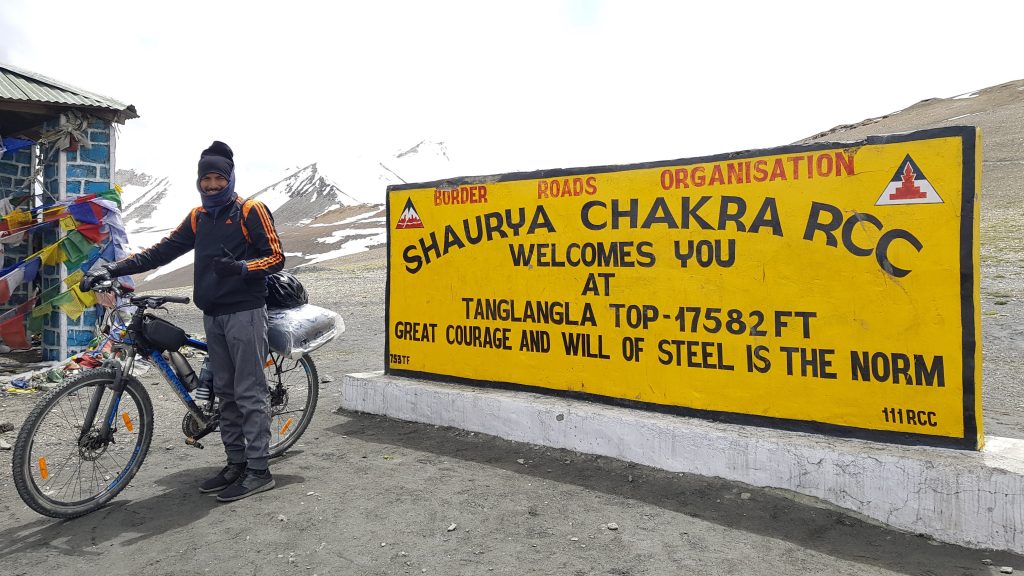 Have a look at our Epic Video and we're sure you will start packing your bags this instant!
And when you do end up in Leh after that dream bicycle expedition, this complete guide to Leh-Ladakh is all you need to make the most of your time!