Hampta Pass Trek is a crossover trek that is most popular for its breathtaking views and the stark contrast of landscape. The difference in landscape is noticeable just minutes apart from the lush green valley of Kullu to arid and barren mountains of Lahaul Valley. The trek is relatively easier than most other treks in Himachal Pradesh which makes it very much doable for everyone. Having said that one still needs preparation given that you reach as high as 14000ft during the trek.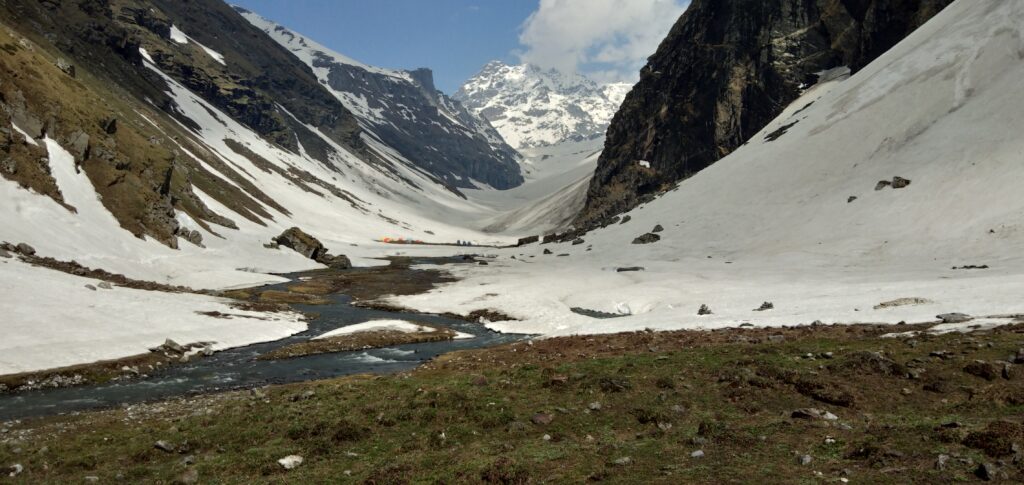 HOW TO REACH MANALI?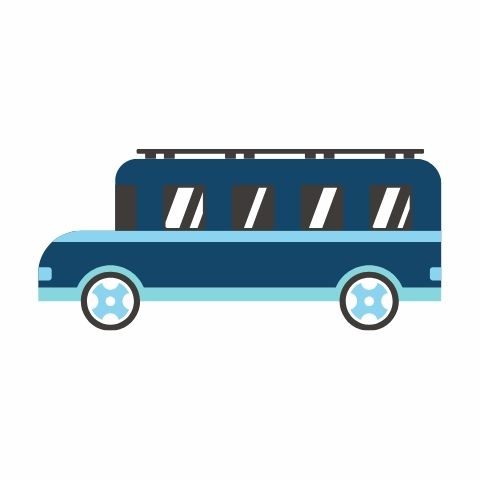 Manali by Road:
Manali is accessible only by road.
Driving your own vehicle is an option. Having some experience to drive in the hills would come in handy.
Private & Government local and luxury buses run to Manali daily from all near by major cities like Delhi & Chandigarh.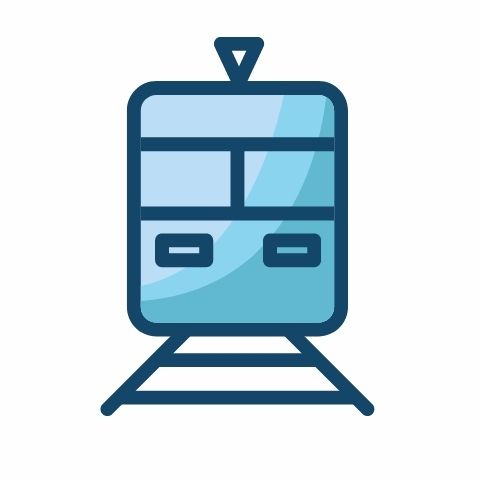 Manali By Rail:
Nearest railway station to Manali is 160 km (approx.) away in Joginder Nagar. Taxi is the fastest way to reach from Joginder Nagar to Manali. No online registered direct buses run on this route.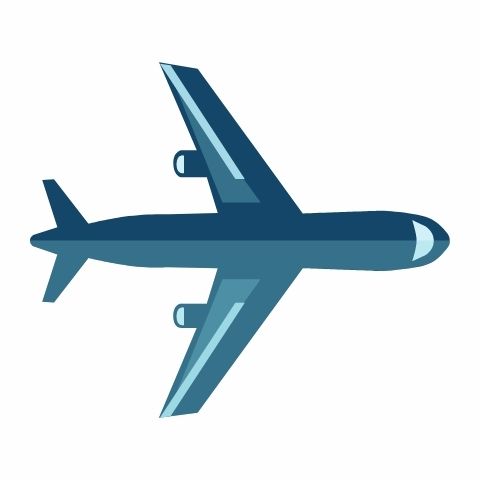 Manali By Air:
Nearest airport to Manali is Kullu Manali Airport in Bhuntar which is 50km away. This is the least popular and relatively the most expensive option to get to Manali. Take a taxi from Bhuntar till Manali.
However, people do take a flight till Delhi and then a direct bus to Manali.
Trek The Hampta Pass Virtually With Us in This Guide
WHERE TO STAY AND EAT?
There are a wide variety of options available both for staying as well as eating when in Manali.

However, you wouldn't be in Manali for more than a couple days. You would stay as well as eat in your camps. Moreover, the tour operator that you would book your trek with, will take care of your stay in Manali.

You could still try the following eateries in Manali:
Johnson's Cafe – Johnson's is a multicuisine restaurant offering awesome vibes and serving some delicious food. A little expensive but definitely worth it.
Drifter's Cafe – An option for those perfect laidback breakfasts.
Chopsticks – When you need a break from the continental cuisine and want to have good Chinese food, do give chopsticks restaurant a try.
HOW TO BOOK HAMPTA PASS TREK?
There is no shortage of operators offering the Hampta Pass Trek right from the big players to the smaller ones. However, some of the more popular options are as follows:
India Hikes
Bikat
Trek The Himalayas

The next option may not be the most popular out there, but I can assure you that the person responsible (Sagar Dhingra – Ph. No.: 7807289392) will make sure that you are able to experience the best of what Hampta Pass trek has to offer! You can also choose to stay at their cozy stay and enjoy the spectacular views such as this.
Holiday Dada and Nirvana Hampta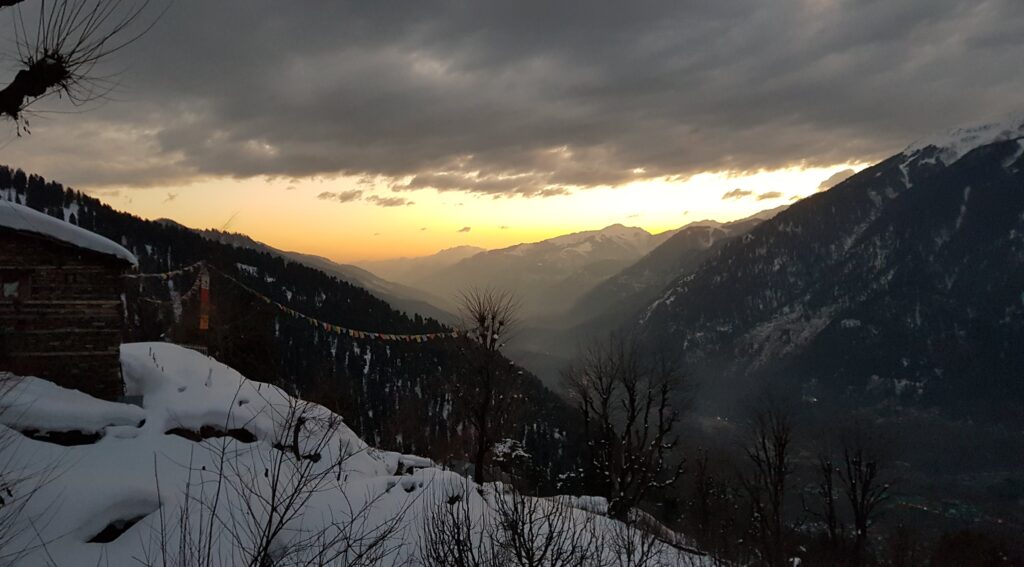 STEP WISE GUIDE OF THE HAMPTA PASS TREK/TRIP
Day 0 – Reach Base Camp
Reach Rumsu village early morning by taking a bus from Chandigarh. You can take a bus from Chandigarh or Delhi for Manali and get off the bus at PatliKuhal (15km before Manali).
After reaching base camp at Rumsu, get done with the registration process and breakfast.
The day is reserved for acclamatization and for socializing with fellow trekkers.
Post lunch, we went for an acclamatization walk in the nearby hills.
In the evening post snacks, there is a briefing and introduction for the trek. We were provided with gaiters and microspikes (used for walking on snow) and bagpacks (40L).
We booked our Hampta Pass trek with tour operators, KailashRath. They did a good job and arranged everything well.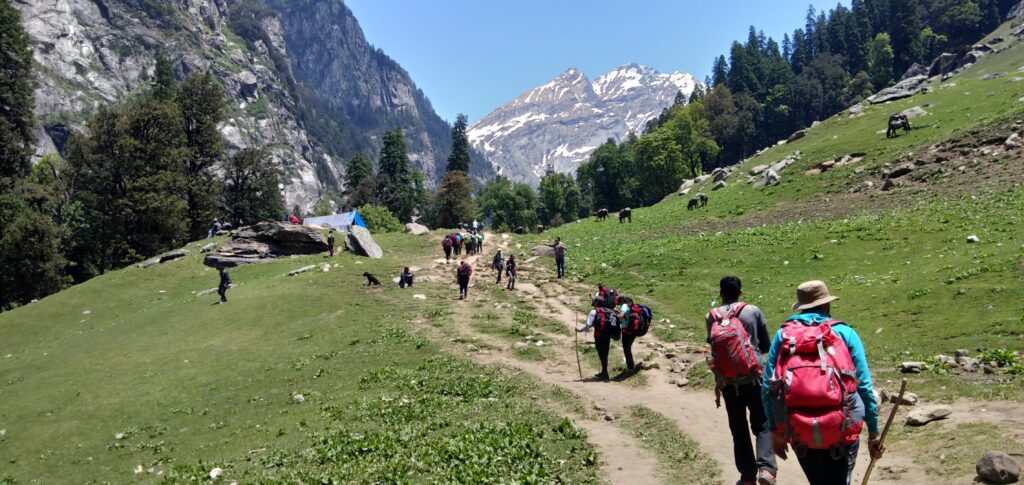 Day 1 – Hamta Dam to Chikka
Reach Sethan by cab (arranged by the trek organizers). Usually takes 2-3 hours to reach Sethan.
Start the trek by 11am. Lunch is given everyday in the morning before leaving the campsite which we have to carry in our own lunchboxes.
Trekking begins for the 1st campsite – Chikka. The trek to Chikka starts from Hamta Dam and is easy. It takes around 2-3 hours to complete it.
There is a small forest patch and then two wooden bridges before you reach the campsite. Chikka has big rock boulders and a beautiful waterfall.
Overnight stay in tents at Chikka.
Suggested Read: Complete guide to visiting Sethan – A Hidden Paradise
Day 2 – Chikka to Balu Ka Ghera
After morning breakfast start the trek for Balu Ka Ghera.
Trek duration is around 5 to 6 hours from Chikka to Balu ka Ghera, scaling to an altitude of 11,900ft.
The initial part of the trek goes through the bank of a river, crossing few rock boulders. There is a water stream that needs to be crossed on the way.
Balu ka Ghera is a large plain ground on the bank of the river and camping at this spot is a dream in reality.
One can spot Indrasan, the highest peak of Manali valley from here.
Overnight camping at Balu Ka Ghera.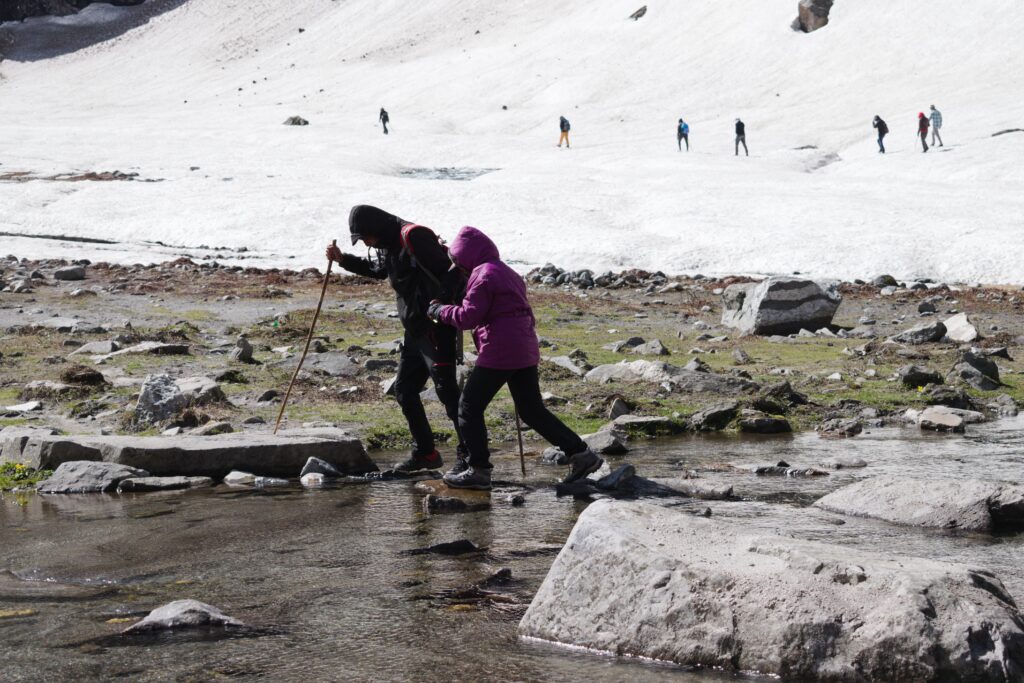 Day 3 – Balu Ka Ghera to Shea Goru
Balu ka Ghera to Shea Goru.
Today's trek starts early as the most possible distance of snow patch needs to be covered before sun rise.
The trek route from Balu Ka Ghera towards Shea Goru is a moderate climb, reaching as high as 14000ft at the highest point.
The trek duration is relatively long and starts by 5 am in the morning from Balu ka Ghera. It takes around 4 to 5 hours to reach the top of the Hampta Pass.
The aerial views of Spiti valley from Hampta Pass is quite breathtaking.
We then descend from Hampta top towards Shea Goru. The descend is steep and at times when snow is abundant one can slide down to reach Shea Goru.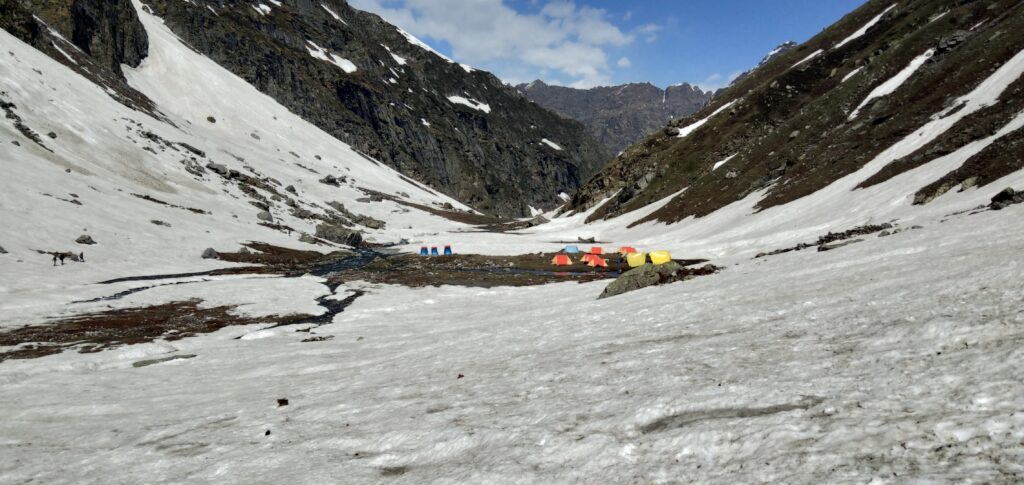 Day 4 – Shea Goru to Chandrataal/Chatru
After morning breakfast, start the trek to Chatru.
From Chatru, drive in vehicles to the majestic Chandrataal. And after soaking in the peaceful vibes of the place return back to Chatru.
We got our deposited luggage bag and have to return all the issued gear at Chatru camp site. Certificates are provided by KailashRath for trek completion.
Overnight camping at Chatru.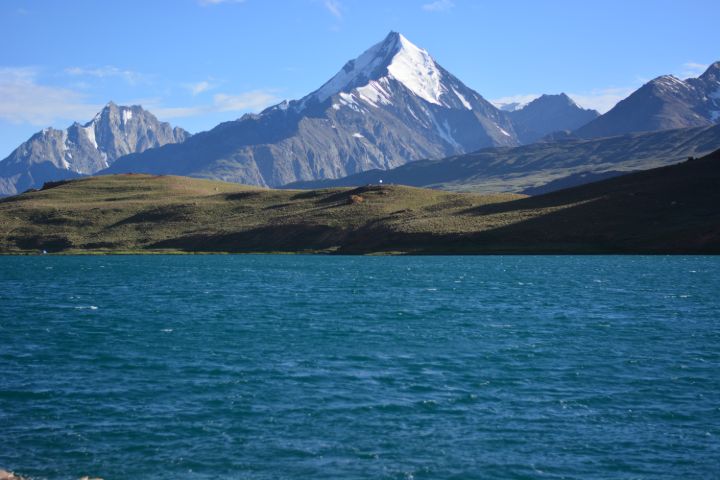 Day 5 – Back to Manali
After morning breakfast start the jeep ride to Manali via Rohtang Pass. Reach Manali by around 1pm.
You can also take some time off at Rohtang Pass or Solang Valley for adventure sports like paragliding, river crossing, xorbing, rappeling etc.
While booking return bus tickets, it is recommended to book after 7 PM volvo from Manali to keep some buffer time as there are chances of traffic at Rohtang while driving down towards Manali.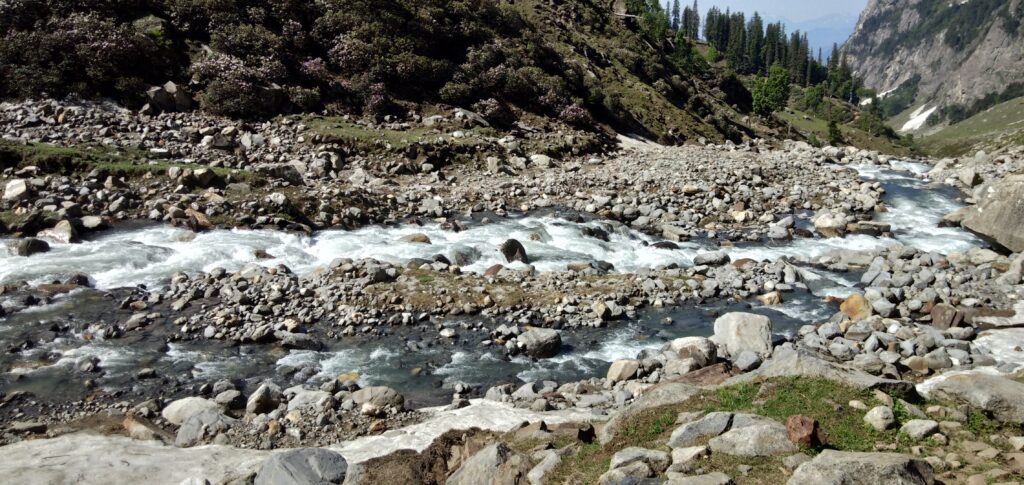 WHAT TO CARRY FOR HAMPTA PASS TREK?
Trekking shoes: Carry trekking shoes with good grip and ankle support.
Three layers of warm clothes: Carry two or three-layer jackets, fleece jackets and a padded jacket.
Two/Three trek pants: Carry light cotton trek pants.
Two/Three t-shirts (collared/dry-fit): Full sleeved t-shirts that prevent sun burns on the neck and arms. Carry one or two dry-fit t-shirts.
Thermals: Carry thermals (top and bottom).
Sunglasses: Sunglasses are mandatory to avoid excess sunlight reflection from snow.
Woollen Cap: It will be cold, so carry proper woollen cap.
Water proof hand gloves: Carry water proof gloves and avoid woollen gloves as they will get wet if you touch snow.
Headlamp/LED torch: Its Mandatory to carry a headlamp or torch.
Raincoat/Ponchos: At high altitudes, snowfall and rain are quite common and it's mandatory to carry a poncho so that one doesn't get wet. The trek will continue as planned even during rainfall.
Lunch box and water bottle: It is recommended to have personal lunch box and water bottle as we are provided with lunch everyday which we have to carry and eat on our way.
PS: Do not carry bulky camera and equipments. Carry least possible as it is difficult to trek with such weight on your back throughout the day. Take pictures on your phone. (Or better would be to enjoy the moments!)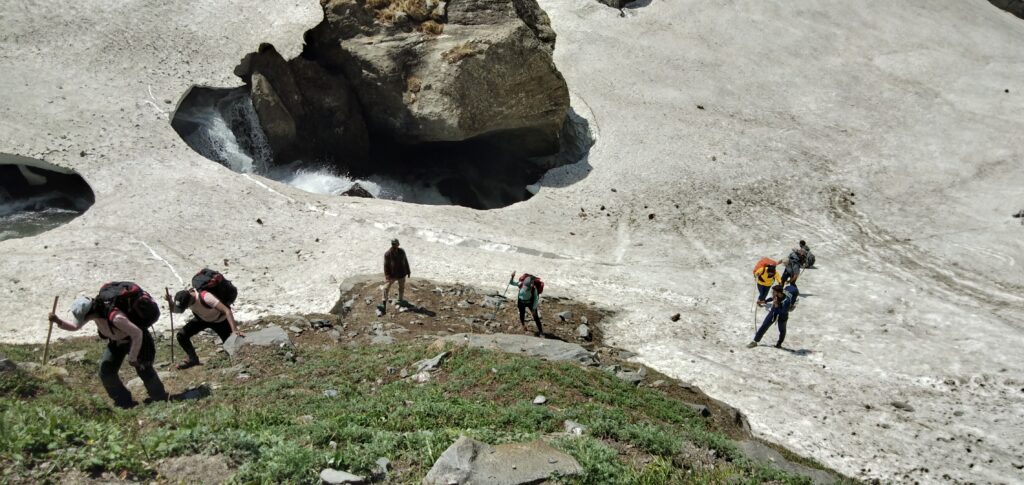 MY STORY – AN UNFORGETTABLE EXPERIENCE
As fun and enjoyable as the Hampta Pass Trek was, I cannot forget Day 2 because of the frightening experience that we had.
After the day's trek, we had just reached Balu ka Ghera by 4pm. We settled in our tents and were clicking pictures. We were served hot soup (which is mandatory every evening before dinner). The soup is important here because, when we were served the soup, the weather was extremely clear and the sun was out. By the time we completed our soup, we were surrounded by clouds (Dark dark clouds). So just imagine how much time you'd take to drink a cup of soup and how much time it took for the clouds to appear from nowhere. It started raining in a couple of minutes. Wait, did I just say raining? Scratch that. It was pelting down. We felt as if someone was throwing stones on our tent. It was so loud and windy.
Meanwhile, our trekking guides were preparing for dinner. When the dinner was ready, we were asked to run and take the food to the tent. We ran around and by the time we returned to our tents, our plates were full of food, and rainwater. Yes, we ate that for the night. So it is always advisable to have some heavy snacks, sweets, or thepla (if you are a Gujju). One of our fellow trekker had loads of thepla so it helped us out.
And the worst is yet to come…
Continuing with the story, we were stuck in the tents and it was dark outside. The wind was literally swaying our tents and we were sitting holding the poles of our tent from inside. Heavy rains continued through the night. Even while sleeping, we had poles of our tent between the legs so it doesn't blow away with wind. Yet, there were 3 tents which were blown away.
The KailashRath people were really helpful to come and check on us twice at night amidst the rain. All I can remember from that night is, I was praying to all the Gods that I know and was pleading to see the next morning. Sounds stupid, but with the extreme weather outside and having seen Kedarnath movie before the trek, it did seem real.
But, here comes the good thing. The next morning we wake up, what we see was mind blowing. The black stone mountains around us were completely white. We were told that it had snowed heavily on the higher campsites. All of this was during the Fany Cyclone that had hit India (May-June 2019). And this was the highest snowfall this place had received in last 20 years. Not a pleasant place to be in during that time.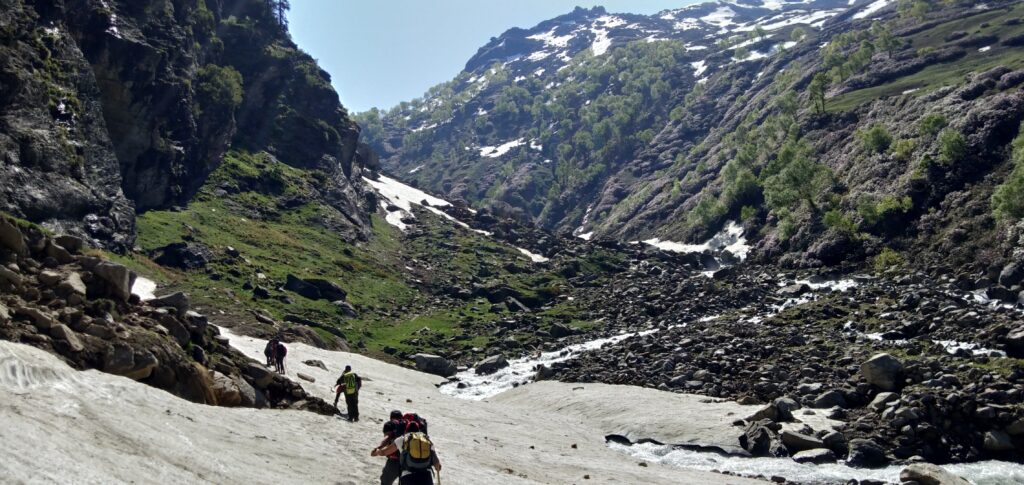 THIS ITINERARY WAS CONTRIBUTED BY A COMMUNITY MEMBER!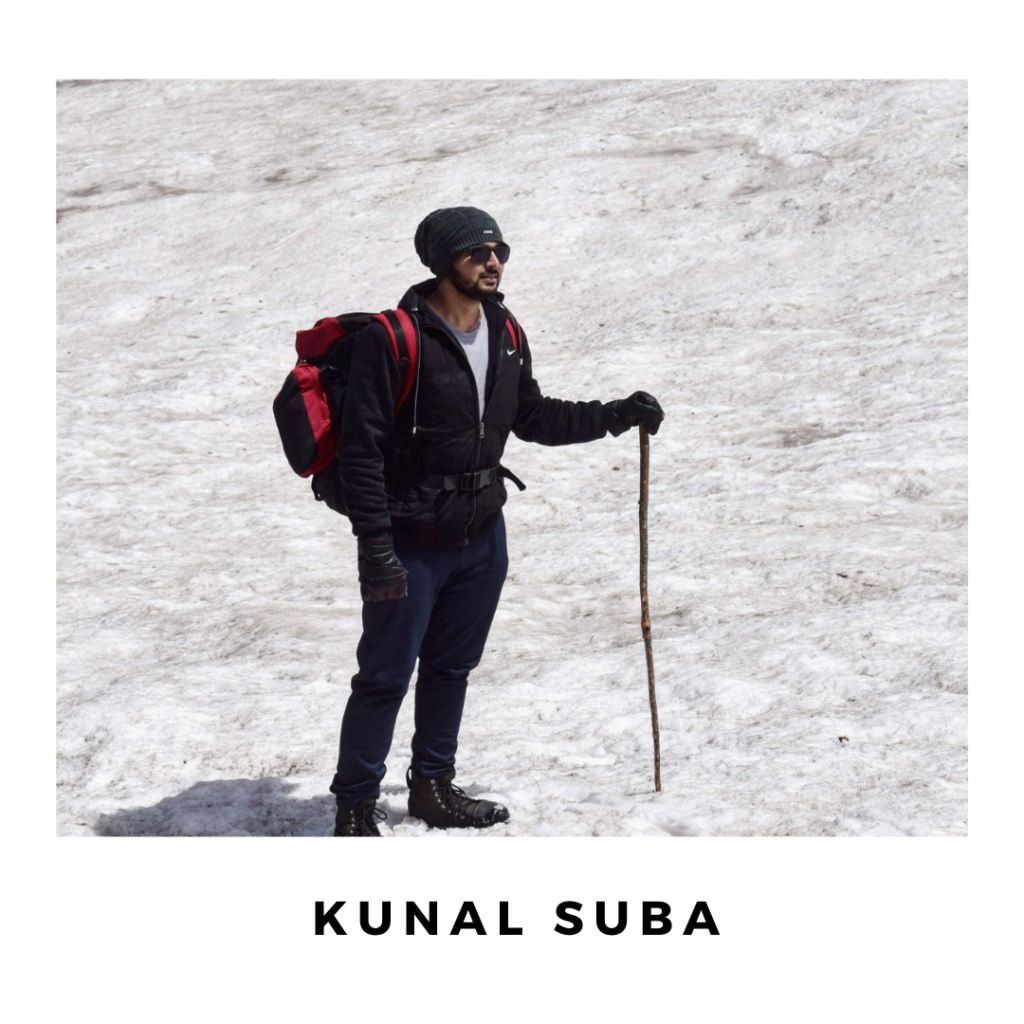 You can reach Kunal for any queries about this trip on his Facebook or Instagram!
PIN THIS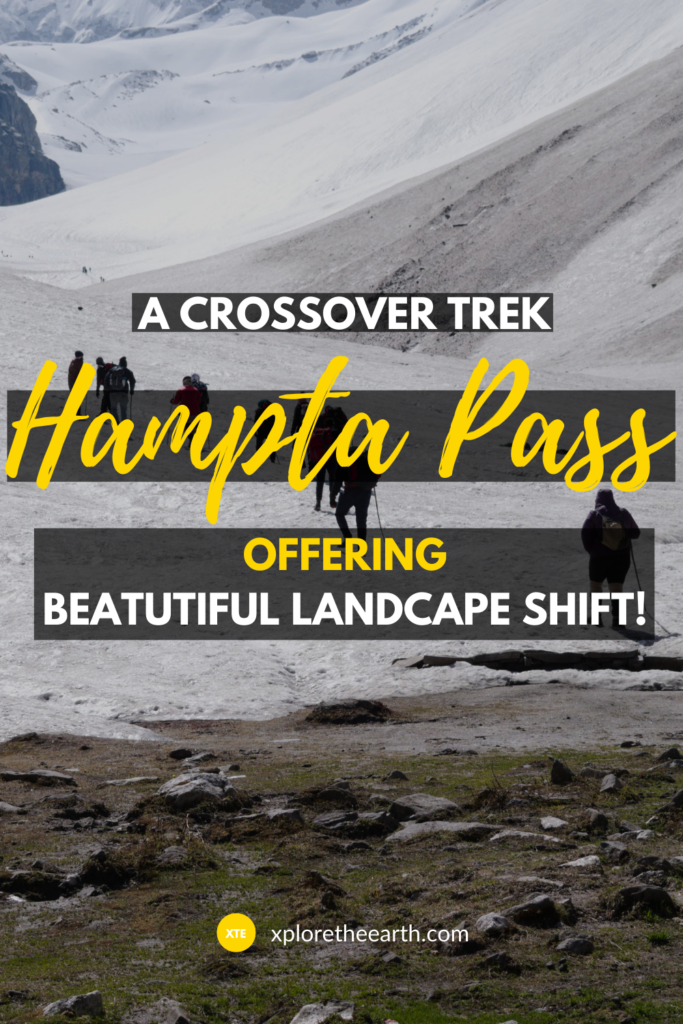 ---
What is your favourite part about the Hampta Pass Trek? What winter treks have you been on? Comment below!
---
Was this guide helpful? Here are a few other guides to make the most of your time in Himachal Pradesh!
Complete guide to visiting Sethan – A Hidden Paradise
A 5 day trip to Parvati Valley
3 Day Solo trip to Mcleodganj
7 Day Solo Trip to Manali
Trek to Beas Kund
And if you want to go on more than a little adventure, here is all you need to go for a bicycle expedition from Manali to Leh:
Ditch your Enfield and take a CYCLE from Manali to Leh
Manali Leh Cycling – Step by step detailed guide
How to prepare for Manali to Leh cycling expedition
SUBSCRIBE IF YOU LIKED OUR CONTENT
We create new exciting travel content, curate an excellent social feed and also organise experiences like these. If you enjoyed our content, stay on our mailing list to hear from us about new exciting things we create and curate!
Processing…
Success! You're on the list.
Whoops! There was an error and we couldn't process your subscription. Please reload the page and try again.
---
Ensure you travel responsibly and keep your carbon footprint to the minimum. Happy Xploring!
---