Imagine this, it is winter season, you are in a small village that is covered with snow through and through. The village has about a dozen houses and everyone knows each other. Take a look around, you can see the snow-capped mountains and the sun-kissed peaks. On a nearby hill, the locals are teaching a handful of tourists how to ski and snowboard with kids running around and tumbling over one another in snow. All of this while you are all wrapped up in your jacket with a cup of tea and a hot plate of Maggi to savour. Well, if you enjoyed just thinking about this, visit Sethan and you can experience all of this and much more all by yourself!
We have made a detailed YouTube video on Sethan, for easy access to all the information: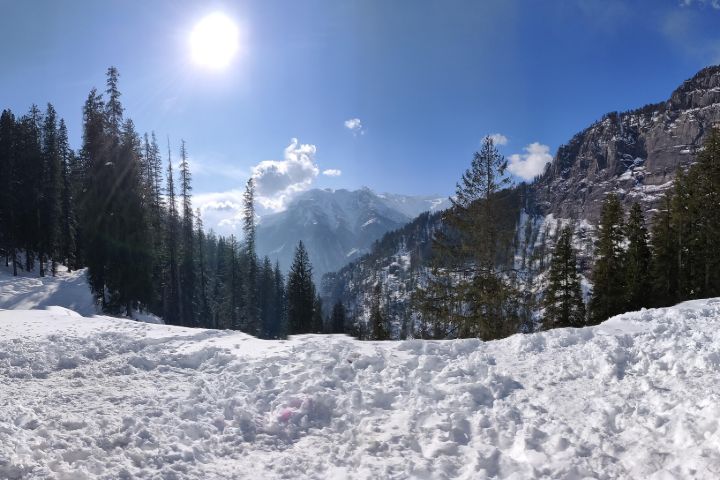 ABOUT SETHAN
Sethan is a small village, about 13km from Manali. The inhabitants of Sethan are mostly migrants from the different parts of present-day Himachal who essentially were shepherds. This small Buddhist village only has about 20 houses and offers some spectacular views. One can see Majestic Dhauldhar range from Sethan as well the river Beas flowing at the bottom dividing the Dhauldhar and the Pir Panjal ranges.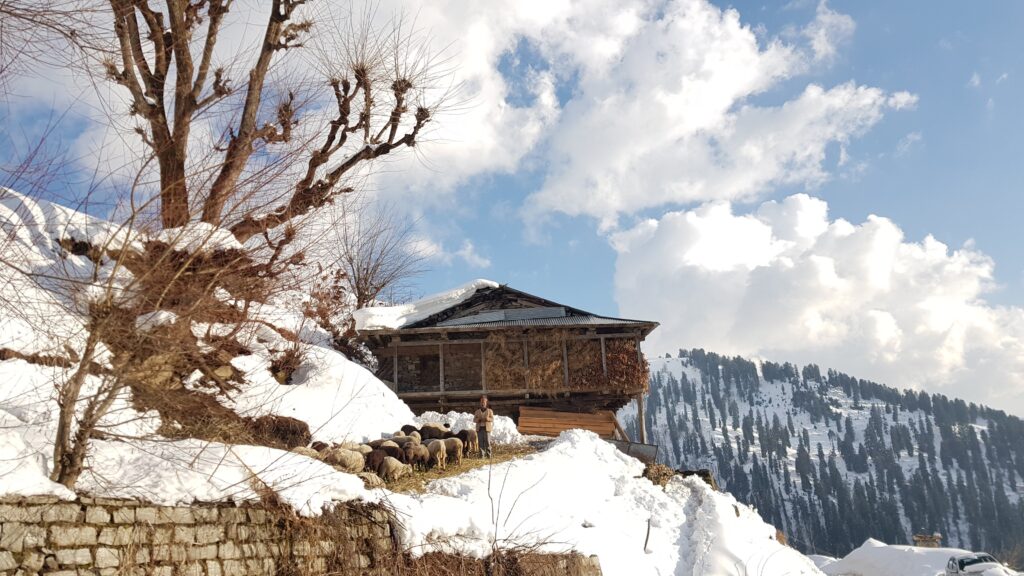 8 REASONS WHY YOU SHOULD VISIT SETHAN
1. Skiing and Snowboarding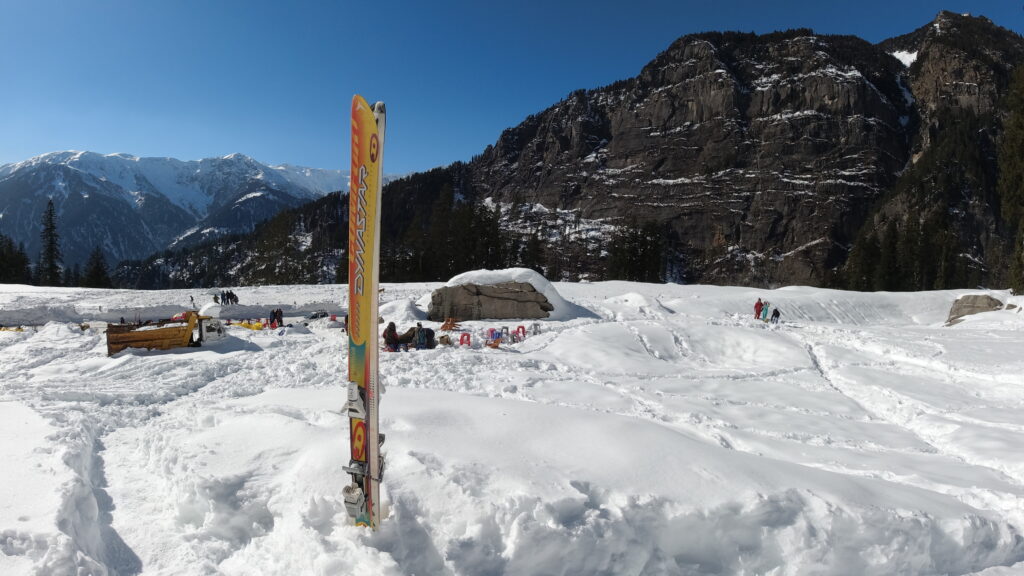 When one thinks about skiing in India, the first name that comes to mind is Auli and its perfect slopes. What Sethan offers in that regard are the perfect snow-powdered slopes minus the crowd. Here, you can learn skiing and snowboarding at your own pace. Lesser crowd translates to lesser waiting time for your turns, less pollution and more peaceful vibes. Now you know where to check off skiing from your bucket list!
2. Igloo Stay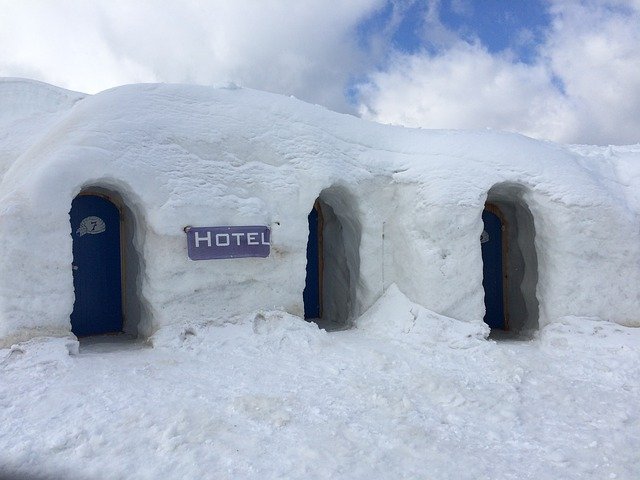 Ever wondered what its like to be inside of an igloo let alone sleep in one?Well, Sethan offers the comfortable igloo stays and some major travel goals. Obviosuly skiing, snowboarding and igloo stays can all be enjoyed only during winters. The best time for these activities is Mid-January to April. Igloo stays may not be a 5 star affair but its an experience that definitely shouldn't be missed. All igloo stays offer warm sleeping bags, good mattress etc., for a comfortable experience.
3. Bouldering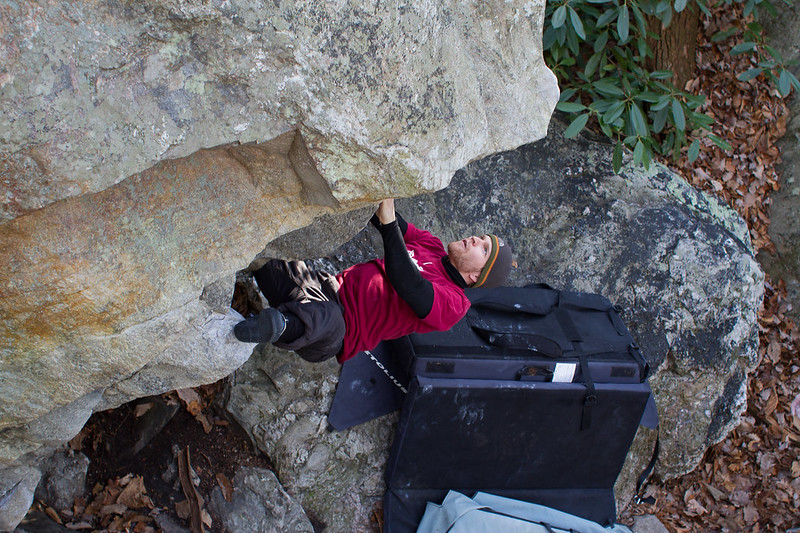 During the non-winter season, particularly June to October, the boulders in and around Sethan are a thing to conquer. With different-sized boulders, Sethan offers both, the beginners to take that first step into the world of bouldering, as well as for experts to hone their skills further.
---
Help us write more such blogs & create more YouTube Videos!
A small amount contributed by you could help us sustain and keep doing what we love – sharing helpful travel information for you all!
---
4. Camping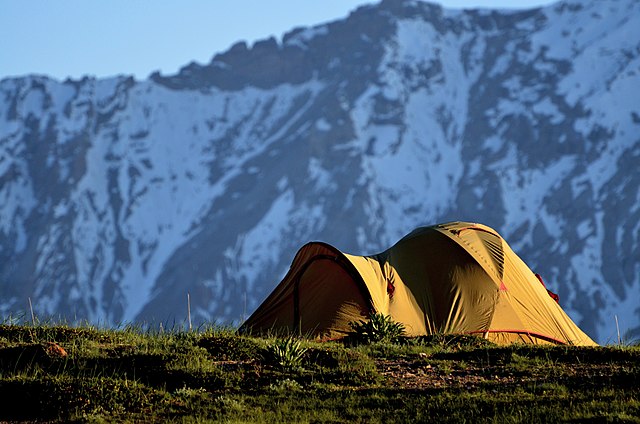 When we go out on a trip, it is almost always to learn about a new place, try new experiences and enjoy the hospitality of its people. But, we try to do all this with as much comfort as possible. However once in a while, camping in the open and enjoying the raw experience is all you need. And when the camping offers some splendid views, you cannot really complain, can you?
5. Hikes and Treks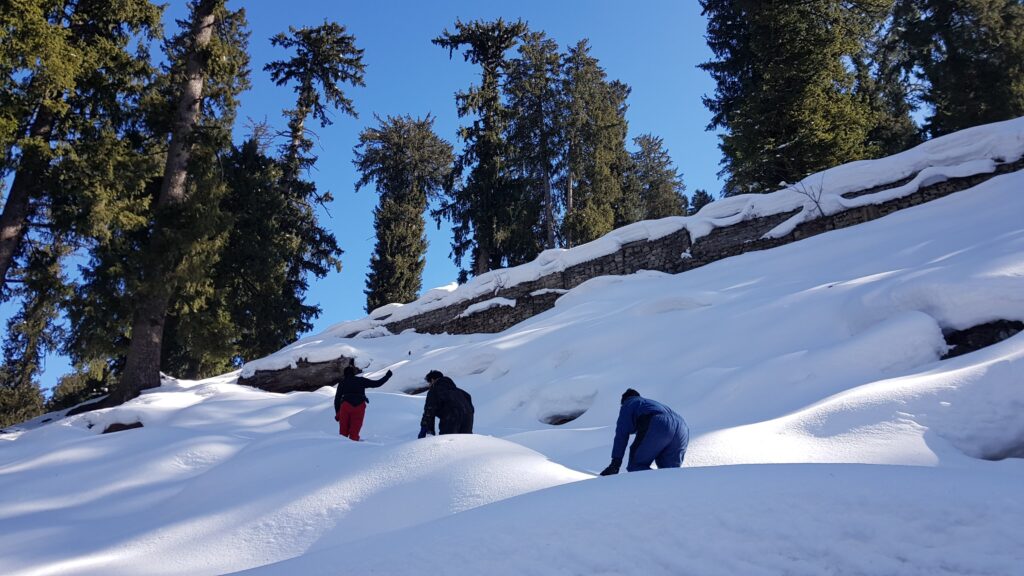 Sethan's intriguing beauty would definitely make anyone want to explore more of this place. In my opinion hiking or trekking a place/hill is one of the better ways to explore it. Sethan offers numerous day treks that are ideal during summers and right before winter season (June to November). One of the more popular and a multiple day trek is the Hampta Pass Trek. Hampta Pass Trek has Sethan as its base camp. However, during winters when the the entire route is laden with snow, the trek has altogether a different level of beauty.
6. Breathtaking Views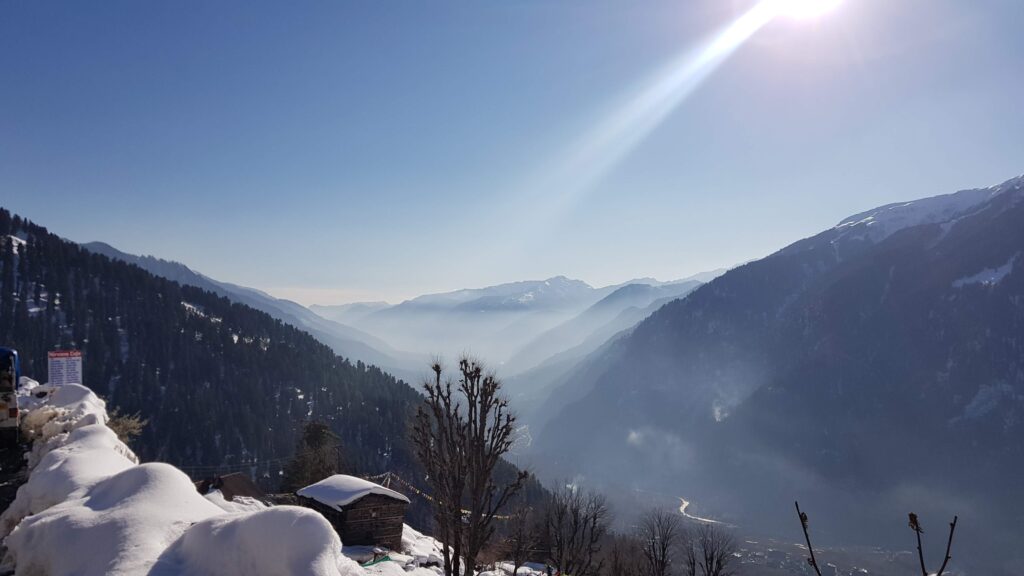 Until now you have already realized that this place has some out of the world views. But, don't take my word for it, experience the beauty that this place is, in person. If the weather is good, you could enjoy some spectacular sunsets and sunrises. Other than that, the majestic hills all around you and the view of the Kullu Valley, are some of those views that are sure to remain etched in your memory.
7. Night Sky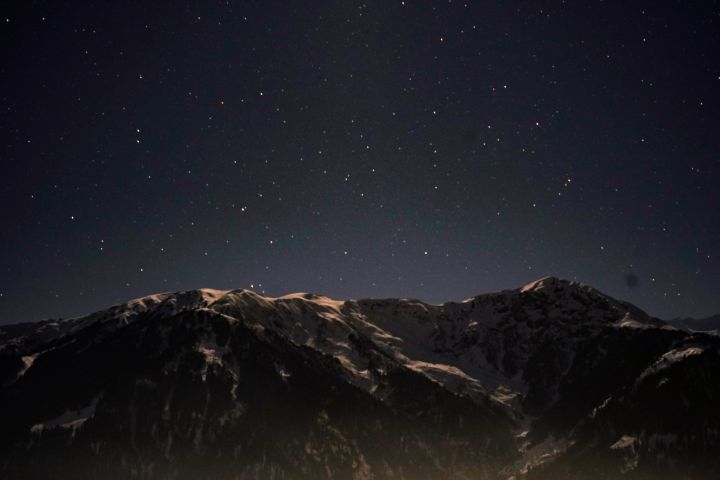 As sad as this maybe, but the truth is with the level of pollution and the lights all around it is just not possible to see the star studded sky in the cities. Sethan, in that regard offers a night sky that is filled with stars and the moonlight by itself lights up the mountains. How cool is that!?
8. No network
There is no cellular network in Sethan. The last network that you would receive is before Sethan. Without any network, your hand is forced to just be in the moment and soak everything in without having to worry about the constant notifications. Make sure you make the most of it.
HOW TO REACH SETHAN?
Once you are in Manali, it is an hour long taxi ride till Sethan. The taxi may cost you anywhere between INR 1000 to INR 1500 (this is after you bargain with them).
As for how to reach Manali in the first place, you can follow below:
Manali by Road:
Manali is accessible only by road.
Driving your own vehicle is an option. Having some experience to drive in the hills would come in handy.
Private & Government local and luxury buses run to Manali daily from all near by major cities like Delhi & Chandigarh.
Manali By Rail:
Nearest railway station to Manali is 160 km (approx.) away in Joginder Nagar. Taxi is the fastest way to reach from Joginder Nagar to Manali. No online registered direct buses run on this route.


Manali By Air:
Nearest airport to Manali is Kullu Manali Airport in Bhuntar which is 50km away. This is the least popular and relatively the most expensive option to get to Manali. Take a taxi from Bhuntar till Manali.
However, people do take a flight till Delhi and then a direct bus to Manali.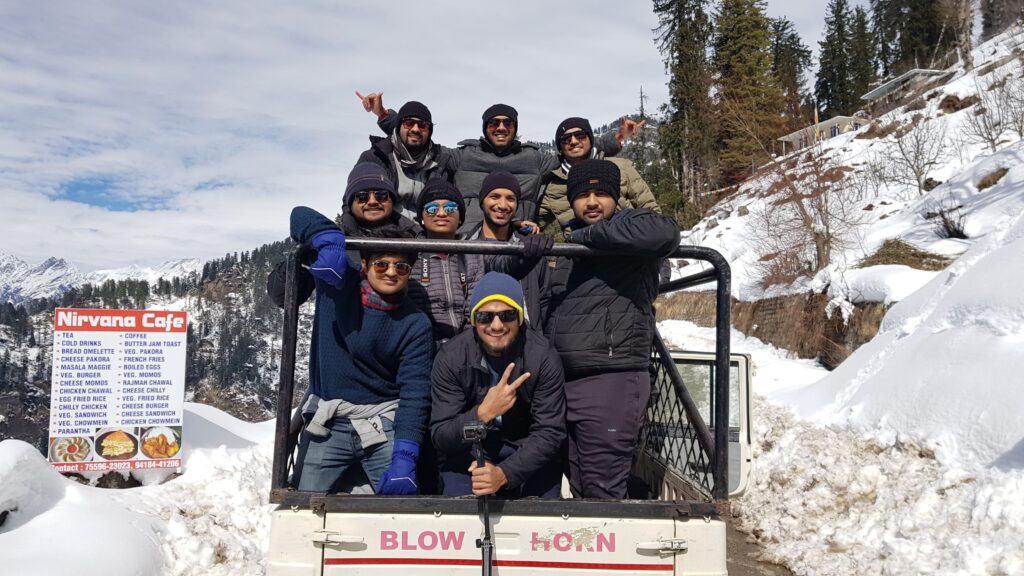 WHERE TO STAY IN SETHAN?
Sethan does not really have too big a settlement. There are a handful of homestays/hotels for you to choose from. Some of them do offer the unique igloo stays as well as outdoor camping. You can check out the following:
Himalayan Lounge & Camps (800m before Sethan)
The Wilderness Lodge
Sethan Heights

We chose to stay at the Nirvana Hamta Resort. It is about 2.5km before Sethan. The views from this place of Kullu Valley in general are breathtaking. And not to mention their glamping domes, they are absolutely beautiful too! The person responsible (Sagar Dhingra – Ph. No.: 7807289392) will make sure that you have an amazing experience. He also organises the Hampta Pass Trek in case you are interested in trekking!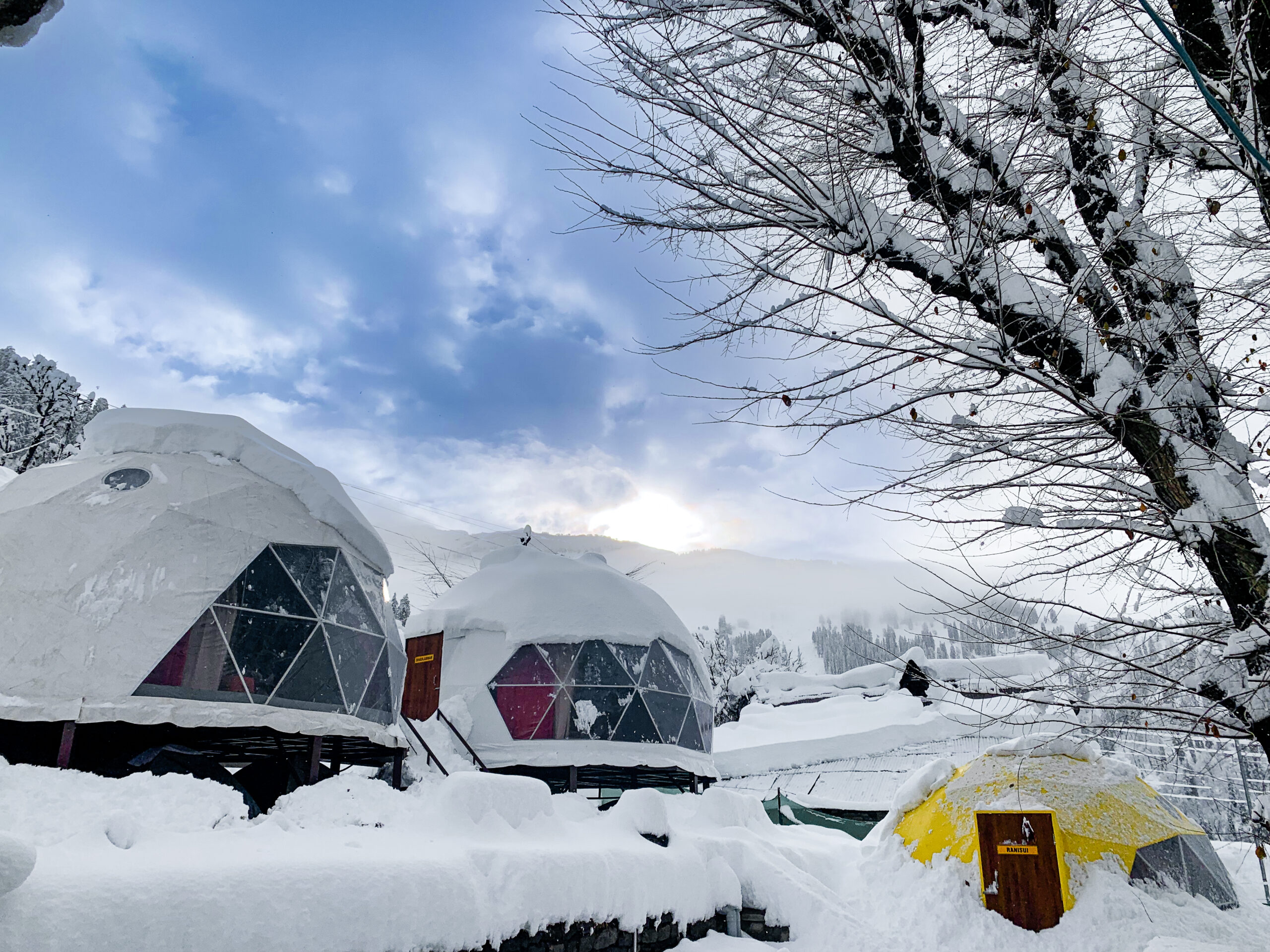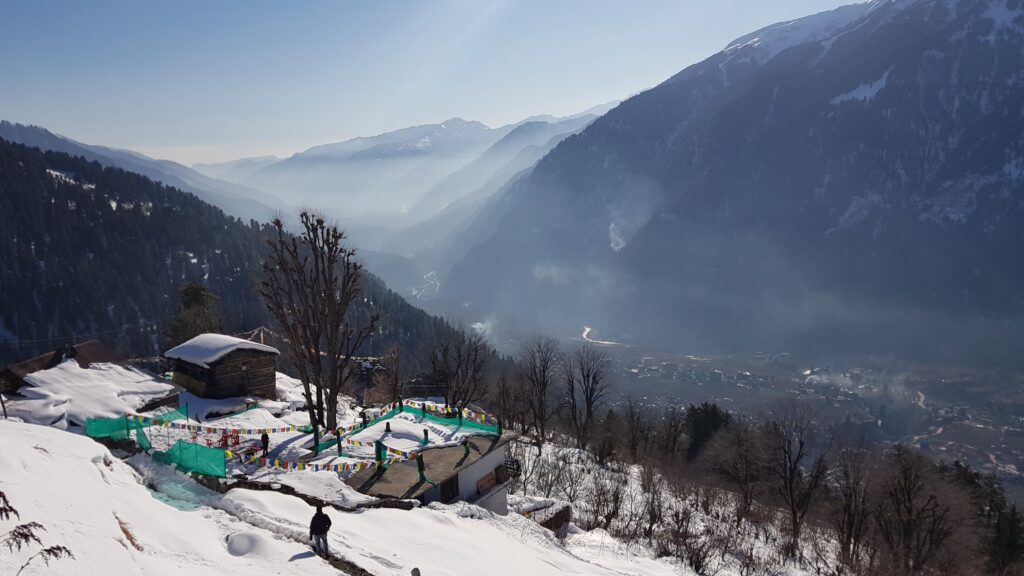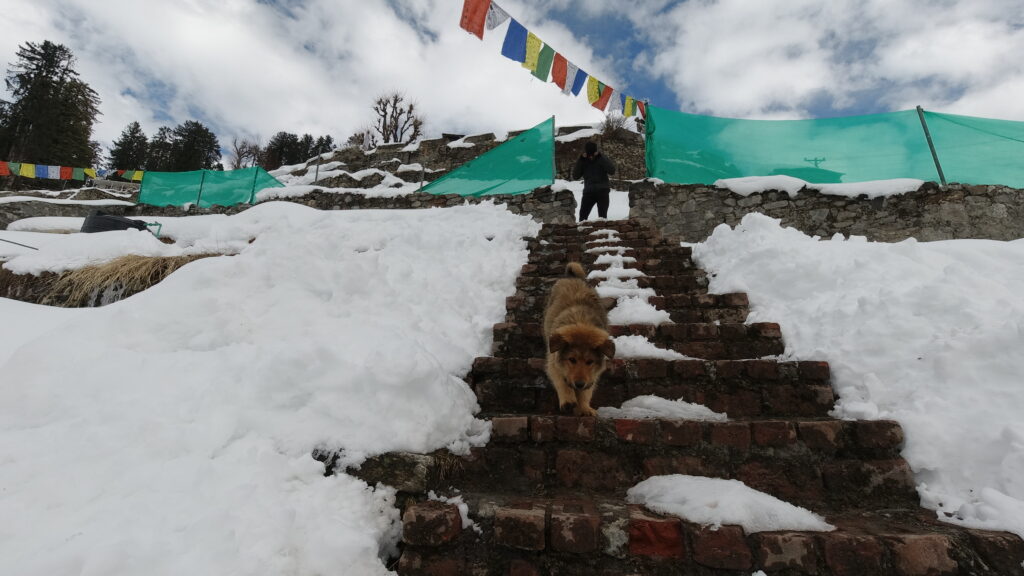 Alternatively, you can also check out, Footloose Camps, which is run by Dev who is very much a fellow like-minded traveller. Currently, in Sethan, you can choose to stay at the 100-year-old mudhouse, glamping domes, or the igloo. Dev also organises skiing and snowboarding experiences in Sethan. (Ph. No. 8800763430)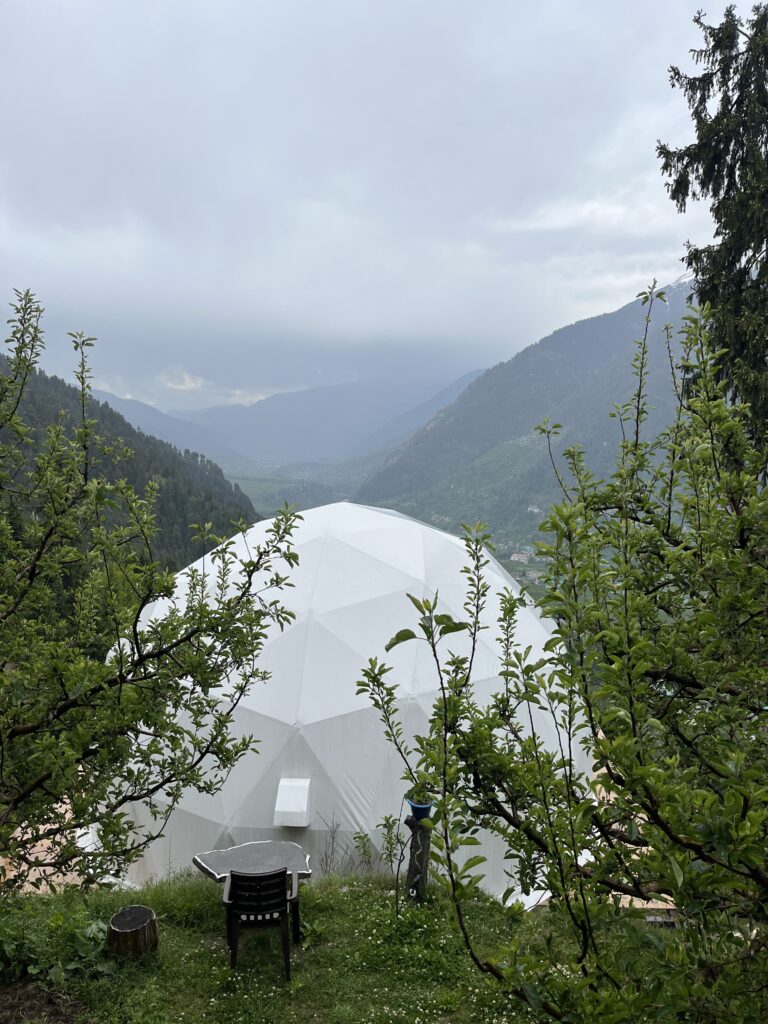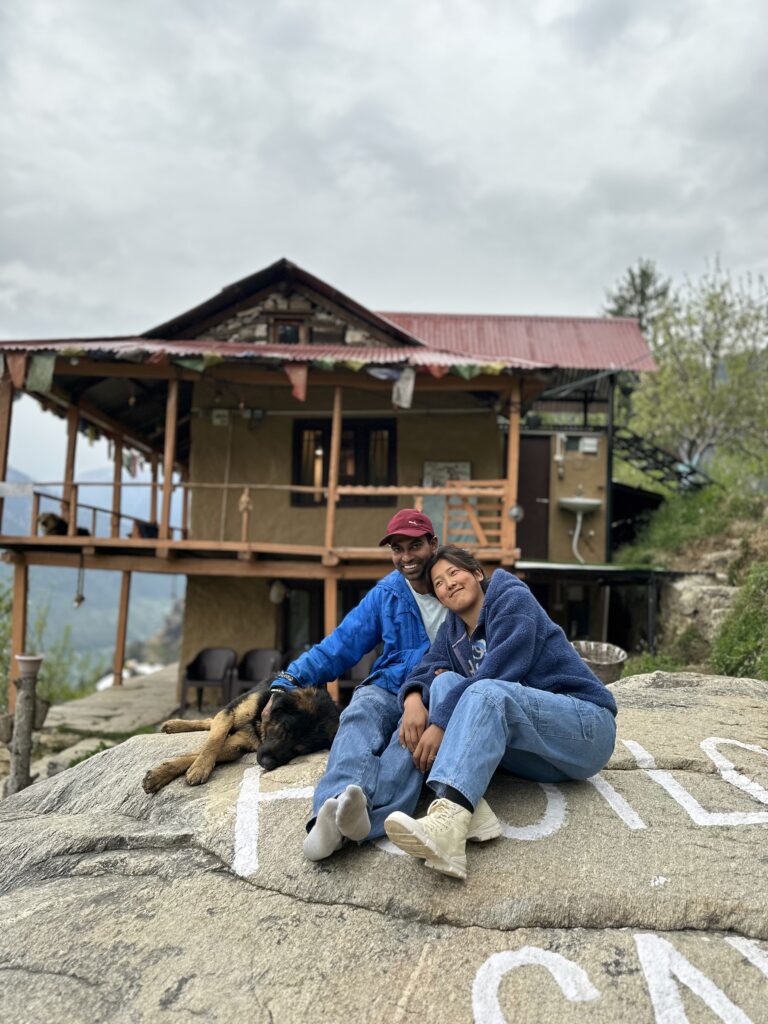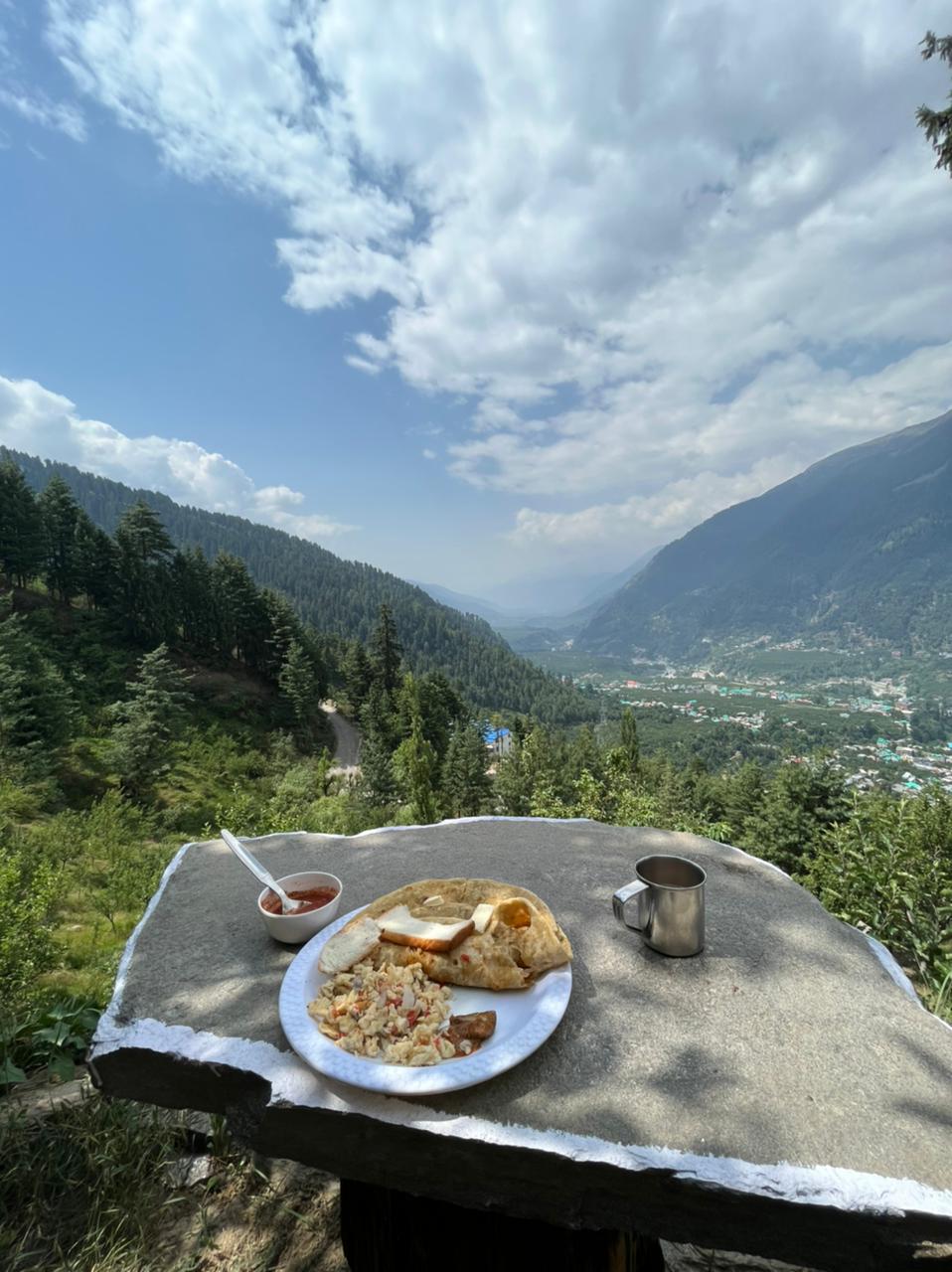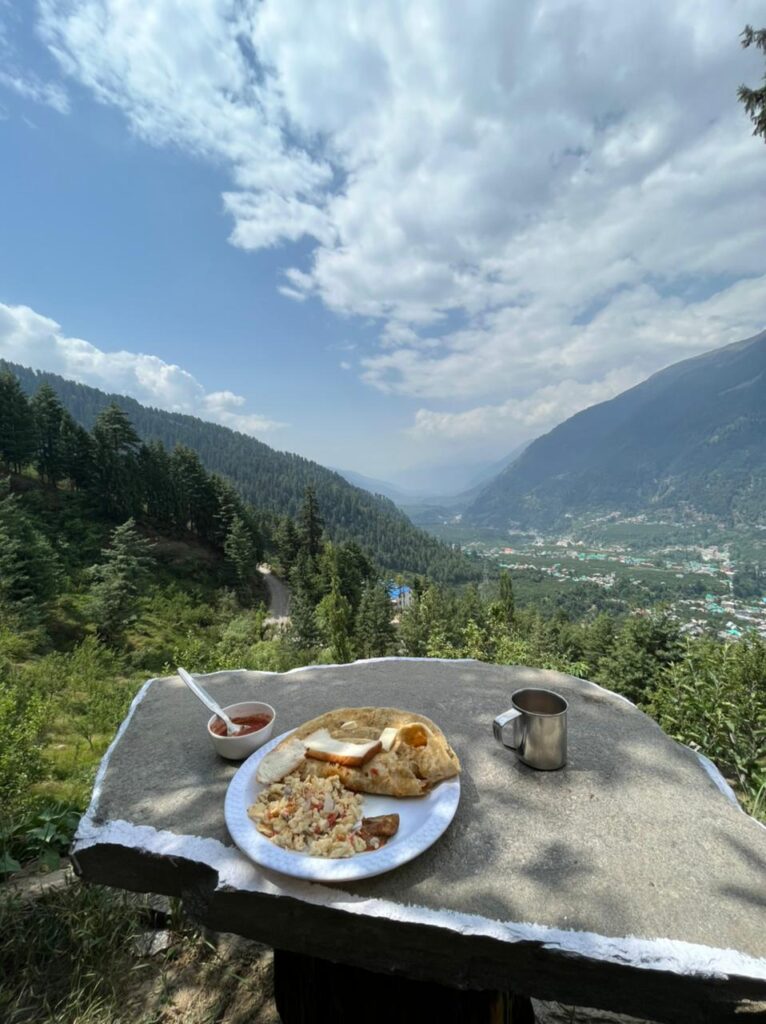 ---
Help us write more such blogs & create more YouTube Videos!
A small amount contributed from you could help us sustain and keep doing what we love – sharing helpful travel information for you all!
---
WHERE TO EAT IN SETHAN?
You will not find any fancy restaurants in Sethan. There isn't really much population to warrant that. The best option is to have food at the accommodation that you are staying at. Almost all the accommodations in the area serve good food.
The smalls shops around will serve you good maggi, parathas, dal chawal and omelette. Barring that there are a couple general stores with limited things and nothing much else.
We loved maggi and coffee at the Kalzang Dhaba and the views while sipping that hot coffee just makes it that much more magical.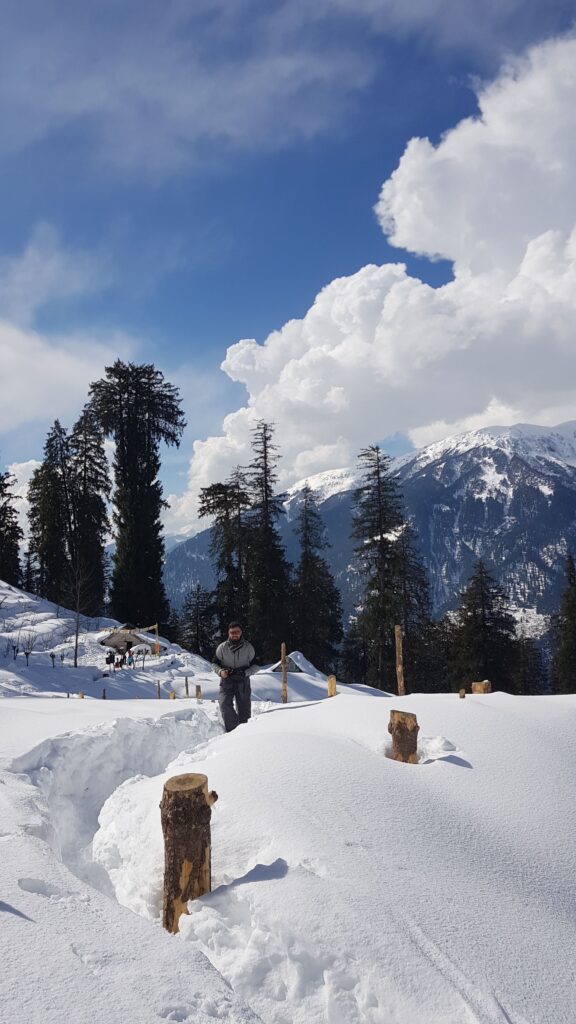 BEST TIME TO VISIT SETHAN
Sethan is accessible throughout the year. It is really up to you, what do you prefer more or what you are looking for when you visit Sethan.
January to May is the best time time for snowbound activities like, skiing, snowboarding or the snow treks (like Hampta Pass during winters).
June to November is the best time if you are interested in exploring the forests and trek the nearby hills and do other one-day treks. Bouldering is another popular activity during these months.
In December the slopes will not be ready for skiing, snowboarding and the like, but you could still enjoy the paradise that is Sethan. The snow fall would have already started by then. We were lucky enough to experience a snow fall at night under the stars!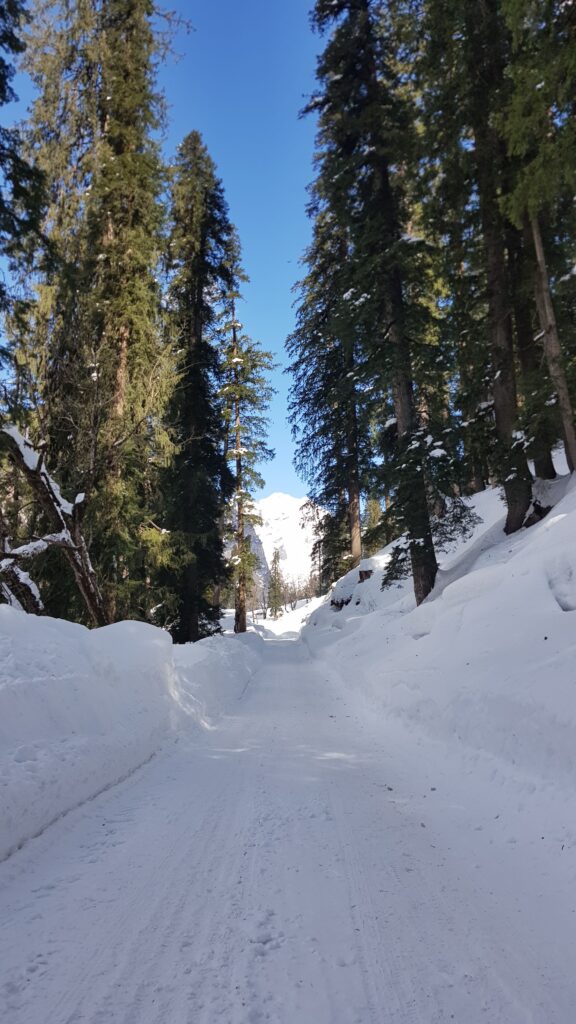 HELPFUL TRAVEL TIPS
There aren't particularly many things to see or do in Sethan. It is best if you are going there to unwind, relax and in general just take it slow.
The temperature is often below 0°C during winters. So, pack accordingly.
If you are driving your own vehicle, please know that it is quite difficult to reach till Sethan in smaller cars like Alto especially during winters when the road is laden with snow.
There is no cellular network in Sethan. However, you do get proper signal before Sethan. Should you choose to stay in and around Nirvana Hamta Resort you will not have any problem with network.
To have the best of experiences in snow, make sure that you take on rent the snow boots as well as the entire snow suit. They are available on rent in Prini. Prini will be on your way to Sethan.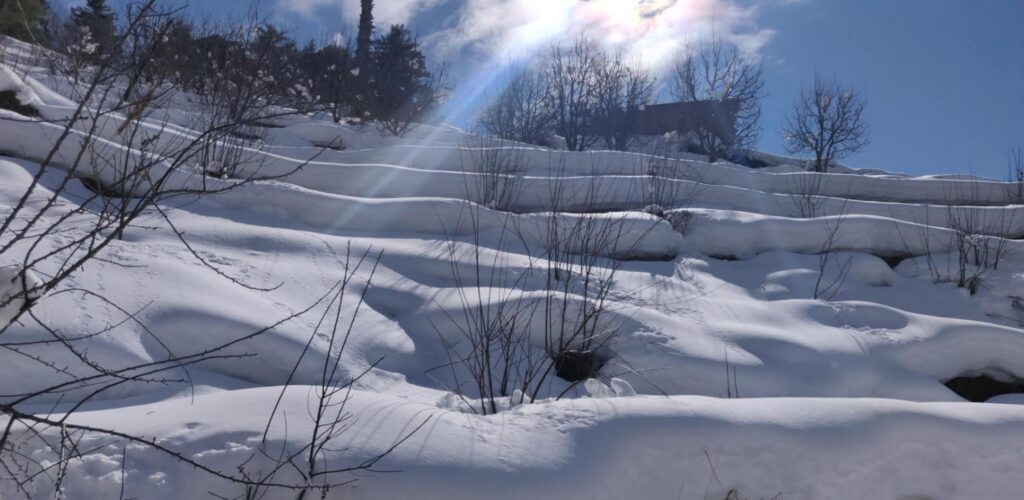 ---
Help us write more such blogs & create more YouTube Videos!
A small amount contributed from you could help us sustain and keep doing what we love – sharing helpful travel information for you all!
---
PIN THIS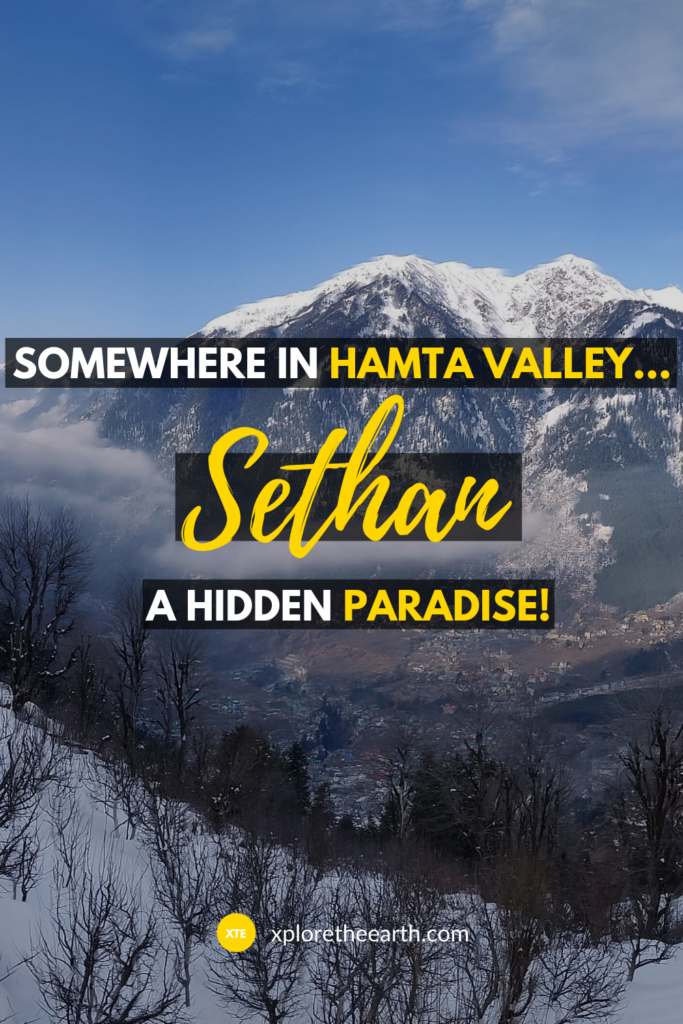 ---
What is your favourite part about traveling to Sethan? Do you think your next trip is going to be to Sethan? Comment below!
---
Was this guide helpful? Here are a few other guides to make the most of your time in Himachal Pradesh!
Hampta Pass Trek
A 5 day trip to Parvati Valley
3 Day Solo trip to Mcleodganj
7 Day Solo Trip to Manali
Trek to Beas Kund
And if you want to go on more than a little adventure, here is all you need to go for a bicycle expedition from Manali to Leh:
Ditch your Enfield and take a CYCLE from Manali to Leh
Manali Leh Cycling – Step by step detailed guide
How to prepare for Manali to Leh cycling expedition
SUBSCRIBE IF YOU LIKED OUR CONTENT
We create new exciting travel content, curate an excellent social feed and also organise experiences like these. If you enjoyed our content, stay on our mailing list to hear from us about new exciting things we create and curate!
Processing…
Success! You're on the list.
Whoops! There was an error and we couldn't process your subscription. Please reload the page and try again.
---
Ensure you travel responsibly and keep your carbon footprint to the minimum. Happy Xploring!
---