Dubai is known as the most happening destination in the UAE, and a prominent Middle Eastern city bursting with a dynamic culture and a flair for modernity. Yet what makes it special is the city's commitment to providing its visitors with the best attractions and scenery. Indian tourists have a special warmth toward this Middle Eastern city and it is a popular choice of leisure destination among them. This 4-days in Dubai itinerary will offer you an insight into Dubai's splendours. Read on to know more.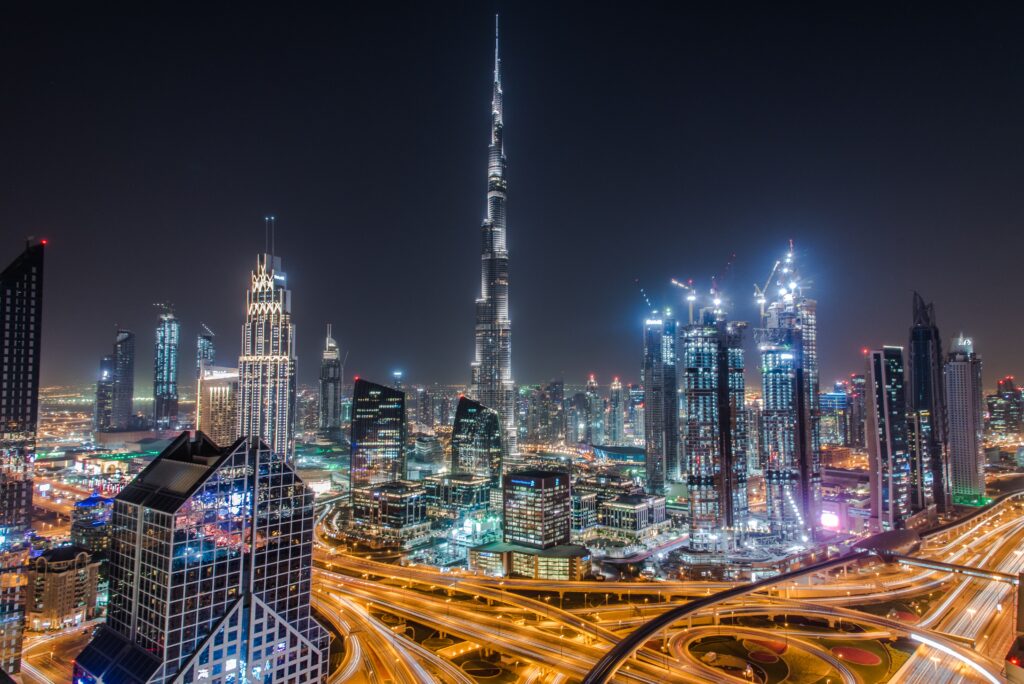 DUBAI ITINERARY OVERVIEW
Day 0: Arrive in Dubai and check into the hotel.
Day 1: On day one of your 4 Days in Dubai tour, you will be introduced to Dubai City. Explore prominent landmarks in the emirate on a Dubai City Tour.
Check out Dubai Creek for a different perspective on Dubai.
A Dhow Cruise Dubai Creek tour with dinner is the perfect way to wind down the day.
Day 2: Visit the Museum of the Future – a brand new attraction unveiled in February 2022.
Then, zoom off to the Arabian deserts for an Afternoon till evening Desert Safari Tour.
Day 3: Visit MOTION GATE Dubai and Bollywood Parks Dubai for a fun-filled day at Dubai Parks and Resorts.
Day 4: Explore Dubai Aquarium and Underwater Zoo at Dubai Mall. Stop by Dubai Frame before heading to the airport for your flight back home.
BUDGET ESTIMATE
A 30 days Single Entry Dubai Visa fee would cost approximately INR 7500 per person. Consult a UAE visa expert to apply for a Dubai tourist visa online and to expedite the process. A one-way flight ticket costs between INR 8000 and 15000. Seasonality, type of airline and class of travel, and availability all affect airfare to Dubai from India. Additionally, the closer your flight date gets, the more expensive the ticket will be. With basic accommodation, 3 nights and 4 days in Dubai costs around INR 30,000 per person.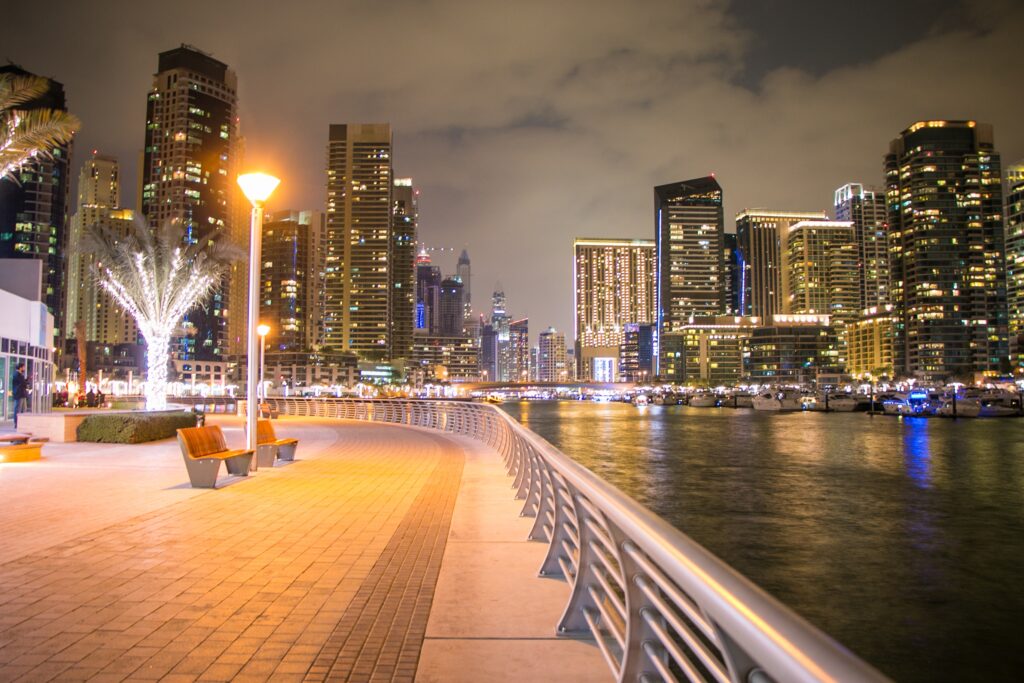 HOW TO REACH DUBAI
Dubai International Airport is ranked among the busiest airports in the world and has excellent connectivity to all major destinations. India has direct flights to Dubai from all major cities and it takes 3 hours to reach Dubai from India.
WHAT TO DO IN DUBAI
Day 1
Reach Dubai International airport and check-in at the hotel. Take a city tour of Dubai that takes
you through the impressive architecture and landmarks in the emirate, such as Burj Khalifa, Jumeirah Mosque, Burj Al Arab Jumeirah, Palm Jumeirah, and Al Fahidi Historical Neighbourhood. Enjoy an evening dhow cruise on Dubai Creek to admire Dubai's stunning shoreline and skyline while having dinner. Return to your hotel with pleasant memories.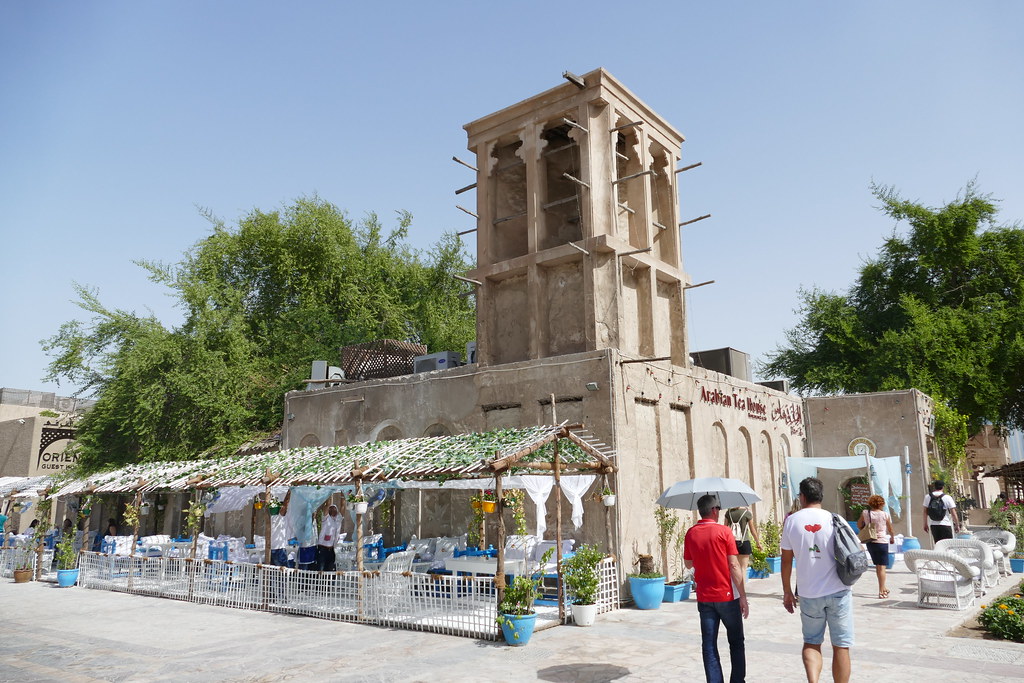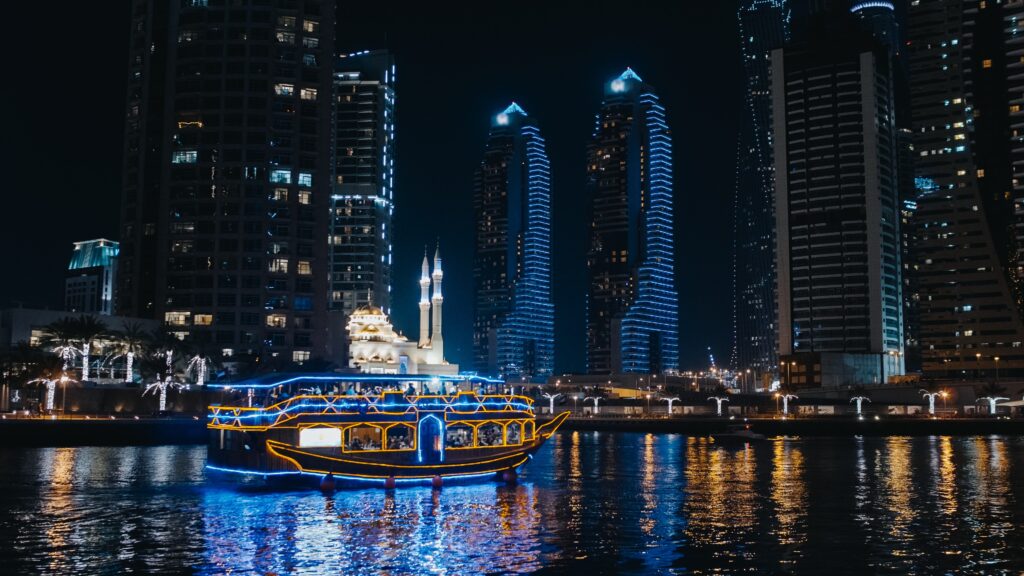 Day 2
After breakfast, head to one of the most visually stunning structures in the world. Get awe-
struck by the Museum of the Future – one of the most modern engineering marvels of Dubai. Dubai's brand-new addition to its scintillating city skyline was unveiled in 2022 and is now a must-see attraction for anyone with a Dubai visa. Afterwards, make your way to the golden dunes of the Dubai desert for a Dubai safari experience. Enjoy a dune bashing session followed by mild traditional activities and a BBQ dinner with Arabian folklore. After dinner, return to your hotel.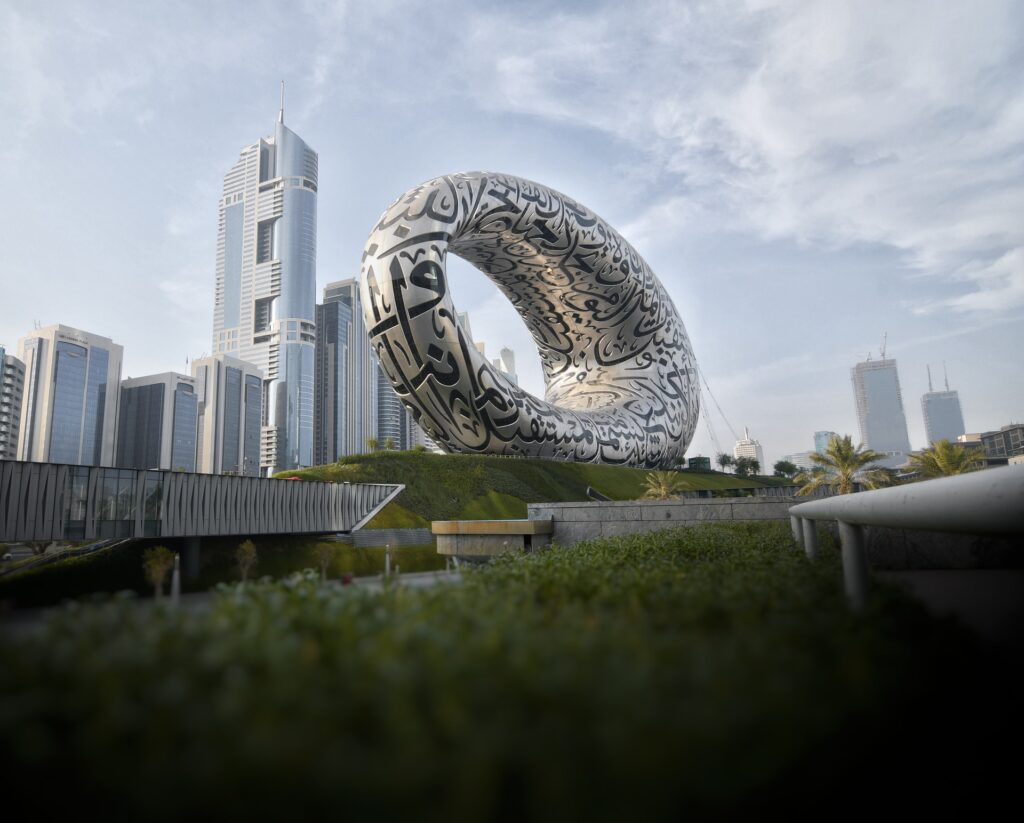 Day 3
Experience Dubai's entertainment and thrill scene today. After breakfast, visit Dubai Parks and
Resorts, Dubai's best amusement park. You can enjoy rides, live shows, and recreational fun at
MOTIONGATE Dubai and Bollywood Parks Dubai with a 1 Day, 2 Parks Pass. For lunch, enjoy the park's diverse food outlets, restaurants, and eating joints. You can easily spend all day exploring this theme park and have the rest of the time free at leisure. Take this opportunity to explore the nightlife of Dubai and have a local dining experience.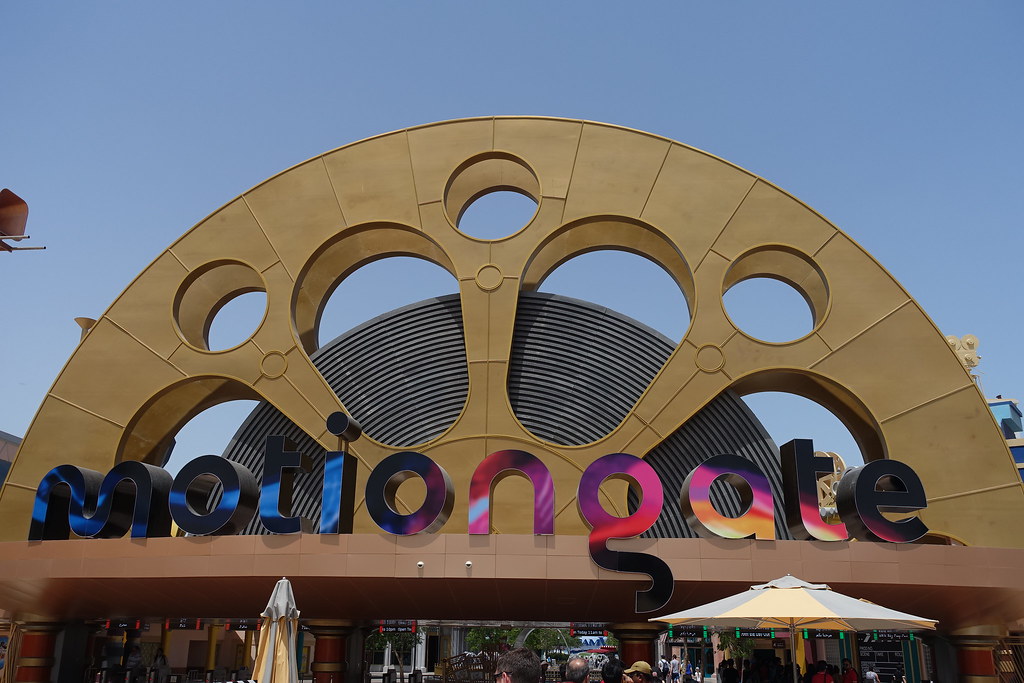 Day 4
After breakfast, visit the UAE's ultimate shopping destination, Dubai Mall. Explore the many
installations or make your way to upscale labels and premium brand shops if you want to splurge. Take a break from your shopping and explore Dubai Aquarium and Underwater Zoo, located within the mall to glimpse a wide variety of enticing, colourful marine life. The Dubai Mall's vast collection of food outlets offers a great lunch experience, while the Dubai Fountains and the iconic Burj Khalifa provide a stunning backdrop. On your last day in Dubai, leave the city with a spectacular panoramic view etched in your mind. Experience a sweeping panorama of Old and Modern Dubai from the top of Dubai Frame. Take a quick trip to Dubai Souks for some last-minute souvenir shopping before heading back to the airport.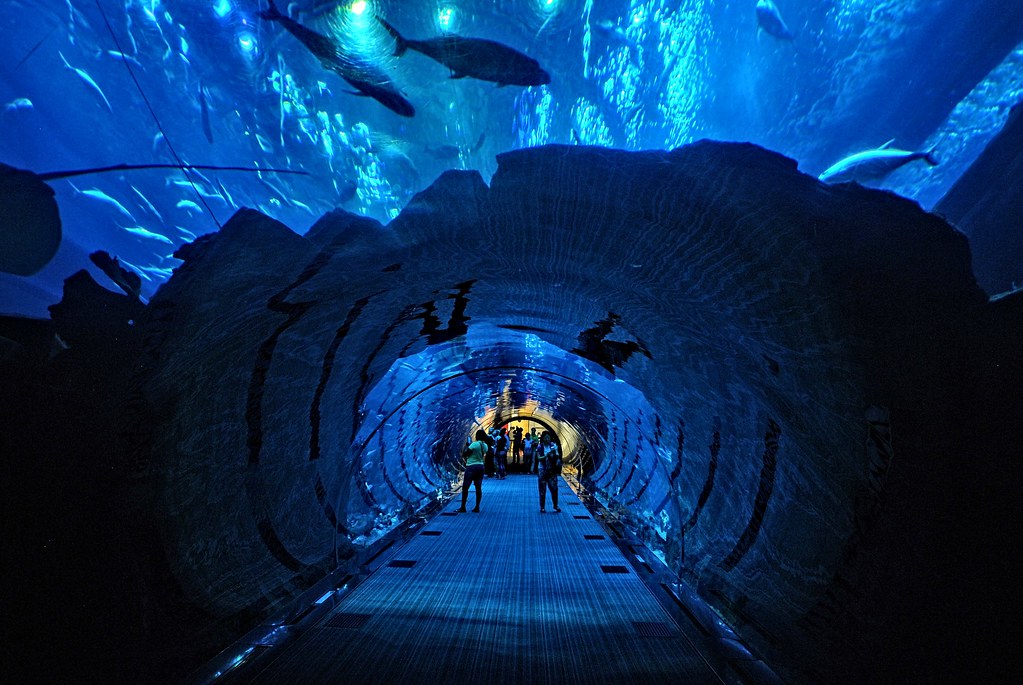 WHERE TO STAY
You can find affordable hotels that don't compromise on the quality of service in Bur Dubai and Deira. Hotels in these areas are quite accessible as well. Budget hotels like Admiral Plaza Hotel, Ibis style hotel, and Royal Falcon are good choices.
Among the best 4 stars are Lotus Grand Hotel, Courtyard by Marriott Culture Village, and Wyndham Dubai.
There is no dearth of high-end luxury hotels and resorts in Dubai. Atlantis the Palm Jumeirah, Armani Hotel Dubai, Sheraton Dubai Creek Hotel & Towers, W Dubai – The Palm, and of course the only seven-star hotel in the world – Burj Al Arab Jumeirah are some of the best options available in Dubai.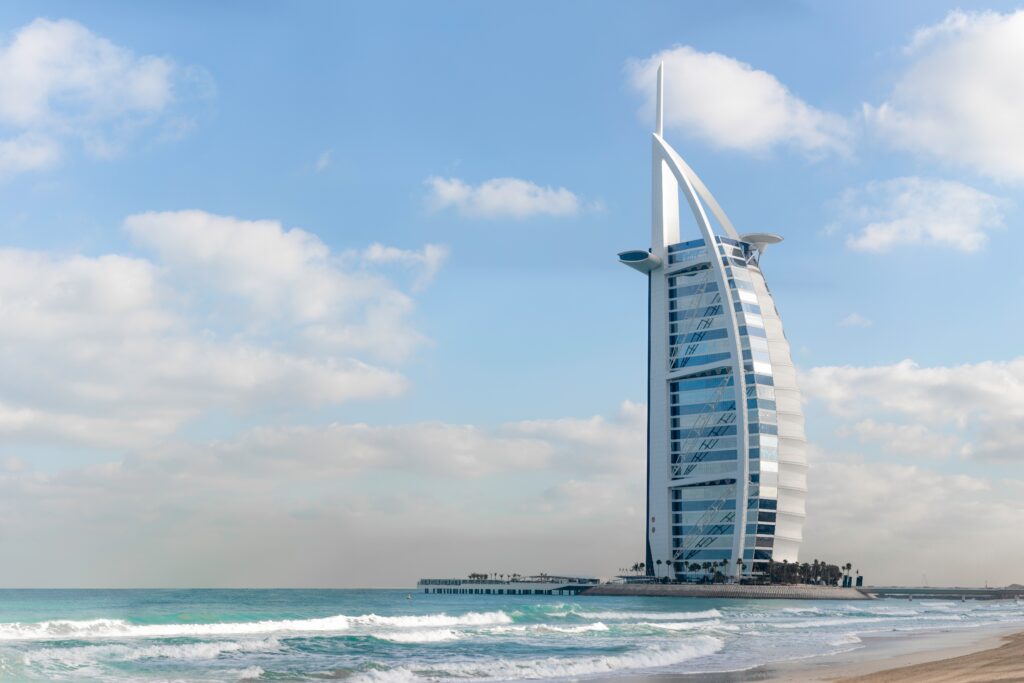 WHERE TO EAT
Dubai's food scene is enticing and eclectic. In Dubai, the High-Tea and Brunch scene is quite famous. Those willing to loosen their wallets can sample a wide array of cuisines at up-scale restaurants and rooftop fine-dining venues. Nevertheless, if you are looking for an affordable meal, make sure you check out Meena Bazaar and Karama. You'll find a variety of restaurants and food outlets here to satisfy those hunger pangs. Homesick and craving Indian food? Enjoy fabulous Indian dishes at Maharaja Bhog, Sind Punjab, Calicut Notebook Restaurant, Rajdhani Street, and Peppermill.
Mae sure to include these amazing restaurants in your Dubai itinerary.
GETTING AROUND DUBAI
Getting around Dubai is easy thanks to the Dubai Metro, which connects all the major hubs. However, not all places are near metro stations, so you will need to take a cab. Depending on your travel needs, you can recharge and use Metro Nol Cards. You can use these cards on public buses and water taxis as well. To travel by road, taxis are affordable, but it's best to arrange transfers with tours in advance.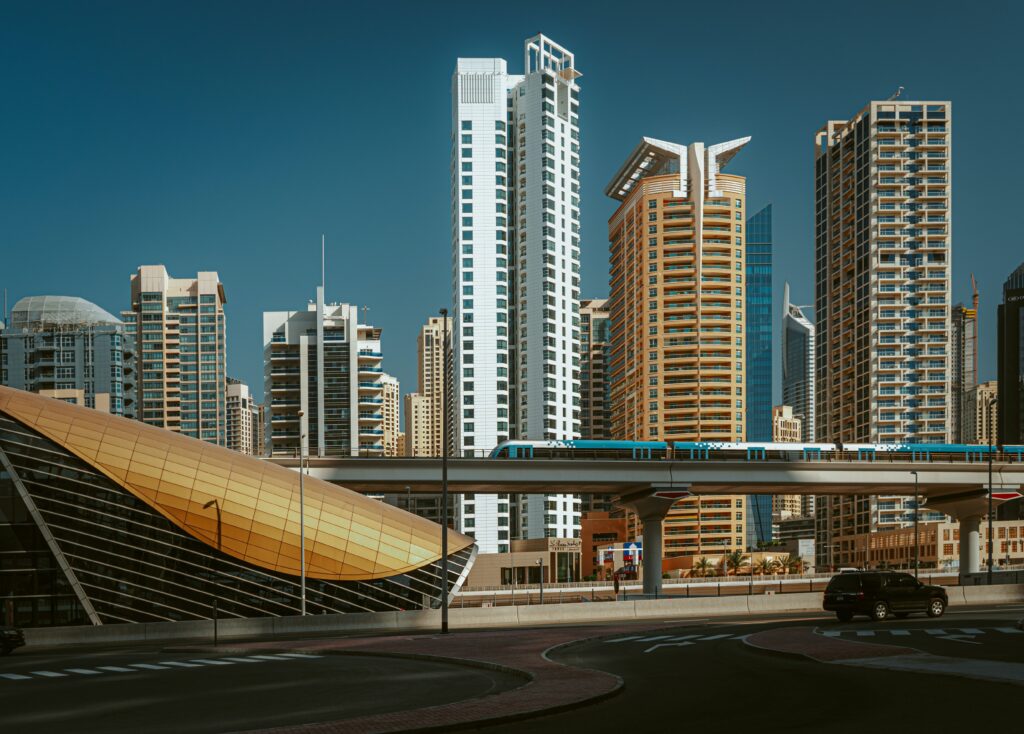 HELPFUL TIPS
Visit Dubai between October and March, as these are cooler months. April to July are low season and quite uncomfortable to visit as the desert heat is quite stifling.
Respect local laws and cultures. Be sure not to indulge in PDA, click pictures of locals without their permission, or do anything that may offend them. In Dubai, the laws are stringent. If you break them, you may face heavy fines or even deportation.
Consider adding Dubai Global Village, Dubai Miracle Garden, the Dubai Food Festival, and the Dubai Shopping Festival to your Dubai itinerary if you plan your holiday when they are operating.
Do let us know, if this 4-day Dubai itinerary helped you in planning that perfect trip. Also, do mention in the comments what is your favourite spot in the whole of Dubai!?
And if you are looking for more places that you could visit or things that you could do while on your epic Dubai trip, then do read 20 Ultimate Things to do in Dubai.
SUPPORT US
help fund more such blogs by contributing a nominal amount at https://www.buymeacoffee.com/xploretheearth
---
Travel responsibly and keep your carbon footprint to the minimum!