Neemarana is a town with rich history which can be found dating back to as early as 1464. Rao Rajdeo is believed to be the founding Raja of Neemarana. Also, the family formerly ruling the palace is considered to be in direct lineage to Prithviraj Chauhan. How cool is that, to be at a place that is associated with such a significant part of India's history. This guide will take you through an eay-to-follow itinerary followed by a list detailing the various places that you can visit in and around Neemrana for that perfect weekend getaway!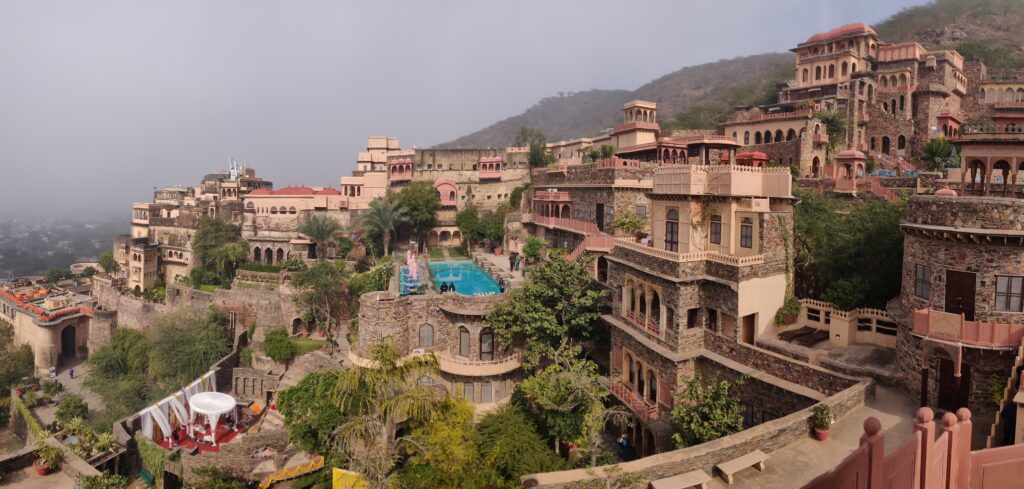 Note: This article may contain links to our affiliate partners such as Amazon, booking.com, etc. If you find our website useful, please consider booking through these links. When you do, we earn a small commission at no additional cost to you.
HOW TO REACH NEEMRANA
By Road:

Self-Drive – Self driving your vehicle is quite a convenient option to reach Neemrana. We chose self driving our car till there so that we can go at our own pace. Delhi to Neemrana – Google Maps.
Taxi – Hiring a taxi is another option. Though, depending from where you are traveling this can be quite expensive.
Bus – Buses, though infrequent, they still do operate from quite a few major cities in the North.

By Rail: Alwar (74 km) is the nearest major railway station to Neemrana.
By Air: For the super enthusiastic people out there, if you are travelling by air then the nearest airport to Neemrana is Indira Gandhi International Airport in Delhi (103 km).
ITINERARY FOR NEEMRANA
Day 1
Start from Delhi and reach Neemrana in about 3 hours.
Check-in at the fort and go on a tour across the fort. It is big enough to keep you busy till lunch.
Enjoy the grand lunch buffet.
Post that go for Ziplining which gives you the bird's eye view of the place as well as the entire town. It takes about 20-30 minute hike up a hill to get to the Ziplining spot. The total affair might take you around 2 hours. But, it is every bit worth it.
People also go for the vintage car rides that the fort offers.
Relax at the poolside in evening. It does offer a splendid view of the fort and the town.
Neemrana fort hosts a traditional cultural event for its guests on a daily basis which does enrich the overall experience of the stay. We were treated by a local dance on the day.
The rooms themselves are kept in a way that is quite reminiscent of the old times. Retire for a peaceful night's sleep!
Day 2
Post our breakfast we checked-out of the Neemrana fort.
Next we visited Neemrana Baori which is about 2km from the fort.
With that our time at Neemrana was over and we headed back to home.
Should you have more time, then you can visit Alwar and enjoy Sariska National Park, Vinay Vilas Mahal, Bala Quila and Siliserh Lake to name a few of the beautiful places.
That concludes the itinerary for Neemrana and this blissful weekend getaway. Continue reading to know in greater details about some of the places in and around Neemrana.
PLACES TO VISIT IN NEEMRANA
1. Neemrana Fort Palace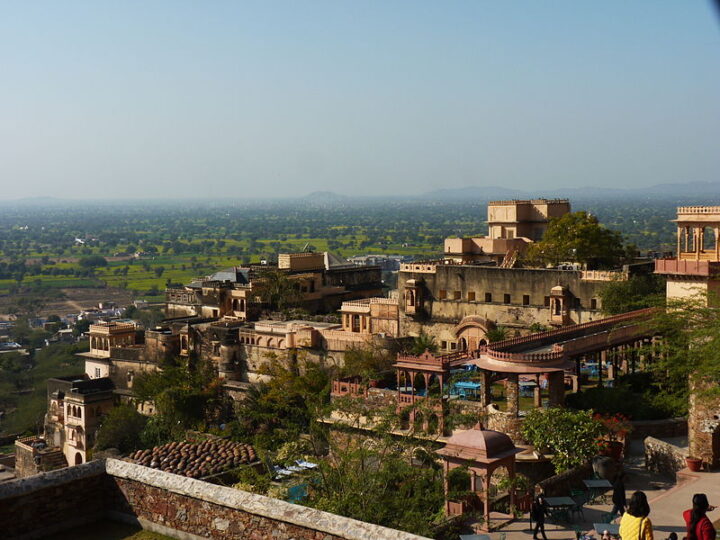 Neemrana Fort Palace is located in the Neemrana town of Rajasthan. This is a 15th century fort, ruins of which have been restored to give the authentic feeling of the culture of this region and India in general. The fort is built on the Aravalli hills overseeing splendid countryside scenery. This place has become quite a popular weekend getaway for couples and families.
Book your stay at Neemrana Fort Palace now!
2. Zip-lining, Neemrana
Zip-lining is one of those adventure activity that pumps the adrenaline to another level. And when you zip-line to the views of the beautiful countryside with wide expanse of green fields as far as you can see, the whole experience just takes another dimension. It is a 20-30 minute hike up to the point where you can zip-line from. Including the safety briefing, practice and the actual experience it takes about 2 hours.
3. Neemrana Baori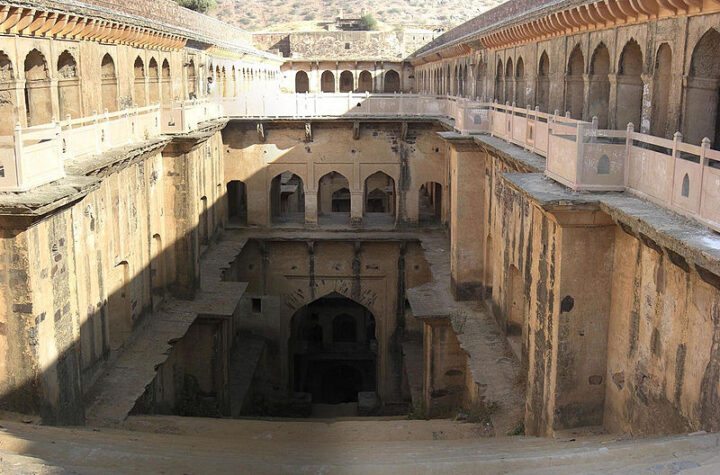 The Neemrana Baori is about 2km from the Neemrana Fort Palace. Neemrana Baori is a deep water stepwell with about 9 floors. It has quite an intriguing architecture with one of the thoughts suggesting that this was built keeping in mind the draught and was also a guest house for pilgrims. Do note that, though, some of the passageways have been closed for safety reasons, a large portion of it still remains with no enclosure. Do mind your step and enjoy exploring!
PLACES TO VISIT NEAR NEEMRANA
If you want to make the most of your time by packing in a few more places that you could visit while on your holiday to Neemrana, you could take a 1.5 hour scenic drive to the district of Alwar.
1. Sariska National Park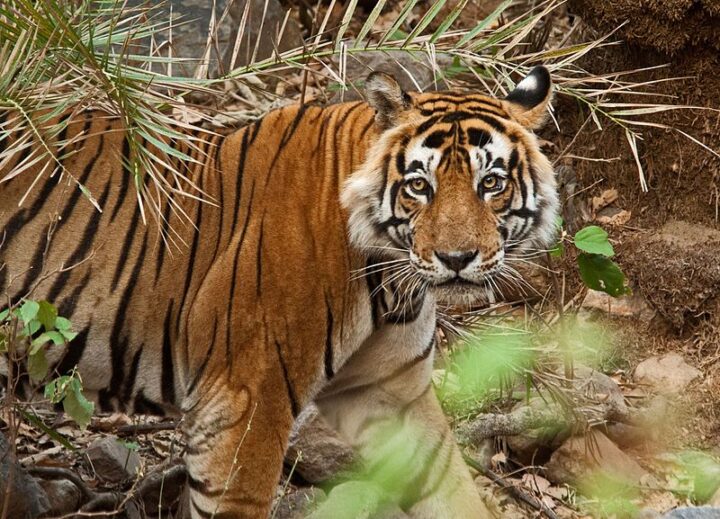 Sariska National Park was declared a National Park in 1979. Spread over a vast expanse of land it offers the perfect chance to observe the fauna in their natural habitat. The Park is home to many animals like the leopard, jackal, nilgai, wild boar and various other species of animals and birds. However, Sariska is most popular for being a tiger reserve. Do enjoy the safaris into the dense forests of Sariska National Park.
2. Vinay Vilas Mahal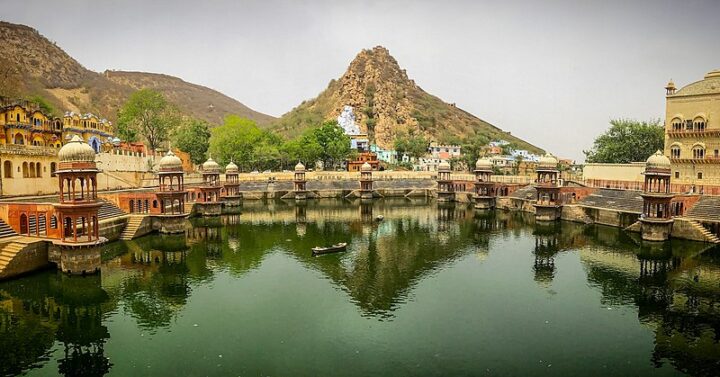 Standing in the heart of the city, the "City Palace of Alwar", also known as Vinay Vilas Mahal is a magnificent work of architecture. The palace is the perfect amalgamation of the Indo-Islamic architecture. The intricate mirror work along with the murals and paintings of Mughal kings, the palace offers a beautiful insight into the rich history of India. The palace also houses a museum with royal memorabilia at display amongst other prized possessions.
3. Siliserh Lake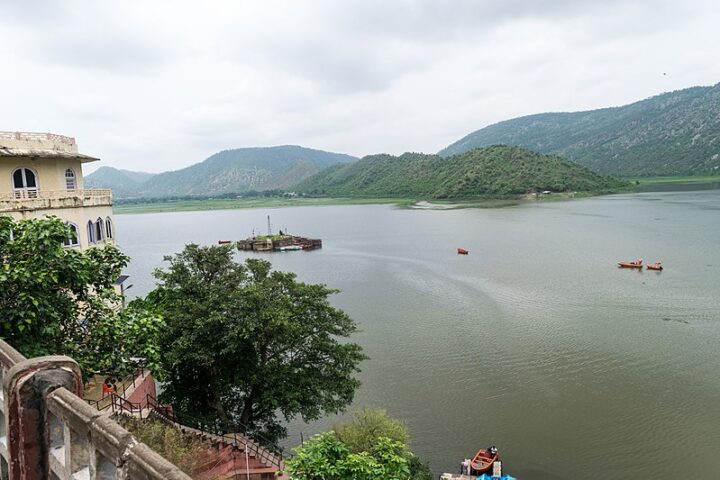 Siliserh is located about 16km from the city of Alwar and is one of most popular picnic spot for tourists. Boating in the lake is a good activity to beat the heat in these areas. Also, picking the right time to visit the lake might just be a heavenly gift for bird watchers and for bird photography as the lake sees a huge number of migratory birds every year. Siliserh Lake Palace has now been converted into a heritage hotel, making it just the place for a weekend getaway.
4. Bala Quila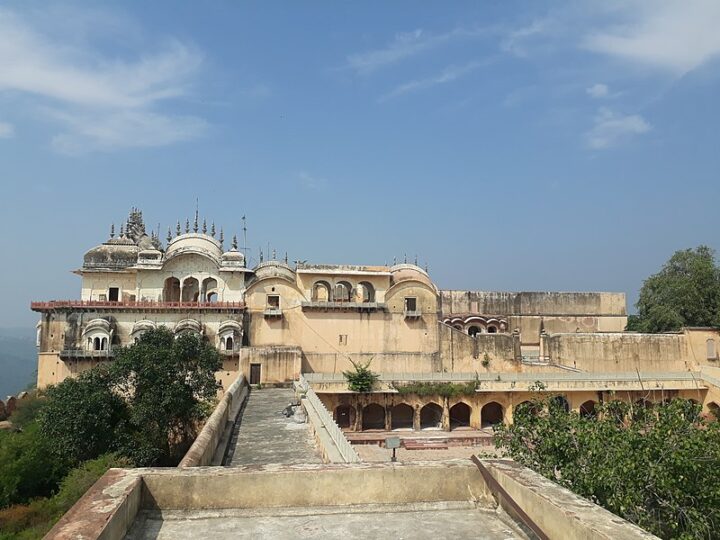 Bala Quila (also know as the Alwar Fort), is nestled in the Aravalli ranges built above the city of Alwar. At 5km long and 1.5km the fort commands a huge expanse of land and is an architectural marvel in itself. The fort in the past has been under the rule of Marathas, Yadavs as well as the Kachwaha Rajuts. Given the evident importance of the fort in our history, this has to make your must-visit list while going to Neemarana or Alwar!
SOME HELPFUL TIPS FOR THE TRIP
Best time to visit Neemrana is September to March when the temperature in general is better suited for a more hassle free experience.
Irrespective of when you choose to go, do take your swimming trunks for a swim in the Neemrana Fort swimming pool. They keep the temperature of the pool optimum in every season. Warm water in winters and cold water in summers.
Try getting to every place of the fort as there are 14 levels.
Do try to finish your fort tour before lunch so that you have your evening free for zip-lining and other activities as well as to see the cultural performance.
Given the proximity of all the locations it is best to pick up your own car and enjoy the road trip.
PIN THIS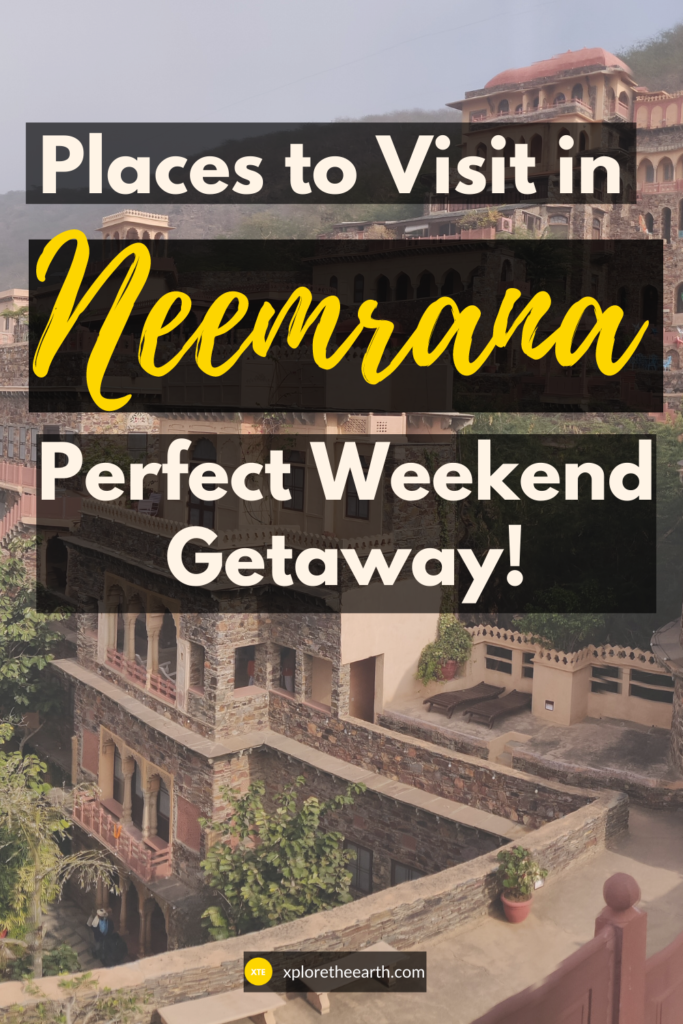 This Itinerary was Contributed by a Community Member!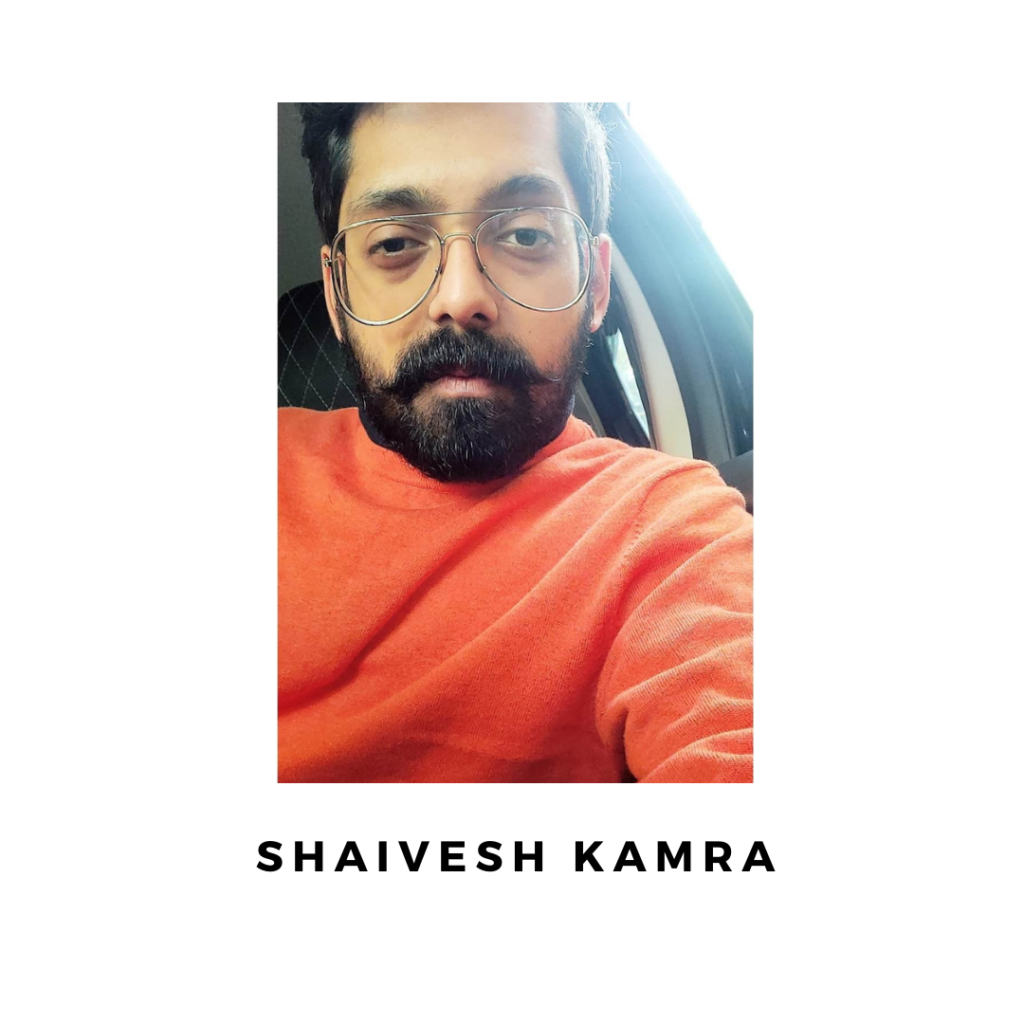 ---
What are you most excited about from this guide on "Neemrana – Places to Visit"? Comment below!
---
Want to enjoy more of Rajasthan, have a look at this short itinerary for Jodhpur and Jaisalmer.
---
SUBSCRIBE IF YOU LIKED OUR CONTENT
We create new exciting travel content, curate an excellent social feed and also organise experiences like these. If you enjoyed our content, stay on our mailing list to hear from us about new exciting things we create and curate!
Processing…
Success! You're on the list.
Whoops! There was an error and we couldn't process your subscription. Please reload the page and try again.
---
Ensure you travel responsibly and keep your carbon footprint to the minimum. Happy Xploring!
---