Discover spirituality along a parallel trek with Valley of Flowers – Shree Hemkund Sahib!
Hemkund Sahib pilgrimage falls parallel when one travels from Ghangharia to Valley of flowers. Also known as Gurudwara Shree Hemkund Sahib ji, it is a Sikh place of worship and Sikh Pilgrimage. It is located at an altitude of 4330m, which is approximately 15,000ft. This holy shrine was named because of its picturesque setting near a glacial lake and it is surrounded by seven mountain peaks. This place is devoted to the tenth Sikh Guru- Sri Guru Gobind Singhji (1666-1708). He also mentions about this place in his book- 'Dasam Granth'. It is one of the highest Gurudwara in the world.
Hemkund is a Sankrit word in which Hem stands for Snow and Kund stands for bowl. It is said that Guru Gobindji has done deep intense meditation here where the Gurudwara has been enshrined today. A Hindu shrine dedicated to the Lord Ram's brother- Lakshman as it is mentioned in Ramayana that he mediated here to heal from his injuries after the battle between Ram and Ravan. Hemkund Lake sources its water from majestic peaks- Hathi Parvat and Saptrishi Peaks. A small stream 'Himganga' originates from this imposing lake. Every year, thousands of devotees flock here to pay their homage to this Gurudwara.
Hemkund is covered with snow and is inaccessible from October to April. Sikh devotees arrive her in the month of May to volunteer for clearing the snowbound paths and glaciers. They sacredly follow this tradition and is also known as 'Kar Seva' which means to serve selflessly.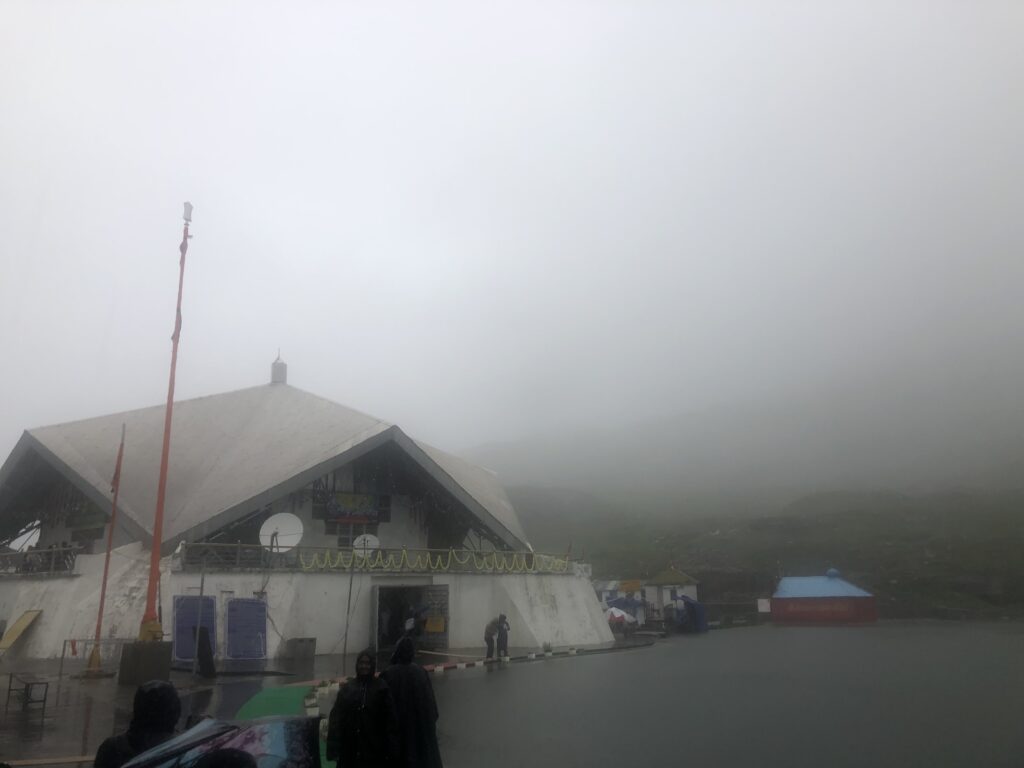 Onset of the trip
We started from the take off point Gobindghat, which is around 275km from Rishikesh. Prior, we went to Shree Badrinath Dham and came back to Gobindghat for this trek. Thereon, it is a compulsory to reach Pulna by the government owned jeeps only. Personal cars are not allowed. We got some refreshments at Pulna and it was drizzling by then. We purchased local wooden trekking sticks at nominal cost and started our 6km trek uphill to Ghangharia, the base camp. One can either walk or hire a pony. It is a well-maintained trek, with shops offering enough rest and refreshments. It took us 5-6 hours to reach Ghangharia.
We booked a local guest house for our accomodation. It was cold, damp rainy and still, the atmosphere was so pleasant, calm and energetic. Though, our legs were giving up after a long and uphill trek, the thrill to explore these places kept us motivated.
The next day we went to Valley of Flowers. And the day after, post having a filling prasad in Langar at the Gurudwara in Ghangaria, we started our trek early. It is advised to start the climb as early as possible as the Gurudwara closes at 2 pm.
The trek from Ghangharia to Hemkund Sahib is 6km long and steep. One will be bestowed with spectacular views of the mountains on a clear day. When the routes open in May, one can see the road is carved between the 6-7ft high snow glaciers. However, monsoon season in July, you can expect overcast sky and rain all along the way. We went in mid August and witnessed a lot of rain. The temperature was almost freezing and it was difficult to balance between warm clothes and wind cheaters.
The great dilemma!
It had rained the whole night and we were all anxious whether to commence the trek or stay back a day more. The rain did not stop and it seemed impossible for us to go to Hemkund Sahib. The rain lessened down its grip and it started drizzle lightly by 8 am. So, we started our ascend amidst a dreamy, clouded and adventure loaded trek keeping our faith in Shree Hemkund Sahibji. The brave Sikh people on their way to complete their pilgrimage roused our spirits. They chanted 'Waheguru' continuously which didn't let our hopes droop.
The streams which were tremendously cold and the freezing water swept inside our shoes and made our legs numb. The weather was still not very clear. But the uphill climb generated the heat and we managed to reach gradually. The last leg of the trek was to climb through a shorter but very steep way through 1000 steps. From here, we could listen the echoes of the temple music and it kept us moving forwards. We once stopped for hot tea and some light snacks.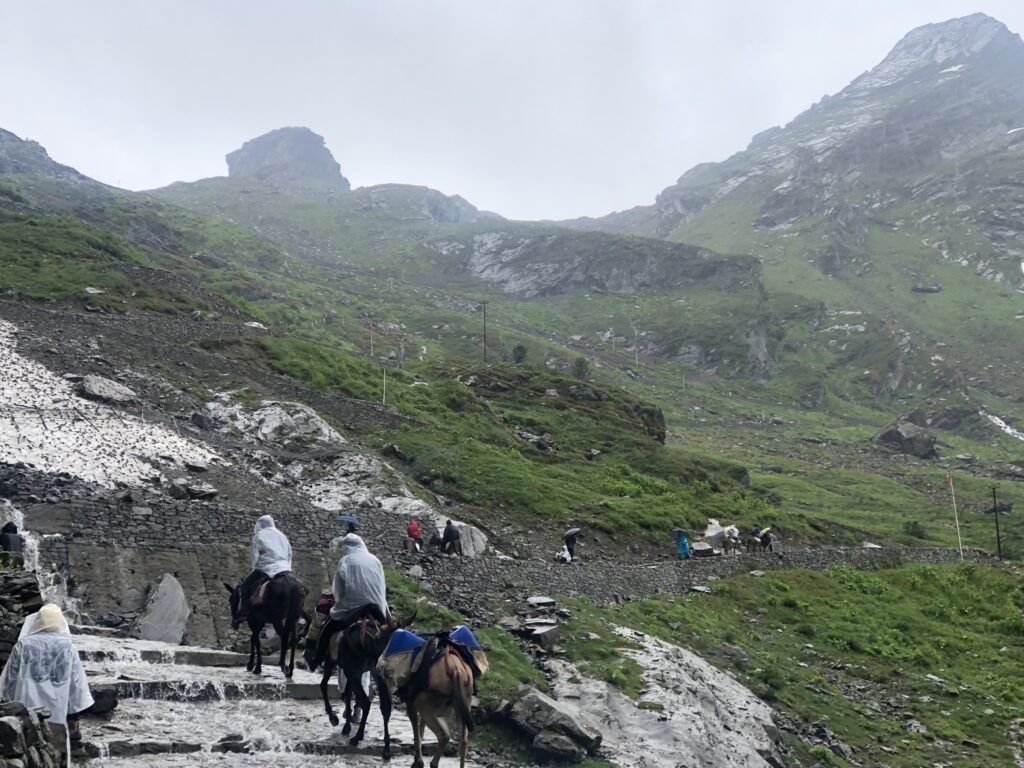 Making it to the top!!
And after such a rigorous trek, we finally reached the main entrance of the temple and we were more than thankful to God. It was very cold. But I salute to the Sikh community because of their well thought planning and wonderful selfless hospitality. On arrival, they had so many volunteers who completely understood our dilemma. They straightaway advised us to move towards the kitchen to have steaming hot tea and curry. The temperature was almost 5-6 degrees. People sat inside to get some rest and shelter from the cold winds and rain.
We all then moved towards the main temple area and sat there listening to mantras and chants while covering ourselves with warm quilts provided by the temple. The Gurudwara has wonderful vibrations and it is constructed in star shape. It felt so peaceful inside that one can connect with the divinity over there. Then we went to see the Hemkund Lake and the 'Brahmakamal', a pious and rare flower just found in that area at that altitude. We also visited the Lakshaman Temple. As the weather was bad throughout the previous night, as not only it rained in Ghangharia, but it snowed in the immediate higher peaks over there making it terribly cold.
But the whole experience was fantastic and so divine that I can hardly express it in words. Temple is kept very clean and it was well maintained. The Sikh community was very generous and kind in their hospitality. We had started to descend. But my heart was still captivated by the divinity of the Hemkund Gurudwara. I feel deeply connected with that place even today.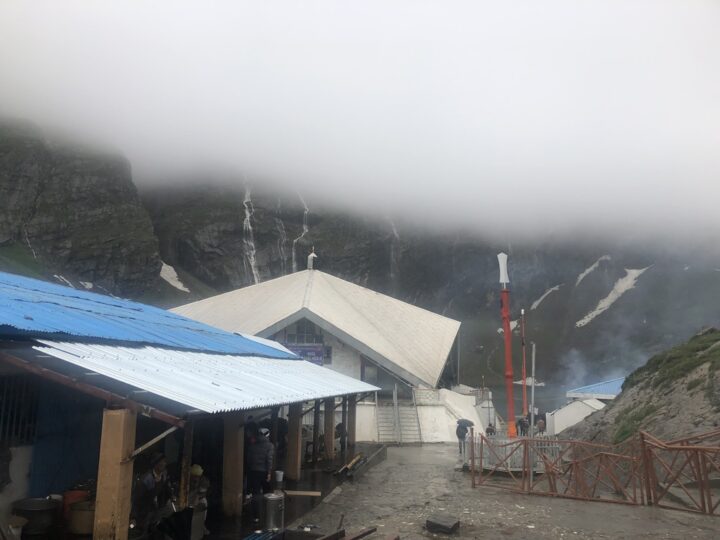 If you enjoyed what you read, check out some more wholesome content related to valley of flowers:
Is Valley of Flowers, the best trek? Let's find out.