Valley of Flowers is one the emerging tourist destination in Uttarakhand. It is located in Chamoli district between the mighty Garhwal Himalayas. It is unarguably one of the most beautiful treks Uttarakhand has to offer. If there is paradise anywhere on Earth- this place bags it to be the closest. Known for its enthralling natural beauty, people from all over the World visit it every year. Like all good things, this trek also requires thorough efforts and meticulous planning. If you are thinking to go solo or with a bunch of people, here's our step wise take-away itinerary to prepare you for this trek. Our formulated step wise approach will clear your doubts on how to reach Valley of Flowers. This definitive guide will make you 'trek ready' for this experience towards your adventurous days in this pristine valleys amidst the Himalayas.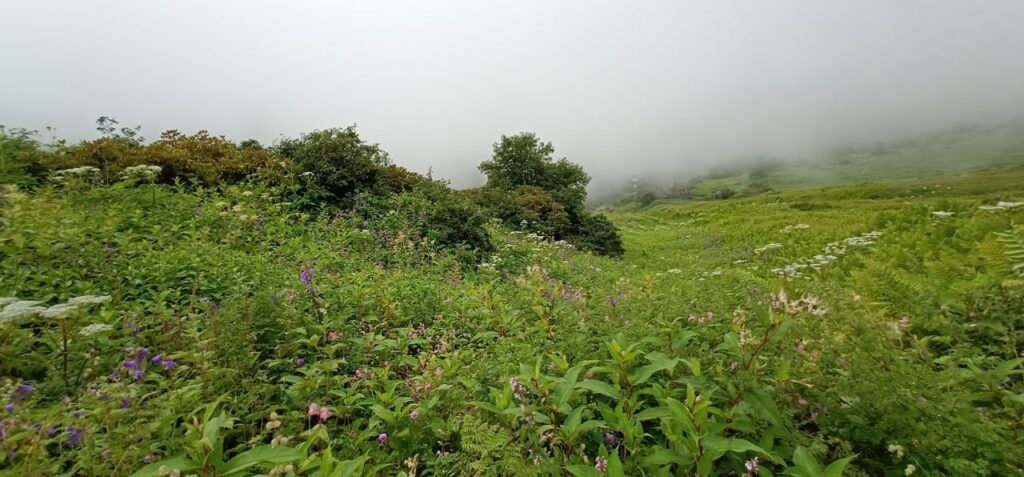 A fundamental check list
Valley of Flowers is an extensive trek. Therefore it will require far more planning and understanding about the critical facts. It is not similar to a quick gateway or a weekend outing. We recommend you to run over these pointers to make sure you are ready to go!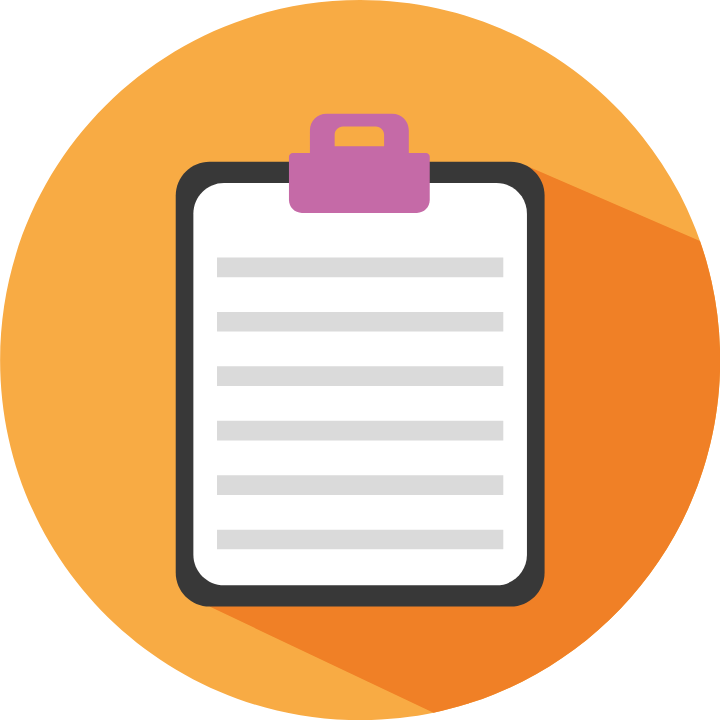 Plan in advance
Valley of Flowers and Hemkund Sahib trek are accessible just a few months in the year. They are open from June to October. It is the peak monsoon season when the flowers bloom in the Valley. Make sure you plan your trip in advance. One can also do this trip on their own/solo as the route is straightforward and the bookings can be done online. The trip can be roughly estimated to cost 5500 INR per person if you follow this itinerary on how to reach Valley of Flowers.
Nonetheless, you can also book on different travel platforms such as: Himalayan Climber
Thrillophilia
India Hikes
Suggested Read: 5 reasons why not to miss Valley of Flowers trek
Valley of Flowers trek distance
Valley of flowers trek is of moderate difficulty. . The trek is uphill with constant rainy atmosphere on the way. One has to reach from Govindghat to Pulna which is a 3 km motorable ride. It is a 11 km uphill trek from Govindghat to Ghangaria (9600ft) on the first day. Valley of Flowers is another 3+ km from there on Day 2 (11000ft). It also depends how much deep you want then want to go in the Valley. Count the same distance back to Ghangaria. Hemkund Sahib trek is steepest of all. It is 5km trek on Day 3 (14000ft) and again coming back to Ghangaria.
On the last day we have to go back downhill towards Govindghat. In addition, we should not forget the additional travel journey in order to reach Govindghat from our locations. Payable ponies are available at all routes, except for bad weather.
Physical Fitness
Valley of Flowers trek and Hemkund Sahib trek are a part of Upper Himalayas circuit. They are also a segment of Valley of Flowers National Park. Therefore, we can imagine how gigantic they could be! It is a continuous extensive trek with a combination of easy and moderate level difficulty. Valley of Flowers trek weather is moderate with rains when you reach Govindghat. But the temperatures are fairly low in Ghangharia. It is even 5-6 degrees at Hemkund Sahib Gurudwara.
It is advisable to start a short fitness regime few weeks before the trip. Also, the climate is cold and wet, and not to forget that this is located at higher altitudes. So one can feel shortage of oxygen. One must work on core strength by doing cardio exercises prior the trek. We must be physically and mentally fit enough to climb up on high altitudes with the given conditions. We are recommending the fitness regime so that you can reap the benefits without getting tired. Even otherwise, one is good to go as it is not a highly difficult trek.
Carrying Essentials
This rocky mountain trek in monsoon will require very necessary things which is a must to carry. Come quipped with a good waterproof backpack, waterproof shoes, raincoat, toiletries, trekking stick, warm pullovers and jackets, energy foods, water bottle, power bank, medical aid and other necessary trek essentials
. Valley of flowers trek has many shops on the way serving hot food, tea and dry packaged foods. Enjoy the views while taking small breaks at these outlets.
Facilities
From cascading waterfalls to steaming hot food, the trek to Valley of Flowers is bustling with constant stream of trekkers up until Ghangaria. The Government has installed good facilities to keep up the spirits of travellers to and fro. One can also find reasonable washroom facilities at every few kilometres. Mobile networks such as BSNL and Jio works up- until Ghangaria. We faced a complete cutout of electricity during our stay at Ghangaria. So we couldn't contact our families for the next few days. Make sure to keep your dear ones pre informed for any uncertainties. Keep power banks and extra batteries for your devices handy.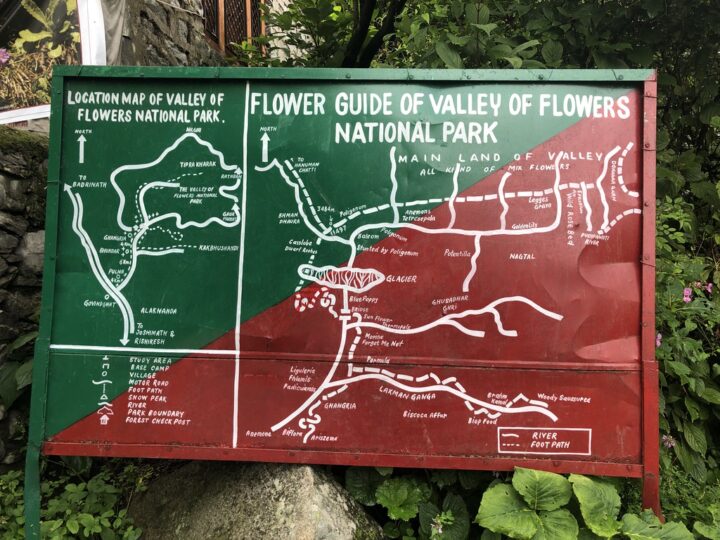 STEP WISE TRAVEL ITINERARY- How to reach Valley of Flowers
DAY 1 Rishikesh to Govindghat
The trek starts from Rishikesh which is also known to as Gateway to the Ganges. The distance from Rishikesh to Govindghat is 270km which takes more than 12 hours of journey. The State transport buses operate on these routes, which is also a safe and an economical option. Another alternate is to hire a cab so that you can go at your own pace and enjoy the views. One can also reach Joshimath which is a town one hour before Govindghat. Taxis cost roughly around 6000 INR for 4 person.
How to reach Rishikesh?
Air: Nearest airport is Jolly Grant Airport in Dehradun, which is 20 km away from Rishikesh. However, the most popular way is to take a flight to Delhi. There are many options available from Delhi.
Bus: From Delhi, take a bus to Rishikesh which would take you about 6 hours.
Cab/Taxi: If you are willing to shell a few bucks extra, one can hire a cab on shareable basis.
Train: There are plenty of trains running from New Delhi to Haridwar Junction. On reaching Haridwar, take a local bus/rickshaw for a 42 km ride to Rishikesh.
Your route from Delhi will look like: Delhi-Haridwar-Rishikesh-Joshimath-Govindghat-Ghangaria
Where to stay in Rishikesh? Find out.
Top places to stay in Rishikesh!
Our stay for the day: Ganga Tranquil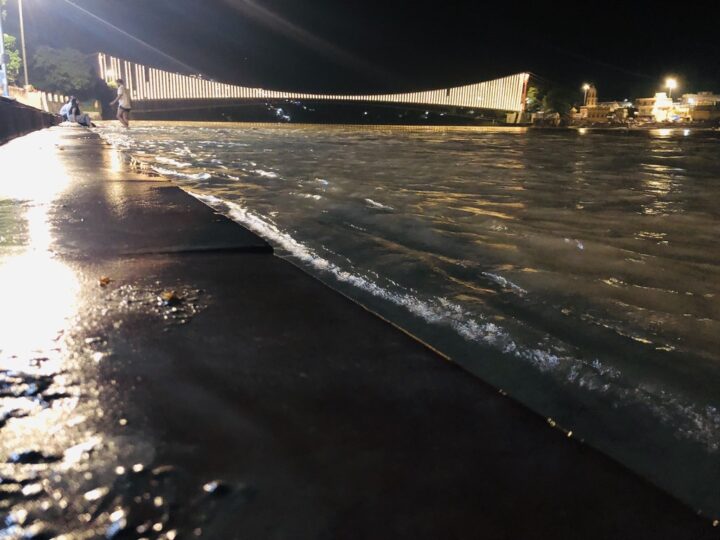 DAY 2 Govindghat to Ghangaria
Govindghat is located at an altitude of 6300ft. The road is easily motorable but it is prone to occasional landslides and bad weather. The trekking starts from Pulna, a 4 km drive further from Govindghat. Then onwards starts the 11 km uphill trek to Ghangaria situated at an altitude of 10000ft. The trek is of easy to moderate level difficulty. One can see that despite hundreds of people going to and fro on this trek, it is very clean and well maintained!
We recommend you to please contact your closed ones from Govindghat and keep them informed due to uncertainty of networks as you go up. Usually it takes 6-7 hours to reach Ghangaria. But if you find difficulty in trekking, we advise you to hire a pony from Pulna. One can also book a helicopter ride as well. You will find small shops at every few meters which provide hot savoury snacks/maggie and tea.
Ghangaria has a helipad and a space reserved for camping enthusiasts. The main village is still half a kilometres away from that point. It is a beautiful small village with shops lined up on both sides of the street selling local food and essentials. The Sikhs have established a Gurudwara for those who are traveling to Hemkund Sahib trek for pilgrimage. They provide free food and accommodation facilities. Also, there are many lodges and hotels available. The approximate hotel rates are around 700INR per person. The food costs around 250 INR per day.
You can stay at your pre-booked hotel in Joshimath.
Our stay for the day: Birla Guest House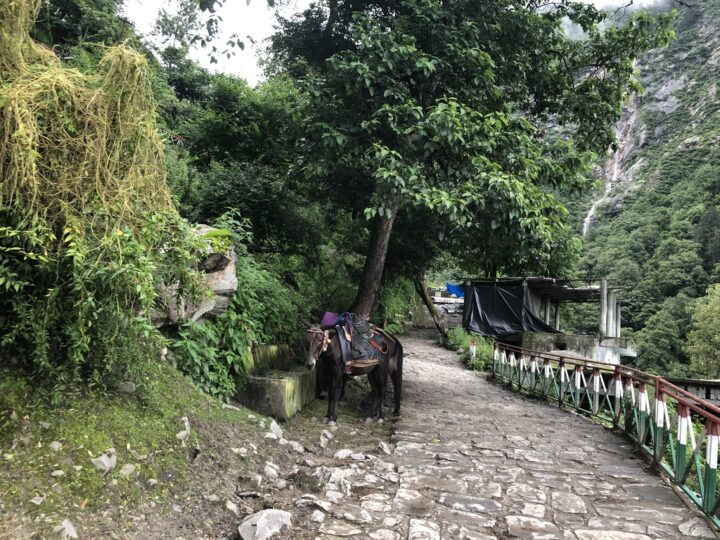 DAY 3 Reach Valley of Flowers from Ghangharia and coming back
After a peaceful night's sleep and proper rest, start the trek to Valley of Flowers early in the morning the next day at around 6 am for the 3+ km long trek. Reaching there early will give you ample time to enjoy this pristine Valley. Take an entry ticket at the gate which is at a nominal charge. As you go 1km further, you will see a long bridge across a huge waterfall cascading down to form Pushpawati River.
As soon as you start walking in, you will see plenty of flowers springing on the either side of the trail. There is no facility available to eat or stay overnight in the Valley, so carry light snacks, water, first aid and other rain essentials for a seamless experience. Also it is important to note that there is no camping permissible within the Valley. You should plan your journey back to Ghangaria by afternoon. Relax at your stay and take a stroll through the Village and visit Gurudwara in the evening.
There are very limited accommodation options to choose from at Ghangaria.
Our stay for the day: Hotel Shree Narayan
Suggested Read: Here's why Valley of Flowers is a UNESCO World Heritage Site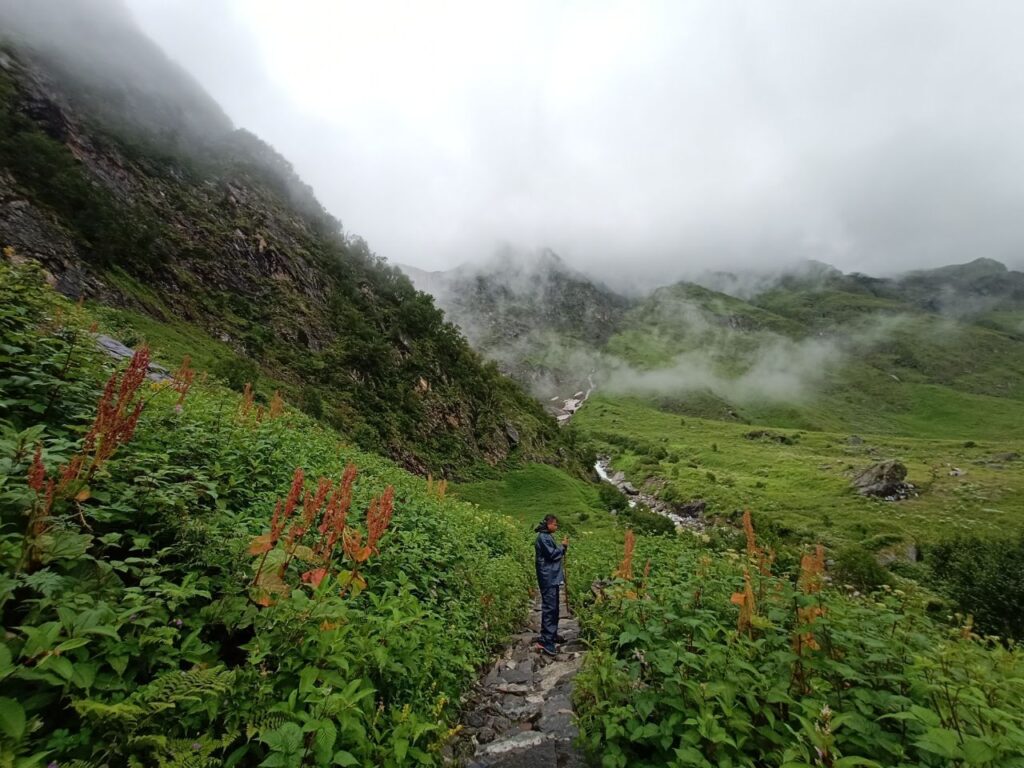 DAY 4 Reaching Hemkund Sahib from Ghangaria and coming back
Wake up early to start this trek and avoid the mishaps due to rains or unclear weather. You will see pilgrims gathering outside the Gurudwara in Ghangharia getting ready to go up. They chant bhajans and keep the spirits high so the trek doesn't feel tiresome but energetic instead!
Carry your trek essentials along with you. One can also hire ponies on this route. As you go further, you will continue to walk on a common path where afterwards one route deviates towards Valley of Flowers. The trek is not so difficult but it is steep at some places. As you go further up, one can see the distant mountains amidst which the Valley of Flowers lie. Later, one can also spot snow capped mountains in the distance. The air becomes thinner and it is colder as you go high. You will find a huge glacier on your left while treading up.
On reaching Gurudwara, have hot tea and curry served by volunteers. Afterwards sit inside the main temple and listen to Gurugranth Sahib. Visit the lake and Lakshaman temple. Start your journey back to Ghangharia by 2 pm. You can enjoy a documentary show in Ghangaria in the evening about Valley of Flowers.
Suggested Read: Discover spirituality at Hemkund Sahib Gurudwara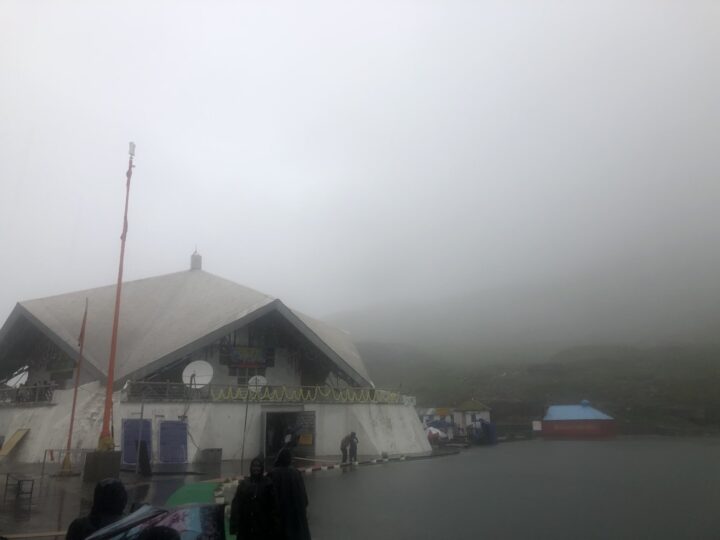 DAY 5 Ghangharia to Govindghat
The trek back to Govindghat is the same trail we took while going up. It is comparatively easy to climb down than going up. But both these treks- Valley of Flowers and Hemkund Sahib will certainly have had your heart already for certain! You can again see back the Pushpawati River flowing alongside the trek. Take a cab from Poolna and reach Govindghat. Stay overnight in Govindghat or Joshimath.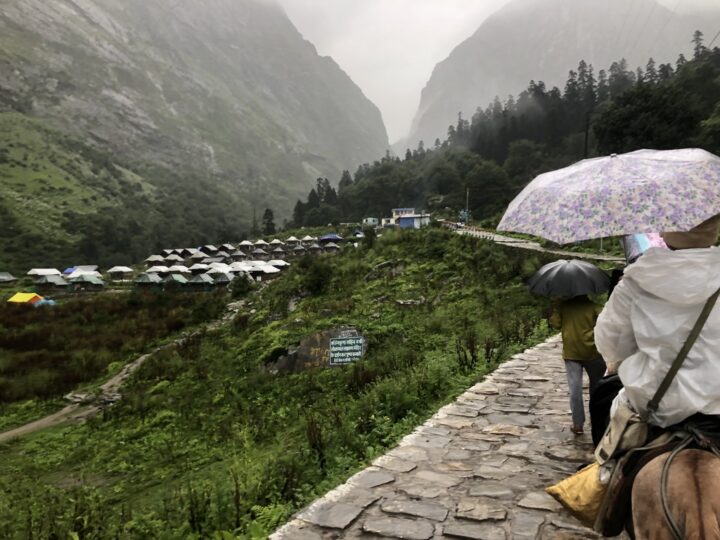 DAY 6 Govinghat to Rishikesh
Reach back to Rishikesh by bus/cab as preferred. You can expect to reach by 7pm. You can stop on the way to see the 'Prayag's' or confluences of River Alaknanda and Bhagirathi. Stay back in Rishikesh for the night and go to one of the buzzing cafes or sit down by the Lakshman Jhula to spend the evening and listen to the echoes of Ganges. You can go and see Parmarth Niketan Ganga Aarti if you can manage it on time. It seems strenuous when we think about how to reach Valley of Flowers but be assured to follow our complete guide as it is certainly made to help you out.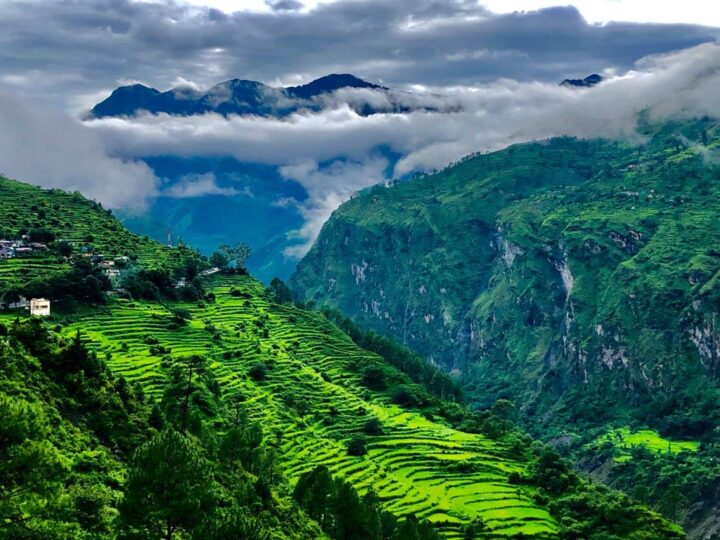 Helpful Tips
Book your stay well in advance. But we advise you to keep a buffer day. This is because it is a mountainous region and any mishaps can happen because of landslides or bad weather.
It is obvious to take an overnight bus to reach Rishikesh. But we advise you to reach a day before starting the long, rigorous journey so that you get ample rest and be prepared for the actual trek towards Valley of Flowers.
You can book ponies especially for your goods. Meanwhile you can trek yourself and enjoy the scenic beauty.
There are cloth and shoe drying facilities available in Ghangaria. You can also enjoy a 200 INR foot massage as well.
All the goods are twice the price as you go up from Govindghat because of the difficulty of access of these items.
There is a nominal entry fee to Valley of Flowers National Park.
Even with all this information, still unable to make your mind up for the trek. Let us convince you, why you should do Valley of Flowers trek?