Gokarna is a cozy coastal town in the North-Western Karnataka, India. There are various kinds of Places to Visit in Gokarna which range from temples and heritage to lush green hills and pristine beaches! Gokarna has something that will appeal to every kind of traveller be it the pilgrims, the Xplorers or the chillers! This is the Ultimate List of Places to Visit in Gokarna – Read on, Find your Picks and Pack your Bags!
Note – This blog is only about the Places to Visit in Gokarna. Since there are plenty of Places to Visit Near Gokarna, it can be a separate blog in itself. Hence, we have not included them here! So Stay Tuned!
Beaches to Visit in Gokarna
Gokarna is blessed with some of the best Beaches of India. These beaches are Clean, Safe and have amazing Blue Water! I am starting this list with the Beaches to Visit in Gokarna because this is what majority Travellers visiting Gokarna are looking for!
Gokarna Main Beach
Gokarna Main Beach is a long stretch of light yellow sand and gentle waves. It is located near Sri Mahabaleshwara Swamy Temple or the Gokarna Market. Because of this proximity to temple, Gokarna Main Beach is most visited by the Pilgrims visiting Gokarna. These Pilgrims take a dip in the Arabian Sea here before offering their prayers in the temple. There are also several shacks, campsites and cafes on this Beach. You can also find the Cocopelli Surf School here for some quick Basic Surfing Lessons!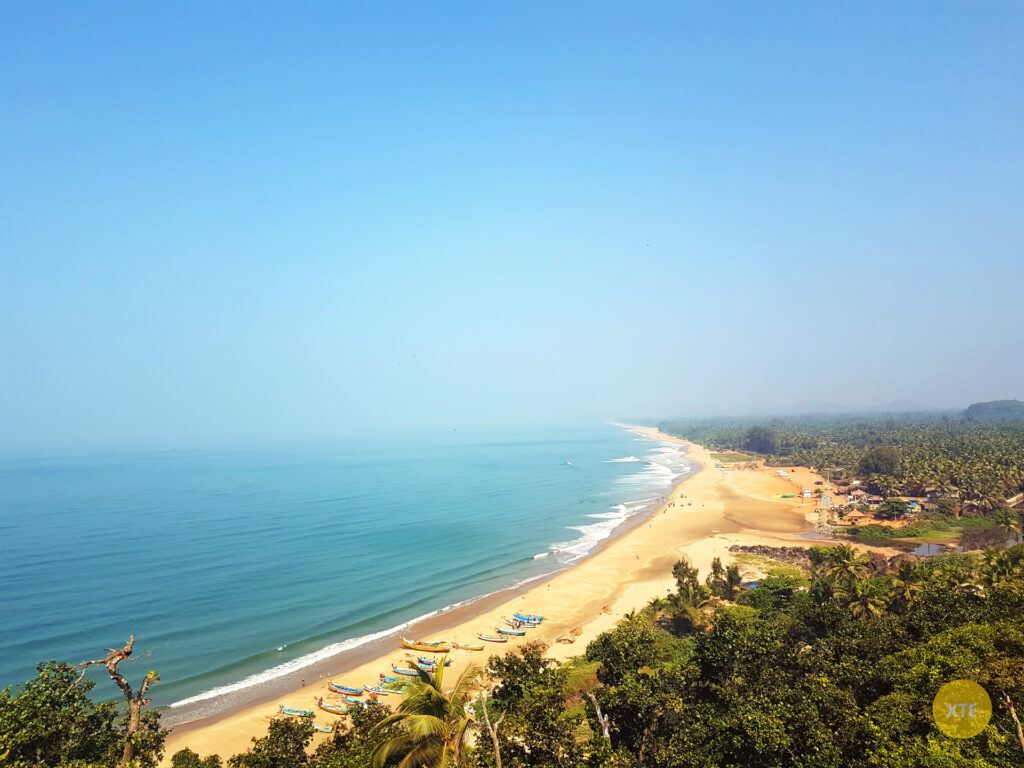 Kudle Beach
Kudle Beach is one of the best beaches of Gokarna for all the sea lovers! It is a curved stretch between two lush green hills creating a Grand Pool for swimming. One needs to be careful of the occasional high waves and not get too carried away while having fun swimming here! If you are visiting the Kudle Beach in the evening, you may also Xperience the Flea Market set up by travellers from around the world and locals. Apart from this, there are also many shacks here, offering a budget friendly stay right on the beach!
Om Beach
Om Beach Gokarna as the name suggests has an Om Shaped or Number 3 Shaped Shore. It has fine send in most parts and a few picturesque rocks too. Om Beach is the spot you need to be at for all the Water Sports and Adventure. These include – Kayaking, Banana Boat Ride, Jet Ski, etc. It is also a good spot for catching sunset and home to some amazing cafes!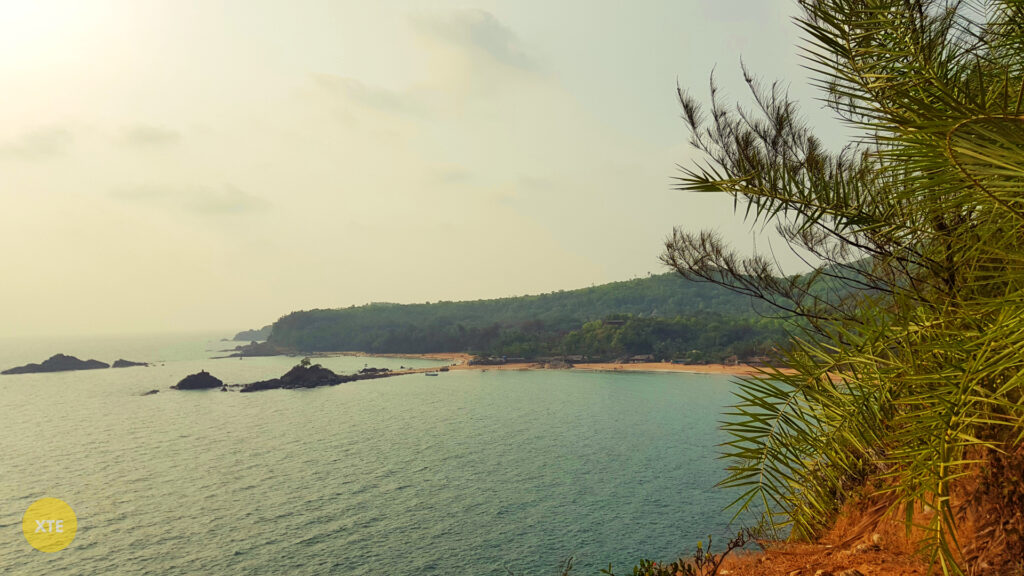 Half Moon Beach
Half Moon Beach Gokarna is a Crescent Shaped Beach, not that big or commercial! It is an inaccessible beach for most tourists. To reach Half Moon Beach, one needs to do a little hike from Om Beach or the Paradise Beach. Alternatively, one can also take a ferry to the Half Moon Beach. Swimming here is fun, but the continental shelf is a little deep as compared to other beaches. It has a few shacks that offer food and drinks.
Paradise Beach
Paradise Beach Gokarna is yet another secluded beach that is only accessible by a hike or a ferry ride! It used to be tourist free until recent times and you could even camp here for free back then. However, there is a campsite here now and you cannot pitch your tent here for free anymore! The beach is fairly rocky but there is ample space for swimming here.
These are the most popular and beautiful beaches in Gokarna. You can start from either Kudle Beach or Paradise beach and go Beach Hopping in Gokarna! You can cover all of these beaches on foot with a simple hike. It has an easy to spot spot the trail and most parts of the same have been marked on Google Maps as well! This is not the same as riding a bike to beaches or taking a ferry, but the views on the way make it all the more worth it!
If you are Xcited go for this trek, do check out our detailed guide on How to Plan Gokarna Beach Trek where we have explained the whole route in detail.
Gokarna also has several other beaches like Small Hell Beach or Hell's Beach, Belekan Beach and God's Own Beach. Small Hell Beach is a tiny stretch of sand that you can see/visit between Paradise Beach and Half Moon Beach. Belekan Beach and God's Own Beach are quite rocky shores and not exactly a sandy Beach.
If you are planning a beach holiday in Gokarna, we have made, a Complete Informative Guide with the details of every single beach in and around Gokarna, for like minded travellers!
Places to Visit in Gokarna apart from Beaches
Gokarna Market
Gokarna Market is the main road leading to Sri Mahabaleshwara Swamy Temple. There are a lot of shops selling general goods to touristy products, religious items, hippie products, souvenirs, musical instruments (especially Djembe and Ukulele) and other locally made products. The market has a similar feel to that of a funfair in a small town and you see all types of tourists shopping there. Do get something memorable or atleast something little from here and Support the Local Community!
Labyrinth (Sunset Point)
Labyrinth as marked on Google Maps is an arrangement of rocks in a circular formation. It is marked near the Kudle Hilltop Parking on the Google Maps. There isn't any known importance of the rocks but the sunset view from the hilltop is beautiful! You will feel very peaceful as well as witness the Grandeur of the Arabian Sea while watching the Sunset. Hence, you should definitely keep it in your list of places to visit in Gokarna!
Shiva Cave
Shiva Cave is the most offbeat place you can visit in Gokarna! It is a cave with a Shiva Lingam inside and lots of bats! It is not easy to find this cave and hence, not many people know about it. If you like something mysterious and quirky (or even bats) you should definitely go have a look at it. Other than that, if you want sometime away from a lot of people, you can just visit the cave and spend some peaceful moments here. However, the cave maybe dingy and smelly because of bats!
Hell's Cliff
Hell's Cliff is a dangerous (slightly) cliff located between Paradise Beach and Half Moon Beach. You can reach here only if you are doing the Gokarna Beach Trek. It is a good photo stop and a very peaceful place. You can refresh or hydrate here while on the trek or just wait peacefully for some time in hopes of Spotting a Dolphin. Chances are, that you will get Lucky!
Temples & Religious Sites to Visit in Gokarna
Gokarna has been a place of Religious Importance among the Hindus for centuries. There are several ancient temples here which are associated with different Gods or deities, stories and legends! Pilgrims have been visiting Gokarna since way before than Commercial Tourism began. Given its rich Historical and Religious Importance, these places are a definitely among the Places to Visit in Gokarna!
Sri Mahabaleshwara Swamy Temple
Sri Mahabaleshwara Swamy Temple is one of the oldest temple here. It was built in 4th Century CE. Hence, there are centuries old tales and interesting legends about why this Temple was built in Gokarna and why is Gokarna an important religious place. You can visit this temple and check for yourself. This is what welcomes thousands of pilgrims here every year.
Koti Teertha
Koti Teertha is a holy pond spread across 6 acres of land. It is surrounded by many smaller temples and it too has several interesting legends about its origins. There is a Shivji's Linga right in the middle of the lake. It is well known among pilgrims but not among tourists. Even if you aren't very religious, Koti Teertha is worth a visit.
Maha Ganapathi Temple
Maha Ganapathi Temple is yet another temple of religious importance. You may chose to visit it from the outside as pilgrims are required to maintain the dress code (no shirt, belt, etc.) and visit only after cleansing themselves. However, it is a must visit place for the Pilgrims as they have to worship here before they can go to Sri Mahabaleshwara Swamy Temple. Even if you chose not to visit the temple, you can still ask the locals or priests about the story of the temple. You will surely hear an interesting tale.
Shri Umamaheshwar Temple
Shri Umamaheshwar Temple is not as popular as other temples and religious sites. Instead, it is secluded on a cliff and not visited by many people. If you are looking for an isolated place on a cliff or seeking some peace, you can visit this temple. It is located on Gokarna Cliff (as marked on Google Maps) on a little climb near Kudle Beach Exit (Om Beach Side).
There are many smaller, bigger, colourful and ancient temples and religious sites present in Gokarna. If these things interests you, or if you have faith and time, you should definitely visit these. If nothing, you will definitely get some great shots for the Gram and interesting tales to tell!
Above mentioned, are all the Interesting Places to Visit in Gokarna for each and every type of Traveller. Such a varied range of places to visit in Gokarna makes it a wholesome destination!
Apart from these, there are plenty of Day Trip Options or Half-Day Trip Options near Gokarna! To name a few – Murudeshwar Temple, Mirjan Fort, Yana Rock Formation, Vibhuthi Falls, Netrani Island, etc. We have covered these in detail in our article Amazing Places to Visit Near Gokarna For Offbeat Travellers!
---
Got any questions about Gokarna? Let us know in the comments or DM us @xploretheearth on Instagram!
---
Planning to visit Gokarna soon? Check out the following Gokarna Itineraries for free –
Backpacking Gokarna
Xploring Gokarna
Helpful Resources for Gokarna –
A Complete Informative Guide to the Beaches of Gokarna
How to Plan Gokarna Beach Trek – Whole Route Explained!
Amazing Places to Visit Near Gokarna For Offbeat Travellers!
9 Best Offbeat Things to do in Gokarna
X TRIPS GOKARNA
Back in February 2020, before the Covid-19 Crisis, we had organised a unique and offbeat experience at Gokarna, Karnataka for a small group of like minded travellers looking for a bit of adventure and lots of experiences!
We spent 2 wonderful days in chilling on the beach, jamming at camp fire, kayaking and trekking & hopping across the beaches!
If you'd like to stay updated about the cool things we do, you can get on our mailing list!
PIN IT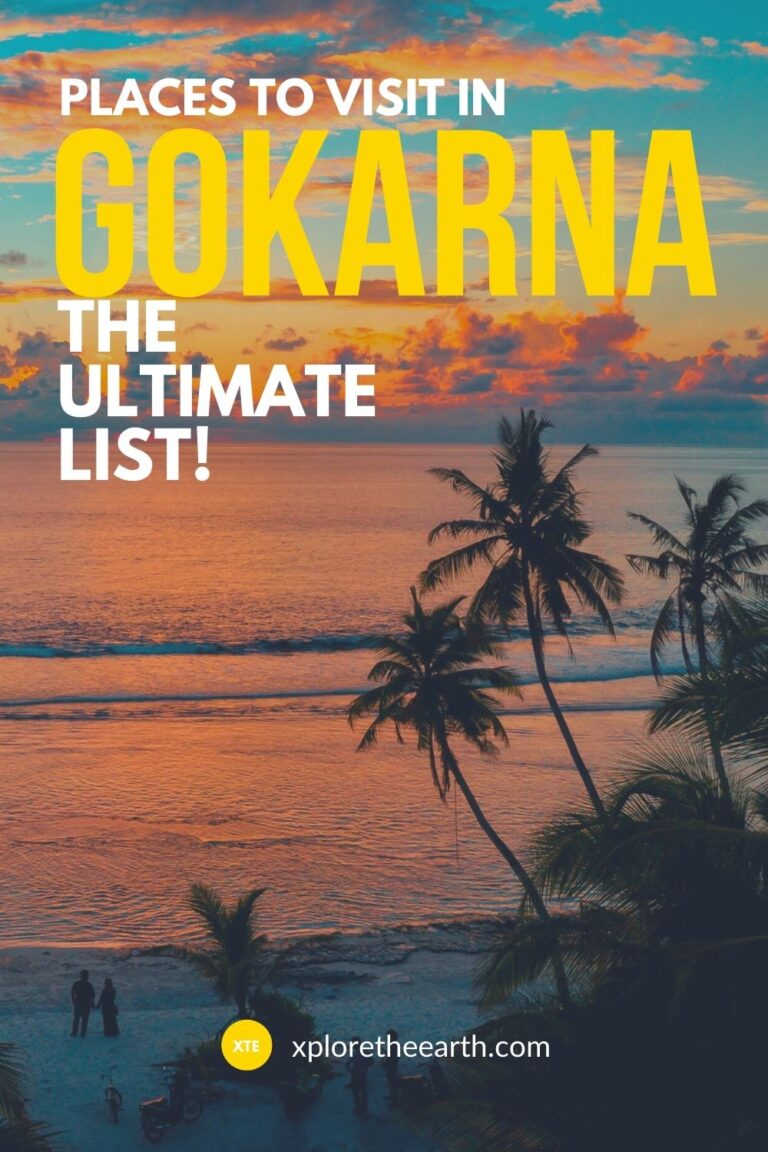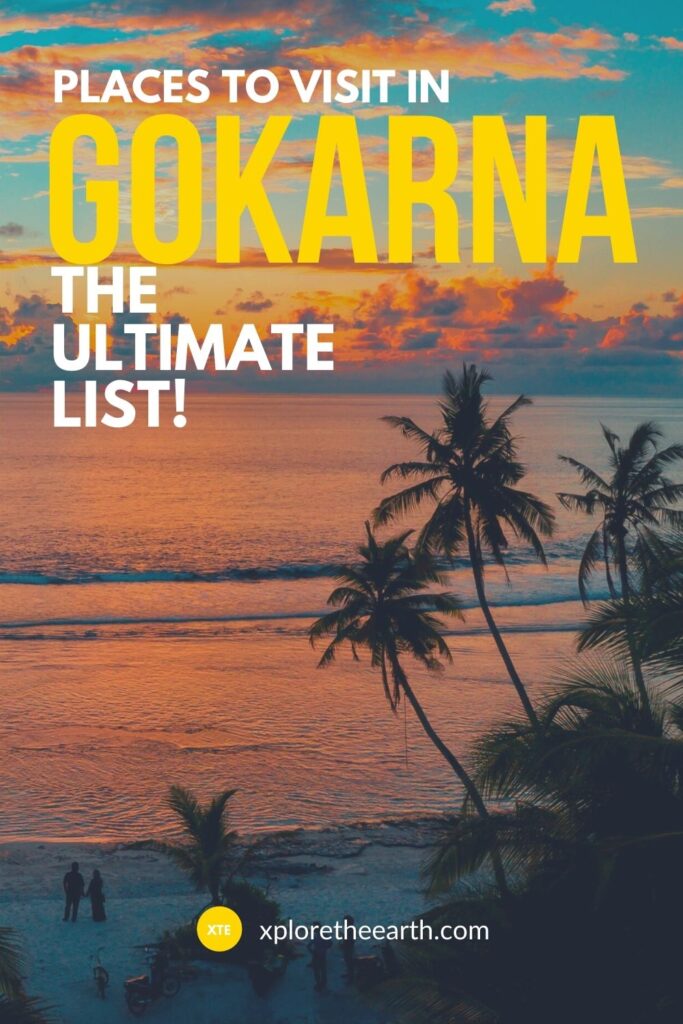 ---
Ensure you travel responsibly and keep your carbon footprint to the minimum. Happy Xploring!