Gokarna is a small coastal town in the north-western Karnataka, India. It has 5 beautiful beaches tucked in between lush green hills. It is not as popular as Goa, so going there is also an offbeat thing to do. I have been to Gokarna several times and kid you not, I still couldn't get enough of that place. I have listed down 9 Best Offbeat Things to do in Gokarna that you can try on your next holiday!
#1 Gokarna Beach Trek
Gokarna has 5 major beaches, namely – Gokarna Main Beach, Kudle Beach, Om Beach, Half Moon Beach and Paradise Beach. These beaches are all separated by small lush green hills and not all of them are accessible by road. Hence, one has to do the Gokarna Beach Trek to cover all of these beaches. The Trek is easy to moderately difficult and it can be attempted by even beginners. The trail is well marked on the Google Maps as well as there are directions marked on the way. We have explained the whole route for Gokarna Beach Trek and everything that you need to know about Gokarna Beaches in detial in separate articles.

Most of the tourists limit themselves until Om Beach and travel on rented two-wheelers or expensive autos. However, this trek is for anyone who loves adventure, amazing views, and also likes to chill in between. Hence, it is our #1 recommendation in 9 Best Offbeat Things to do in Gokarna!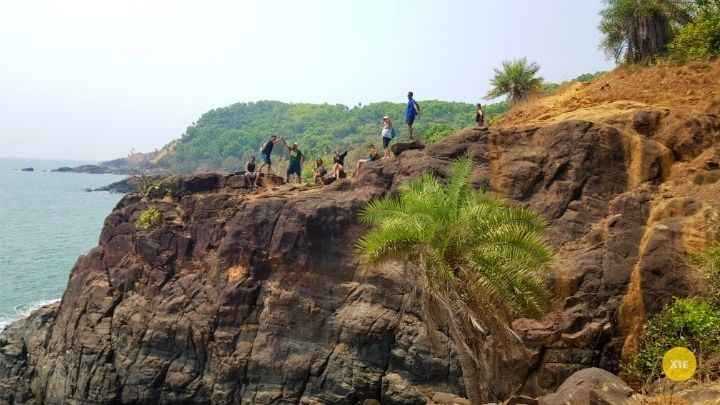 #2 Visiting Gokarna Temple
Gokarna is not just about pristine beaches and hip vibes but way more popular for its cultural importance, mythology and interesting legends! It is the home to the 4th-century CE built Sri Mahabaleshwara Swamy Temple. This temple alone attracts thousands of pilgrims every year, especially on Shivaratri Festival. A majority of tourists only visit the beaches, but if you are a curious soul who loves architecture and history, you should definitely checkout this historic monument.

P.S. – Do ask the locals/priest about the history and the legend of this place. It is very interesting.
#3 Camping at Paradise Beach
Gokarna too has its own Paradise Beach which is only accessible by a trek or a ferry. It is secluded between hills and barely any tourists used to visit the beach. Due to its isolated and distant geography, backpackers would often call it their home while their stay in here for weeks at a stretch. We have had a great experience of Camping at Paradise Beach Gokarna a couple of years back before there was any commercialization. Travelers usually prefer comfortable shacks or hostels for their stay in here but beach camping at Paradise Beach, under the stars is truly THE Offbeat Thing to do in Gokarna.

Paradise Beach Update 2021 – Paradise Beach is now controlled and commercial activities are now managed by some locals. They have set up a campsite on the beach and also provide kayaks on rent! If you still want to camp here, you need to stay in their campsite or pay a little rent to pitch your own tent.
#4 Learn Surfing in Gokarna!
We bet you did not see this one coming. Surfing culture is still not prominent in India and there are only a handful of locations where you can learn how to Surf! The Main Beach in Gokarna or the Gokarna Beach has a long coastline with clean blue waters and perfect waves for anyone who is just getting started. You can visit the Cocopelli Surf School to learn how to Surf. They provide lessons for beginners and non-swimmers too!

So next time you are dreaming about something as cool as Surfing, you know what to do! Also, if you aren't so much into intense water sports like Surfing, you can also try the leisure water activities like Banana Boat Ride, Kayaking, Jet Ski, etc. which are all available on the Om Beach.

P.S. – Gokarna's got something sorted for each one of us!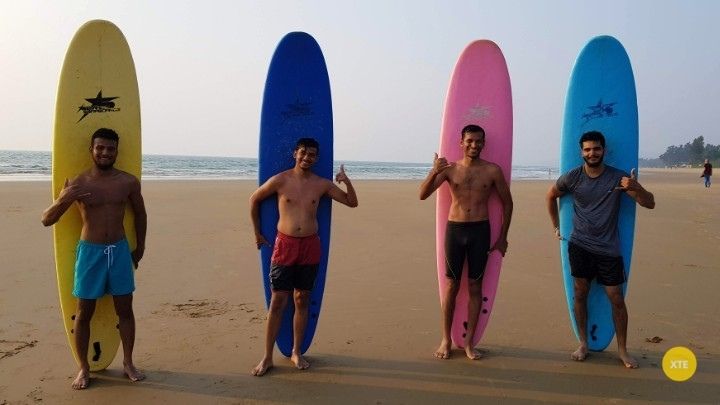 #5 Get awed by the Bio-luminescence in the Sea
Yes it is true that one can witness the bio-luminescence caused by phytoplankton along the shore at night in Gokarna. This is a rare phenomenon and is mostly visible at its best on New Moon nights. You can go on a Night Trek to Paradise Beach or observe it while your camping stay there. It is also visible from the Cliffs between Om Beach and Paradise Beach and from Nirvana beach which is a little far from Gokarna.

We would recommend that you go along with a local organizer instead of venturing out all alone to be safe.
#6 Yoga & Wellness on the Beach
If you think Gokarna is a place only for adventure seekers, nature lovers and pilgrims, you are wrong my friend. Infact, there are over 10 major Yoga Ashrams and Schools in Gokarna! YES! These Yoga schools offer a wide range of courses, stay options and packages to practice Yoga and Wellness in Gokarna. Some of these sessions are also held on the Beach! So, if you are looking for some peace, you may surely attain it at Gokarna as well.

Fun Fact – I met a German guy in Gokarna who has shifted here permanently and opened his own Ashram near Kudle Beach! Well now you know how LIT the Yoga Scene is here!
#7 Sunset at Labyrinth
We have some Good News for all the big time suckers for Sunsets! There are several Sunset Points in Gokarna which offer most mesmerizing Sunset views. It can be observed from the Beach Trek trail before and after Om Beach, as well from the Om Beach. All of these points have great views but – yes there's a but – there is one more Sunset Point which trumps all the others. It's called/marked on Google Maps as Labyrinth. This is a point near Kudle Beach Hilltop Parking, just before the beach and close to all the major hostels. The view of Sunset, the hills on the shore and the Sea itself is so Majestic that it will captivate you!
#8 Shopping at Flea Market & Gokarna Main Market
Shopping? You must be wondering what is so offbeat about Shopping in Gokarna and why is this even on our list of Best Offbeat things to do in Gokarna. Well the answer is simple. On one hand you have the town market where you find all kinds of touristy things which you may find in other beach locations or tourist places as well. You can shop for leather products, hippie clothes, beads, necklaces, jewelry, etc. There are several musical instrument shops as well, which make and sell great Djembes and Ukuleles. If you have been dreaming of playing one of these hip instruments, you might as well start your musical journey from Gokarna. After all, the best way to learn an instrument is to buy it!

On the other hand, as the sun sets, a hippie flea market starts on the Kudle Beach. Foreign Backpackers sell handmade jewelry, spices/herbs from foreign countries, instruments, etc.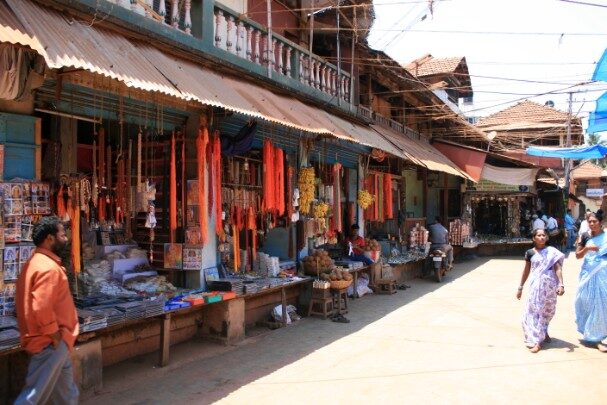 #9 Spot Dolphins
Fortunately, water near Gokarna Beaches is clean and fresh enough for Dolphins to Swim near the coasts. You can spot them easily on a ferry ride across the beaches and ferrymen are kind enough to shut the engine off and stop for a while when they spot Dolphins. These are mostly found between Om Beach and Half Moon Beach. You can also find them while trekking between these two beaches but this is rare as the cliffs are high and Dolphins are quite far.

True Story – I saw Dolphins just a couple of metres away while Kayaking off the Om Beach Shore. The locals suggested that they are pretty close to the shore when there is less movement, i.e. before 9 AM and around 4 PM.
To conclude, Gokarna is a destination that has something to offer everyone! This list is for everyone who wants to do something offbeat rather than riding bikes to beaches or just sipping beer by the beach! If you have more time to spare, you can take a day road trip to various places in proximity. Amazing Places to Visit around Gokarna are –
Murudeshwar Temple
Netrani Islands for Scuba Diving
Mirjan Fort (During/Post Monsoons)
Vibhooti Falls & Yana Rock Formation
Jog Falls
---
What are you Most Excited to try in Gokarna? What are your favourite things to do in Gokarna? Comment and Let us Know! 🙂

Reach out to us on Instagram @xploretheearth
---
Planning to Visit Gokarna Soon? Check out the following Gokarna Itineraries for Free:

Backpacking Gokarna
Xploring Gokarna
Helpful Resources for Gokarna –
Places to Visit in Gokarna for All Travellers – An Ultimate List!
How to Plan Gokarna Beach Trek – Whole Route Explained!
Amazing Places to Visit Near Gokarna For Offbeat Travellers!
A Complete Informative Guide To The Beaches Of Gokarna
X TRIPS GOKARNA
Back in February 2020, before the Covid-19 Crisis, we had organised a unique and offbeat experience at Gokarna, Karnataka for a small group of like minded travellers looking for a bit of adventure and lots of experiences!
We spent 2 wonderful days in chilling on the beach, jamming at camp fire, kayaking and trekking & hopping across the beaches!
If you'd like to stay updated about the cool things we do, you can get on our mailing list!
PIN IT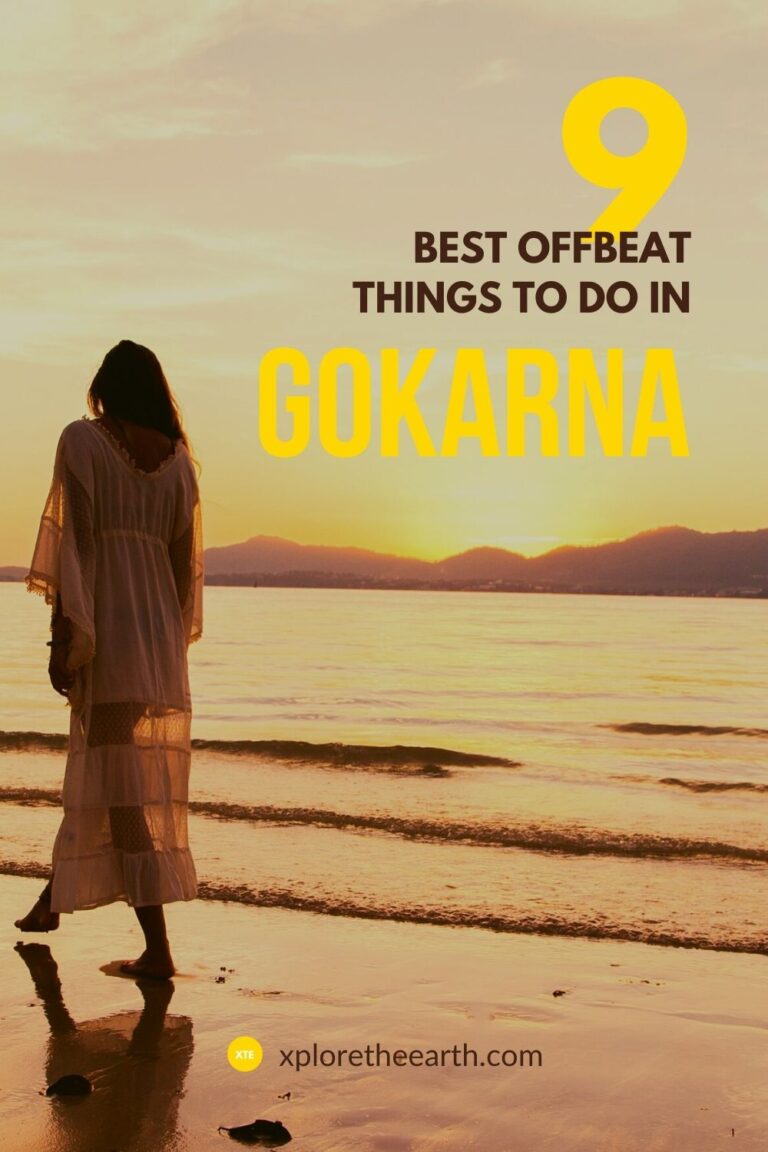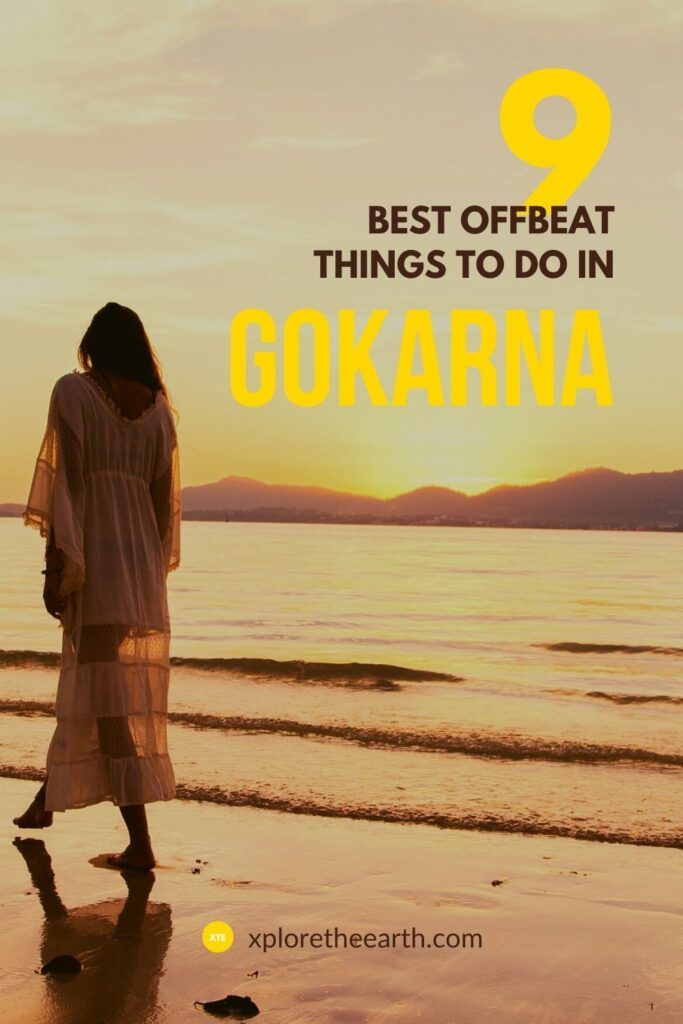 ---
Ensure you travel responsibly and keep your carbon footprint to the minimum. Happy Xploring!