Gokarna is a True Beach Paradise in the northern part of Karnataka! It has five major beaches which have clean water, gentle waves and amazing views! These are – Gokarna Main Beach, Kudle Beach, Om Beach, Half Moon Beach and Paradise Beach. There are lush green hills in between these beaches which makes Gokarna an even more interesting place to visit. These hills not only add to the overall charm of Gokarna's landscape, but also open us to the fun-filled Gokarna Beach Trek! In this blog, we will explain everything that you need to know about How to Plan a Gokarna Beach Trek!
About the Gokarna Beach Trek
Gokarna Beach Trek is the fun way to go Beach Hopping in Gokarna. You may start the Trek from either Kudle Beach side or Paradise Beach side. Aim of this trek is to cover all the major beaches of Gokarna on foot by crossing the hills standing in between these beaches. These hills have a green cover for better part of the year and stand mightily against the majestic Arabian Sea.
The Gokarna Beach Trek is approximately a 10 km long trek cum hike including walking through the beaches. The whole journey would include one way ferry ride and one way trek. It can easily be done in around 5-6 hours although it depends upon how much time would you spend at all the beaches, for lunch and photo stops. Gokarna is a hot place and sun gets quite harsh during the summer months. Hence, best time to do this trek is from October to February.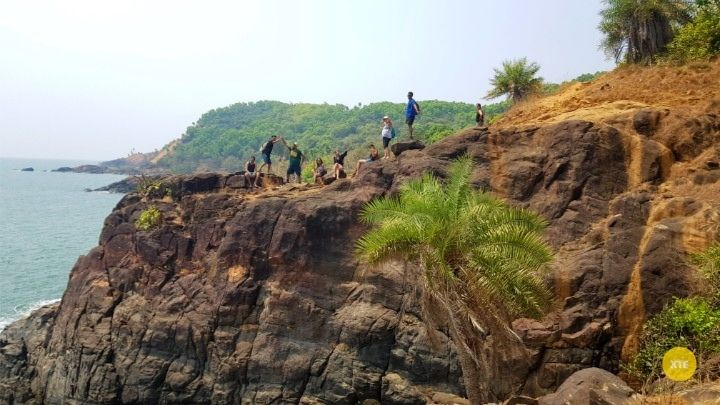 How difficult is the Gokarna Beach Trek?
Gokarna Beach Trek is an easy trek for any average person with basic fitness. That is, if you are active atleast a few times a week, its going to be an easy trek for you. This is not a very arduous trek though the sun could be a little harsh. So apply sunscreen and be hydrated for a fun day! The major part of the trek involves hiking through the hills and crossing the same to arrive at the next beach. However, there is a little climbing, crossing of rocks and boulders on the way too.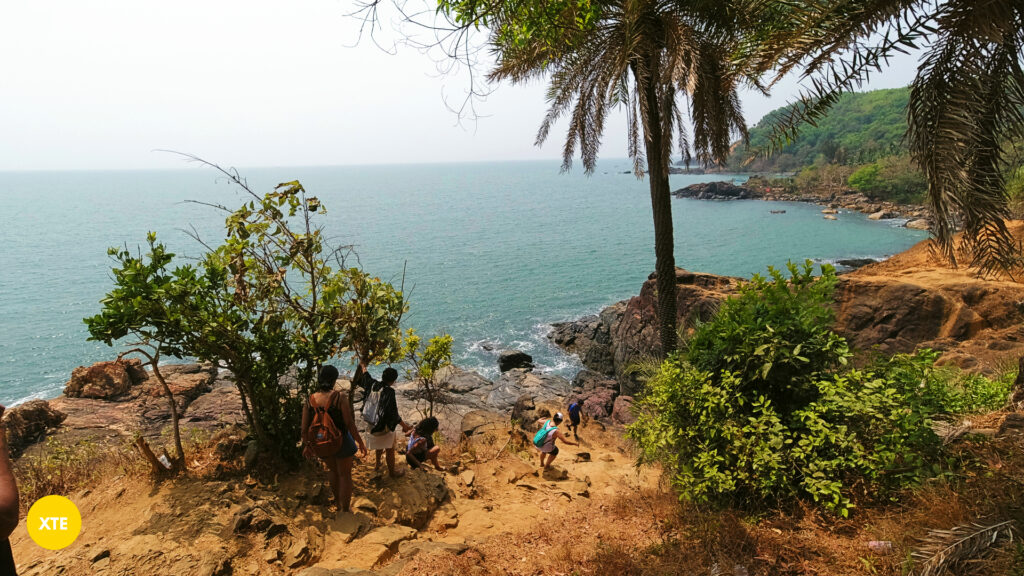 ---
Help us write more such blogs & create more YouTube Videos!
A small amount contributed by you could help us sustain and keep doing what we love – sharing helpful travel information for you all!
---
Why should you do this Trek?
You may ask us why should you do the Gokarna Beach Trek but we will ask you WHY NOT! We have done this trek multiple times and here is Why Everyone Should Do the Gokarna Beach Trek –
Hiking along the coast is THE BEST WAY to Xplore Gokarna and Xperience its true beauty! So ditch the idea of renting a vehicle and going to these beaches!
Your vehicle will not be able to take you to all the Beaches! Half Moon Beach and Paradise beach are accessible only by a hike or ferry!
Ferry Ride is expensive! If you plan to visit multiple beaches, its best to do so on foot! One way ride from Om Beach to Paradise Beach will cost around Rs.300!
The views you get to see on this Trek are worth all the effort you put in! It is such a Rewarding Xperience in itself! If you are a lucky enough, you can Spot Dolphins from a few cliffs near the Half Moon Beach!
It is among the only few destinations or activities that offer hills as well as beaches together. You get to hike and you get to swim multiple times in a single day!
Gokarna Beach Trek – All Details
Gokarna Beach Trek mainly covers the four major beaches of Gokarna – Kudle Beach, Om Beach, Half Moon Beach and Paradise Beach. You may also cover the Gokarna Main Beach and Belekan Beach but these can be skipped. Before moving to details, check out the kind of Views you will get on this trek below!
Where to start the Trek from?
Option 1
The Gokarna Beach Trek can be started from either of the extreme ends – i.e., Gokarna Main Beach or Belekan Beach. However, there isn't really any trail in between Gokarna Main Beach and Kudle Beach. You have to take the usual road to reach at Kudle Beach and this is why Gokarna Main Beach is not a part of the Gokarna Beach Trek. So you may start the trek at Kudle Beach and start proceeding towards Paradise Beach.
The advantage that you get in this option is that you can spend more of morning time on Kudle Beach and Om Beach which are the most fun to swim at. In addition to this, the later half of the trek – after Om Beach, is mainly through the forest. This is more relieving when the sun is shining brightly. However, either ways it is not that big of a problem.
The main disadvantage of this option is that last ferry is available at around 5:30 to 6:00 pm and you really have to aware of the time to make it back to your stay unless you are staying on Paradise Beach. Another disadvantage of this option would be that there are very few ferries that drop you until Kudle Beach. Most ferries only drop you till Om Beach and incase you are late, you may still have to hike back towards Kudle Beach in the dark, which is not really safe. If you plan on catching the sunset from Labyrinth on the same day, this option is not very feasible for you.
Option 2
Alternatively, you may choose to start the Gokarna Beach Trek from Belekan Beach or Paradise Beach. If you join a group tour from Bangalore or any other city, your trek will mostly start from Belekan Beach. There isn't much sand or a long coastline at Belekan Beach, it is just a point upto which the Tour Operator can take you on the Road from the other side. If you are doing this trek without a tour operator (which is very much feasible and possible) you can instead take a ferry to Paradise Beach and start the trek directly from there. You will just be missing out on the 1 – 1.5 km hike from Belekan Beach to Paradise Beach.
This option has two main advantages. You are not in any pressure to catch a ferry by the end of the day. If you start early enough you will have ample time to chill at every single beach and have a peaceful lunch as well. You will also be back in time for the sunset. Another advantage of this option is that early in the morning (around 10 am), when there haven't been many ferry rides, chances of spotting Dolphins on the way to Paradise Beach are higher.
The only disadvantage of this option is that frequency of ferries from Kudle to Paradise Beach is less and you might have to trek until Kudle Beach to Om Beach in case the ferry is not available.
Hence, in our opinion, if your stay is near the Kudle Beach, you should start the Gokarna Beach Trek from Paradise Beach.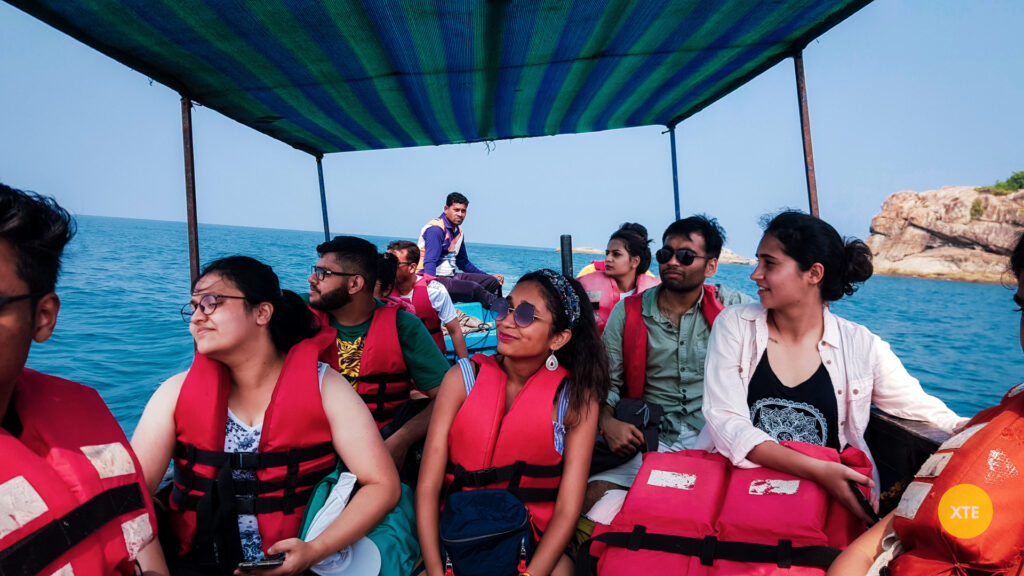 Gokarna Beach Trek Route
The trail for Gokarna Beach Trek is easily identifiable on the whole route and there are also various directions and graffiti marked on the way. The trail is also marked on Google Maps and we have also traced one for you. You can directly open it on your App by clicking here.
Paradise Beach to Half Moon Beach
Arrive at Paradise Beach, swim for a while, have a coconut and you are good to go for the trek! Paradise Beach to Half Moon beach is the one of the toughest parts of the whole trek (as compared to other parts). There is a little rock and boulder climbing in the beginning. As you go forward, the trail is gradual uphill and the views you get are amazing! On the way, you will come across two photo-stops called the Small Hell Beach and Hell Cliff. If you wish to get off the trail and visit these spots be careful of the rocks. They might be a little slippery and challenging. A little further ahead is another photo-stop pinned as Friends Beach on the Maps. There are many picturesque spots on this route and if you are lucky you may spot some dolphins as well.
Half Moon Beach to Om Beach
After chilling at the Half Moon Beach for a while and refreshing yourself, you can start your journey towards the Om Beach. There's a little bit of a climb in the beginning followed by a gradual trail through trees. This part of the trek again is a lot of fun! There is a cliff just before the Om Beach which offers a beautiful view of the whole Om Beach. You can see the Om Shape of the beach from top at this point. It is pinned as Om Beach View Point. Hence, stopping here is really worth it. A little ahead after this point is the pristine Om Beach! Spend a playful afternoon at the Om Beach – swimming, kayaking, playing beach games, clicking pictures on top of rocks, and finally by having an amazing lunch!
Om Beach to Kudle Beach
You may start your journey towards the Kudle Beach post lunch. Om Beach to Kudle Beach is the easiest of all of these hikes. There are a few steps on the left once you exit the Om Beach which lead to the next trail. If you are tired, you can even take an auto from this exit. You can take a short detour and visit Shri Umamasheshwar Temple just before the Kudle Beach. The trail on the left near the Kudle Beach steps leads to the temple. On the other hand, the steps near Kudle Beach directly take you down at the Kudle Beach. Kudle Beach is the best beach to swim at because the continental shelf is fairly shallow and waves are fun. However, be careful and don't venture away if the sea/waves aren't so friendly.
This marks the end of the amazing Gokarna Beach Trek.
---
Help us write more such blogs & create more YouTube Videos!
A small amount contributed from you could help us sustain and keep doing what we love – sharing helpful travel information for you all!
---
Things to Carry for Gokarna Beach Trek
If you are visiting Gokarna for more than just the Gokarna Beach Trek, you would require a couple more things than what we are listing here. Ideally, you should not carry a lot of things on this trek since it is pretty hot in Gokarna. Things to carry for Gokarna Beach Trek would really depend upon how are you travelling and if you intend to swim or do water sports or not. Following tips and list of things should help you find what would be best for you –
Clothes – A pair of t-shirt and shorts would do. Anything that dries quickly and is comfortable for hike as well as swimming.
Footwear – People recommend trekking shoes for this trek but the trek is fairly easy to be done in sandals too. Sandals are also more convenient to take off and wear again without a lot of sand getting inside at the beach or after swimming.
Towel/Napkin is must unless you do not mind drying naturally under the sun. Keep a reusable plastic bag so it does not damp the things inside the bag.
Don't carry more valuables than you need. Phone, camera, power bank and a little money should do – for ferry, water sports and food.
Water – You must carry atleast one reusable water bottle to stay hydrated. You can request and get it refilled at the shacks on the beaches.
You may apply sunscreen and leave but it will be washed away and ineffective after a while. Or you can also carry it and apply it after each swim.
Sunglasses, cap, or any other personal items.
This brings us to the end of this detailed guide to Gokarna Beach Trek! Be careful on this trek and do not wander out alone or in the dark if you are not experienced. Find local guides – ask your stay managers – if you need them. Be careful in water as well, even if you are a professional swimmer. Practice caution wherever you go.
---
Got any questions about Gokarna? Let us know in the comments or DM us @xploretheearth on Instagram!
---
Planning to visit Gokarna soon? Check out the following Gokarna Itineraries for free –
Backpacking Gokarna
Xploring Gokarna
Helpful Resources for Gokarna –
Places to Visit in Gokarna for All Travellers – An Ultimate List!
A Complete Informative Guide to the Beaches of Gokarna
Amazing Places to Visit Near Gokarna For Offbeat Travellers!
9 Best Offbeat Things to do in Gokarna
---
Help us write more such blogs & create more YouTube Videos!
A small amount contributed from you could help us sustain and keep doing what we love – sharing helpful travel information for you all!
---
X TRIPS GOKARNA
Back in February 2020, before the Covid-19 Crisis, we had organised a unique and offbeat experience at Gokarna, Karnataka for a small group of like minded travellers looking for a bit of adventure and lots of experiences!
We spent 2 wonderful days in chilling on the beach, jamming at camp fire, kayaking and trekking & hopping across the beaches!
If you'd like to stay updated about the cool things we do, you can get on our mailing list!
PIN IT!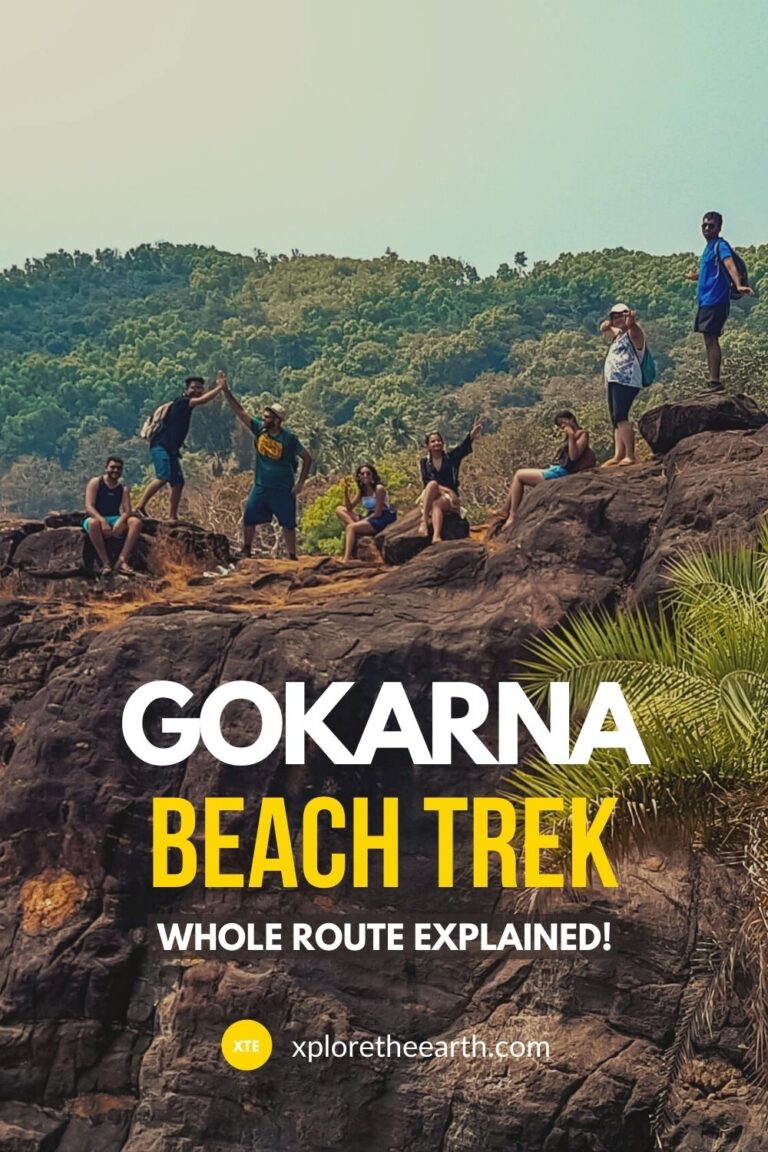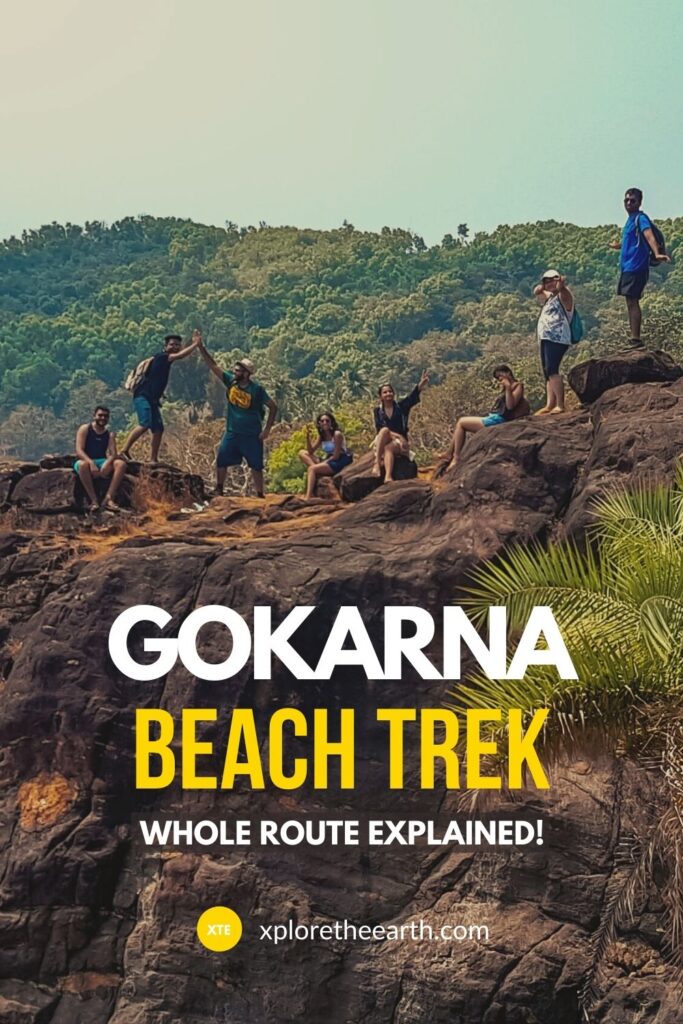 ---
Ensure you travel responsibly and keep your carbon footprint to the minimum. Happy Xploring!