Gokarna is the home to one of the most scenic beaches in India. Beaches of Gokarna are fun to swim at, less crowded and very clean! This is what makes Gokarna one of the best alternatives to Goa for every Beach Lover. There are five main beaches in Gokarna and a few others within the close proximity of the town/nearby towns. This is a complete Informative Guide to the Beaches of Gokarna. Read on to know everything about Gokarna Beaches – how to reach, activities & water sports and food & stay options at each of these beaches!
1. Gokarna Main Beach
Gokarna Main Beach is the longest beach among the Beaches of Gokarna and its entry point is right near the Mahabaleshwara Swamy Temple. It is mainly visited by the pilgrims visiting Gokarna for a dip before their temple visits. Despite this, there are many cafe's, yoga institutes, shacks and campsites.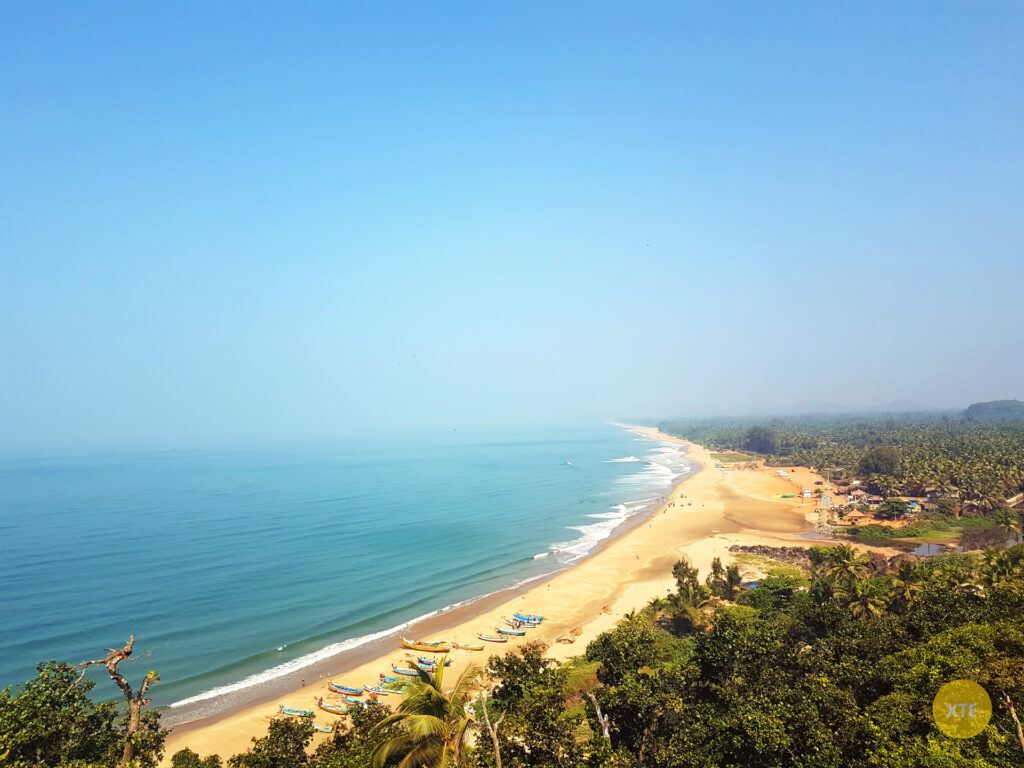 How to Reach Gokarna Main Beach?
You can reach Gokarna Main Beach through the road leading to Sri Mahabaleshwara Swamy Temple. You need to take a right from the end of the road and there will be a road leading upto the beach. It is at a walking distance from the temple as well as Gokarna Bus Station. However, if you have a lot of luggage and you don't mind spending a few bucks, you can take an auto from the bus station until the end of the road. But again, the auto drivers may only drop you near the temple and still charge you a bomb!
What are the Things to do at Gokarna Main Beach?
Eat at one of the many cafes and shacks on the Main Beach.
Stay at one of the beach facing shacks or campsites!
Watch Sunset from one of the cafes!
Take Basic Surfing Course at Cocopelli Surf School.
Look out for stays that offer Yoga Sessions or short term courses!
Play Volley Ball or other Beach Games!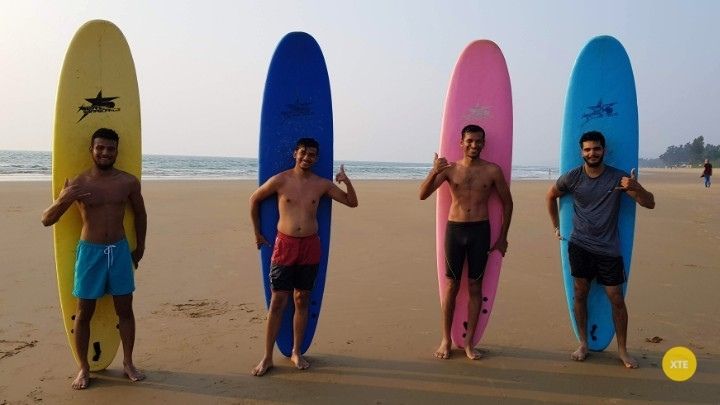 2. Kudle Beach
Kudle Beach is located southwards from the Gokarna Main Beach and is one of the best beaches in Gokarna to swim at! The waves on Kudle Beach are quite gentle and fun. However, the waves do keep getting higher from time to time so be careful. Kudle Beach is fun to swim at because it is locked in between two green hilltops which create a swimming pool in between. It is also fun to just soak in some sun and chill at the beach given its broad width. Kudle Beach also has a lot of cafes and shacks at the back of it and it is probably the most you will see on any beach.
How to Reach Kudle Beach?
Kudle Beach is accessible by roads on both the ends of it. There is ample parking space – for two-wheelers atleast – on both the ends. From these ends, one has to take steps which lead further down to the beach. There are two roads that lead to Kudle Beach on the northern side and another road that connects Kudle Beach and Om Beach on the southern side. Kudle Beach can also be reached at by a ferry for travellers staying far of at Paradise Beach or any other beaches. However, the frequency of the ferries to and from Kudle Beach is quite low.
---
Help us write more such blogs & create more YouTube Videos!
A small amount contributed from you could help us sustain and keep doing what we love – sharing helpful travel information for you all!
---
What are the Things to do at Kudle Beach?
Spend the most swimming time here as compared to other beaches. Do check the tidal and sea conditions and always be alert!
Shacks on Kudle Beach are a good option to stay at too if you are looking for cheap accommodations or beach facing stays!
Buying beach accessories – towels or balls or Frisbee – there's a shop at the southern corner!
Float in the sea if you know how to float or you can even learn to float here!
Sunbathing and chilling or just laying down and reading a book!
You can also make sand castles on the beach – it has plenty of space to do so and you will also see many tourists doing it!
Visit the Kudle Beach Flea Market in the evenings! Travellers from foreign countries sell various things on the beach in the evening. They have local or hand made jewellery, spices from other countries, and lots of interesting stuff!
3. Om Beach
Om Beach is the most popular beach in Gokarna. It gets its name from the half om shape of the coast which looks like the number three. Om Beach has two semi circle coasts adjacent to each other and is a paradise for water sports! There are also huge rocks in the middle and edges of these semi circles that make it a very photogenic place!
How to Reach Om Beach?
Om Beach can be reached at by road, water as well as hiking! There is a road that leads to the northern entry point of Om Beach. You can come here directly from Kudle Beach. Om Beach also has frequent connectivity through the ferries. However, the best way to reach Om Beach is by hiking from Kudle Beach in the north and Half Moon Beach in the south! The trail is easy to follow and the views are amazing! You will also get a full view of this Om shaped Beach from one of the view points on the trail! Hence, it is the best way to reach Om Beach!
What are the Things to do at Om Beach?
KAYAKING! Om Beach has a few water sports – kayaking, jet-ski, banana boat ride, etc. – but my personal favourite is Kayaking and I highly recommend it to everyone!
Cafe Hopping! Om Beach has a few very popular cafes that you can check out and Om Beach would be a right spot to stop at for lunch on your Gokarna Beach Trek. You also get drinks at some of these cafes/shacks.
You can also swim at Om Beach if you feel like it, but in my opinion, Kudle Beach is way better!
Beach Games – Frisbees and a lot more!
Click all those fake candid pictures the rocks here, for the gram! But please be careful and don't fall off in the sea!
Witness a beautiful sunset from the rocks or the beach itself! People love sunset at Om Beach and it is pretty amazing (however, our favourite susnet point is Labyrinth)
4. Half Moon Beach
Half Moon Beach is a crescent shaped beach which is tucked in between hills, lush green forest and sea! It is the most peaceful beach in Gokarna now, given how popular the Paradise Beach has become! It is barely commercialized. So there are only a couple of shacks which offer decent enough food and beverages! It is fun to swim at this beach as well, but the water gets quite deep even near the coast and the waves are pretty strong as well, so one has to be really careful. It is a great beach to chill and relax at.
How to Reach Half Moon Beach?
Half Moon Beach is only accessible by a ferry or by the Gokarna Beach Trek. There is a trail coming from Om Beach as well as the Paradise Beach. The views before and after the Half Moon Beach on this trail are the best on the whole route. Ferries from Om Beach or Paradise Beach or any other beach can also bring you here but it will be expensive and the frequency is very low.
What are the Things to do at Half Moon Beach?
Half Moon Beach does not have many commercial activities and hence it is a very peaceful beach. It is not very big either and hence, it is best suited for chilling, resting and spending some alone time! You can sit here for hours just enjoying the views and sipping your beverage! It is also a good spot to refresh on the Gokarna Beach Trek since the hike from Paradise Beach to Half Moon Beach is the most challenging one on this route.
5. Paradise Beach
As the name suggests, Paradise Beach is a true Paradise in Gokarna! It is a very small beach, fun to swim and it used to be empty until recent years! Only backpackers and hippies used to camp here and chill at the beach but now it has gained a lot of popularity! Yes, had you gone to Paradise Beach before 2019, you could have camped on the beach for free with no one to disturb you! You could tie your hammock on any of the trees and literally sleep on the beach!
So How is Paradise Beach like now in 2020?
I have stayed at Paradise Beach for free on my first trip to Gokarna! But now locals have set up a campsite there and they have the exclusive rights of operating commercial activities on the beach. You can still pitch your tent and live for a little lower price with their permission! There are also some basic food options, coconut vendors, etc. on the beach. You can also go for Kayaking on Paradise Beach. It has just started recently.
How to Reach Paradise Beach?
Paradise Beach is only accessible by a hike or ferry. There are regular ferries operating across these beaches and Paradise Beach is usually a frequent stop. However, the best way to reach Paradise Beach is by hiking from either Half Moon Beach or Belekan Beach. You can park your vehicle on Belekan Beach at one of the shacks for some fees and started the whole Gokarna Beach Trek from here. If you have started your trek from the Kudle Beach side, you will have to hike from Half Moon Beach to Paradise Beach. Either ways, the trail is simple and the trek is moderate but the views are worth every effort!
What are the Things to do at Paradise Beach?
Swimming at Paradise Beach is fun, but don't spend a lot of time swimming here
Night Camping at Paradise Beach is an amazing Xperience! Try to camp here in your own tent or at the campsite here.
There are very few spots in India where you can witness Phytoplankton Bio-Luminescence and Paradise Beach Gokarna is one of them! So, plan your Gokarna Trip and Night Camping at Paradise Beach on a New Moon Night.
Night Trek in the forest with the guidance of local organizers is yet another awesome Thing to do at Paradise Beach Gokarna!
Kayaking has also begun in Paradise Beach recently.
These are the 5 Main Beaches of Gokarna! We have explained everything about the Gokarna Beach Trek which covers all of the major beaches in a day in our article here. Apart from this, there are following Beaches in and around Gokarna as well –
6. Small Hell Beach
Small Hell Beach as the name suggests, is a small random stretch of sand between Paradise Beach and Half Moon Beach. One can get down here from the trail and chill for sometime, or sit by the surrounding rocks. Ferries do not stop here as it is not an official beach but only a small stretch of land. Hence, it is accessible only while you are on Gokarna Beach Trek. However, one has to be careful while getting down to the Beach from the trail as rocks could be slippery and difficult to climb for some. Also look out for a large number of crabs here.
There is also a cliff called Hell Cliff near this beach. You get amazing views from this cliff as well, just be careful while visiting these points. In case of any accidents or unfortunate events, they may not be anyone around to help you out.
7. Honey Beach
Honey Beach is kind of like a private beach which is only accessible to the tourists who stay at the property on the Beach (Source – Different reviews online). It is partly sandy and partly rocky. Given it is accessible only to a few, it is very clean and peaceful. If you are looking something similar to a private beach experience, you should sure take a visit.
How to Reach Honey Beach?
Honey Beach is not a part of Gokarna but it is located in Honnebail (near Ankola). It is around 10-12 km away from Gokarna Town and Bus Stand. You will get local buses to the villages or bus stops near Honey Beach from the Gokarna Bus Stand. You can also ask the Auto Drivers but chances are that it will be very expensive. Alternatively, you can also ask the property there to help you out with pick and drop. There are also Belambar Beach and Manjaguni Beach nearby. You may have a look at it on the Google Maps.
8. Belekan Beach
Belekan Beach is a small rocky beach outside of Gokarna, but pretty close to the Paradise Beach. If you want to start the Gokarna Beach Trek from the Paradise Beach side, this the last point until which you can bring your vehicle. There are a few Shacks here which also offer decent food and stay options. It is mostly rocky with very little sand.
How to Reach Belekan Beach?
You can Reach Belekan Beach via road, hike or ferry. The route and trails are marked properly on the Google Maps. If you are coming by road, you will have to come from Gokarna via Belekan Road (near Tadari). Ferries also stop at Belekan Beach.
What are the Things to do at Belekan Beach?
There is nothing specific to be done at Belekan Beach, but this is where you start your Gokarna Beach Trek. Further ahead, you can also visit the God's Own Beach which is another small stretch of beach near the Belekan Beach.
9. Nirvana Beach
Nirvana Beach is a yet another secluded beach outside Gokarna. It is near the Baad region which is located south of Gokarna. You can directly take a ferry to Nirvana Beach or also take the longer route via road. There are a few stays behind the beach but the beach is empty and visited by a very few tourists! You should not swim at this beach if you are not a pro and always ask locals what parts of the beach are safe to swim at. It is an empty beach and perfect for resting or walking in the night. There are also some nearby beaches called as Baada Beach (kind of an extension), Mystery Cave Beach and Heaven Beach.
However, always practice safety measures and do not take unnecessary risks at these secluded locations. Ask locals near these places about how safe is it, break the ice and inform them about your plans!
To conclude, Gokarna has become quite popular in recent years, but it is still a beach heaven in India. No matter which beach you are at, all the Beaches of Gokarna have something amazing to offer! You get to climb hills and cliffs and swim at the beaches in the same place! There are also many other offbeat things to do in Gokarna and some really amazing places to visit here.
---
Got any questions about Gokarna? Let us know in the comments or DM us @xploretheearth on Instagram!
---
Planning to visit Gokarna soon? Check out the following Gokarna Itineraries for free –
Backpacking Gokarna
Xploring Gokarna
Helpful Resources for Gokarna –
Places to Visit in Gokarna for All Travellers – An Ultimate List!
How to Plan Gokarna Beach Trek – Whole Route Explained!
Amazing Places to Visit Near Gokarna For Offbeat Travellers!
9 Best Offbeat Things to do in Gokarna
---
Help us write more such blogs & create more YouTube Videos!
A small amount contributed from you could help us sustain and keep doing what we love – sharing helpful travel information for you all!
---
X TRIPS GOKARNA
Back in February 2020, before the Covid-19 Crisis, we had organised a unique and offbeat experience at Gokarna, Karnataka for a small group of like minded travellers looking for a bit of adventure and lots of experiences!
We spent 2 wonderful days in chilling on the beach, jamming at camp fire, kayaking and trekking & hopping across the beaches!
If you'd like to stay updated about the cool things we do, you can get on our mailing list!