Gokarna is a wholesome coastal town in North Karnataka, India! We call it wholesome because it offers a wide range of experiences from beaches to hills and centuries old temples to adventure. However, it does not end here! There are many Amazing Places to Visit Near Gokarna within a 100 km that will definitely satisfy your wanderlust! Given below is list of all the places to visit around Gokarna for a good day trip! But let's discuss a few important things before we jump to the list.
How to Plan a Day Trip For Places to Visit Near Gokarna?
The most important factor in planning a day trip to these locations is number of days you have in Gokarna! If you are coming for a weekend – i.e. two full days, then you can consider visiting any of these places around Gokarna. Alternatively, you may visit one of these if you have your own vehicle and one of these destinations is on your way. Beaches of Gokarna can be covered in one single day by doing the Gokarna Beach Trek. You can then skip the other non-beach places to visit in Gokarna if you want to visit any of the places mentioned below.
How to Reach Places to Visit Near Gokarna?
The most convenient way to reach any of these places would be in a rented two wheeler or a car. That is of course if you are not in your own vehicle. You can easily rent a two wheeler in Gokarna. Check out last section of this article if you need help renting a vehicle in Gokarna. Now renting a two wheeler is convenient and quite cheap but there is a way cheaper option than this – local buses. You may also use local buses to reach most of these places. If you are on a really tight budget, you can opt for the same. You can reach the towns/villages near these spots easily, and from there enquire about further bus routes. However, it may involve some waiting around and walking to reach the main destinations.
So can we jump to the list already? Yes ofcourse! Just a few quick reminders before you finalize any of these options. Ensure that the place is open on the day you are planning to visit. Be respectful of the place, locals and environment. Ride safe and most importantly, have fun! So if you are ready, let's explore all the Amazing Places to Visit Near Gokarna!
1. Vibhuthi Falls
Vibhuthi Falls are located approximately 42 km away from Gokarna, towards east. It is one of the waterfalls in Western Ghats where you can swim! Vibhuthi Falls is surrounded by lush green forest and rocks (with deposits of Limestone, hence the name). Literal translation of the word Vibhooti is ash. As per some local beliefs, the waterfall was formed as a result of washing away of Bhamasura's (mytholigical demon – more on it soon) ashes. Vibhuthi Falls has a good swimming pool to take a dip in. However, it gets deep in some points, especially after monsoons, and the rocks underneath are quite slippery! Best time to visit Vibhuthi Falls is from October to March.
How to Reach Vibhuthi Falls?
The directions from Gokarna to Vibhuthi Falls are accurate on Google Maps. There is another route as well but take the one we have linked above if you want to cover Yana Rock Formation along with Vibhuthi Falls. Once you arrive at the entrance of the falls, you will have to park your vehicle (nominal parking fees) and hike for around 700 m to reach the falls. You will also find some basic refreshments and snacks in a canteen inside.
2. Yana Rock Formation
Yana Rock Formation is the formation of two dark limestone monoliths named Mohini Shikhara and Bharaveshwara Shikhara. These formations are 90 meters and 120 meters tall respectively. You have to hike through a thick forest for around 30-40 minutes to reach here. The rocks aren't visible until you are very close to the spot. There is also a cave under the taller rock which is a place of worship for Hindus. Like most of the things in Gokarna, there is a popular legend for Yana Rock Formation as well.
What is the Legend behind Yana Rock Formation?
Yana Rock Formation comprises of two tall and dark rocks present in the middle of a thick forest which is a very mysterious phenomenon. What adds to this mystery is the legend behind its origins. Here's an attempt to explain it in brief points –
There was a demon called Bhasmasura (the one mentioned above) who was blessed with the power to turn anyone into ashes just by keeping his hand on their head!
He wanted to try his powers on Lord Shiva the one who blessed him with it in first place!
Lord Vishnu came into save the day – he disguised as a beautiful woman called Mohini who was also a great dancer and obviously, someone was impressed by it!
Mohini challenged him for a dance-off where he had to follow her dance moves and keep up with her! She put her hand on her head in one of the steps and now you can connect the dots!
Please Note – We are just trying to summarise it in a light fun way and we do not intend to hurt anybody's sentiments! Also, we have come to know of it while interacting to some locals and some other online blogs!
How to Reach Yana Rock Formation?
Yana Rock Formation is located around 9 km away from Vibhuthi Falls. You will have a great Day Trip from Gokarna if you club these two. To reach from Vibhuthi Falls to Yana Rock Formation, follow this route. You can ride/drive from Vibhuthi Falls' entrance to Yana Parking Lot. After reaching here, you will have to hike for 30-40 minutes including climbing a few steps to reach at Yana Rock Formations. Please follow this route only – Sirsi Route – otherwise you would have to trek for a longer distance. Chances are that the journey from Vibhuthi Falls to Yana might be completely off-roading due to bad conditions of the road in that stretch. Also, be sure to return back soon from Yana. Do not linger around alone in the forest and late in the evening – could be dangerous.
3. Mirjan Fort
Mirjan Fort is located around 21 km away from Gokarna and is one of the must visit places near Gokarna! It is a 16th Century built fort which is spread across an area of 10 acres. Archeological Survery of India started restoring this fort in the late nineties and there are a few stories that belong to this place. According to one of the stories, the fort was built and held by the Queen of Gersoppa, Chennabhairav Devi, under the Vijaynagar Kingdom.
Mirjan fort is very close to the banks of River Agnanishi and has high walls, watch towers and bastions. The fort is surrounded by a moat and there are four entry points to the Fort. There are several wells within the fort and proper steps to climb down to these wells. You can also identify some other parts of the fort like a prayer hall or a social gathering hall. Much of the fort is now in ruins but one can always imagine how much of a stronghold would this fort have been in the history! There are many stories about the Mirjan Fort that you can look up if you are interested! Lastly, Mirjan Fort is a must visit in Monsoons! The walls of the Fort are completely covered with moss in this season and the Fort looks very pretty! The Fort closes at 5:30 pm in the evening so plan your day accordingly. You can go early in the morning, the entry starts at 8:00 am, and be back before noon/lunch time when the sun is harsh.
How to Reach Mirjan Fort?
You can reach Mirjan Fort only via road and the most convenient way would be in a rented two-wheeler. It is a 30-35 minutes ride from Gokarna to Mirjan Fort. Another cheaper option would be to take a local bus from Gokarna to Mirjan Bus Stop. You will have to walk for almost a kilometre from Mirjan Bus Stop to Mirjan Fort. Also, do find out the accurate bus timings from Gokarna Bus Station for both to-and-fro so you are not stranded on the highway.
4. Murudeshwar
Murudeshwar is a cosy town in Bhatkal Taluk of Uttar Kannada District. It is located around 78 km from Gokarna. Murudeshwar is popular among tourists as well as pilgrims because it is the home to world's second tallest Shiva Statue. The Shiva Statue at Murudeshwar is surrounded by the Arabian sea on 3 sides and it overlooks the whole Murudeshwar Town. The statue is 123 m tall and portrays Lord Shiva in a meditation pose. There is also Murudeshwar Temple here which is 20 storeys tall and has a lift. You can go on the top and enjoy the view of magnificent statue with Arabian Sea in the backdrop. You can also checkout the Statue Park within the same campus which has several statues depicting different mythological events and various artificial ponds & waterfall. Murudeshwar also has a small beach where you can enjoy the sea and check for boating/water sports.
How to Reach Murudeshwar?
The distance between Gokarna to Murudeshwar is 78 km one way and a two-wheeler ride can be tiresome. Check for buses from Gokarna Bus Station of trains from Gokarna Road Railway Station to Murudeshwar (Murdeshwar – MRDW). Check for buses/trains to-and-fro since the frequency might be less. If you find a rental car in Gokarna then it will be the most convenient way to reach Murudeshwar.
5. Netrani Island – Scuba Diving
If you are looking for underwater adventure like Scuba Diving or Snorkelling in Gokarna, you should head to Netrani Island. Netrani Island is located 19 km off the Murudeshwar Coast and is a heart shaped coral island. There are various vendors in Murudeshwar who organise Scuba Diving Tours in Netrani Island. One is not taken to the island for diving but the boat is anchored very close the island. There are many species and varieties of corals, fish, eels, shrimps, orcas and even whale sharks that are spotted near the island. Scuba Diving at Netrani Island is one of the offbeat things to do in/near Gokarna.
How to Reach Netrani Island?
The first step would be to arrive at Murudeshwar from Gokarna. There are several vendors who provide Scuba Tours to the Netrani Island. It is recommended to book in advance and know your slots and time required. These vendors will take you to Netrani Island near the diving spot on a boat from Murudeshwar.
To conclude, any of the above would make a good day trip option from Gokarna. If you have already been here and are looking for more, you can also check out the nearby towns like Kumta and Karwar. Both the places have its own list of places to visit and beaches. Alternatively, you can also go a little beyond Yana Rocks to check out the heritage temple at Sirsi. You can also checkout the town of Yellapur which has a few waterfalls in close proximity.
If you have a car or wish to go further ahead (100 km+ one way) then you can also consider options like Jog Falls, Dandeli, Udupi or even Goa!
Renting a Vehicle in Gokarna
There are a few vendors in Gokarna who provide two-wheeler vehicles on rent. The rent is around 300-500 bucks a day excluding fuel. I have personally taken vehicles from Aparajitha Bike Rental which is located near the Gokarna Bus Station (Opp. Urban Bank. 9900514424, 8105769202, 9473022780). The lady who manages this business is very helpful!
---
Got any questions about Gokarna? Let us know in the comments or DM us @xploretheearth on Instagram!
---
Planning to visit Gokarna soon? Check out the following Gokarna Itineraries for free –
Backpacking Gokarna
Xploring Gokarna
Helpful Resources for Gokarna –
A Complete Informative Guide to the Beaches of Gokarna
How to Plan Gokarna Beach Trek – Whole Route Explained!
Places to Visit in Gokarna for All Travellers – An Ultimate List!
9 Best Offbeat Things to do in Gokarna
X TRIPS GOKARNA
Back in February 2020, before the Covid-19 Crisis, we had organised a unique and offbeat experience at Gokarna, Karnataka for a small group of like minded travellers looking for a bit of adventure and lots of experiences!
We spent 2 wonderful days in chilling on the beach, jamming at camp fire, kayaking and trekking & hopping across the beaches!
If you'd like to stay updated about the cool things we do, you can get on our mailing list!
PIN IT!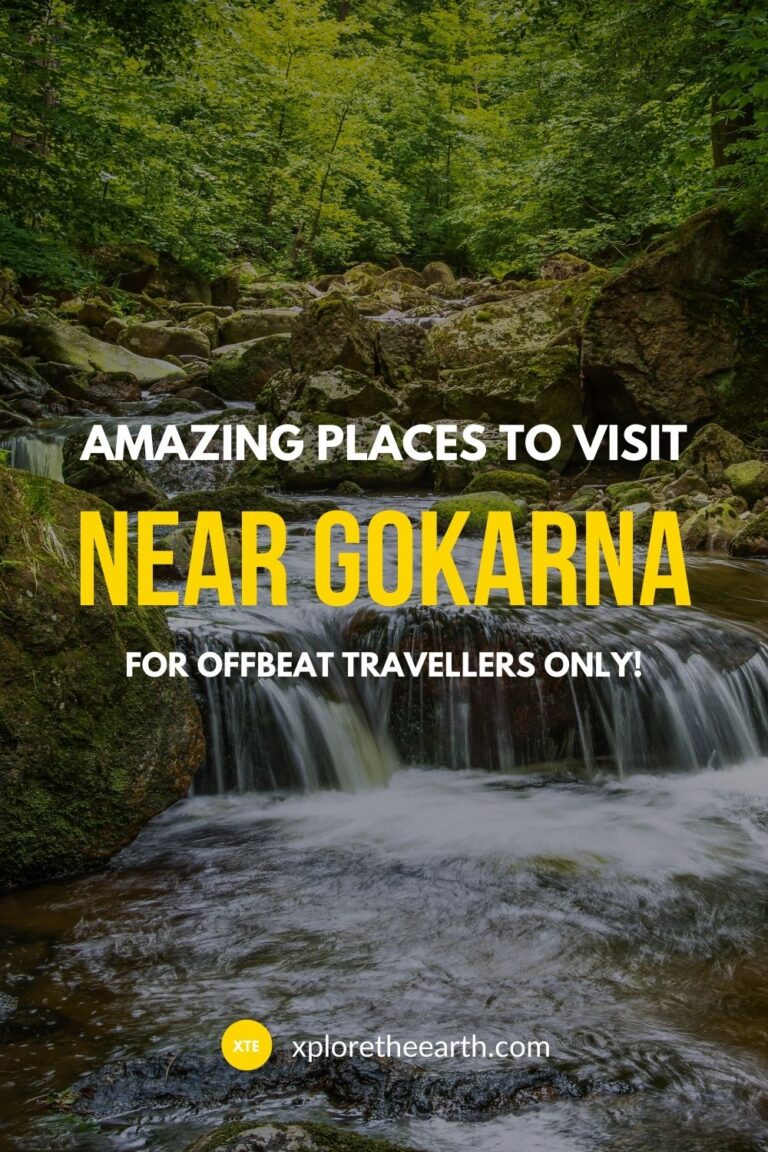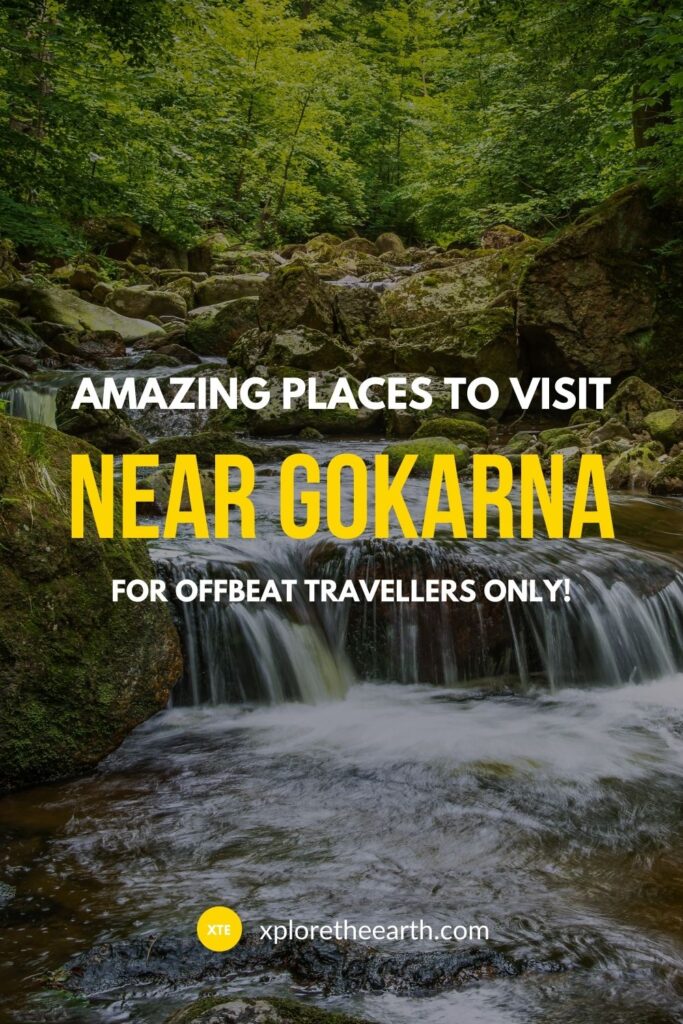 ---
Ensure you travel responsibly and keep your carbon footprint to the minimum. Happy Xploring!