The hill stations of southern India are popular for their plush green vegetation. When you think of popular hill stations like Ooty, Munnar, Kodaikanal and the like, you get this beautiful image of picture-perfect green hills. Vattkanal, in that regard offers you exactly that with the added advantage of lesser number of tourists. Vattakanal which is about a 6km drive away from Kodaikanal falls under the Dindigul District of Tamil Nadu.
KODAIKANAL TRAVEL GUIDE VIDEO XPLAINER
HOW TO REACH VATTAKANAL?
Vattakanal is a small village in Western Tamil Nadu. Vattakanal, however does not have direct transportation connecting it to other major cities and one can reach this place via Kodaikanal (6km away). One can either take a cab from Kodaikanal (approx INR 250) or reach by bus. Do check the bus timings before hand.

How to reach Kodaikanal?
There is direct transportation available to Kodaikanal from many major cities.
Air: Closest airport to Kodaikanal is Madurai Airport about 120km away. Buses do ply between Madurai and Kodaikanal.
Rail: Closest railway station to Kodaikanal is Kodai Road Railway Station which is about 80km away. Buses ply regularly between the railway station and Kodaikanal Bus Stand.
Road: Bus is the best option to reach Kodaikanal. Buses from almost all the major cities like Bangalore (466km), Chennai (525km), Madurai (116km) and Coimbatore (173) among others ply almost on a daily basis.
Self-driving to Kodaikanal is a good option as the region is quite scenic for a road trip.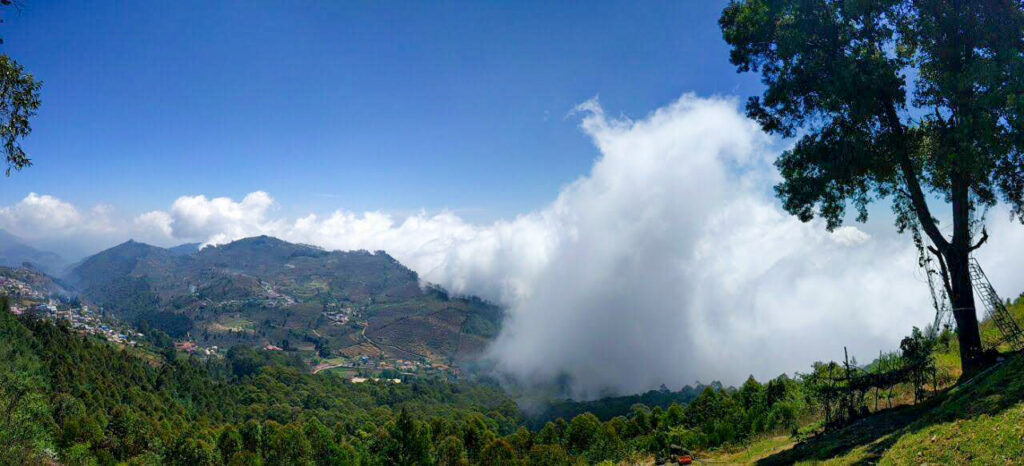 WHERE TO STAY IN VATTAKANAL?
Given how beautiful Vattakanal is, all the stays here offer some splendid views. Feel free to check out the various stays. To stay in a wood house with those perfect views is a must thing to do when in Vattakanal.
Shafa Wood house
Romans Pod House
The Kodai Heaven
All three of these stays offer wooden cottages/rooms with wooden interiors. Also, their location in general, proximity to Dolphin's Nose and the rest of the viewpoints make them an easy choice for a stay in the beautiful Vattakanal.
If you are someone who likes to have company and make new friends, The Kodai Heaven maybe your best option.

Budget Options
Vattakanal HomeStays – This stay is one of the more affordable options as compared to the ones above. You will love the cozy feeling that the stay has to offer and to the views from its open terrace are second to none.
DOSTel: Backpacker Hostel – This hostel is the place to be if you want to hang out with some like minded free spirited travellers. The place hosts people from both India as well as outside. Also, they have the facilities for a barbecue!

All of the above mentioned stays are in between Vattakanal Waterfalls and Dolphin's Nose Viewpoint. The fact that this location is outside Kodaikanal, it has comparatively lesser tourists in the vicinity and more tranquility!
BEST PLACES TO EAT IN VATTAKANAL
There are a few cafes' around that are worth trying.
Above and Beyond – Good ambience, music and some splendid views
Atlaf's Cafe – Great food and cuisines including from Middle-eastern, Italian as well as Indian. This is hands down the most popular place to eat here.
THINGS TO DO IN VATTAKANAL
1. VATTAKANAL FALLS
One of the more serene falls in the region is the Vattakanal Falls. The white water flowing from above with the greenery all around, really gives it a magical touch. One gets the perfect opportunity for a good hike along the trail which leads to the waterfall. The water forms a pool at the bottom where people can take a dip. Monsoon is the perfect season to see the Vattakanal Falls in all its glory.
2. DOPLHIN'S NOSE AND ECHO POINT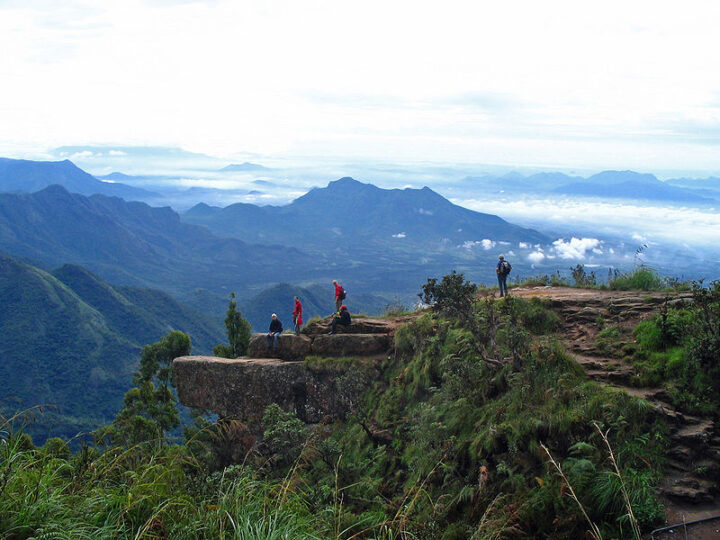 Dolphin's Nose is one of the most popular places to see in Vattakanal. Descend to the viewpoint starts near Altaf's cafe. The hike till the view point is laden with spectacular views only to be bettered by the mesmerizing scenery which can be seen from the Dolphin's Nose. The viewpoint gets its name from the fact that the rock jutting out of the mountain edge is shaped like a dolphin's nose. Going a bit further on the trails gets you to another viewpoint by the name Echo Rock. This point is quite the treat for photography enthusiasts and selfie lovers.
3. OTHER VIEWPOINTS
Vattakanal, with all its beautiful panoramic vistas has multiple other viewpoints like the Mountain Viewpoint, Valley view and the Vattakanal Cliff Viewpoint. Depending on the time and your inclination for short hikes one can visit all these points. They are every bit worth it.
4. SOAKING IN THE CULTURE
Locals are super friendly in Vattakanal and given the place's hippie nature there are often a lot of tales to be told. Vattakanal is also known as "Little Israel" because of the number of Israeli tourists that visit this place every year between October and March. Given the influx of Israeli tourists, you could find some wonderful Israeli delicacies served in the cafes as well. Rest assured the relaxing vibes of the place is the perfect place to unwind.
5. MAGIC SHROOMS
Vattakanal has become infamous for its "magic mushrooms" (or shrooms) which are known to give a psychedelic trip. These mushrooms contain psilocybin, a mood altering substance with side effects including euphoria, altered thinking and hallucination. Though, magic mushroom in itself is not on Narcotics Control Bureau's banned list of drugs, it still presents a tricky situation. One must use discretion.
Should you have more time or simply just want to explore more, here is a list of all the amazing things you can do and enjoy all Kodaikanal has to offer.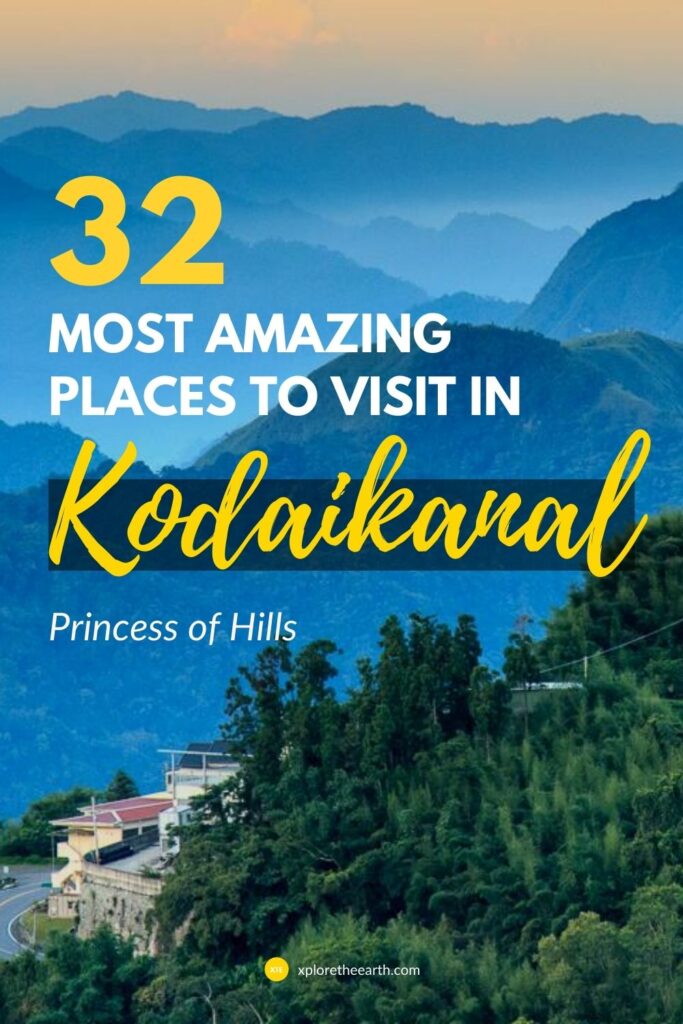 SOME HELPFUL TIPS
There is little to no cell phone reception in Vattakanal. Airtel and BSNL networks work to a certain extent.
It is helpful to wrap up the day by early evening, because sun sets early and you can never be too sure about the electricity in the area.
Drizzling can start in Vattakanal often out of nowhere. So, be prepared and carry umbrellas, raincoat etc.
---
What is your single most favourite thing about Vattakanal? Comment below!
---
ENJOYED READING ALL ABOUT VATTAKANAL?
Read other related articles to unwind in Kodaikanal!
Visiting Kodiakanal in 2 Days
Top 32 places one must visit in Kodai
More awesome articles from the beautiful South India!
Backpacking and Camping in Gokarna
Exploring Rustic Ruins of Hampi
A weekend itinerary to enjoy Mysore
SUBSCRIBE IF YOU LIKED OUR CONTENT
We create new exciting travel content, curate an excellent social feed and also organise experiences like these. If you enjoyed our content, stay on our mailing list to hear from us about new exciting things we create and curate!
Processing…
Success! You're on the list.
Whoops! There was an error and we couldn't process your subscription. Please reload the page and try again.
---
Ensure you travel responsibly and keep your carbon footprint to the minimum. Happy Xploring!
---