Wondering what are the best options you have at your hand each month to plan your holidays right and satiate that wanderlust in you? Worry not we've made the job easier for you! Here we have compiled every long weekend you have this year along with Holidays List as per Indian Calendar and made a list of best places you can travel to in India and Outside India as well!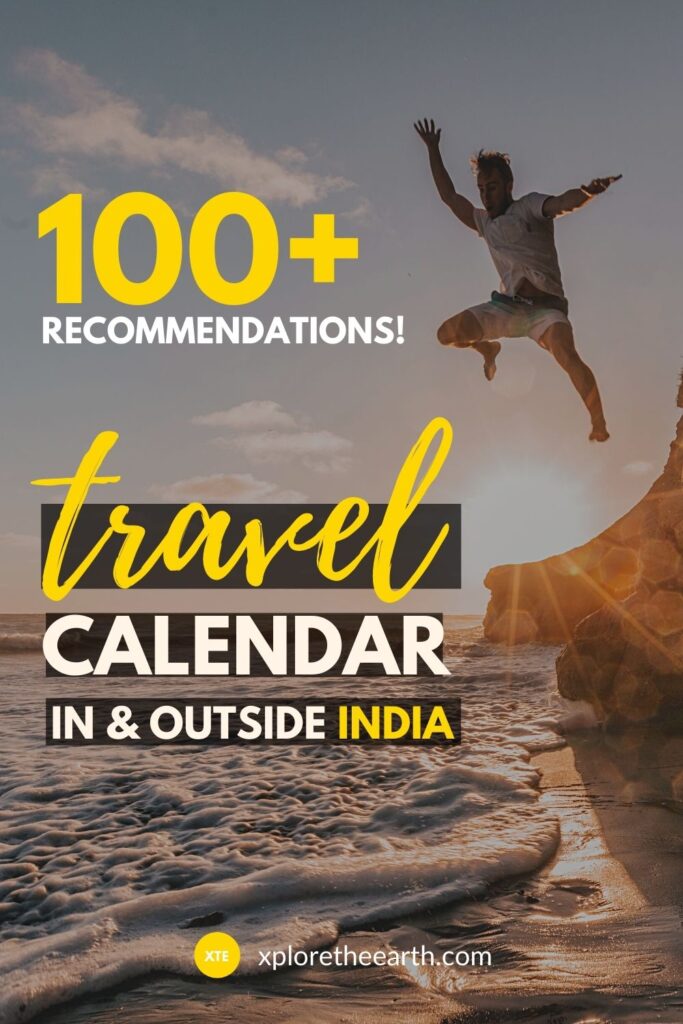 JANUARY
WHERE TO TRAVEL IN INDIA IN JANUARY
01
The Pink City of India and the capital of Rajasthan is a vibrant mix of culture, modern infrastructure, historic monuments and tons of cuisines and experiences to enjoy!
The winters are an ideal time to visit Jaipur and witness the bustling capital with all it has to offer. The popular World Heritage sites like Amer Fort, Hawa Mahal & Jantar Mantar are a must visit for the heritage walk of the city!
Try Ghewar, Pyaaz Kachori and Dal Baati Churma to experience local cuisines in one of the local markets. You'll also have activities like cultural programs, exhibitions and hot air baloon rides available from time to time at the city!
Do you think Jaipur is where you want to be next, but short of ideas on what to do? Well, our friend Neha has got you covered. Check out her blog on Jaipur!
02
A coastal town in Southern Kerala is a picturesque spot to enjoy the beaches, forts, lakes, temple and the beautiful vibe the place has! The beach is situated right after a 15 m cliff which makes the place a unique spot to enjoy and a rare one too.
The place is often visited by a lot of foreigners as well, so you will find tons of shops, cafes, oxidised jewerly, hemp clothes and many other shacks you can chill and enjoy the beach vibe at! The sea is calm and the water is clear for a good swim in the sea!
03
Known to be one of the wettest places on Earth, Mawsynram village in Meghalaya is a nature lover's paradise! The post monsoon season is the most ideal to witness the lush greenery and the wonders the place has to offer!
The place is known for the multiple caves, stalagmite formations and waterfalls and hills all around the mountains! It is a must visit for the adventure lover who loves to explore!
MORE RECOMMENDATIONS WHERE TO TRAVEL IN INDIA IN JANUARY
POLO FOREST, Gujarat, to enjoy camping, treks, hills, and ancient ruins
GOA, for beaches, treks, waterfalls, parties, watersports
GOKARNA, Karnatka, for pristine beaches, chilled out times and treks
PONDICHERRY, for cafes, beaches, museums and french architecture
Treks in Western Ghats, Karnataka
AULI, Uttarakhand to enjoy the Ski season at one of the oldest ski resorts
MALVAN, Maharashtra, for cuisine, beaches, scuba diving
DEVKUND WATERFALL, Maharashtra for trek and dive in the beautiful falls
TREKS IN WESTERN GHATS, Karnataka, Multiple treks to enjoy post monsoon with cooler temperatures
GOA, Onset of season for enjoying calm beaches, forts and a beautiful vibe
HAMPI, Karnataka for enjoying ruins, cycling, cliff jumps
WHERE TO TRAVEL OUTSIDE INDIA IN JANUARY
01
Morocco in the North Africa ia a land of mixed cultures! With a landscape as varied as its culture! Morocco has a history and cultural influences of Africa & Europe. The landscape too ranges from snow-capped mountains to beaches, and deserts. Morocco offers tons of popular adventure activities and site seeing opportunities from mosques to beaches, and desert safaris to flea markets!
January is the perfect time to be in Morocco as the weather is cool and relatively wet. This, being the winter and a low tourist season, makes for lots of discounts and very few tourists to enjoy the beauty of the land!
02
The country of Kenya, packed with wilderness in East Africa, is home to a plethora of wildlife, from beautiful beasts to the tall grasses of the Savannah to the Great Rift Valley. It is a safari destination for wildlife enthusiasts and is famous for the annual wildebeest migration. In January, although it is the wet season for Kenya, most days are hot, clear and sunny to accommodate your outdoor activities.
Visit the multiple National parks like Nairobi National Park, Hell's gate National Park, Maasai Mara and more. Visit Mt. Kenya and Diani Beach to enjoy more from this Land!
MORE RECOMMENDATIONS WHERE TO TRAVEL OUTSIDE INDIA IN JANUARY
BARBADOS
SEYCHELLES
SOUTH AFRICA
SRI LANKA
THAILAND
---
FEBRUARY
FEBRUARY
WHERE TO TRAVEL IN INDIA IN FEBRUARY
01
The largest Mardi Gras carnival celebrations in India happen at none other than Goa! The dates for this year's celebration are set for in Feb! The celebrations combined with the perfect weather to explore the beaches and the interiors of Goa make it our Top Pick to visit this February!
In case you want to check out our itineraries contributed by users for Goa, head to this section and start Xploring!
02
India's largest art exhibition and Asia's largest contemporary art exhibition has been taking place in Kochi, Kerala since 2012. The Kochi Muziris Biennale is a display of various international artists spread across the city!
The time & weather combined with this event running all through February make Kochi a go to place in February! Kochi has a rich history and mix of traditional and modern cultures to explore. Combined with various activities, water sports and luxury and budget accommodations and the wide variety of cuisine make Kochi a must visit destination this year!
One of our Xplorer – Amaznjot Singh, went backpacking to Kochi last year, read his itinerary here.
03
The archipelago of Islands about 1400 Km from Indian Main Land are a spot to visit! The 572 islands comprising of the Andamans gives the explorer in you the adventure you seek. Although only a handful of them are open to tourists, you have a lot to do & see!
The laid back islands with coconut groves, white sands and turquoise waters are the perfect spot to relax at and go Scuba Diving & Snorkeling. Visit these in Feb to explore the Cellular Jail, Local Culture, Water sports like Parasailing, jets ski rides, scuba diving & snorkeling!
MORE RECOMMENDATIONS WHERE TO TRAVEL IN INDIA IN FEBRUARY
GULMARG , Kashmir for Skiing
AULI, Uttarakhand for Skiing
RANN OF KUTCH, Gujarat. The white desert of India
ALIBAUG, Maharashtra. Short weekend getaway to relax at a beach
ALLAHBAD KUMBH MELA, Uttar Pradesh
HAMPI, Karnataka. Ancient ruins and laid back vacation
GOKARNA, Karnataka. Calm and Clean Beaches, Small laid back town.
KHAJURAO, Madhya Pradesh. The ancient temples
JAISALMER, Rajasthan. Desert safaris
PURI RATHYATRA, Orissa. The traditions & beaches
KAZIRANGA NATIONAL PARK, Assam. Home of White Rhino
BIR BILLING, Himachal Pradesh. Para Gliding Captial of India.
ALLEPPY, Kerala. Backwaters, Houseboats and Culture
KODAIKANAL, Tamil Nadu, Weekend Getaway in Hills
KANNUR, Kerala, Weekend Getaway to peace and tranquility
WHERE TO TRAVEL OUTSIDE INDIA IN FEBRUARY
01
The land of glaciers, Northern lights, waterfalls, grasslands and unbelievable natural beauty & wonders. The month of Feb is a good time to visit Iceland as the temperatures are not the coldest, the days are little longer and the Northern Lights are visible till the end of Feb.
With tons of treks, hikes and other adventure activities like visiting ice caves, geothermal pools, the music festival called Sonar, Dolphin and Whale watching tours are all possible in February! Thus Iceland should be on the List of Places to go in February!
02
The rain is almost non-existent in February in Thailand and the weather is pleasant at 25 Degree Celsius and above! This makes this Asian Paradise the perfect time to visit!
The beaches with turquoise waters, the variety of cuisines, the cultural tours, massages, shopping and the perfect landscapes make Thailand a place not to miss this Feb!
MORE RECOMMENDATIONS WHERE TO TRAVEL OUTSIDE INDIA IN FEBRUARY
KENYA
SRILANKA
VIETNAM & LAOS
OMAN
MARCH
MARCH
WHERE TO TRAVEL IN INDIA IN MARCH
01
The beautiful and buzzing town of Shillong in the backdrop of the Khasi hill in Meghalaya is a perfect spot to explore in March! The mountains, with its abundant natural beauty, the waterfalls, lakes and many other spots in the vicinity make it worth while travelling to Shillong!
The city is quite progressive with quite a happening music scene! You are guaranteed an amazing time amidst the nature and the beautiful culture of Shillong!
The Cherrapunji side of Meghalaya is beautiful too at this time of the year! Visit the living root bridges, Dawki river and other waterfalls hidden deep in the hills!
We have a brief itinerary of Shillong contributed by our user! Read it here and start Xploring!
02
The onset of summer is the best time to spot tigers! The temperature although a little warmer than the winter months, the glimpse of the wild cat makes it worth the consideration. The wildlife buffs are attracted to Ranthambore as it houses leopards, fishing cat and many other animals and birds that you can spot on a Safari!
The Ranthambore National Park today has India's highest population of Tigers. The Ranthambore Fort is also in the Unesco World Heritage Site's List. The Ganesh Temple in the region is one of the most famous temples.
03
A beautiful part of the North East India with a wide variety of option to explore from! Sikkim has something for every traveler. The multiple hikes and treks in the Himalayas, the White water sports and other adventure activities satisfy the adventure junkies and it has enough option to roam around the spots absorbing the natural beauty of its lakes, orchid farms, and rhododendron blooms in the backdrop of the snow clad mountains!
To read an itinerary contributed by our user, head to this section! And start planning for Sikkim now!
MORE RECOMMENDATIONS FOR WHERE TO TRAVEL IN INDIA IN MARCH
LEH LADAKH & JAMMU KASHMIR
KAZIRANGA, Assam for the One Horned Rhino
OOTY, Tamil Nadu for a short weekend trip
COORG, Karnataka for the coffee estates, waterfalls and hills
KODAIKANAL, Tamil Nadu for short weekend relaxing trip
HALEBIDU, Karnataka for a short trip through ancient monuments
TAWANG, Arunachal Pradesh for visiting virgin mountains
MUNNAR, Kerala to take a leisure break and relax
PALAKKAD, Kerala for backwaters, and relaxing
WAYANAD, Kerala for hills and waterfalls
WHERE TO TRAVEL OUTSIDE INDIA IN MARCH
01
March is the autumn season for this beautiful island nation. The temperatures are pleasant and the summer crowds have thinned, thus making it the best time to visit.
New Zealand is packed with beautiful natural wonders from waterfalls, national parks to perfect spots for stargazing and vast lakes and fjords! The cities have a bustling and lively culture and it offers the explorer a lot of hikes, treks and camping all across New Zealand! A chance to spot the southern lights and swimming with the dolphins and whales make this a charm to visit!
02
A tropical Island nation with Golden Sand beaches, tropical forests, abundant flora and fauna with a perfect mix of culture, and history! Sri Lanka offers the perfect trip to anyone looking to unwind in the tropical atmosphere. The temperatures in march are pleasant somewhere in the 20s and much drier than the rest of the year!
The numerous beaches offer watersports, surfing, nightlife, and time to unwind. While the forests offers treks and hikes through monuments and ancient temples. Known for the monasteries and Hindu Epic Ramayana, Sri Lanka is a perfect spot to visit this March!
MORE RECOMMENDATIONS FOR WHERE TO TRAVEL OUTSIDE INDIA IN MARCH
APRIL
---
APRIL
WHERE TO TRAVEL IN INDIA IN APRIL
01
Escape the heat of the setting summer in April at Auli, deep in the mountains of Uttarakhand. The ski season ends in February which is usually crowded. April opens up a lot of hikes, treks, mountain biking trails and other regions to explore after the snow melts away.
Unwind at this location in the midst of mighty Himalayas and explore the natural surroundings, temples and hiking trails and mountain biking trails at Auli!
We have a brief itinerary of Auli contributed by our user! Read it here and start Xploring!
02
The summer capital of Jammu & Kashmir is best visited during the Spring! The blossom of Tulips and the Tulip festival hosted in April attracts visitors from across the globe.
The Kashmiri food with the shopping of local merchandise and handicrafts at the markets and the popular spots like Dal Lake & Mughal Gardens are worth visiting at Srinagar!
03
Thekkady houses India's biggest tiger reserve – The Periyar National Park in Kerala. April is the best time to visit this region because of 2 reasons. Firstly, April attracts a lot of wildlife towards the water bodies thus making it a great time to spot the wildlife. Secondly, the forests of Periyar house a 1000 year old temple which opens up only once a year to the tourists – the temple of Mangladevi. It opens during the Chitra Poornima Festival, as poojas are conducted throughout the day.
Other activities include bamboo rafting, Periyar tiger trail hike and the jungle safaris! Make use of the time and plan a trip to Thekkday this April!
MORE RECOMMENDATIONS WHERE TO TRAVEL IN INDIA IN APRIL
JIM CORBETT NATIONAL PARK, Uttarakhand
CHERRAPUNJI, Meghalaya
PANCHMARHI
COORG, Karnataka for the coffee estates, waterfalls and hills
MON, Nagaland for traditional festival of Aoelang of Konyak Nagas.
CONOOR, Tamil Nadu
PAHALGAM, Kashmir
PENCH NATIONAL PARK, Madhya Pradesh
MAHABALESHWAR, Maharashtra
WHERE TO TRAVEL OUTSIDE INDIA IN APRIL
01
April promises one of the best summers in Malaysia! This group of Island which makes Malaysia offers laid back beaches to local extravaganza of culture. Futuristic cities and the best of water sports! It has it all!
The temperature is around 30 Degrees in April with sparse showers, making it a great time to visit. The islands of Malacca, Perhentian and the city of Kuala Lampur are a must visit along with several other spots popular in Malaysia!
Our user currently living in Malaysia has sent us couple of Itineraries for exploring Malaysia. Read them here!
02
The charming and historic country of Turkey is full of mosques, minarets, modern cities, rugged hills, sea-side fishing towns and amazing food! The month of April is a good time to visit as the temperatures become pleasant at about 16 Degrees and the Tulip festival in Istanbul, Ankara International Arts Festival and Javelin Games in Erzurum all take place in April.
A few highlights of visiting Turkey will be the Hagia Sophia, Topkapi Palace and Sultan Ahmed Mosque, shopping in Istanbul, the spice bazars and old markets. Then there is Pamukkale town, known for its mineral-rich thermal water bound by white coloured terraces. Other tourist attractions here are the ancient Roman spa city called Hierapolis, Cappadocia, Antalya and Mardin.
MORE RECOMMENDATIONS WHERE TO TRAVEL OUTSIDE INDIA IN APRIL
MAY
---
MAY
WHERE TO TRAVEL IN INDIA IN MAY
01
The beautiful and untouched region of Himalayas lying in the Himachal Pradesh is gaining popularity. The vast barren landscapes and one of the least populated areas of India is the Spiti Valley. The region is an adventure lover's paradise offering multiple treks, motorbike adventures and camping activities.
Summers are a good time to visit as roads from Shimla to Kaza are well accessible.
02
This paradise hiding in Arunachal Pradesh on one of the eastern most corners of our country is perfect getaway from the summer! The month of may is particularly the best time due to the Moatsu festival. Celebrated the completion of sowing of crops, this traditional festivities make the region vibrant during May.
Tawang is situated between Bhutan, Tibet and the Sela range making the views panoramic wherever you look! Tawang offers a mix of Lakes, Monasteries and High Mountain Passes covered in snow to be awed by.
03
This hill station in Kerala's Idukki district has a lot to offer! The beautiful Western Ghats make Munnar like a paradise in May. It's a perfect destination to escape the heat. The tea plantations, waterfalls and hills make it quite a treat!
The region of Thekkady with Periyar National Park are adjacent to Munnar. The home to elephants and tigers can be visited to spot the wildlife from Munnar!
MORE RECOMMENDATIONS WHERE TO TRAVEL IN INDIA IN APRIL
TIRTHAN VALLEY, Himachal Pradesh for fishing, waterfalls and hikes
SIKKIM for Saga Dawa festival
HORSELY HILLS, Andhra Pradesh Adventure Sports and Activities
MEGHALAYA, to visit the virgin hills and bustling towns of North East
SANDAKHPHU – KALIMPONG for treks and relaxing
KINNAUR, Himachal Pradesh Laid back town by the river
BIR BILLING, Himachal Pradesh Para Gliding Capital of Inida
MCLEODGANJ, Himachal Pradesh for Buddha Jayanti celebrations
ALMORA, Uttarakhand a cozy heritage town in wilderness
DANDELI, Karnatka for water sports and tropical jungles
MT. ABU, Rajasthan, Hill station to relax and beat the heat
WHERE TO TRAVEL OUTSIDE INDIA IN APRIL
01
Croatia has become a hot summer destination due to its historical charm, architecture, islands, blue waters and the amazing activities happening here. The month of May is perfect to visit Croatia as it is the onset of spring. The temperatures are between 12 to 19 Degree Celsius making it pleasant to explore.
The cities of Zagreb & Dubrovnik are full of energy and crowd and the Plitvice Lakes National Park are a sight to experience. A lot of water sports and activities like boat tours & sailing have added to Croatia's charm!
02
May is a perfect time for Japan due to the pleasant temperate climate and the cherry blossoms that have painted the country pink! The mix of tradition and technology is something rarely found anywhere else in the world like in Japan.
You can enjoy Tokyo's Disneyland, Okinawa for beach fun and ocean views while Mt. Fuji is one hell of a sight. Participate in Hanami, a Japanese tradition to go see the cherry blossoms, centred around picnics, fests and parties. Go for Ueno Park, Shinjuku Gyoen and Yoyogi Park in Tokyo to participate in these events. Yozakura or night-time illuminated cherry blossom also is great. Other amazing places to visit in Japan include Kyoto, Kiyomizu-dera (for the temples) and Kinkaku-ji (home to lakes, lake-houses and peace). Odaibaand is another chic city that is home to a giant ferris wheel, cool sushi bars and cafes on the waterfront.
MORE RECOMMENDATIONS WHERE TO TRAVEL OUTSIDE INDIA IN APRIL
FRANCE
SEYCHELLES
ITALY
SPAIN
MAURITIUS
GREECE TURKEY
---
JUNE
JUNE
WHERE TO TRAVEL IN INDIA IN JUNE
June does not have any long weekends as per the Indian Holidays Calendar. However if it is your preferred month of travel and you are wondering where you can head out to, here's our list!
01
The roads from Manali to Leh open up mid June and the region of Ladakh is in the rain shadow region of Himalayas thus experiencing little to no rainfall!
The snow has melted up on the roads and the attractions of Ladakh like the Nubra Valley, Diskit Monastery, the Capital of Ladakh – Leh, Pangong Lake and the Khardungla Pass are all open June onward!
Thus planning a motorbike trip or a road trip to Ladakh is an ideal pick for June!
Read our Ladakh itineraries for help with planning your trips!
02
The cozy town of Gulmarg in Kashmir is another ideal spot for a holiday in June! About 60 Km from Srinagar, it is well accessible all round year. Gulmarg offers a perfect place for hiking, skiing, short excursions and picnics in the valleys of Kashmir. Surrounded by lakes, temples, churches, shrines and the Biosphere, it offers plenty opportunities to spot wildlife like red fox and spend quality time exploring the town.
03
Kovalam is a year round destination and June is a good time to visit with the onset of Monsoon, the place is lush green. The weather is pleasant and a relatively low number of tourists to enjoy the place by yourself.
This beach town offers every traveler something special. From art galleries to backwater boat rides, surfing to temples and shrines and beaches to relax and unwind! A perfect getaway for the month of June!
MORE RECOMMENDATIONS WHERE TO TRAVEL IN INDIA IN JUNE
COORG, Karnataka for the coffee estates, waterfalls and hills
DHARAMSHALA, Himachal Pradesh for visiting the home of Dalai Lama
NAINITAL, Uttrakhand to visit Corbett National Park
MT. ABU, Rajasthan to relax away from the sun and Delwara Temple
GUWAHATI, Assam to visit river Brahmaputra and greenery of North East
GANGTOK, Sikkim to enjoy the Himalayas away from the heat
AIZWAL, Mizoram to enjoy paradise of waterfalls, lakes and hills
KUDREMUKH, Karnataka to enjoy the hills, and greenery of Western Ghats
MCLEODGANJ, Himachal Pradesh for chilling, hot baths and hikes
WHERE TO TRAVEL OUTSIDE INDIA IN JUNE
01
June is a relatively dry month in Tanzania with temperatures between 20 to 30 Degree Celsius, making it an ideal time to go on wildlife safaris and enjoying the beaches of the beautiful islands.
Tanzania offers a great time to witness the wildebeest migration in June in the Serengeti National Park. You can go to Mt. Kilimanjaro, explore the vibrant multi cultural markets of the cities in Tanzania, Ngorongoro Crater is full of Rhinos, head to hike of Mt. Peru and other wildlife safaris. Enjoy at Zanzibar Island and Pemba Island the sandy beaches with blue skies!
02
MORE RECOMMENDATIONS WHERE TO TRAVEL OUTSIDE INDIA IN JUNE
---
JULY
JULY
The month of July again doesn't have any long weekends or major public holidays, however here's our list of top picks about where to go!
WHERE TO TRAVEL IN INDIA IN JULY
01
The valley of Zanskar is a part of the newly formed Ladakh territory. This region is one of the remotest and northern most parts of Inida. Being in the rain shadow region, Zanskar valley receives good sun and almost no rain in July making it ideal time to visit.
Zanskar is home to adventures, hikes and treks across the valley. You can visit numerous monasteries in the region like Phuktal monastery, Karsha and Stongdey Monastery. Also visit Nimu, where river Zanskar and Indus river merge. Other areas worth visiting are Drang Drung Glacier, Suru Valley, Zangla, Zongkhul, Rangdum and Panikhar. Shopping Tibetan jewellery, handicrafts and souvenirs at the village of Padum.
02
Photo: Ritu Raj Konwar (source – https://bit.ly/30phbjp)
The biggest river islands in the world are right here in Assam! One of the less visited places in Inida. Majuli is a cluster of river islands on the river Brahmaputra spanning acres. Islands are connected by boats and ferries where people reside. Majuli is bustling with Assamese culture and July makes the region lush green and the water levels are high due to frequent rains. Do visit with caution of rainfall as tourists usually start coming to Majuli after July.
There are ferry rides through the islands, and a rich culture to absorb in Majuli. Rich cuisine to be tried and a lot of religious and spiritual places to visit in the region!
03
photo source – https://bit.ly/2RjMV5j
This ancient town in Madhya Pradesh feels right out of a fairy tale. Situated on the banks of River Betwa built by the Bundela Dynasty in early 1500s. The city has many ancient temples, forts and monuments with frescos and mural paintings with unreal architecture.
July sees little rain in the region making it cooler and greener and hence a must visit in July. The Betwa river offers boating and rafting while the city offers its unique culture, architecture and history to explore!
MORE RECOMMENDATIONS WHERE TO TRAVEL IN INDIA IN JULY
LADAKH, to experience the moon landscape via road in summers
SPITI VALLEY, Himachal Pradesh to experience thrill of biking
COORG, Karnataka for the coffee estates, waterfalls and hills
VALLEY OF FLOWERS, Uttrakhand for beautiful bloom of flowers
JOG FALLS, Karnataka to witness the full might of the falls
LONAVALA, Maharashtra to enjoy the peace and greenery of hills
UDAIPUR, Rajasthan to witness forts, palaces, and lakes
PANCHMARHI, Maharashtra for relaxing holiday at a hill station
MAHABALESHWAR, Maharashtra to experience tranquility of western ghats
MALSHEJ GHAT, Maharashtra for a trek to an old fort
AGUMBE, Karnataka for enjoying trek and fauna and flora of the rain forest
KODACHADRI, Karnataka for trek through a waterfall in Western Ghats
WHERE TO TRAVEL OUTSIDE INDIA IN JULY
01
One of the most popular spots in the world due to Bali! The temperatures in July range between 22-27 Degrees and with barely any rain making it perfect to visit the archipelago.
Indonesia has destinations like Bali, Kakaban island, Borobudar the largest Bhuddhist temple, Jakarta, Komodo for its wildlife, Prambanan complex of Hindu temples, Bada Valley, Lore Lindu National PArk, Banyu wana waterfalls and lot more to explore from the 17000 islands that make up Indonesia!
Water sports, hikes, beaches, forests, volcanoes, spas, temples and culture! All waiting in Indonesia!
02
July is peak summer in Netherlands with temperatures ideal for visit between 13-22 Degrees. Visit the cities of Rotterdam, Hague & Amsterdam to witness the vibrancy and energy of the cities. Go on bicycle tours, museum visits, amusement parks and cafes!
Visit and enjoy dutch villages in the country sides. Explore the art of Van Gogh & Rembrandt and several other artists across Netherlands. And don't forget the famed Tulip fields!
MORE RECOMMENDATIONS WHERE TO TRAVEL IN INDIA IN JULY
ALASKA
TANZANIA
SPAIN
SOUTH AFRICA
KENYA
PERU
---
AUGUST
AUGUST
WHERE TO TRAVEL IN INDIA IN AUGUST
01
The Valley of Flowers in Uttarkhand is in full bloom after the monsoon months of June & July! The valley is lush green with a huge blanket of flowers painting the valley in vibrant colors. The valley is a world heritage site declared by UNESCO with hundreds of species of flora and fauna!
The trek of valley of flowers is well marked trek and you can attempt to hike through the valley at your own pace. There will be some showers of rain, however it is a time one shouldn't miss!
Situated in northern Kerala, Wayanad district is a paradise tucked in the hills! Surround by lush green forests and lakes and the Bandipur tiger reserve adjacent to it, make Wayanad a place to be after monsoons!
Wayanad offers treks, hikes, waterfalls, coffee estates, boating and much more to every kind of traveler! It has luxury stays with Tree Houses and budget hostels and camps that delight everyone!
Read our Itinerary for a perfect weekend getaway to Wayanad here!
A hill station tucked in Kashmir's Himalayas! Pahalgam is a perfect spot to relax, enjoy some time and be amidst nature. Situated near confluence of two rivers Pahalgam offers perfect views of the streams, lakes and mountains nearby.
Visit nearby valleys for short hikes and treks, visit waterfalls in the vicinity and spend time relaxing in the cool weather!
MORE RECOMMENDATIONS WHERE TO TRAVEL IN INDIA IN AUGUST
LAHUAL – SPITI, Himachal Pradesh to enjoy thrilling adventures and treks
AGUMBE, Karnataka for enjoying trek, fauna and flora of the rain forest
VALLEY OF FLOWERS, Uttrakhand to trek through blanket of flowers
RISHIKESH, Uttrakhand to experience thrills of White Water Rafting
KODAIKANAL, Tamil Nadu, for relaxing at the cozy town among hills
SAPUTARA – DANG, Gujarat for enjoying the lush greenery and waterfalls
MANDU, Madhya Pradesh for witnessing historic architecture
KHAJURAO, Madhya Pradesh group of temples
BIKANER, Rajasthan to witness forts and temples
UDAIPUR, Rajasthan to explore forts, palaces and lakes
ATHIRAPALLY FALLS, Kerala to see the mighty force of the falls in their full glory
WHERE TO TRAVEL OUTSIDE INDIA IN AUGUST
01
Wild wild Africa! August being relatively drier, animals are attracted towards the lakes and water bodies thus making it easier to spot them!
Visit Kruger to spot lions, leopard, rhinoceros, elephant, Cape buffalo, hippo, antelopes and giraffes. The many parks of South Africa are also home to white rhino, Zebra and black wildebeest. Table Mountain offers adventurers hiking and rock climbing. Go to the Cape of Good Hope for the amazing views and the lowest tip of continent! The Robben Island, Boulders Beach, Elephant National Park and Sabi Sabi are some other spots worth visiting!
02
The ancient Incan empire has its retirements till date in Peru! The city of Machu Pichu, one of the wonders of the world is situated here. August being a perfect time to hike up to this city as it is drier and pleasant with good views and clear skies.
Visit Sacred Valley & Amazon rain forest. Visit the cities of Cuzco, Arequipa and Lima for the pre Columbian culture and architecture still preserved. Opportunities for mountaineering, hikes and treks all across Peru! And also visit the mysterious Nazca Lines and the Rainbow Mountain!
MORE RECOMMENDATIONS WHERE TO TRAVEL OUTSIDE INDIA IN AUGUST
---
SEPTEMBER
SEPTEMBER
Again September has no major public holidays or long weekends however don't let that stop you from traveling to awesome places! Here are our top picks for where you should travel to in September 2020!
WHERE TO TRAVEL IN INDIA IN SEPTEMBER
01
This tiny town of Arunachal with its pine forests and rice paddies is a perfect escape. September is an ideal time as the showers have reduced and the heat has lowered in the region. September end also hosts the Ziro Festival – India's largest outdoor music festival! A must visit for all music lovers!
Explore the north east with the perfect combination of peace, quiet and live music concert out in the nature!
02
Dooars is a region comprising of many towns in the North East Plains. It is the gateway to Bhutan from India. The towns of Darjeeling, Siliguri, Jalpaiguri are all part of Dooars plains.
You should explore the Mahananda Wildlife Sanctuary rich in the fauna and flora, relax and enjoy nature at Sumsing and Suntalekhola, Chapramari Wildlife Sanctuary to watch elephants and bisons & village of Latpanchore!
03
The coastal town of Malvan in Maharashtra surrounded by lush greenery and a coast full of corals is a perfect getaway from all nearby cities. The beaches are free of tourists, visit the Sindhugargh fort and nearby temples, enjoy Malvan cuisine and drinks and try Snorkeling, Scuba Diving and other water sports at Malvan!
MORE RECOMMENDATIONS WHERE TO TRAVEL IN INDIA IN SEPTEMBER
LACHEN, Sikkim for Monasteries, lakes and tranquillity
VALLEY OF FLOWERS, Uttrakhand for experiencing bloom of flowers
LEH – LADAKH, Thrilling adventure is a wild terrain
KAHJURAO, Madhya Pradesh to visit the ancient temple
KERALA, To experience the greenery in God's own country
KODAIKANAL, Karnataka to enjoy the green cover after Monsoon
SAPUTARA, Gujarat to enjoy waterfalls, hills and relaxing
CHIKMAGLUR, Karnataka to enjoy coffee, hikes and lakes
COORG, Karnataka for rafting, elephants and treks
WHERE TO TRAVEL OUTSIDE INDIA IN SEPTEMBER
01
One of the oldest countries of Europe, Portugal has a lot to offer from ancient architecture to wine and football to beaches! September sees average temperatures of 22 Degrees thus making it quite pleasant to explore!
Venture into Lisbon for heritage walks, Porto for Douro river dividing the city, explore the seaside suburbs right out of the renaissance era and enjoy cafes, restaurants and bars. Must try the Porto Drink and spend a weekend at Madeira Island, visit the Estádio Municipal de Braga stadium that is carved out of a rock and Fado Bars, playing the traditional Portugal music called 'fado' or fate.
02
The island of Indonesia is a hot spot across the world! Bali offers blue beaches, volcano hikes, forest treks, waterfalls, temples, ruins, cuisine, water sports, diving and so much more all in one island!
September ends the dry season in Bali so the temperatures are ideal with scarce rainfall making it a good time to visit! Go to places like Kuta, Sanur, Nusa Dua, Seminyak to explore the life, energetic atmosphere and luxuries. Visit temples like Tanah Lot, Uluwatu & Besakih. Visit Ubud for paddies, Mt. Batur, Caldera Lake & Bali Safari.
Check out Itinerary for Bali contributed by our user to make it your travel guide right here!
MORE RECOMMENDATIONS WHERE TO TRAVEL OUTSIDE INDIA IN SEPTEMBER
KENYA
MOROCCO
CHILE
TURKEY
GREECE
---
OCTOBER
OCTOBER
WHERE TO TRAVEL IN INDIA IN OCTOBER
01
Rishikesh in Uttrakhand is the Yoga and White Water Rafting Capital of India! The best time for White Water Rafting is Post Monsoons when the waters are having the right rapids, the temperature is not too cold and the weather is pleasant! The rafting starts from mid September and continues till Monsoon season!
Rishikesh also known for its spirituality, temples and yoga is a worth visit for finding some peace with a taste of adventure!
02
photo source Arian Zwegers Flickr– https://bit.ly/2RzZb37j
The Dussera celebrations in Mysore are something, no one should miss! The extravagant decorations of the city palace and the whole city has a spiritual energy during this time that is something worth experiencing.
Mysore Zoo, and Chamundeshwari temple are worth visiting. A lot of nearby spots to Mysore like Coorg and Chikamaglur that can be explored to enjoy your time here.
Get our itinerary for Mysore to help you plan your trip faster, contributed by our users!
The home of the Bengal Tigers, Mangrove forests and the Ganga Delta! Sundarbans is one of the most unique ecosystems on this planet! The monsoons usually flood the delta thus making it a little difficult to visit. However in October, the water receeds and the park is accessible.
You can spot the tigers, go on boat rides through the mangrove forests and a lot of other wildlife including river crocodiles live in this region! Go on the adventure of this beautiful place!
MORE RECOMMENDATIONS WHERE TO TRAVEL IN INDIA IN OCTOBER
SAPUTARA, Gujarat, for relaxing in green hills and waterfalls post monsoon
ZIRO, Arunachal Pradesh to enjoy green hills, and beauty of North East India
DRJEELING, West Bengal to enjoy culture, time off, treks and more
VARKALA, Kerala to enjoy hippie beaches, coastal cuisine and relaxing
PANCHMARHI, Madhya Pradesh for waterfalls, historic monuments and hills
WAYANAD, Kerala to enjoy treks, waterfalls, Tiger reserves and luxury resorts
VAGAMON, Kerala to enjoy untouched hills post monsoon and waterfalls
WHERE TO TRAVEL OUTSIDE INDIA IN OCTOBER
01
The October weather is ideal for visiting Nepal hovering about 20 Degree Celsius on average. The home to Everest and a lot of other peaks is a famous hotspot for trekkers from across the world.
There are a number of routes and trails here worth trying, for novices as well as seasoned trekkers like Poonhill Trek, Manaslu & Everest Base Camp Trek. Beginner treks like Mera Peak or Island Peak. There is also Bardia National Park as well as Chitwan National Park for the nature lovers. Nepal offers activities such as fishing, mountain climbing, boating, sightseeing and treks in the lakeside town of Pokhara. Mountain biking in Kathmandu Valley, along with sightseeing in places like Pashupatinath Temple, Swayambhunath Stupa, Temple of Kumari, Boudhanath Stupa and Durbar Square.
Check out Itineraries for Nepal by users over here.
02
Enjoy beautiful blue beaches, green hills and amazing food on this Island nation in October! The month of October is a the dry season for Mautitius and a good time to enjoy the beaches, the interiors and all the options of food you can try. Visit the Bois Cheri Tea Plantations, enjoy scuba diving and kite surfing in Belle Mare, snorkelling in the Blue Bay Marine Park, cave sea kayaking in Albion Caves, horse riding at Riambel Beach and luxury cruises.
Other places of interest are Mauritius National Botanical Garden, Chamarel Village, Earth Tamarin Bay and underwater sea walk at Grand Bay. For a bird's eye view of the islands, take a seaplane ride that takes off from Albatross.
MORE RECOMMENDATIONS INDIA WHERE TO TRAVEL OUTSIDE INDIA IN OCTOBER
CROATIA
ITALY
PORTUGAL
BHUTAN
HONG KONG
---
NOVEMBER
NOVEMBER
WHERE TO TRAVEL IN INDIA IN NOVEMBER
01
The town of Jaisalmer in Rajasthan offers the perfect Sand Dunes to experience in India! On the western most border of India, in the Thar desert this town has all the charms of Rajasthan can offer and more.
It offers a majestic fort, sand dune safaris, camping, visiting the border of India and Pakistan to witness the ceremonial parades, amazing authentic Rajasthani Cuisine, Cultural shows, Shopping at local markets and Variety of luxury and adventure stays.
To read Jaisalmer itineraries to plan your trip, visit this section and explore!
02
Chail is a small hill town, near Shimla, hidden deep within the evergreen forests of Himachal Pradesh! The town is known for having world's highest cricket and polo grounds. The place offer scenic views of the Himalayas all around you. Chail offers hikes and treks in the trails near by and also luxury resorts and stays where you can enjoy the views for days!
Head to Chail if you're seeking some quiet and tranquil time away from the buzz of the city and popular places!
03
Deep in the Western Ghats, on the banks of river Kali in the northern Karnataka, resides Dandeli! It is the perfect spot for enjoying white water rafting in South of India! Enjoy activities like mountain biking, trekking, cycling, kayaking and more when in Dandeli!
The Dandeli Wildlife Sanctuary is home to a wide range of flora and fauna and most known forspotting Bisons and Black Panthers! The post monsoon months are an ideal time to visit Dandeli as the rapids are good for rafting, the temperatures are low and the surroundings are lush green!
MORE RECOMMENDATIONS WHERE TO TRAVEL IN INDIA IN NOVEMBER
POLO FOREST, Gujarat, to enjoy camping, treks, hills, and ancient ruins ALMORA ,Uttarakhand to enjoy the onset of peaceful Himalayan winters
AULI, Uttarakhand to enjoy the start of Ski season at one of the oldest ski resorts
ALIBAUG, Maharashtra. Short weekend getaway to relax at a beach
MT. ABU, Rajasthan to experience onset of winters, touch of history and relaxing in the Old mountains of Aravali
MCLEODGANJ, Himachal pradesh to enjoy queit old town, hot springs and treks
MALVAN, Maharashtra, for cuisine, beaches, scuba diving
DEVKUND WATERFALLS, Maharashtra for trek and dive in the beautiful falls
TREKS IN WESTERN GHATS, Karnataka, Multiple treks to enjoy post monsoon with cooler temperatures
GOA, Onset of season for enjoying calm beaches, forts and a beautiful vibe
HAMPI, Karnataka for enjoying ruins, cycling, cliff jumps
WHERE TO TRAVEL OUTSIDE INDIA IN NOVEMBER
01
The temperature in Hungary in November is between 3-7°C, which is cool but not too extreme. The main reason to visit Hungary in November is because opera and theatre seasons are booming in the month.
The early Christmas markets open up from November and are a real treat, however it gets dark early by 5 PM, so enjoy the daylight to the maximum. The festivals of All Saint's Day and St. Martin's Day also fall in November.
Other than this, Hungary's capital Budapest offers tons of things to do from visiting castles, ancient ruins, cafes and pubs! With the Danube river passing right through the city, it is a sight to witness!
02
Ireland also called the emerald Isle for its dark green stretches of meadows, is an ideal November destination. It is known to the world as the birthplace of Guinness beer! Also popular for some of the shooting locations for the Game of Thrones show!
The winter temperatures in November fall, with the month average between 9-12°C. The rains are frequent and give you the full feel of the quintessential 'cold-and-rainy' Ireland with stunning landscapes and thrilling wind!
You can Look forward to Yarn Storytelling festival (11th-9th Nov) held in Bray Town near Dublin and the Christmas Market in Belfast. Other popular places one must visit are Giant's causeway, Cliffs of Moher, Blarney Castle, Dingle Peninsula, Dublin Castle and a lot of other castles, abbeys and churches across the country!
Check out Itineraries from Ireland on our website to read more!
MORE RECOMMENDATIONS WHERE TO TRAVEL OUTSIDE INDIA IN NOVEMBER
---
DECEMBER
DECEMBER
WHERE TO TRAVEL IN INDIA IN DECEMBER
01
God's own country – Kerala, is a year round destination, but December is ideal for all the terrains it has to offer. The beaches are calm and the waters are blue, the rain has made the land lush green and the temperature is pleasant in winters. The hills and interiors of the state are full of greenery and good weather.
Explore the hill stations of Munnar, Thekkady, Wayanad, Vagamon, and Kannur. Visit beaches and backwaters of Kochi, Aleppy, Varkala, Kovallam, and many more!
02
In the North Western region of Gujarat and one of the westernmost points of the country lies the White Desert of Kutch! The region used to under water eons ago, and now the sea has retreated making the land white as a sea bed full of salt as far as the eye can see! The region used to be under the rule of Princes and has a rich history of unique culture. The Rann Uttsav held during December-February in the White Rann, has huge camp settlements with cultural programs and adventure activities for tourists to enjoy.
Kutch is also known for the spectacular crafts and embroidery works. Along with Flamingo sanctuary and Wild Ass sanctuary, one can enjoy the beautiful beach of Mandvi near Bhuj and exploring the ancient town of Dholavaria which has one of the oldest ruins of the world from the Harappan Civilisation is a must visit!
03
Kotagiri is one of the oldest hill stations in the Nilgiris at a height of 5882 feet.You can see the colonial culture flooding all over the beautiful hill station with European style houses.
The lush green hill of Kotagiri provides adventurous people with good opportunities of trekking,rock climbing and hiking . The showstopper of the trip is the 8 kilometers long trek to the Catherine Falls. The best way to experience the wilderness of the hill is to have a home stay.
MORE RECOMMENDATIONS WHERE TO TRAVEL IN INDIA IN DECEMBER
JAISALMER, Rajasthan for forts, sand safaris, adventure activities and culture
ALIBAUG, Maharashtra. Short weekend getaway to relax at a beach
GOA, for beaches, treks, waterfalls, parties, watersports
GOKARNA, Karnatka, for pristine beaches, chilled out times and treks
PONDICHERRY, for cafes, beaches, museums and french architecture
MANALI, Himachal Pradesh for fresh snow, skiing and adventure sports
ANDAMAN & NICOBAR for untouched beaches, scuba diving & snorkelling
MAHABALIPURAM, Tamil Nadu for witnessing temples
Treks in Western Ghats, Karnataka
WHERE TO TRAVEL OUTSIDE INDIA IN DECEMBER
01
This beautiful country hosts one of the best Christmas celebrations in the world! With cobbled paths and curved foot-bridges over the rivers, giving you the chills in December with 1- 3°C and nights below freezing point. But all this doesn't stop the people from enjoying the beautiful charm of the festivities.
When in Czech Republic, visit popular historic spots like the Prague Castle, Charles Bridge, St. Vitus Cathedral, Prague Astronomical Clock & Karlstejn Castle to name a few!
02
Vietnam is the south-east Asian tropical country best explored in winters with less rainfall. It offers a whole bunch of good opportunities for travel enthusiasts with beaches, treks, cruises and its authentic cultural cuisines.
Adventurous spots like Ha Long Bay, Ho Chi Minh city, Ban Gioc Waterfall, Phong Nha Caves, Phu Quoc are worth visiting.
MORE RECOMMENDATIONS WHERE TO TRAVEL OUTSIDE INDIA IN DECEMBER
---
---
We hope this list inspired you to travel more and around the globe! Make sure to Travel Responsible & Take care of the environment and the local ecosytem when you travel!
Leave a Comment below with your favorite places and any other reccommendations for our readers!
---
Have you been to any of these amazing places and want to be a 'Guiding Angel' to other travelers looking for info by sharing your itinerary?
Head over to our "Contribute an Itinerary" Section, and fill up your itinerary for others to refer, in just a few easy simple steps!
---
Enjoyed this article? Leave your email below to get more updates like these straight to your mail box! No Spam – We Promise!
Processing…
Success! You're on the list.
Whoops! There was an error and we couldn't process your subscription. Please reload the page and try again.
TRAVEL CALENDAR BY XPLORE THE EARTH